2012 NBA Draft: Ten Underclassmen Who Should Have Stayed in School
April 18, 2012

Ed Zurga/Getty Images
Starting from childhood, anyone who organizationally plays the game of basketball shares a common motive. That motive is the everlasting dream that someday, he will be fortunate enough to garner an NBA Draft selection and play in the storied association.
So, when glimpses of that coveted opportunity present themselves to freshmen, sophomores and juniors playing NCAA basketball, one would be out of their mind not to dive right into that glimmering chance to obtain millionaire status, right?
Wrong.
Take an incredibly short trip down memory lane back to the 2011 NBA Draft, where freshmen prospects Jereme Richmond of Illinois and Josh Selby of Kansas enlisted their names into the pool of underclassmen declaring to take their game to the next level. These scenarios are a tale of two different tapes, but contain similar ending results.
Selby, a McDonald's All American in 2010, was a projected first-round pick heading into late June, but that eventually meaningless prediction was simply a testament to his potential. Selby fell to the 49th pick, which was owned by the Memphis Grizzlies, and now you can find the former high school dunk champion in the NBA D-League.
Richmond on the other hand, produced an underwhelming freshman campaign for the Fighting Illini, and was going to be lucky to even hear his name called on draft day. To virtually no one's surprise, Richmond proceeded to go undrafted, and now plays stateside in the Premier Basketball League (PBL). The what? Exactly.
The moral of the story is, if you are an aspiring NBA athlete, do not attempt to pursue that goal until you are 100 percent sure you will be selected on draft night.
Here are ten prospects who have signed NBA agents to remain in the NBA draft pool, but would be better off polishing their game at school first (alphabetically):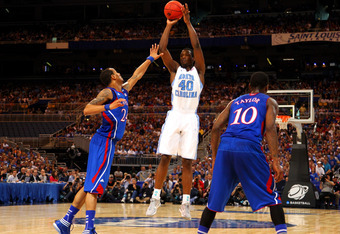 Dilip Vishwanat/Getty Images
Harrison Barnes, F, North Carolina
A two-year college phenom, Barnes most likely will not slip outside of the lottery, but his basketball game doesn't quite translate to NBA play. Barnes often looks for his own shot first, before trying to make his teammates better in the half-court, which can lead to forced, long-range shots.
Decision-making plagues Barnes, and he plays in a style reminiscent of Carmelo Anthony, which is immensely problematic for anyone not named Carmelo Anthony. Melo is talented enough to play a "me-first-you-second" technique of basketball and get away with it, but Barnes should go back to Chapel Hill and try to take his game to Anthony's level, which is undoubtedly possible playing with James Michael McAdoo under Coach Roy Williams.
Will Barton, G, Memphis
Another highly-touted recruit coming out of high school, Barton has NBA size at 6'6". To state it bluntly, Will Barton is raw. Size can only take you so far, and Barton won't be able to be productive off of any NBA bench next season.
Projected to be a mid-second round pick, Barton needs to impress NBA scouts in the next two months if he wants to ensure himself a selection in June. His shot-selection woes were showcased in a brutal loss to Saint Louis in the first round of the 2012 NCAA tournament, as he struggled to adjust to the enhanced defensive prowess outside of the weak Conference USA. Coach Josh Pastner returns Adonis Thomas and Will's brother, Antonio, to a stacked Memphis team that could definitely help Barton improve as a basketball player.
J'Covan Brown, G, Texas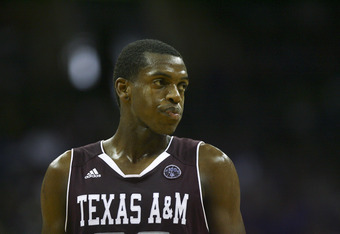 Ed Zurga/Getty Images
J'Covan Brown finds himself in a tough situation. Brown is a true scoring guard who doesn't possess NBA point guard traits, but at 6'1" is far too small to play the two-guard slot in the pros. Even if he does adjust himself into an Isaiah Thomas (Sacramento) type role, Brown needs to develop an aggressive drive to the tin.
Seventy percent of Brown's shots last year were jumpers, signaling that he was intimidated by the Big 12's length inside, which included Perry Jones III, Jordan Henriquez and Thomas Robinson. If you can't handle the Big 12, you can't handle the NBA. Projected as a late second-round pick, many NBA squads will likely choose international projects over an undersized J'Covan Brown. Brown would have been better suited to form a lethal backcourt tandem with Myck Kabongo next season in Austin.
Dominic Cheek, G, Villanova
If someone could explain to me Dominic Cheek's thought process when declaring for the NBA, I would be delighted. To be fair, his grandmother is in need of financial support. Cheek is not receiving any money from the NBA, though, because there's a higher chance Anthony Davis withdraws from the draft than Cheek hearing his name called.
A Bob Hurley Sr. product at the famous St. Anthony's High School in New Jersey, Cheek regressed in his junior campaign, instead of taking a leadership role and leading the Wildcats out of the bottom of the Big East.
Have a tremendous time playing in Europe, Dominic.
Justin Hamilton, C, LSU
Seven feet of height does not guarantee you NBA success, as Hasheem Thabeet can tell you.
Well, size did warrant a No. 2 overall selection for the Nigerian center, but Hamilton is another one of those prospects who probably would not even be drafted in the 2013 NBA Draft had he completed his senior season at LSU.
Hamilton was a second team All-SEC choice last season, putting up 12-7 numbers at the center position in 2012. Even with his burly frame, Hamilton's skill level is not great enough for him to have entered this year's draft. To Hamilton's credit, LSU's coach Trent Johnson left for TCU after last season, possibly prompting Hamilton's decision to leave school early.
Khris Middleton, F, Texas A&M
Middleton's draft stock actually was a lot higher after his 2011 season with Mark Turgeon as his coach at A&M. After Middleton opted to stay at College Station, Turgeon left for the Maryland vacancy, leaving Middleton without the opportunity to turn professional anymore, and without his former head coach.
As Middleton's new coach, Billy Kennedy, struggled with health issues, Middleton struggled on the court, and so did the rest of the Aggies. A strong, athletic wing with NBA size, Middleton was poised to breakout into stardom in 2012 and boost his draft stock, and unfortunately did the opposite.
Solely based off of potential, he may sneak into the end of the second round. From there, Middleton would have to develop in the D-League, because the skills just are not present yet. The only possible way for his talent to blossom into what his potential suggests it can be, would have been to return to the Big 12 and prove his sophomore success was no fluke, and his junior flop was.
Austin Rivers, G, Duke
Before I get pummeled by the Cameron Crazies, Austin Rivers is in no danger of falling outside of the first round of the NBA draft, and he will evolve into a important contributor to an NBA squad in the future.
I just believe that Doc's son really could have used some more tutelage under the legendary Coach K. Rivers can put the ball in the hoop from anywhere on the floor, but with another year or two at Duke, he would have the ability to emphasize that talent at a more efficient rate.
Also, Rivers' jump shot is not quite where he needs it to be to develop into an NBA star, and the Blue Devils are known for creating outstanding shooters. Austin Rivers will not be a bust, but don't expect wonders early in his professional career.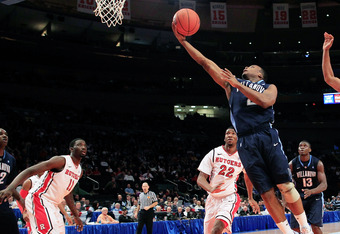 Chris Trotman/Getty Images
Renardo Sidney, F/C, Mississippi State
To state that Renardo Sidney's tenure as a Mississippi State Bulldog was troubled, would be a vast understatement.
A top-10 high school recruit, Sidney battled weight management right from the onset of his college career, peaking at 320 pounds. After multiple fights, suspensions and team misconducts, the only possible way Sidney could have repaired his image was to return to Mississippi State for one last season and prove his skill-set deserves an NBA roster spot.
Under that giant mess of struggles, somewhere that skill which everyone witnessed in high school is buried. Barring a miracle, Renardo Sidney will not be one of the 60 names uttered in late June, but hopefully the big-fella can get his head on straight as he pursues other basketball endeavors.
Jonathon Simmons, G/F, Houston
Who? All kidding aside, Simmons is a scoring guard from C-USA's Houston, who solidly put up 15 points per game last season as a junior. Reminiscent of a poor-man's Draymond Green, Simmons really has no business attempting to make the NBA, and actually could have formed a scary dynamic duo in Houston with incoming freshman Danuel House next year. With an agent signed, there's no turning back to school now.
Maalik Wayns, G, Villanova
This decision by Maalik Wayns to enter his name into the 2012 NBA Draft is honestly saddening, knowing that Wayns could have vaulted himself towards to middle of the first round of the 2013 NBA Draft had he stayed in Philly for his senior outing.
Wayns actually plays like a wingman, and is a lethal scorer, but is enormously undersized to fulfill that role at a modest 6'2". Wayns is a playmaker with a unique, all-around set of tools whom Villanova Coach Jay Wright would have loved to use in the Big East next year. Wayns should get drafted, but if all 60 selections are completed and Wayns is left staring at his television set disappointed, I won't be shocked to the least bit.