What New Jersey Nets Can Learn from NBA's Top Teams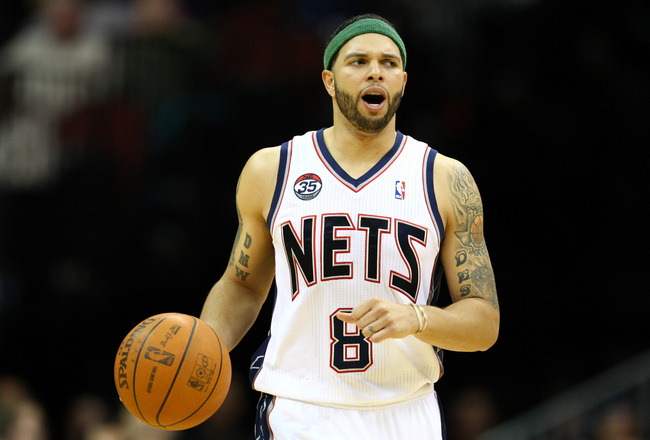 Chris Chambers/Getty Images
The New Jersey Nets have a superstar in Deron Williams and a host of promising young players, but their collection of talent hasn't yet led to success on the hardwood.
The Nets are 22-40 and simply aren't built like the elite teams in the league.
As the Nets will soon venture to Brooklyn, it's time to examine some of their foes and consider what has made the NBA's top teams successful.
Here are five things the Nets can learn if they soon want to creep into championship contention.
Defense Must Be the Backbone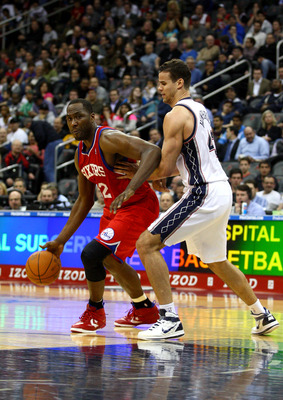 Chris Chambers/Getty Images
The league's best teams are all effective on the defensive side of the ball, particularly Chicago, Miami, Oklahoma City and San Antonio.
These teams find ways to win games when they aren't clicking offensively. This is because defense is their backbone, and even if they have an off-night, they find ways to grind out victories.
The Nets aren't like this at all. And as long as they lack grittiness on defense, they're going to remain subpar.
They're second-to-last in the league in defensive field-goal percentage, and it's clear that this team must embrace a defensive revolution if it wants to get its ship turned in the right direction.
It's Not About the Stats
Chris Chambers/Getty Images
In merely looking at the statistics for the Nets, one could conclude that they're a top-tier team. They have eight players averaging in double figures (although Brook Lopez is one of those and he's only played in five games).
A handful of these players are young, such as MarShon Brooks, Anthony Morrow and Gerald Green, and have great upside. But they're mainly just trying to make a name for themselves at this point.
The Chicago Bulls, on the other hand, don't look as eye-popping on the stat sheet (only six players in double figures), but they boast the league's best record. Why is that?
The Bulls value the little things--the things that don't show up on the stat sheet. Guys like Luol Deng, Joakim Noah and Taj Gibson contribute in so many small ways for Chicago.
The Nets are simply in need of more players like that. They don't merely stuff the stat sheet, but know how to win.
Quality Veterans Are a Must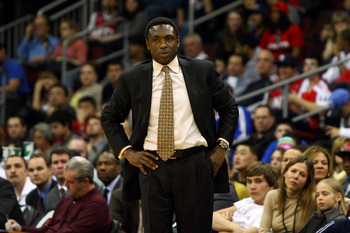 Chris Chambers/Getty Images
Rarely do we see a team laden with young players vault itself into the league's elite. The Oklahoma City Thunder are an exception, but that's because they have two potential first-team All-NBA players (Kevin Durant and Russell Westbrook).
The Nets, on the other hand, don't have such a luxury.
Teams like San Antonio, Boston, the L.A. Lakers, Miami and Chicago feature quality young players, but also have seasoned veterans. While the Nets did recently add Gerald Wallace, the majority of their roster features youngsters.
This team needs veteran tutelage to help guide them. Coach Avery Johnson can share his thoughts on the sideline, but they need a veteran presence (or two...or three) to help stabilize them on the floor.
Change Doesn't Happen Overnight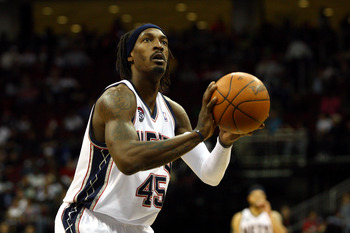 Chris Chambers/Getty Images
Change would've maybe happened overnight if the Nets had landed Dwight Howard at the trade deadline. But now that it looks like Howard won't be coming to Brooklyn anytime soon, the Nets must focus on gradual changes.
The Bulls and Thunder are perfect examples of teams who've made substantial changes in the past few years. But the process takes time and there will be bumps along the way.
Therefore, the Nets must set high yet realistic goals for the next few seasons. Perhaps next year it is: make the playoffs. The following year it is: win a first-round series. The list could go on.
The Nets should set lofty goals while also realizing that change doesn't happen overnight. This is what other teams have done effectively, and the Nets must pursue this as well.
Great Teams Feature Superstars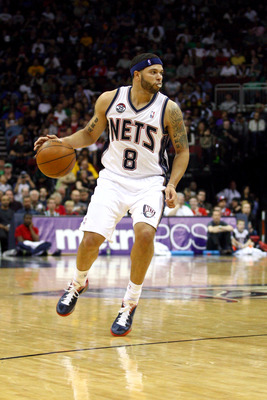 Chris Chambers/Getty Images
This is an obvious one, so why is it mentioned?
Well, New Jersey's top two players, Deron Williams and Brook Lopez, are free agents this summer. It is absolutely crucial that they retain this duo.
What's more, a couple other major contributors, Gerald Wallace (who does carry a player option) and Kris Humphries, are also free to explore new options this summer
If the Nets lose a couple of these players, or even just Williams, their hope of soon leaping into championship contention will be put on delay for a handful of years.
All of the league's top-tier teams feature elite, marquee players, and the Nets will struggle to find success if they don't boast at least one of the league's premier threats.
Keep Reading

Brooklyn Nets: Like this team?