9 Bold Predictions for 2012 NFL Draft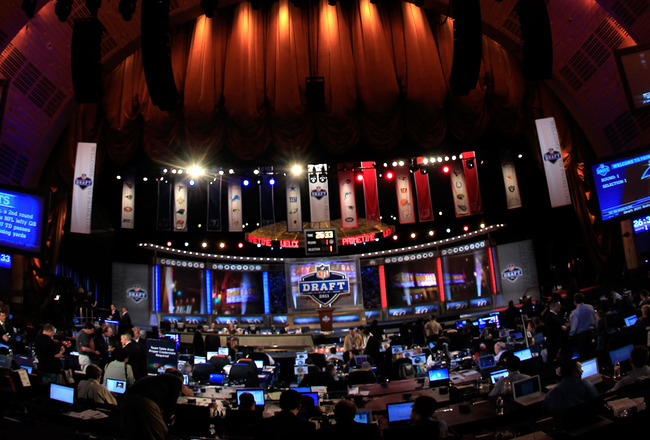 Chris Trotman/Getty Images
April 26th, 2012. Draft day.
The most anticipated weekend of the NFL offseason is just over a week away, and while the top two picks may be locked in, there are still lots of questions about the other 251 selections.
No matter the year, nothing ever goes as planned at the draft. Teams trade, players drop and GMs reach as all 32 teams attempt to shape their future rosters.
Like March Madness, "chalk" picks are boring, so here is a look at nine predictions for the 2012 draft and beyond.
1. Eagles Will Make a Trade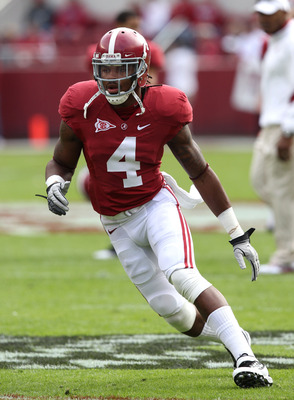 Mike Zarrilli/Getty Images
Shocking right? Well maybe not, as the Philadelphia Eagles have made 21 (!) draft day trades since 2008. However, this time they will make a deal to move up in the first round.
The Eagles need help on their interior defensive line and in their secondary. Mississippi St. defensive tackle Fletcher Cox and Alabama safety Mark Barron would both make excellent additions, but both are likely to be gone by the time the Eagles pick at No. 15.
Look for the Eagles to make a play for a top-10 pick, either the Brown's No. 4 selection or Carolina's No. 9 selection, and grab one of Cox or Barron.
2. Wide Receivers from Rounds 2 to 4 Will out-Produce Those from Round 1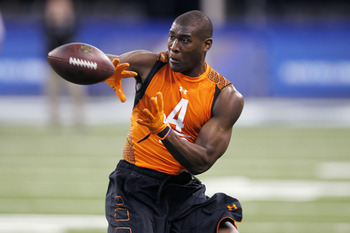 Joe Robbins/Getty Images
The 2012 draft class is a very deep on wide receiver talent. Oklahoma State's Justin Blackmon and Notre Dame's Michael Floyd are both locks to go in the first round, but both have some pretty significant knocks on them.
Blackmon has been repeatedly questioned about his speed and explosiveness, while Floyd has had a host of off-the-field issues. While I do believe both will be successful in the NFL, there are several prospects that can be had in the next rounds who should surpass Blackmon and Floyd at the next level.
Baylor's Kendall Wright, Georgia Tech's Stephen Hill, South Carolina's Alshon Jeffery, Arizona's Juron Criner, Wisconsin's Nick Toon, LSU's Rueben Randle and Oklahoma's Ryan Broyles should all be second-day or early third-day picks, and each one of them has the ability to be the best wide receiver from this class when all is said and done.
3. Ryan Tannehill Will Bust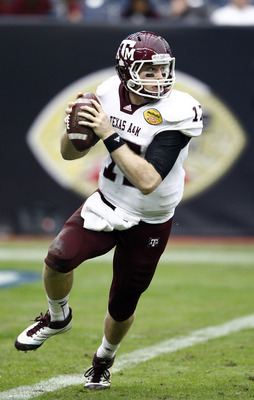 Bob Levey/Getty Images
Don't take this as a slight against Tannehill—I think he has the size, arm strength and accuracy to succeed in the NFL. But his rise to a Top-10 prospect will ultimately be his undoing.
Any team picking in the Top 10 is looking for a player who can have an immediate impact for them on the field, not a two-to-three year project that may or may not work out.
Tannehill, who only has 19 career starts at the quarterback position, needs a solid year or two of seasoning before he will be ready to be a starter in the NFL. However, much like Jacksonville's Blaine Gabbert last season, Tannehill will be thrown into the spotlight far too soon and will struggle mightily because of it.
4. Coby Fleener Is the Next Great, Young NFL Tight End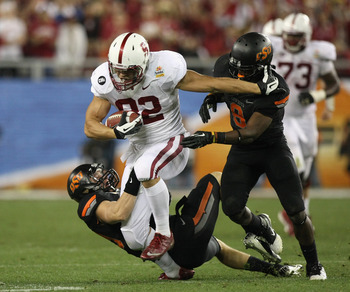 Donald Miralle/Getty Images
Rob Gronkowski, Aaron Hernandez and Jimmy Graham have each helped to bring the tight end position into the limelight recently, racking up video game numbers and becoming the top receiving threats on their teams.
Stanford tight end Coby Fleener is next in line.
At 6'6", 247 lbs, Fleener has ideal size for the position, and after running between 4.45 and 4.51 in the 40-yard dash (depending on who's stop watch you look at) at his pro day, scouts are drooling over the Lemont, IL, native.
Yes, he has benefited from playing with the best quarterback in the country in Andrew Luck for the last few years, but Fleener has impressed enough on his own to earn a first-round draft selection, and he will become a household name soon enough.
5. David Wilson Will Have a Better Rookie Season Than Trent Richardson
Matthew Stockman/Getty Images
The NFL is becoming more and more of a passing league, which is news to, well, nobody. So when a running back is considered to be a Top-Five pick, he had better be incredible—and Trent Richardson is.
Despite Richardson's tremendous ability, Virginia Tech's David Wilson will outplay him in year one.
Richardson is penciled in to be the Cleveland Brown's pick at No. 4, while Wilson will likely be a late first-rounder, going to a team like Denver or Green Bay. Richardson will likely be called upon to be the offensive leader in Cleveland, and will have to carry QB Colt McCoy and the rest of the inept offense along with him.
Wilson, on the other hand, will be able to step into a system that already has an established passing attack, and will have less pressure on his shoulders as a result. He is also a much better receiver out of the backfield than Richardson is, and with his 4.29 40-time, he will be able to provide an extra receiver on passing downs for someone like Aaron Rodgers or Peyton Manning.
6. Russell Wilson Will Be a Starter in the NFL Within 3 Years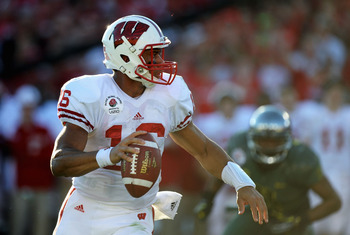 Harry How/Getty Images
Yes, I know—quarterbacks 6'0" and under do not succeed in the NFL. For every Drew Brees, there are 10 Pat Whites or Seneca Wallaces who are forced into gimmick roles because of their height, and consequently they flame out.
Russell Wilson will prove to be yet another exception to this rule.
I'm not going to say that Wilson is the next Brees (he's not), but every aspect of his game is solid. Strong arm, great accuracy, impressive speed, intelligence—Wilson possesses all of these. In terms of overall ability, Wilson is the third- or fourth-best QB in this draft, but his height will likely push him into the fourth or fifth rounds.
Wilson will sit for a couple of years to adapt to the NFL game, and when his time comes, he will prove that he is a capable starter in the NFL.
7. Case Keenum and Kellen Moore Will Not Be Drafted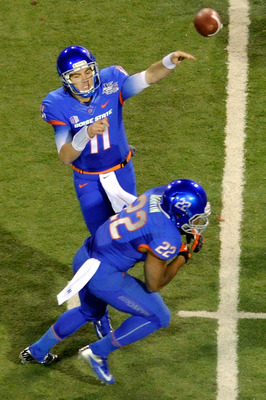 Ethan Miller/Getty Images
Despite eye-popping stats at the college level, neither Houston's Case Keenum nor Boise State's Kellen Moore will hear his name called during the draft.
While each player has shown his tremendous ability to carry a team in college, neither one projects well to the next level.
Keenum is a system quarterback in Kevin Sumlin's spread attack. His durability is a major question mark (he missed almost all of the 2010 season with a torn ACL), and his mechanics would need to go through a complete makeover if he wanted to even be considered a feasible backup in the NFL.
Kellen Moore, on the other hand, simply lacks many of the physical tools needed to be an NFL quarterback. He is small (6'0", 190 lbs) and he lacks arm strength and mobility, and he benefited from playing with other weapons, such as RB Doug Martin and WRs Titus Young and Austin Pettis.
I believe that Moore has a better shot at being drafted than Keenum, but don't be shocked to see both players completely passed over.
8. The Best Cornerback from This Draft Class Will Not Be Taken in the Top 10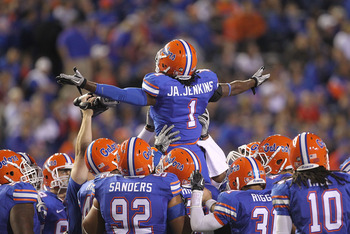 Mike Ehrmann/Getty Images
Morris Claiborne from LSU is ranked almost unanimously as the top cornerback in the 2012 draft, and for good reason. Alabama's Dre Kirkpatrick and South Carolina's Stephon Gilmore are also ranked as first-round locks, but the best corner to come from this class will be found on day two.
Janoris Jenkins from Northern Alabama (by way of Florida) is the most talented defensive back in this class, and if he gets his head on straight he will be the best corner to come out of the 2012 draft.
Jenkins was notably dismissed from the University of Florida in 2011 after two marijuana-related arrests in three months, and three total arrests during his three-year career as a Gator. He is also the father of four children from three different women (insert "Next Antonio Cromartie" joke here), which is not exactly the type of thing that NFL front offices look favorably upon.
These personal issues will almost certainly keep Jenkins out of the first round despite his incredible talent. It won't be easy, but I believe that Jenkins will straighten himself out in the NFL and be a star for whatever team takes him in Round 2.
9. 2012 Will Be the Best Draft for Interior Offensive Linemen in Recent Memory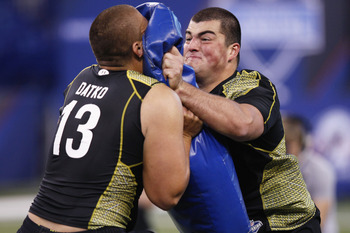 Joe Robbins/Getty Images
Typically, offensive tackles steal the spotlight away from guards and centers early in the draft. Tackles like USC's Matt Kalil and Iowa's Riley Reiff will be taken early, but look for as many as four interior linemen to go off the board in the top 32 picks.
Only six guards/centers have been taken in the first round since 2007, but that is sure to change after April 26th.
Stanford guard David DeCastro, Georgia guard Cordy Glenn, Wisconsin center Peter Konz and fellow Badger guard Kevin Zeitler will all be first-day picks, and each one will be starters on day one of the 2012 NFL season.
Keep Reading