NHL Playoffs 2012: 7 Players Who Will Break out in 2nd Round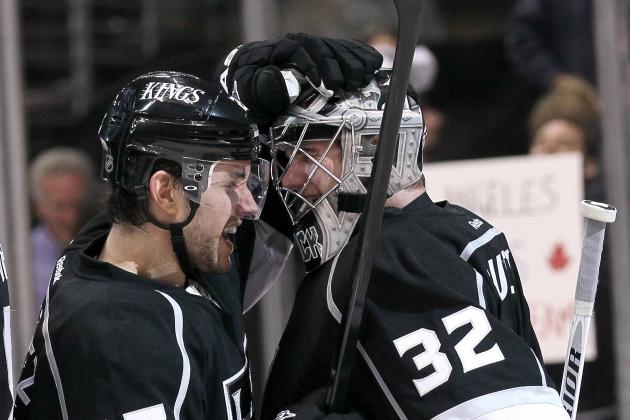 Stephen Dunn/Getty Images

The first round of the 2012 NHL playoffs are not over, but that doesn't mean we can't look ahead to the players who will bust out in the second round.
While there are some players holding their own, like Dustin Brown of the Los Angeles Kings, there are some big-name players that have struggled to get it going.
For some players, their success may hinge on just a change of luck. For others, it may take a line change or shooting the puck more.
Either way, there are some players that can't be held down for long.
Here are seven players that will come up huge for their teams in the second round of the NHL playoffs.
Begin Slideshow

»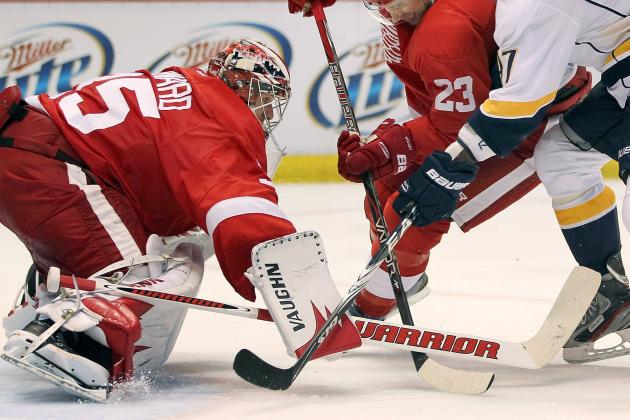 Gregory Shamus/Getty Images

There are certain positions in Detroit sports that fans are particularly tough on. The starting goaltender for the Detroit Red Wings is one of those positions.
Jimmy Howard, who is in his third year as the Red Wings starting goaltender, is no stranger to the pressure.
Howard has yet to make it to the Western Conference Finals. Although his teammates have not helped that cause, the fans and local media are already pointing the blame at Howard.
The beginning to this year's playoffs have been no different. Through three games, Howard has a 2.71 GAA, and .892 SV%.
Both of those statistics rank Howard in the lower-half of the goalies that have appeared in this year's playoffs.
If the Red Wings want to move on to the second round, then Howard will have to step up his play.
While some in Detroit may not have faith in him, Howard has risen to the occasion in the past.
As a rookie, Howard faced a Game 7 in Phoenix and stopped 32 of 33 shots and the Red Wings moved on to the second round with a 6-1 victory.
Moving on may ease any pressure that Howard is feeling internally. Either way, he has the talent to be a very good goalie that can win a playoff series.
No team will want to face him in a second-round series.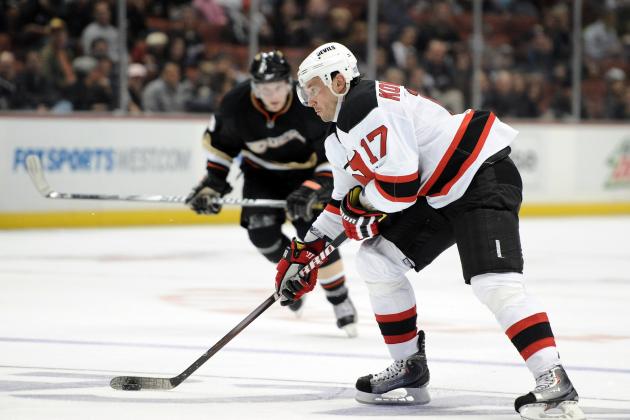 Harry How/Getty Images

Not surprisingly, Ilya Kovalchuck's playoff experience is scarce.
Despite being one of the best players in the NHL during his 10-year career, Kovalchuck had only played in nine playoff games entering this postseason.
In his first two playoff games this postseason, Kovalchuck has a goal, but is minus-two.
There should be no concern that Kovalchuck's average ice-time could hinder him going forward.
He's been averaging just under 25 minutes per game this entire season. The playoffs have been no different (averaging over 26 minutes per game).
Kovalchuck has never had the opportunity to play in the second round of the playoffs. It's scary to think how big of a factor he could be going forward for the New Jersey Devils.
He will have the opportunity this season. And some second-round opponent will be stuck trying to figure out how to stop one of the most potent offensive players in the game.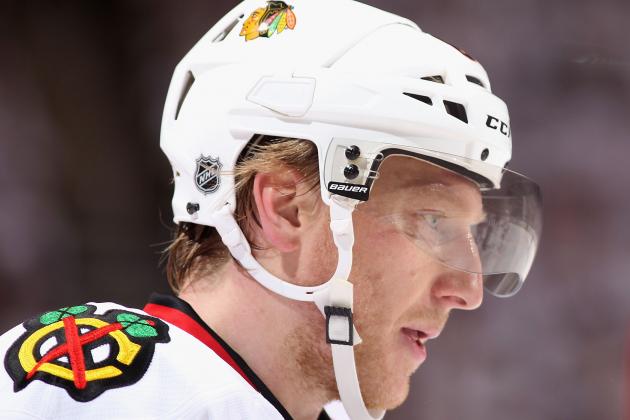 Christian Petersen/Getty Images

It's only been two games, but Marian Hossa is still scoreless in the playoffs.
That won't last long.
For the Phoenix Coyotes, they are hoping they will be able to survive the first round before Hossa has the opportunity to pick up his scoring.
They won't be that lucky.
Hossa is too good of a player, and plays with too many good teammates for him not to start putting up big offensive numbers.
This season, Hossa had 29 goals, 48 assists and was a plus-18. He ranked first in assists and points, and second in goals for the Blackhawks high-powered offense.
While there are still questions about the goaltending for the Blackhawks, there is no question that Hossa is a top talent in the NHL.
It's just a matter of time before he becomes a big headache for a second-round opponent.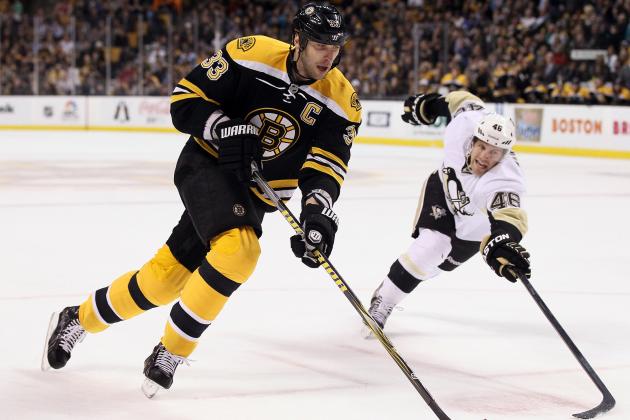 Elsa/Getty Images

Zdeno Chara looks like he is headed for another Norris Trophy win for his performance during the regular season.
But so far in the 2012 playoffs, Chara has been a non-factor in the Boston Bruins opening round series against the Washington Capitals.
The problem facing Chara in the first round is that he's facing a very skilled line, led by Alexander Ovechkin, every time steps on the ice.
Because of this, Chara is having to concentrate even more on playing strong defense. Especially in a playoff series where one false step could change the entire series.
Chara did score a goal and had two assists in the Bruins 4-3 win in Game 3—a sign he may be getting off the snide offensively.
With Tim Thomas playing great, the presence of Chara could mean the Bruins are headed to their second Stanley Cup in as many seasons.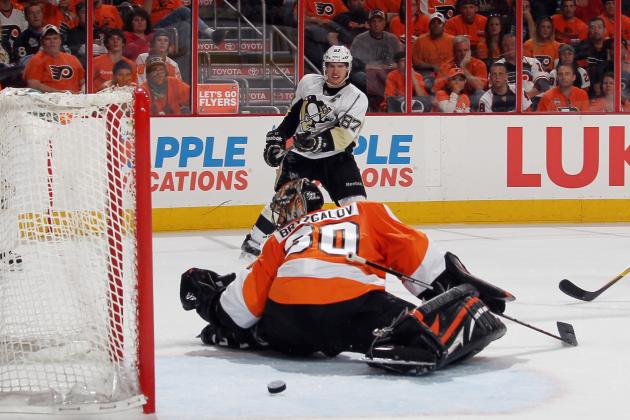 Bruce Bennett/Getty Images

It's been a very tough season for Ilya Bryzgalov.
He was signed by the Philadelphia Flyers to be the final piece of a Stanley Cup contending team. Instead, he's found nothing but trouble in the City of Brotherly Love.
That hasn't changed in the playoffs, as Bryzgalov, although he is 3-0, has a 3.95 GAA, and a .868 SV%.
Simply put, those numbers need to improve, or the Flyers will not be able to advance in these playoffs.
Yes, they have scored 20 goals in three games, but that won't get to face a Pittsburgh Penguins team who has had a complete meltdown in the last week.
Even with the struggles, Bryzgalov had a great ending to the regular season. In the last 15 games, he was 11-3-1 with a 1.67 GAA, and .939 SV%.
If Bryzgalov can get back to playing that kind of hockey in this year's playoffs, there may not be a team that can stop the Flyers.
Sadly for the Flyers' next opponent, Bryzgalov will turn it around soon.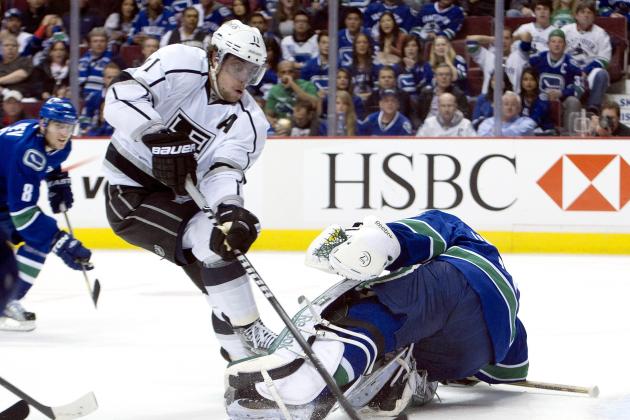 Rich Lam/Getty Images

It's not that Anze Kopitar hasn't had a good opening round for the Los Angeles Kings, but he can, and will, be much better in the second round.
Kopitar has three assists and is plus-two against the Vancouver Canucks, but has yet to put the puck in the net. The good thing for the Kings and their fans is it's not a matter of if Kopitar will do that, it's a matter of when.
During the regular season, Kopitar had 25 goals and 51 assists.
His playmaking ability is unbelievable, especially for a guy who is 6'3" and 227 pounds.
Another reason that Kopitar is such a great player is the average ice-time he plays every game. So far, he's averaging nearly 21 minutes per game in the playoffs.
If Dustin Brown, who already has four goals in this year's playoffs, continues his hot streak, he will begin to see more opponents paying attention to him while on the ice. That will mean Kopitar will have plenty of opportunities to make team's pay.
If history gives us any idea, it would be a good idea for opponents to hold Kopitar down as long as possible. That's easier said, than done.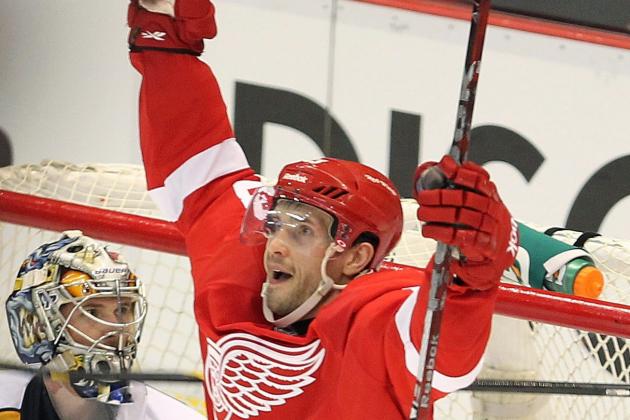 Gregory Shamus/Getty Images

There is no way that the best player in hockey—at least, according to his peers—can be held down for long.
Datsyuk's eight-game playoff points streak ended in Game 1 against the Nashville Predators. And although he slowly seems to be breaking out (a goal and an assist in Game 3), he still isn't playing to the level he could be.
In his career, Datsyuk has 33 goals and 61 assists in 124 career playoff games. Even more impressively, he is a plus-32 in his playoff career.
Whatever team faces the Detroit Red Wings in the second round of the playoffs should be afraid—very afraid.
When Datsyuk is playing at a high level, the Red Wings team becomes better. His ability to play the puck defensively, skate, pass and shoot are unmatched in today's game. Those skills will be on full display in the second round.