MLB Trade Rumors: Red Sox Must Do Better Than Scott Podsednik to Fill Outfield
April 18, 2012

Elsa/Getty Images
Pop quiz: name the current starting outfield for the Boston Red Sox.
Take a moment, if need be. See if you can do it without asking Google or Siri or Bill Simmons.
If you listed Jacoby Ellsbury and/or Carl Crawford, give yourself whatever the opposite of a pat on the back is. Ellsbury's out indefinitely with a subluxated right shoulder (feel free to look that up) while Crawford is recovering from an overweight wallet a bad wrist.
The correct answers (in case you were still wondering) are Darnell McDonald in left, Cody Ross in right and a platoon of Ryan Sweeney and Jason Repko in center.
And, according to Ken Rosenthal of FOX Sports, that less-than-legendary list might soon include (wait for it) Scott Podsednik:
Sources: #RedSox scouting #Phillies' Podsednik at Triple A.

— Ken Rosenthal (@Ken_Rosenthal) April 17, 2012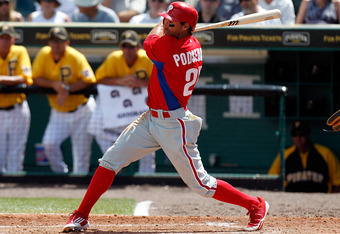 J. Meric/Getty Images
You read that right, Beantowners. Scott Podsednik, the 36-year-old journeyman outfielder who's currently hitting .150 for the Lehigh Valley IronPigs, the Philadelphia Phillies' Triple-A International League affiliate.
Murderer's Row? The only thing these guys will be killing anytime soon is the Mendoza Line.
Good thing all else is well at Fenway Park these days...not. Between a 4-7 start, a crumbling bullpen and Bobby Valentine throwing players under the bus, it's looking like Chicken Little is building a nest atop the Green Monster.
Or is talking to his realtor about it, at the very least.
What can GM Ben Cherington, still wet behind the ears after Theo Epstein's departure, do to stop the bleeding?
Well, for one, he can (and perhaps he has) cast his net a bit wider in search of another outfielder to fill the void left by Ellsbury and Crawford. The Chicago Sun-Times suggested on Sunday that the Sox could opt for center fielder Marlon Byrd, whom the Chicago Cubs have been shopping for months.
Then again, Byrd's slow start (two hits in 34 at-bats) at the age of 34 makes Podsednik's minor league numbers look semi-bearable.
Perhaps Cherington could put a call in to Anaheim to check on the availability of Angels outfielder Bobby Abreu. Sure, at 38, he's something of a defensive liability and doesn't quite mash like he used to (three hits in 14 at-bats), but he should be relatively cheap to acquire, especially after the Halos' failed attempt to dump him on the Cleveland Indians in order to clear some space for their talented youngsters.
Moral of the story: Big Ben better get crackin' on Plan B for his outfield, lest he let Chicken Little move into his office.