10 Things I Think I Know About the 2012 NFL Draft: Defensive Line
April 17, 2012

Andy Lyons/Getty Images
1. Mississippi State DT Fletcher Cox is the elite defensive line prospect and should be gone in the top 10. He won't get past the Eagles at No. 15 in any scenario.
2. North Carolina DE Quinton Coples is a hard prospect to pound on the table for in the war room and will fall into the late teens if he gets past Carolina at No. 9. 
3. Memphis DT Dontari Poe was moved higher on boards after his combine than he should have been. He might fall out of the top 20 because of his poor film.
4. LSU DT Michael Brockers combine took some of the oomph out of his stock, but his appeal to 3-4 and 4-3 teams alike will keep him in the top 20. 
5. Michigan State DT Jerel Worthy is one of the toughest players to project because of his excellence getting off the snap and beating his man one-on-one and lack of results when he doesn't get a good jump off the snap. He is more of a specialist than a jack of all trades, and his place on team boards will vary widely.
6. With Alabama NT Josh Chapman likely cleared for training camp, the best zero-technique two-gap nose tackle in the draft will go higher than most expect. The Steelers taking Casey Hampton in the 2001 first round seemed like a reach at the time, but he is still a starter for the team.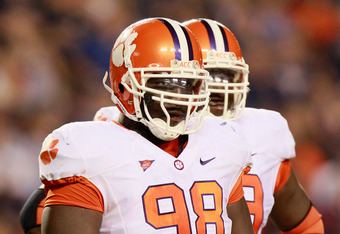 Kevin C. Cox/Getty Images
7. Clemson DT Brandon Thompson and Michigan DT Mike Martin are also underrated prospects with pass-rush and overall athleticism getting more attention right now than the ability to tie up double teams and hold the point of attack.
8. Marshall DE Vinny Curry is a bargain alternative to players like Courtney Upshaw and Melvin Ingram and will cause a team or two that is heavily linked to those players to pass in the hope that they land Curry in the second round.
9. North Carolina DE Donte Paige-Moss, Miami DE Olivier Vernon and University of Regina DT Akiem Hicks should last well into the third day, but all three have star potential and could be among the top five at their position in this class five years from now.
10. Cincinnati DL Derek Wolfe is big, versatile and productive with a motor that never quits. He'll be a top-75 pick even though he isn't ranked there by a lot of sources.