NFL Draft 2012: Doug Martin and 2nd-Rounders with Rookie-of-the-Year Potential
April 17, 2012

Otto Kitsinger III/Getty Images
With all of the focus on stud prospects like Andrew Luck, Robert Griffin III, Trent Richardson and others, it's very easy to forget about players who aren't likely to be taken in the first round.
Although first rounders tend to receive most of the accolades, it isn't at all uncommon for a player taken in the second rounder or later to win Rookie of the Year.
While talent has something to do with it, it's also important to consider what type of situation a player ends up in. Luck may very well be the best player in the draft and he'll likely start from day one, but with such a lack of talent around him, it will be very tough for him to win Rookie of the Year. He could end up throwing 20 interceptions for lack of receiving talent.
Provided the right team takes them, it is entirely possible that a second rounder takes home the Rookie of the Year award on either side of the ball. Here are three prospects who have the ability to do so.
Doug Martin, RB, Boise State
Taking running backs early in the draft isn't exactly en vogue anymore so Boise State's Doug Martin is unlikely to go in the first round, but he could pay major dividends for whichever team takes him in Round Two.
Martin was one of the most productive rushers in all of college football over the past three seasons and he has all the tools you look for in an NFL back. Not only does he have a good blend of size, speed and power, but his pass-catching ability makes him an every-down threat.
Because he is one of very few complete backs in the draft, Martin is almost a lock to go in the second round. There are several teams picking early in the round who could use him in a featured role right away including the Tampa Bay Buccaneers, Indianapolis Colts and Cleveland Browns. A lot of that depends on what those teams do in the first round, but he could possibly be a starter for any of them from day one, making him a Rookie-of-the-Year candidate.
Lavonte David, LB, Nebraska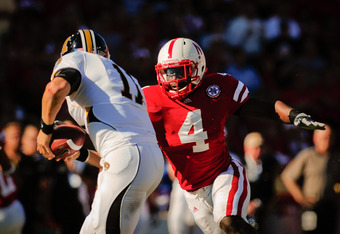 Eric Francis/Getty Images
Most probably figure that somebody like Morris Claiborne, Quinton Coples or Luke Kuechly will win the Defensive Rookie of the Year award this year, and while that may be true, don't count out Nebraska outside linebacker Lavonte David.
Because of his small stature at 6'1" and roughly 230 lbs, it's tough to imagine David going in the first round. That doesn't mean that he can't still be a highly effective defender at the next level, though, as his incredible speed and diagnostic skills should translate.
The only issue with David is that his size probably disqualifies him from playing on the outside, so he would only fit in a 4-3 defense as an outside linebacker. Luckily for him, there are still plenty of those, so he should land in a nice spot.
The team that really jumps out is the Tampa Bay Buccaneers, who are picking at No. 35. Their Tampa 2 system is perfect for a smaller linebacker like David and he could easily rack up well over 100 tackles if given the starting job immediately.
David Wilson, RB, Virginia Tech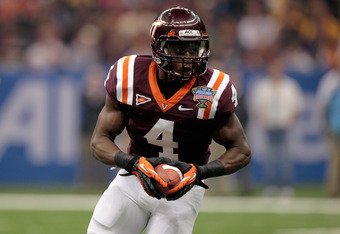 Chris Graythen/Getty Images
Like Doug Martin, Virginia Tech running back David Wilson is a player who is talented enough to be taken in the first round but will likely be pushed into the second due to a lack of need at the running back position.
He isn't as good of an all-around back as Martin since his receiving skills lack a bit, but he is a better pure runner and could probably carry the load for a team right away. His skills as a runner were quite evident last season as he was the Hokies' only form of offense at times and he has proven that he can handle a ton of carries.
The Bucs, Colts and Browns are once again all possibilities with the Colts probably representing the best landing spot for him. He wouldn't have much standing in his way other than Delone Carter and he would likely be leaned on quite a bit in order to take some of the pressure off of Luck. While Richardson appears to be the best runner in the class by a wide margin, Wilson is probably second in line and could outproduce Richardson in the right situation.