San Francisco 49ers: Taking a Look at Wes Bunting's Mock Draft Round 1 Pick
April 18, 2012

Streeter Lecka/Getty Images
With the 2012 NFL draft just over a week away, experts are pumping out mock drafts left and right.
In fact, Wes Bunting and the National Football Post have recently completed their latest edition, Mock Draft 6.0.
In NFP's previous attempt, Mock Draft 5.0, Bunting selected the controversial cornerback Janoris Jenkins with the San Francisco 49ers' 30th overall pick.
Bunting went from one side of the ball to the other in the newest mock, and decided Stanford tight end Coby Fleener's rising stock should land him a spot in the first round and right into the Niners' lap.
Obviously, the 6'6", 244-pound prospect is an intriguing option. He's an exceptional red-zone threat and his 4.4 40-yard dash time at Stanford's pro day screams that he can be so much more. 
Here's Bunting's description of the pick:
The 49ers need to add talent to the passing game, but if there isn't a receiver on the board worthy of the pick, don't be shocked to see them look at Fleener. Head coach Jim Harbaugh loves to run multiple tight end packages and Fleener has the ability to create a ton of mismatches in the pass game on all levels of the field.
The way the mock played out, Fleener is likely the best remaining option for the Niners. Wideouts Justin Blackmon and Michael Floyd were off the board early, as expected. And a run of receivers in the middle of the round saw receivers Stephen Hill, Kendall Wright and Rueben Randle all disappear by the 26th pick. 
Guard is another well-documented need for San Fran, but sure-fire prospects David DeCastro and Cordy Glenn went back-to-back with the 20th and 21st picks, leaving no choice but to fill that hole later in the draft.
On defense, however, there were a couple of promising prospects that Bunting passed on in favor of Fleener. 
Stephon Gilmore, a cornerback out of South Carolina, was surprisingly still on the board. Gilmore's big and physical presence would've added some excellent competition in the secondary. The 49ers signed Perrish Cox in the offseason to add depth, but he's been out of football since 2010 and not many would complain if he missed out on a roster spot in favor of a promising youngster.
And Mark Barron, a strong safety who was a physical force inside Alabama's stout defense of a season ago, remained there for the taking as well. But the Niners are set at safety for the near future (outside of a need for depth) and Fleener would likely have the bigger immediate impact.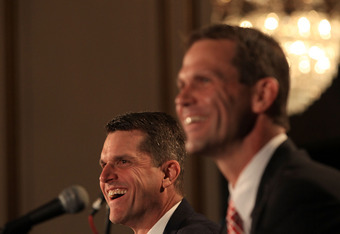 Ezra Shaw/Getty Images
Again, given how this draft played out, Fleener is an excellent selection at 30th overall.
The 49ers, and myself, are content with Vernon Davis and Delanie Walker as their top-two tight ends, but Walker's contract is up after the season and there's no guarantee he would return.
However, it's unlikely the 6'0", 242-pound TE would garner much attention on the free-agent market due to his small stature. Walker is an excellent blocker and has great speed for the position, but he's definitely not your prototypical tight end.
But we all know head coach Jim Harbaugh loves to utilize multiple tight ends, and he'd surely have a blast finding ways to throw the versatile Fleener into the mix. Fleener's rare blend of size and speed would create just as many matchup problems as Davis on the opposite side of the field.
No matter how the draft unfolds, the 49ers' recent draft history tells us Trent Baalke and Co. will uncover quality players with each of their seven selections. 
And even if it's not on the first day, you'll likely see some maneuvering by the 49ers throughout draft weekend to assure they get their guys. Or maybe they'll stockpile some picks for 2013 instead?
Only time will tell.
Thank you for reading, and be sure to make Bleacher Report the source of all your upcoming NFL draft needs.
Also, follow me on Twitter: @B_Burnett49