Ranking the 10 Worst Missed Dunks in NBA History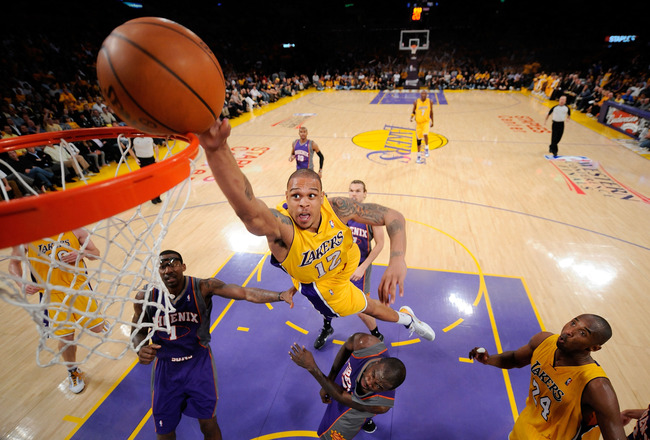 Shannon Brown showing off the art of the missed dunk
Pool/Getty Images
The slam dunk is one of the most exciting moments in all of sports. Nothing gets a crowd off their feet like a monstrous throw-down.
Dunks do not always go as planned. From playgrounds to arenas, the missed dunk is an art form that receives little to no appreciation.
It seems like dunks are being missed in the NBA more and more. Players wanting to start trending on Twitter and fighting for a spot on highlight shows are willing to take more risks dunking than ever before.
This is ultimately leading to some of the most epic missed dunks the world has seen. Missed dunks normally only seen in pick-up games and college lay-up lines have taken the pro game by storm.
It is the only top-10 list JaVale McGee could dominate. Here are the top 10 worst dunks in NBA history.
Ricky Davis Gets a Bit Too Fancy
Ricky Davis is the man who once tried to get a triple-double by missing a shot at his own basket.
It is no surprise he finds himself on this list too. This dunk attempt would have been pathetic had he been joking around before the game at practice.
Davis trying this in a game is outlandish. He is barely able to avoid traveling.
In fairness, Davis did have some spectacular dunks during his career, but this was not one of his finer moments.
Kobe Bryant Tries to Prove Point After Miss
Kobe Bryant's miss here is bad. There is really no reason to ever miss an open look that is inches away from the basket in any game of basketball at any level.
The dunk attempt is pathetic on every level.
Kobe knew this too. That is why he cherry-picked on the next play to pull out some ridiculous 360 dunk.
There is no way the Black Mamba bothers with cherry-picking and busting out the 360 if he makes the first dunk.
He knew how bad the miss was and he wanted to compensate for it.
Michael Jordan All-Star Game Disaster
Michael Jordan had no business being at the NBA All-Star game in 2002. He really had no business playing for the Wizards but he did anyway.
Everything about this miss is bad. MJ is in the open court, no pressure and obviously is looking to throw this down with some authority.
Then he leaps and sort of realizes he has nothing left in his legs. As he approaches the rim it dawns on him that he is going to miss this dunk and the look on his face is pretty funny.
Jordan may be the greatest basketball player of all time, but his missed dunk is one of the worst in NBA history.
Blake Griffin Comes Up a Bit Short
Blake Griffin tends to posterize the opposition on a regular basis, but he also misses a lot of dunks. Most people tend to ignore the latter.
This missed dunk is exceptionally bad. Griffin shows amazing athleticism, but that should not disguise the fact that he basically comes up six inches short of the hoop.
He is then forced into some water polo-esque heave in an effort to save face, but that does not work.
Griffin's missed dunk is the equivalent to a golfer hammering a four foot putt with a driver. Nearly anything else in this situation would have been better than going for a dunk, yet that did not stop the Clippers' forward from trying a throw-down.
Unfortunately, this effort ended up earning him a spot on the worst missed dunks list.
Marese Speights Airballs a Dunk
A player should never, ever airball a dunk.
Marese Speights manages to do just that. There is really little else that can be said.
Karl Malone's Dunk Goes Postal
Sometimes the mail does not get delivered. The only excuse Karl Malone had for missing this dunk was that it might have been Sunday.
The Mailman goes for power but unfortunately the ball hits the rim and is launched into the stratosphere.
Perhaps Malone was doing his best Jeremy Evans impression.
It was a bad missed dunk from Malone and the fact that it basically set up the Portland Trailblazers with a fast-break chance made it even worse.
Malone may be in the Basketball Hall of Fame but this dunk also puts him in the missed dunks hall of fame.
Toronto Raptors Mascot's Epic Double Miss
This missed dunk does not feature an NBA player, but still happened at an NBA game so it is technically within the rules.
There is nothing worse in sports than mascots. They are single-handedly the biggest problem plaguing sports at the moment.
That is what makes this double-miss by the Toronto Raptors mascot even more fulfilling.
The prehistoric creature completely shanks his first attempt by getting caught up in the trampoline and injuring himself in the process.
The costumed man hurts his ankle but tries to go Willis Reed on his second dunk attempt.
He got off the ground that time but was nowhere close to making the dunk.
The farcical scene ended with him trying to go Kerri Strug on the landing. Poor form all around from the mascot who at least got high marks in one category—missed dunks.
JaVale McGee Tries to Be Like Mike
With your team down by 25 points and 20 seconds remaining it is probably a good idea to either just go for a layup or run out the clock.
Unless, of course, you are former Washington Wizards center JaVale McGee. It is a bold move for McGee to go for the dunk from the free-throw line considering the circumstances.
However,McGee does not even come close to making his dunk, which raises further questions as to why he would try it in the first place.
It is not like the dunk would have been worth 25 points. Nothing about this dunk, or McGee's decisions in general, make any sense.
Von Wafer Poses for the Camera
Von Wafer's missed dunk during a late-season Celtics game is awesome on four levels.
1.) He is not even close on making the dunk. He gets nothing but side rim.
2.) The miss does not stop him from flexing for the camera for a few seconds. Even if he had made the dunk the celebration was a bit much.
3.) Wafer causes his teammate to travel because he has no idea what is going on. The Celtics still have a chance to score even after the missed dunk, but that is thwarted by the Florida State man.
4.) This is an overtime game against the hapless Wizards. It is not like the Celtics are coasting to victory; they really could have used the basket. The Celtics would lose this game by one point.
Keep Reading