Will Russell Westbrook or Chris Paul Win an NBA Title First?
April 17, 2012

Harry How/Getty Images
In the wild Western Conference, the Oklahoma City Thunder sit at number one week after week.The Thunder are filled with young athletic talent led by a driven Russell Westbrook who is fixated on a Championship win, and this is has made it hard for many teams to stop them this year.
However, after back-to-back losing streaks to the L.A. Clippers, some uncertainties are beginning to arise.
After these two recent match-ups between the Clippers and Thunder, a battle of talented point guards with their eye on the Championship has begun.
In a realistic comparison between Westbrook and CP3, who has a better chance at bringing home a championship trophy first? Let's take a look at the breakdown. 
Standing Alone

 Chris Paul has become legendary for his uncanny ability to create offensive opportunities for his teammates and for mastering the art of draining shots when time is of the essence.
While he has been injury-prone in the past, it appears that he is back in full force. Just in his first season with the Clippers alone, Paul has risen to the top of the league's best players again with 40.6 points per 48 mins of "clutch" time this year, currently ranked fifth in the NBA. 
Russell Westbrook is not your textbook point guard by any means. With a career-high scoring average of 47.7 percent this season, he proves that he can score and control the pace of the game offensively as well.
Westbrook is able to create ideal situations for his teammates, reads the game exceptionally well and is arguably one of the most aggressive players in the league. 
While both guards are talented, my pick in this category hands down would have to be Chris Paul.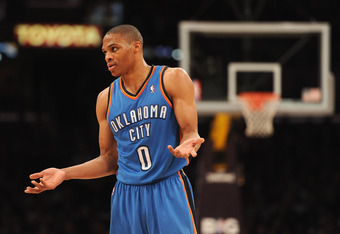 Harry How/Getty Images
The Depth Chart

The L.A. Clippers are making tremendous strides in talent on the court while shaking the looming stigma of being associated as a long-time losing and troubled franchise.
While the Clippers do have a certain level of exceptional talent found in the likes of Blake Griffin, Chris Paul and even Kenyon Martin, Caron Butler and Nick Young, there is seemingly a simplistic formula of Paul and Griffin constantly at play.
Yes, "The Chris Paul Show" has the capabilities of phenomenal workings, but realistically we must remember that he is one man and needs a great supporting cast to win a championship. 
The Thunder may not have the depth of some of the more experienced teams in the league, but they do have a bench full of talent ready to take the court as needed. Westbrook becomes an unrelenting force when offensively flanked by Durant and Harden.
There are obviously many other key players on the Thunder roster, but one extremely valuable asset to Westbrook specifically is found in the new addition of Derek Fisher. He is able to give the guard sufficient rest time and balance him with the wisdom of a seasoned championship player. 
My pick in this category is Russell Westbrook. 
As a Whole

If we were to have a hypothetical one-on-one playoff of Chris Paul and Russell Westbrook, I would place all bets on the more mature CP3.
However, taking into consideration their teams, rankings, season play and even the strategic ability of their current coaches, I would have to say that Russell Westbrook and the Thunder have a far better chance of winning a Championship before Chris Paul and the L.A. Clippers do—at least this season. 
What are your thoughts?