NASCAR STP 400: Predictions for Top 10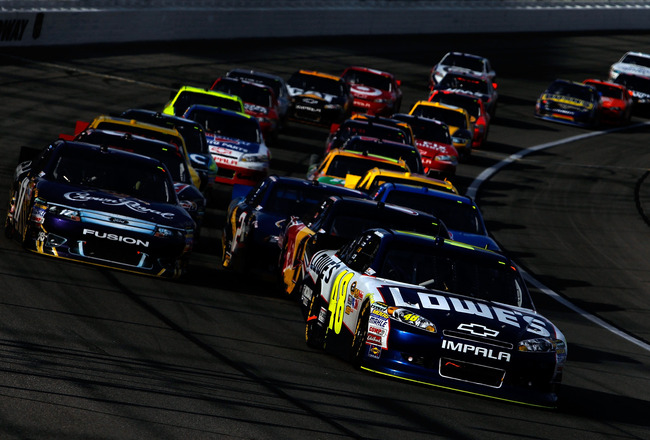 Tom Pennington/Getty Images
From Texas, we go just slightly north this weekend, as the NASCAR Sprint Cup Series heads off to Kansas Speedway for the STP 400.
Yes, it's one of those "cookie-cutter" tracks that many fans criticize NASCAR for having too much of.
However, there's one thing Kansas Speedway has that those other tracks don't have: a hotel and casino right at the speedway!
Even though this track is just 11 years old, Kansas has had some great finishes. Remember in 2004, when Joe Nemechek dueled with Ricky Rudd and recorded his final victory in the Cup Series? How about in 2008, when Carl Edwards tried to beat Jimmie Johnson on the final lap by charging hard into Turn 3, passed him, but then hit the wall, because he coudn't turn the car, giving Johnson the victory?
Will we have another exciting finish at Kansas? Who will come out on top?
Here are my predictions for this Sunday's STP 400.
10. A.J. Allmendinger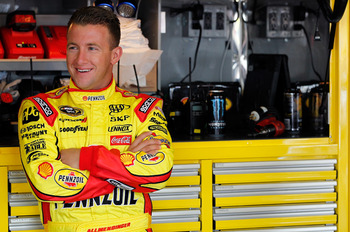 Tyler Barrick/Getty Images
Kansas was where A.J. Allmendinger got his first top-ten of his Cup career, back in 2008. He was able to get another one in 2010.
Though he hasn't posted great finishes (outside of Martinsville), I think it's only a matter of time. He's in much better equipment, running for Penske Racing rather than Richard Petty Motorsports or the now-defunct Red Bull Racing.
Kansas Speedway would be a track where I think he could start building momentum.
9. Mark Martin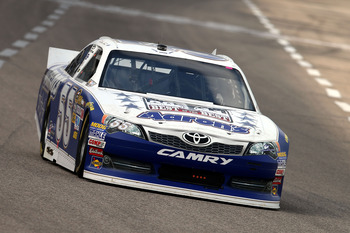 Chris Graythen/Getty Images
Despite the fact that Mark Martin has missed two races, he sits in the top 20 in the standings, thanks to that third-place finish this past Sunday in Texas.
Actually, he's been doing well in the Aaron's Dream Machine. Besides getting his first top-five of the season, he also has three top-tens.
I'm looking for another good finish at Kansas, where he has done well over the years.
He won here back in 2005, and has two top-fives and five top-tens. In addition, he finished 10th here last fall.
8. Brad Keselowski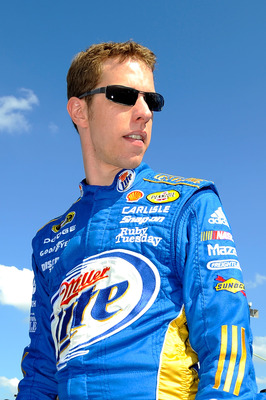 Jason Smith/Getty Images
Brad Keselowski has had a roller coaster of a season thus far.
He finishes poorly at Daytona, follows that up with a good finish at Phoenix. Finishes poorly at Las Vegas, wins at Bristol. Posts a mediocre finish at California, does well at Martinsville.
See a pattern?
Well, this past Sunday, he finished 36th. So, this week, I'm looking for the pattern to continue, and for Keselowski to post a solid finish.
Besides that, he did extremely well at Kansas last year. He won the spring race, and followed that up with a third-place finish in the fall.
7. Clint Bowyer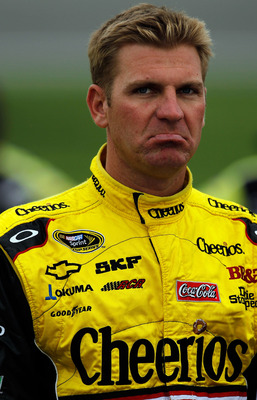 Tom Pennington/Getty Images
Some people (myself included) thought that when Clint Bowyer switched over from Richard Childress Racing to Michael Waltrip Racing, it would hurt his career rather than help it.
However, six races into the season, that doesn't seem to be the case. He has a top-five and three top-tens so far, and he sits in tenth in the standings.
Now we're in Kansas, where Bowyer is from, and he's done a good job there. He has a top-five and three top-tens here, including a seventh-place finish last fall.
I'm expecting another solid finish for Bowyer in this one.
6. Kevin Harvick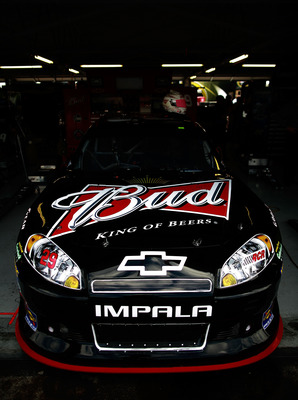 Tom Pennington/Getty Images
Fun Fact: Kevin Harvick has four sixth-place finishes at Kansas Speedway, including one last fall.
In addition, he has one top-five at Kansas and a third-place finish in 2010.
After a medicore finish at Martinsville, Harvick finished ninth at Texas this past Sunday. I expect another solid run here.
5. Tony Stewart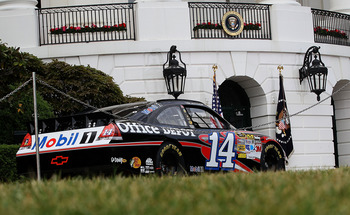 Mark Wilson/Getty Images
Kansas was one of the few tracks that Tony Stewart didn't do particularly great at in the Chase last season.
However, that doesn't he mean he doesn't finish well here. In fact, he's won here twice (2006 and 2009).
He could certainly use a good pick-me-up after a poor showing at Texas, and Kansas would be a good place to do that.
4. Carl Edwards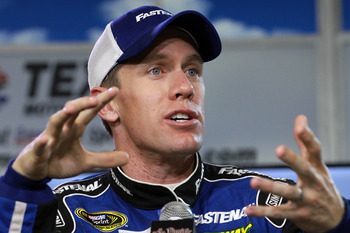 Ronald Martinez/Getty Images
Carl Edwards has never won at Kansas, but he runs very well here. He has four top-fives and seven top-tens.
Last year, he finished fifth in both Kansas races, and finsihed sixth in 2010.
I'm going to say he finishes better in this year's race... slightly, anyway.
3. Jimmie Johnson
Jason Smith/Getty Images
Some people were not happy about the fact that I left Jimmie Johnson outside of my top ten predictions last week.
It's not that Johnson isn't good at Texas, I just honestly didn't think he would finish in the top ten, and this is coming from someone who has admired Johnson since his rookie season in 2002. You can't finish in the top ten in every single race, after all.
Clearly though, Johnson proved me wrong on Sunday, finishing second to Greg Biffle.
Well, this week, I say he'll have another great finish and keep the momentum up.
Johnson has won twice at Kansas, including last fall's race. He also has four top-fives and nine top-tens to his credit, including a seventh-place finish last spring.
2. Greg Biffle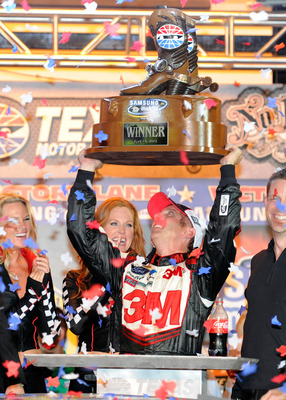 John Harrelson/Getty Images
Well, I knew sooner or later Greg Biffle would win a race this season. I just didn't think it would happen this soon.
Greg Biffle is running better than everyone else in the Sprint Cup Series, and his win at Texas on Sunday proved that. The way he's running, he could be the favorite to win the championship at the end of the season.
The only question right now though is, can he win again?
I certainly think he's a top contender for this race. He has both the momentum and the track record to be able to do so.
He's won here twice (2007, 2010), and has six top-fives and eight top-tens. In fact, the last time Biffle finished outside the top ten was in 2006, when he finished 12th.
1. Jeff Gordon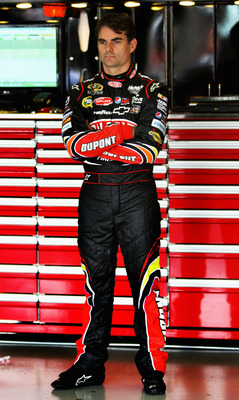 Jerry Markland/Getty Images
Jeff Gordon finally got his first top-five of the season on Sunday with a fourth-place finish. But even though it's still early in the season, he sits 17th at points. He and his crew may not be thinking about points, and instead may be focusing on getting wins here.
Kansas is definitely one place where he can succeed.
He won the inaugural race here in 2001, and won again the following year.
Besides that, he has eight top-fives and nine top-tens, and has an average finish of 10.2.
In fact, he's only finished outside of the top ten at this track three times, and two of them were because of mechanical problems (2006, Fall 2011).
Keep Reading