Eddie Alvarez Talks Shinya Aoki and Future in Bellator
April 17, 2012

Matthew Roth: This weekend you're facing Shinya Aoki. It's a rematch from a fight you guys had in DREAM. What's different in your career right now that makes this a winnable fight for you?
Eddie Alvarez: It's three years ago. Three years ago I was just finding myself in the division. I don't feel like I was confident. I was too insecure in my own abilities and what I was capable of, and mentally I was immature. I didn't know if I could compete with the top guys.
My beliefs in myself and what I was capable of wasn't exactly there, and I feel like that's a huge part of fighting. Not only that, but my skill set has grown tremendously.
I'm out here in Florida with some of the best trainers and fighters in the world, and I couldn't be more prepared for the rematch. I've done my homework and everything I need to do, and I'm ready to go out there on Friday and get the W.
Matthew Roth: This is interesting because you were supposed to face him a little sooner during the DREAM lightweight tournament, but you had the eye injury from your fight with Kawajiri. Were you bummed out in any way that you couldn't fight him during the tournament and that you had to fight him afterwards at Dynamite!! 2008?
Eddie Alvarez: To fight on Dynamite!! on New Year's Eve, it's the biggest event in history in MMA, so just to have the opportunity to fight on Dynamite!! is great. Do I think I would have had a better chance at beating him the night of the tournament? Yes.
The night of the tournament he fought Caol Uno all the way to decision, and he had him in a triangle for like the whole fight so he was tired. I was definitely the most well-conditioned fighter in that tournament at that time.
I only had a seven-minute fight with Kawajiri before the finals. I felt like I was more well-equiped and well-prepared to win that night. I went back at Dynamite!! and I didn't show up like I should have, and I got caught. I lost focus for a second and I got caught. My hat's off to him.
Some nights aren't yours, and Friday night will be mine. That night was his, and he can have it. That was three years ago, and I think it will be different.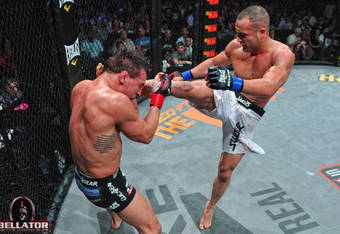 Matthew Roth: He's mostly known as a submission fighter, but he has weak wrestling. Do you think that works to your advantage if you can keep the fight standing?
Eddie Alvarez: Yeah, absolutely. Keep the fight standing or wherever the fight goes, he's good at creating scrambles to get the fight to the ground. He's one of the best lightweights in the world because he knows how to use his strength. He gets the fight to go where the odds are in his favor.
You can't lose focus against a guy like this. We worked on that. We're prepared and ready to go. I'm excited and can't wait til Friday. 
Matthew Roth: For a lot of American fans, their introduction to Aoki was the fight with Gilbert Melendez. Do you think think they know how good he actually his, or do you think they see him as the guy who got smashed by Melendez?
Eddie Alvarez: I have no clue. I think the hardcore fans know who he is and what he's capable of. I think your everyday fans only know him as the Japanese guy who Gilbert Melendez beat up. All your hardcore fans know how dangerous of an opponent he can be.
Even Gilbert knows how dangerous of an opponent he can be. If you look at the fight, Gilbert fought very cautious to get the win. Everyone knows he's a dangerous guy if you let him fight his fight. 
Matthew Roth: Alright, so regarding Bellator...What's the biggest difference with Spike's involvement now compared to past media partners such as ESPN Deportes and Fox Sports? 
Eddie Alvarez: I don't know any difference. I don't pay attention to that too much. I have the same relationship I had since the beginning with Bjorn Rebney. We have a good relationship. I don't know any difference.
I'm sure they're coming up with a ton of great ideas and a ton of great things for 2013, but right now everything is basically the same on my part. My life doesn't involve promotions and all of this stuff outside of training in the gym and my family. That's all I'm really concerned with.
I wouldn't even be able to answer that question properly because I don't pay enough attention to that.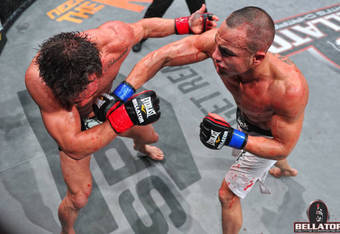 Matthew Roth: There were rumors in the late winter/early spring that you were signing with the UFC following the Aoki fight. Did those rumors affect your relationship with Bjorn at all or not really?
Eddie Alvarez: No, those were ridiculous. For someone to even say that I was signing with the UFC makes no sense. People can say what they want to say. I've had people tell me I'm great, and I've had people tell me that I absolutely suck. I've had people tell me the craziest stuff.
You can't believe what people say. You just kinda have to live your life, man, and go about your day and do what you do. People say crazy things. That doesn't even make sense.
I'm obligated to a contract that I've had with Bellator for the past three years, and I'm a man of my word, and I'll stick to what I signed. It's impossible for something like that to happen. It's just hearsay. 
Matthew Roth: Now, from your perspective, you've fought in Japan and in Bellator. What's the big difference between fighting in the United States vs. Japan? And maybe in the promotions as well?
Eddie Alvarez: The biggest difference is the knowledge. Fans [in Japan] have a deeper knowledge of MMA and what it takes such as the conditioning aspect, the courage...the fans seem to have a better grip on MMA in general. The fact that sometimes good fighters lose, they understand it. They get that. They know that champions lose in MMA. It's not like boxing where you're 50-0; that's unheard of.
Fans here in America still don't grasp that. They're getting better at it, but they still don't grasp the fact that in MMA there's so many different ways to lose that champions lose all the time in MMA. No one is unbeatable.
I think people don't account for the conditioning aspect. They just want us to beat each other up at a super-high pace for like 25 minutes. They don't understand the kind of conditioning it takes to do what we do. I think it's evolving and people understand it more than what they did five years ago, and eventually they'll get to the point that they have the same sort of knowledge of the sport as the Japanese fans. 
Matthew Roth: You brought up that champions fall and rebound, so I want to talk about the Mike Chandler fight for a second. Looking back on that fight, what do you think you could have done differently to walk away with the W?
Eddie Alvarez: I think I over-thought things. I definitely over-thought things. I was concerned with a lot of things that I shouldn't have been concerned about and should have fought my fight better.
I feel like I worked too much defensively, rather than fighting my fight and doing what I do strong. I was too concerned with the wrestling and defenses rather than worrying about what I'm strong at and imposing my will. I lost focus for a second, and Mike was able to make me pay for it.
I feel like I had a bad night of fighting, and I made a few mistakes, and Mike was ready to fight. He came after me, and he was able to capitalize on the mistakes. I learned a lot from that fight. I grew tremendously in the past five or six months because of that fight.
It was bad when it happened, but if it didn't then I wouldn't have ever made the adjustments that I needed to. I never would have improved. 
Matthew Roth: Was there any talk of an immediate rematch, or was it basically if you want to fight him again you have to go through another tournament? 
Eddie Alvarez: If I wanted to fight him again I had to go through a tournament. I was the only one who was talking about a rematch. I asked Bjorn for a rematch and was quickly denied. I would have to go through another tournament, and in order to do another tournament, I would have to sign another contract which possibly could have been another three years.
I wasn't comfortable with doing that at the time, and I've been asking for the Aoki fight for a couple years now, so if I can't get one rematch I'll take the other.
Matthew Roth: Now is the Aoki fight...for a lot of fighters, it seems like getting losses back is really important. Is that important to you, getting the W in a fight that you lost?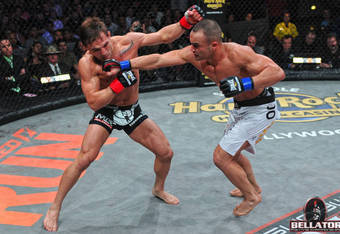 Eddie Alvarez: Yeah, it's very important. It was my first loss at lightweight. It's a testament to how much you've improved as a fighter and to see where you're at. It's a good way to gauge how much you've improved by fighting the same opponent again. 
Matthew Roth: Finally, you recently made the decision to train down in Florida with the Blackzilians and with Ricardo Almeida in Jersey. What were the factors that led you to leave the Fight Factory in Philly?
Eddie Alvarez: Every once in a while I still train with guys from the Fight Factory when I'm back in Philadelphia. For myself, for my future, for my career, I thought it was a better move to come go down to Florida. First and foremost, I'm here by myself in isolation, which means I can focus better.
There's not a lot of guys in Philadelphia that train full-time, so during the day I'm by myself a lot. That never happens down here. You get a lot of attention all day long from other pro fighters and trainers. In Philadelphia that was hard to get.
It was hard to find guys who fight full-time or trainers who were able to dedicate their time to it because the money isn't there yet in Philadelphia. Hopefully at some point it does, and I'll be able to train full-time in my hometown.
Matthew Roth: Thank you very much; was there anything I missed that you want to say?
Eddie Alvarez: I'd just like to thank the Blackzilians and all my training partners. Ricardo Almeida and the whole group that I train with over there and in Philadelphia.
Most of all my wife for being such a great woman, taking care of the kids while I'm out here in Florida which allows me to stay focused and get ready for one of the biggest fights in my career. And also Authentic Sports Management for being so awesome.