Notre Dame Spring Game: 5 Things to Watch for at Saturday's Game
April 17, 2012

Jonathan Daniel/Getty Images
Soon, Notre Dame and the Fighting Irish fans will enjoy the anticipated Blue and Gold game. Unlike years past, this spring game has many important things to watch for, rather than just offering a preview of the depth chart. Players will actually be competing for multiple positions, none more important than at quarterback.
The QB Battle
Although the decision of who will be starting quarterback will not be determined from the Blue and Gold game, it will be the first time the public will see Everett Golson, Andrew Hendrix, Tommy Rees and touted recruit Gunner Kiel compete so closely.
With Rees being the incumbent and likely one of the starters for the game, he will be attempting to help silence his critics with a strong performance. While he does this, the other three quarterbacks will be making their case as to why they should dethrone Rees and take the reins as Notre Dame's leader on offense.
Newcomer Gunner Kiel has had hype surround his name ever since his roller coaster type of recruiting process, shunning Indiana and LSU to join the Fighting Irish. If Gunner plays significant minutes, we may see what exactly the future of Notre Dame has in store.
While he should not be expected to blow away critics, it will be a good chance to see how he has progressed this spring. Learning the playbook, creating chemistry and reading a collegiate-level defense are all abilities that will be in question for Kiel during the Blue and Gold game.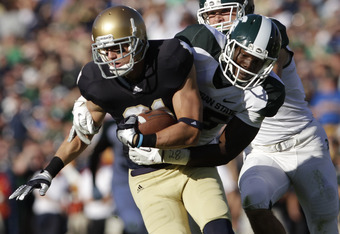 John Gress/Getty Images
John Goodman
Brian Kelly continues to praise fifth-year receiver John Goodman. Will John finally put it all together in his final year and become a key contributor?
With the speed and talent Goodman possesses, he has been a major disappointment in terms of production. Throughout his career, he has only accumulated 315 yards on 28 receptions.
Last year, we saw a similar situation with Deion Walker. Brian Kelly often stated his value and impressive play during spring, but Deion never lived up to expectations. There is one major difference between the two situations, however.
This year, the Notre Dame receiving corps lacks experience. While DaVaris Daniels will be trying to physically fill the void of NFL-bound Michael Floyd, he lacks the experience from a leadership stand point. Goodman brings by far the most experience to the table.
The Blue and Gold game will give fans a preview of whether Goodman will become more than just a star at practice, but a threat on the field during the season as well.
Replacing Aaron Lynch
It is no surprise to say that losing Aaron Lynch was a blow dealt to the Irish's defense. Outside of Manti Te'o, Lynch was Notre Dame's most talented and exciting defensive player.
Jonathan Daniel/Getty Images
Replacing Lynch will not be possible in terms of talent, but Kapron Lewis-Moore is a solid player and will serve in place of Lynch to start at the Blue and Gold game. On the heels of Kapron, will be recruit Sheldon Day. Sheldon barely cracks the ESPNU 150 at No. 143 and may offer more talent in the long-term replacement to Aaron Lynch, compared to Lewis-Moore.
It will be interesting to see how Sheldon plays come April 21, and what type of pass-rush he can create with his 6'2" and 286-pound frame. Throughout the year, Sheldon will continue to add good bulk and continue to work on his ability to rip past linemen and often play smaller than he is.
The Blue and Gold game will be the first glimpse of life without the very talented Lynch. Whether we come to find a new replacement is better than expected, or the loss will continue to haunt the defense, the spring game will be the first tell.
DaVaris Daniels' Best Michael Floyd Impersonation
Although every player creates his own legacy and image, every Notre Dame fan is hoping to see DaVaris Daniels recreate Michael Floyd.
With Michael Floyd entering the NFL draft, Notre Dame lost one of the best receivers in the nation. To start the year, DaVaris is the one tasked to replace him in the depth chart as the playmaker and deep threat.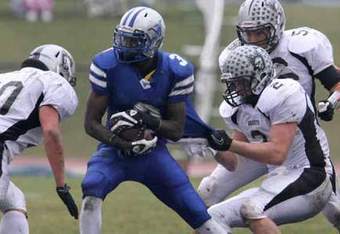 With every play during the Blue and Gold game that involves Daniels lined up on the outside, the Irish faithful will be anticipating a deep throw and spectacular catch we have seen Floyd make time and again.
It may be unfair to ask such a daunting task of Daniels, but his physical attributes and abilities almost mirror that of Floyd. DaVaris' strong points include his long stride but quickness with the ball, his arm length and leaping ability during jump balls, running clean routes and using his big hands to pluck and tuck the ball.
Sounds very familiar to Michael's style of play, and the Blue and Gold game may have a few athletic plays in store for us from the exciting Daniels.
The Tight End Pair
When Kyle Rudolph entered the draft, Notre Dame was left with a void at the tight end position. Until Tyler Eifort exploded for an amazing season with 63 receptions and 803 yards—both tight end records at Notre Dame.
Linebacker Troy Niklas has been officially moved to tight end, and is expected to mainly perform at the position as a blocker. Using his 6'6" frame and 250-pound body, Niklas also has the speed and agility to fill the void of blocking downfield as Michael Floyd did.
This move is allowed since Notre Dame has very good depth at the outside linebacker position, and it enables Tyler Eifert to move throughout the Fighting Irish offense.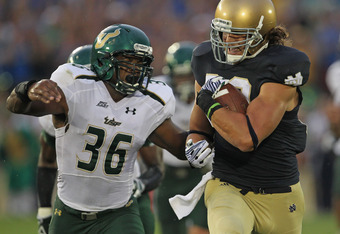 Jonathan Daniel/Getty Images
What is there to watch for at the Blue and Gold game, though? Niklas' hands and route running.
Since Niklas is a physical specimen, he could become another threat in the great line of Notre Dame tight ends if he were to learn the nuances of route running and display good catching abilities.
The question surrounding Tyler Eifert has more to do more with the receiving corps rather than himself. The receivers need to perform at a high enough level to enable Eifert to remain from being singled out.
The Blue and Gold game will not answer questions indefinitely, act as a crystal ball to see into the future and reveal Notre Dame's fate or end the crucial quarterback battle, but it will give Notre Dame fans a glimpse as to what to expect from another hyped Notre Dame team.
Follow me on twitter @mitchcharette