Alabama Football: Players Receive 2011 National Championship Rings
April 17, 2012

While the news of the demise of Alabama's AFCA Coaches Trophy will dominate headlines, the members of Alabama's 2011-12 team did receive some good news Monday night.
Alabama's team gathered at the Mal Moore Athletics facility for a dinner to close out spring practice and received its championship rings at the event.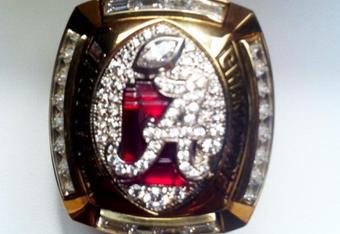 The ring features the Alabama logo inside a diamond-encrusted football, which includes a crimson depiction of the coaches trophy. Alabama long snapper Carson Tinker posted a picture of the top of the ring on his Twitter account.
According to The Tuscaloosa News, the white team—which won Saturday's A-Day game—got to eat steak at the event, while the crimson team had beans.
Alabama beat LSU 21-0 on Jan. 9, 2012, in New Orleans to claim the 2011 BCS National Championship.