Celtics vs. Knicks: How Statement Win By Boston Would Legitimize Title Hopes
April 17, 2012
Chris Chambers/Getty Images
Remember when the Boston Celtics were too old to contend for a title? Remember how fans of the team had been advocating for Danny Ainge to "blow it up" prior to the trade deadline?
It's funny how fast the narrative has changed around this Celtics team. Now, with a win against a surging New York Knicks team, Boston can legitimize its title hopes in what is likely the final season of the "Big Three" era.
Rajon Rondo and his insane streak of 22 straight games with double-digit assists has been incredible to watch, and he's garnered a lot of attention as a result, but is he the sole reason for Boston's turnaround?
Rondo has certainly turned an impressive April with averages of 11.4 points and 14.2 assists per game, but he wouldn't be racking up all of those helpers if his teammates weren't making shots.
There's more to it than Rondo.
Kevin Garnett has been monstrous. The gritty veteran has turned the clock back and really brought the heat for Boston at the right time. He enters a crucial matchup against the Knicks with April averages of 17.0 points and 9.4 rebounds.
However, it's more than Garnett, too.
We all need to be talking more about the heart and soul of this Celtics team—captain Paul Pierce.
"The Truth" had struggled previously this season, but he's come on at the right time for his club. After an impressive March where he averaged more than 22 points per game, Pierce is continuing his scoring assault in April.
Along with his 19.7 points, Pierce enters a marquee matchup in New York with a 38.3 percent conversion rate from behind the three-point line in April, his highest clip since January.
And that's where we really get into how the Celtics have had success of late.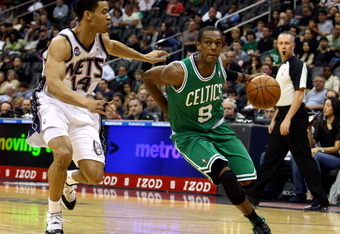 Chris Chambers/Getty Images
Rondo's ability to penetrate through the lane and create opportunities for teammates has allowed Boston to really effectively space the floor. With shooters like Pierce, Garnett and even Brandon Bass, who are all capable of hitting shots from 16-23 feet out, the Celtics keep opposing defenses on edge with a keen ability to consistently hit open jumpers.
That is going to be something the team needs to bring once again against the Knicks on Tuesday.
New York has improved its defensive attack tremendously under Mike Woodson and with the addition of Tyson Chandler inside, but the Celtics make a living from jumpers on the perimeter and that could really neutralize the impact Chandler has on this game.
Furthermore, the Knicks are going to face a challenge in attempting to slow down Rondo, who appears to be getting whatever he wants on the floor right now regardless of who is lined up against him.
This is the fourth game of the season where these two teams have gone against each other. The Celtics have won two out of three games to date, but all three games have been decided by four points or fewer.
Is it going to be a dog fight? You bet.
Neither of these teams are the same as previously. The last time Boston and New York went up against one another, Jeremy Lin was still healthy and Ray Allen was still in the starting lineup.
Neither of those things are the same this time around.
While the Knicks have made a living on the defensive end this season (fourth in defensive efficiency), Boston is now the top team in defensive efficiency and is not primed to lose that seeding anytime soon.
The Celtics' real X-factor? Avery Bradley.
ESPN's Kevin Arnovitz brilliantly discussed the impact the Texas product on Boston's defense since he moved to a starting role.
Bradley's prowess as an on-ball defender also allows Rondo to play off the ball, where he can use his long branches to play passing lanes and do a little gambling. Those arms also make Rondo a stellar choice to be one of the two back-size zone defenders in Boston's overloaded defense.
Bradley was thought to be raw offensively, and that's a major reason why he didn't play earlier this season. How has that changed?
From Arnovitz:
What about Bradley? How is he getting his buckets? Not as a first option, as Allen frequently is, but by being crafty and finding space. Bradley made a pretty baseline cut from the left corner in the opening minutes of the second half against Miami recently, meeting Rondo at the hoop for the dish. Two minutes later? Same thing.
As good as Pierce, Garnett and Rondo have been, this is a Celtics team that has found its groove as a cohesive unit rather than a group of individuals playing together.
Call it "ubuntu," "I am a Celtic," or any other catchphrase that might seem fit, but the Celtics have again emerged as a title contender, and a win against the Knicks inside Madison Square Garden would strengthen that argument dramatically.