Jermain Taylor vs. Caleb Truax: Preview, Start Time, Live Streaming and Schedule
April 18, 2012

The middleweight boxing train keeps on rolling, as Jermain Taylor looks to win his second consecutive fight when he takes on Caleb Truax and his unbeaten 18-0-1 record in Mississippi.
Taylor has fallen on hard times recently, losing four of his last six fights. The 33-year-old has looked overmatched, allowing himself to get caught with heavy punches before falling to the canvas. He needs to make a lot of adjustments, particularly on the defensive side of things, to get back on track.
Truax is getting his first chance to make a statement against the best fighter he has ever challenged. Five of his last six fights have gone to a decision, with one of them ending in a draw. He doesn't have great power, but his technique is solid and allows him to play up his skills. 
Where: Beau Rivage Resort & Casino in Biloxi, MS
When: Friday, April 20 at 11:00 p.m. EST
Watch: Showtime
Live Streaming: Showtime Anytime
Taylor's Keys to Victory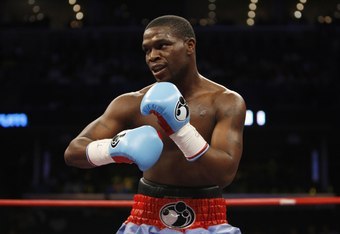 Joe Murphy/Getty Images
Use power to keep Truax off-balance early before ending it with a haymaker.
Taylor is not known for his stamina, so he needs to make sure that he is dictating the pace early in order to end it in the middle- or later-rounds. 
As long as Taylor doesn't get caught trying to fight Truax's style, which is based more on speed and control, he will be able to walk away with a victory. 
If he can't do that, he will be looking for answers after losing for the fifth time in seven fights. 
Truax's Keys to Victory
Control the tempo and don't get caught trying to match Taylor punch for punch.
Speed is a blessing for a fighter like Truax, who doesn't possess great power in his punches. He has the ability to knock opponents out, but it is not the best strategy for him to take against a fighter like Taylor. 
Instead, Truax should focus on making Taylor work early to wear him down, then he can attack in the middle rounds as Taylor's stamina wears thin and he is fighting just to keep his breath. 
At the very least, Truax can earn a decision victory. It doesn't have to be stylish, just as long as your hand gets raised at the end. 
What They Are Saying
Taylor understands just how important this fight his to his career and is determined to climb back to the top of the 160-pound division. 
From On The Beak:
My body feels great. I know what it takes and what I have to do to become champion again, but first I need to take this kid's zero. I was praying the other day and God told me to go in there and kick this kid's butt, and that's exactly what I plan on doing.

It is time to either put up or shut up.

 
Prediction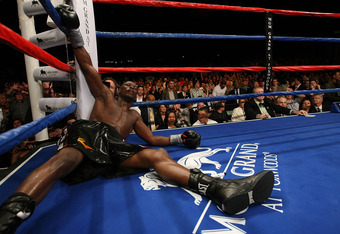 Nick Laham/Getty Images
Taylor has more experience in this fight, but Truax is an emerging fighter who matches up well with Taylor. 
Truax wins via split decision