2012 NFL Draft: Whitney Mercilus' 6 Biggest Strengths and Weaknesses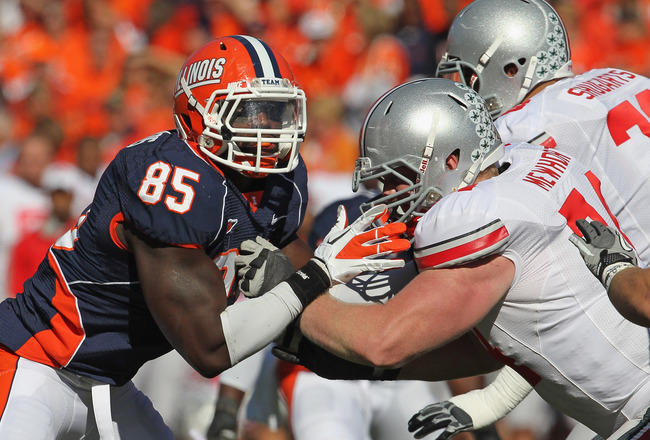 Jonathan Daniel/Getty Images
Illinois defensive end and outside linebacker Whitney Mercilus is one of the fastest-rising prospects in this month's draft. He is raw but has the measurements that makes scouts giddy in their path to find their own version of New York Giants pass-rusher Jason Pierre-Paul.
Mercilus measured in at nearly 6'4" and 261 pounds as well as having nearly 34"-long arms. Although his measurements are impressive, he has strengths and weaknesses to his game just like any other prospect.
Strength: Versatility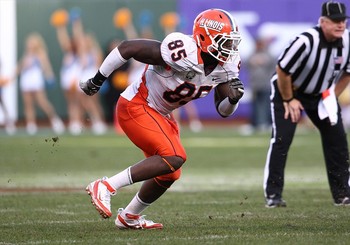 Credit to ICON SMI for the image.
One of the aspects of Mercilus' game that intrigues scouts the most is his versatility. Mercilus played a lot with his hand in the dirt as a traditional defensive end, but there were also instances in which he moved to two different positions: outside linebacker and defensive tackle.
When he was standing up as an outside linebacker, he showed more explosiveness when getting after quarterbacks and he also appeared to be more comfortable rushing from the two-point stance. He also occasionally dropped in coverage and looked OK in doing so, showing he had the agility and awareness that is needed when dropping in short zones.
Along with outside linebacker, Mercilus played a little bit of 3-technique defensive tackle and had some success because of his power and quickness at the snap of the ball.
Weakness: Career Production
The highlights in the video of Whitney Mercilus come from last season because it's truly the only season he's really been effective. In the two prior years, he had only two sacks before exploding on to the scene with 16.
This is concerning for scouts because they need to find out what was wrong the previous years and why he did not produce more. For now though, it forces them to label him as a "one-year wonder" until he proves otherwise.
Strength: Motor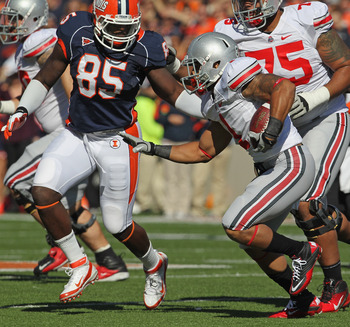 Jonathan Daniel/Getty Images
Another strength of Mercilus' game is his motor. He simply does not give up on plays. He continues to work hard after getting blocked by constantly moving his hands and feet around and it's effective.
He also displays the ability to track down ball-carriers in pursuit because of his motor and quality foot speed. Although raw, a strong motor gives hope to him developing into a quality player at the next level.
Weakness: Hand Use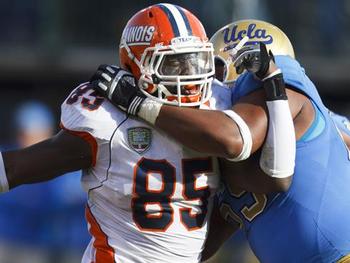 Hand use is the most important part of evaluating draft prospects. Regardless of the position, a good player has to be able to use his hands and this is where I have concerns with Mercilus' game.
He does not use his hands well as he does not properly place them nor does he have success as a pass-rusher when he's initially stonewalled by the blocker. This is something that's very concerning and must improve.
Strength: Power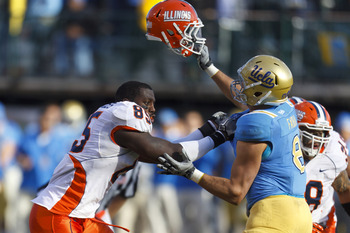 Image courtesy of Jason O. Watson
While at February's NFL Combine, Mercilus put up an impressive 27 reps of 225 pounds and his power/strength shows up on the field as well.
He is a well-built prospect whose weight is proportionally distributed, and he possesses power in both the upper and lower body. Because of this, he can overpower blockers despite not always using his hands well.
Weakness: Run Defense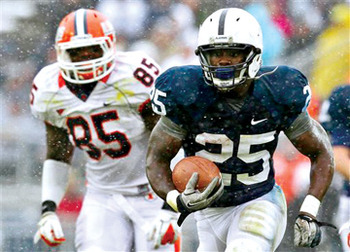 Image courtesy of Gene J. Puskar
Although he has good upper- and lower-body strength that enables him to hold off blockers, his run defense is still lacking and the reasons why are because of his hand use and footwork.
As previously noted, he does not use his hands well and this shows up in run defense because he is not able to get his hands inside of blockers. Further, despite his strength, he does not play with a good base and this negates his power.
Keep Reading