What Should Dana White Do with Gilbert Melendez?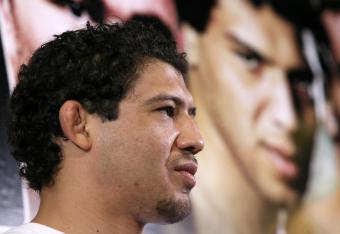 Valerie Macon/Getty Images
There are many in the MMA fraternity who would call Gilbert Melendez the best lightweight in the world. But Melendez is not a happy man. Last week Strikeforce announced that he would defend his lightweight title against Josh Thomson...for the third time.
There is some justification for the decision to pair the two again: Both are 1-1 in their previous encounters and a rubber match could decide the better fighter once and for all (P.S., it's Melendez). However, the matchup also reflects the paucity of viable challengers for Melendez who now sits frustrated in an organisation struggling to contain his talents.
In an interview with MMA Junkie Radio last week, Melendez was philosophical.
"I was hoping for something better, for some top talent, and it didn't work out," he said of his third match against Thomson, adding he wanted, "Something to raise my stock."

"You want to be the #1 guy, and right now, it seems like it's put on hold for a minute... I've just got to have fun, do what I do, and stay focused on kicking butt."
Last March when Zuffa bought Strikeforce, most assumed that Melendez would be quickly snapped up by the UFC, hot on the heels of fighters such as Nick Diaz. Melendez was coming off a first-round TKO victory over Tatsuya Kawajiri and was on a five-fight winning streak. But Dana White told him to wait.
At the time there were promises made to "El Nino" that Zuffa will make sure he has top-level opponents, perhaps some cross-over matches with UFC lightweights, but a year on, that hasn't materialised.
After his win over Jorge Masvidal last December, Melendez was quick to vocalise his impatience with his paymasters.
Is Gilbert Melendez the best 155-pounder in the world?
"I'm proud to be a part of Strikeforce, and Showtime's amazing," Melendez said. "But you know what? They need to bring some guys over here to challenge me."
Many names have been put forward—Anthony Pettis, B.J. Penn, Gray Maynard, Jim Miller—but none have materialised.
With notable wins over Clay Guida and Shinya Aoki, Melendez is clearly in a different league to the rest of the lightweight division in Strikeforce. His talents are being wasted and he knows it.
But Strikeforce has a contract with Showtime and Zuffa has to honour it. Just last December, Zuffa extended that contract until 2014. Melendez himself extended his own contract with Strikeforce on the back of promises of dream matchups. But Melendez is still left looking through the UFC shop window, with his nose pressed up against the glass, wondering what he has to do to get the challengers he deserves.
Much will depend on what Zuffa wants to do with Strikeforce. The UFC has already raided a slew of its talent, including its entire heavyweight division, and the promotion's website right now is nothing but a landing page.
All this suggest that Zuffa is ready to wind down operations at Strikeforce which could mean, that over the next two years, there is unlikely to be a fresh injection of lightweight talent for Melendez to face. And that's a waste of a talent.
#RallyForGilbertMelendez!
For more MMA goodness, checkout my blog: The Fight Week
This article is
What is the duplicate article?
Why is this article offensive?
Where is this article plagiarized from?
Why is this article poorly edited?