NBA Playoffs 2012: Best Subplots as Race for Posteason Heats Up
April 17, 2012

Harry How/Getty Images
There are some great battles going on for postseason seeding in both conferences, and the NBA playoff picture is anything but set with the regular season winding down.
With teams jostling for position up and down the standings, there are a number of players who could really swing the complexion of the postseason if they step up for their respective teams.
Let's take a look at the key issues circling playoff teams that are each searching to make a deep push.
Metta World Peace's Improved Play for Los Angeles Lakers
Several fans have been calling for the Lakers to use their amnesty clause on World Peace at season's end, and that's certainly understandable.
In the first half of the season, World Peace averaged a meager 4.9 points per game on a pathetic 33.5 percent from the floor and 23.9 percent from behind the arc.
However, it's been a different story of late. Enjoying his best month of the season by far, World Peace is averaging 14.7 points, 4.6 rebounds and 1.4 steals on 49 percent shooting from the floor. He's also vastly improved his three-point shooting this month, converting a very respectable 35.7 percent of his attempts. 
World Peace need him to play like this moving forward so the Lakers have another offensive threat to stretch the floor when things are jammed up down low for Andrew Bynum and Pau Gasol.
How New York Knicks will fare when Amar'e Stoudemire Returns to Lineup
New York has impressed almost everyone with its play under Mike Woodson, and the most noticeable difference has been the effort level of Carmelo Anthony under his new head coach.
With Stoudemire out with a bulging disc and Jeremy Lin sidelined following knee surgery, Melo has been carrying the team and is averaging an impressive 31.7 points per game in April.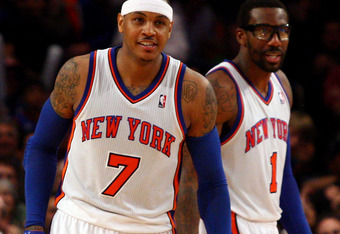 Chris Chambers/Getty Images
Stoudemire and Anthony both demand lots of touches on offense, so it will be very interesting to monitor how the two play alongside one another when Amar'e returns to action.
The $100 million power forward has been out since March 24, and the Knicks have gone 7-4 without him.
Zach Randolph's Emergence for Memphis Grizzlies
Randolph was a forgotten man for a lot of people after missing such a substantial chunk of time early in the season, but he's getting back into the swing of things for the Grizzlies at just the right time.
Memphis is rolling in April, and Z-Bo's play has certainly aided the recent surge.
He hasn't quite found his shooting touch just yet, but he's a double-double threat who eases the offensive burden of Rudy Gay and Marc Gasol while making the Grizzlies a more complete team.
Randolph has the opportunity to become the team's X-factor down the stretch.
Who Steps Up for Dallas Mavericks Besides Dirk Nowitzki?
It seems like an awfully long time ago that we were talking about the championship Dallas Mavericks team, doesn't it?
Just six games over .500 with the season winding down, the Mavericks haven't been able to rely on anyone to provide consistent offensive production alongside Dirk Nowitzki for the duration of the campaign.
Although the team has solid contributors like Delonte West, Shawn Marion and Jason Terry, none of those guys show up every night, and with the way the roster is constructed, the Mavericks can't afford to have that happen.
Unless an unexpected source of production steps up in a big way, it's tough to imagine a scenario where the Mavs enjoy postseason success.