Who Will Be the Next Face of Sports in Indianapolis?
April 17, 2012

Vincent Laforet/Getty Images
For as long as I can remember, Indianapolis has had one premiere athlete who served as the face of the city.
We hung our hat on him, rejoicing in his glory and grieving during his failures. It was his jersey everyone wore, for he was the unofficial mayor in a city that treats its stars like family.
Reginald Wayne Miller was the first of my lifetime, having been drafted in 1987 by the Indiana Pacers ahead of home favorite Steve Alford. Miller spent his entire career in Indy, saying a very emotional goodbye in 2005.
If you're of my generation and a fan of the Pacers, Reggie's triumphs were your childhood, spending time mimicking his movements and wishing you could drain a three in the final seconds with a sniper's accuracy the way he could.  My pickup game go-to move is still running the baseline looking for a shot on the wing. 
Reggie was one of the most hated players in the league for his trash talk, his ability to draw fouls and, most importantly, his clutch shooting ability.
In 1994, Miller scored 25 fourth-quarter points at Madison Square Garden, but the Pacers couldn't top the Knicks in the series. The following year was his historic eight-second feat, finding a way to score eight points in such a short amount of time and astonishing all, including John Starks, who couldn't even sink free throws after witnessing it. 
In the Michael Jordan era, getting out of the East was impossible, but it is my belief that Reggie was at least able to cement himself as the greatest clutch shooter of all-time despite never winning a ring. 
He was such an endearing figure, and despite how people outside of Indiana felt about him, there was no denying his illustrious Hall of Fame career. In Reggie's final game, opposing coach Larry Brown called a timeout just to give Miller the exit he deserved, a moment that will remain as emotional for me as anything I've seen in sports.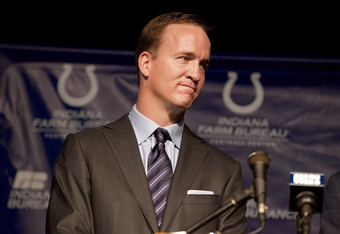 Joey Foley/Getty Images
But as Reggie's career was winding down, there was a guy down the street in the dome who was doing great things himself, with back-to-back MVPs in 2003 and 2004.
Peyton Manning was drafted in 1998 by the Indianapolis Colts, and his unparalleled abilities brought football to center stage in a basketball-driven state. Manning and the Colts won Super Bowl XLI, and it felt as though years of frustration for both Pacers and Colts shortcomings came together in a joyous championship for a great sports city.
Despite their similarities as being the figure and face of a city, donating money and working with charities, loved by all within the fandom of Indy sports, Reggie and Peyton differed in one major aspect—clutch-ness.
Reggie had ice water in his veins, while Peyton with few exceptions seemed to falter when the bright lights were on.
Nevertheless, he was the MAN-ning in Indy, until this year.
Reggie has traded his Superman warm-up T-shirt for a TNT microphone, and Peyton is throwing passes in the thin air of the Mile High city. So who is next?
It can't be another Colt yet, because the rebuilding process this year has left a roster with very few names anyone knows.
Pacers 2005 draft pick Danny Granger has played great ball, but on a struggling team until late, he doesn't seem to show the star power Reggie did. Paul George has really shown out this season, including a glowing performance in the dunk contest, but until the Pacers really prove they're back, your average fan might find it hard to latch onto one of these stars.
The answer is as simple or as complex as you want to make it. The Colts' No. 1 draft pick next Thursday night will become the new face of sports in Indianapolis. Peyton made Indy a football town, and unless the Colts decide to make Ryan Tannehill their new quarterback, I don't think it can go wrong.
Long-shot Robert Griffin III has a bubbling personality that you can't help but love, seeming to smile constantly and wearing cartoon socks as a good-luck charm. He is electrifying on the field with a balance of speed and precision passing, but he's most likely a Redskin.
Favorite Andrew Luck is the sure thing; the passer who everyone knows will put in the time Peyton Manning did to make himself and his team great. His goofy and almost nerdy disposition remind many of a young Peyton, and we all hope he develops in the same manner.
Indianapolis is a city desperate for a star right now, reeling from the departure of Peyton Manning and the lack of wholesome talent in the Pacers' organization during the mid-2000s. Top draft picks always have big shoes to fill, but none have ever had expectations as big as the million-plus metropolitan Indianapolis residents.
Choose wisely, Mr. Irsay.