2012 NFL Schedule: Most Epic NFC vs. AFC Showdowns
April 17, 2012

Elsa/Getty Images
The 2012 NFL season is filled with fantastic games, and some of the best ones are the cross-conference matchups. 
These could all potentially be a preview of next year's Super Bowl, but of course there's no telling who will make it that far. At least these games will give fans a great indication about who is at the top of the league. 
While the 2012 NFL season is rather far away, it's never to early to get pumped up about the great slate of games. 
That being said, here are three NFC vs. AFC showdowns sure to be epic. 
San Francisco 49ers at New England Patriots
The 49ers were very close to making the Super Bowl this past year and many will have them as favorites for 2012 after their intense work this offseason. 
San Francisco vastly improved their offense with the additions of Brandon Jacobs, Mario Manningham and Randy Moss. 
Everyone knows that the Patriots will be the team to beat in the AFC, and seeing how they stack up against the stout defense of the 49ers will be great. 
Both teams will use this game to see just how good their team is, and since both teams hate losing, this will be a fantastic battle. 
New Orleans Saints at Denver Broncos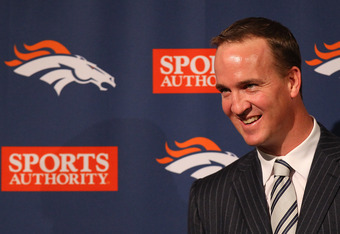 Justin Edmonds/Getty Images
The Broncos are going to be featured a lot this season thanks to their acquisition of Peyton Manning. 
Facing a team as good as the Saints will allow everyone to see what this new-look Denver team is really made of, which will be very exciting. 
This is also a game to watch for because the Saints are going to be heavily watched and scrutinized throughout the year because of the Bountygate scandal. 
Without head coach Sean Payton, it will be interesting to see how Drew Brees and company fare against a team expected to be elite in 2012. 
Green Bay Packers at Houston Texans

The Texans are heading in the right direction as a franchise, and beating a team like the Packers in the regular season will give them an immense amount of confidence. 
Green Bay tore through its schedule a year ago, but in 2012, the Packers have a few more challenging games. This showdown will be a true test for their defense, and the same could be said for Houston's defense as well. 
Aaron Rodgers and his offensive playmakers will be on a mission this season, ready to avenge the terrible ending they suffered a year ago. 
With superb talent on both sides of the ball for each team, it's easy to see this will be one of the best cross-conference matchups in 2012.