NBA Draft 2012: A Look at the Most Underrated Players
April 17, 2012

Mike Stobe/Getty Images
With the 2012 NBA draft looking to be the deepest of any since 2003, there will undoubtedly be a few players who will exceed initial expectations. 
In many of the 2012 NBA mock drafts it seems that the top five picks are almost a certainty, including in some order Anthony Davis, Thomas Robinson, Michael Kidd-Gilchrist, Andre Drummond and Bradley Beal. It has been a while since the top of the draft board was locked down like it is for the 2012 draft, but there is a plethora of potential NBA talent waiting for their names to be called after these five guys.
In no particular order, here are the three most underrated prospects in the 2012 NBA Draft.
Doron Lamb: SG, Kentucky
A 6'4" sophomore from the University of Kentucky, Doron Lamb is one of the best long range shooters in the 2012 draft. Lamb shot 47.6% from behind the arc in his two years, averaging 13.2 points over 31 minutes per game in his sophomore campaign. 
Lamb's biggest unmeasurable is his penchant for stepping up in big games, and never was that more apparent than during the 2012 NCAA Tournament where he averaged 16.5 PPG and shot 52% (12/23) from long range.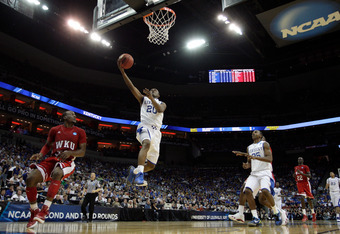 Andy Lyons/Getty Images
The biggest obstacle for Lamb will be his size. At 6'4" he will be undersized compared to many NBA shooting guards, which could affect his ability to get his shot off. He is ranked as the 6th best shooting guard by ESPN's Chad Ford.
NBA Potential Comparison: Jason Terry
Royce White: SF/PF, Iowa State
White is one of the riskiest players to draft this year, however his upside could easily outweigh the negativity that has surrounded him for years.
He has the potential to be a career double-double player in the NBA, but White's many off-court issues have interrupted his basketball career. White's anxiety disorder and fear of flying has been well documented during his time at Iowa State, as well as his legal problems while attending University of Minnesota.
White averaged nearly a double-double for the Cyclones in the 2011-'12 season, putting up a 13.2/9.3/5 slash assists per game. At 6'8 and with the ability to play in the front and back court, White could be a great overall player in the NBA for many years. 
NBA Potential Comparison: Andre Iguodala
Festus Ezeli: C, Vanderbilt
Ezeli climbed many 2012 NBA mock draft boards quicker than any other player this year. His stock began to rise towards the end of the regular season, and then skyrocketed after the Commodores defeated top-ranked Kentucky.
With a 6'11, 255 lbs frame, it is pretty obvious that Ezeli relies on his size and strength to dominate the post. He is one of the most intriguing prospects in this years draft because he did not start playing until he was about 15 years old. Ezeli, now 22, has plenty left to learn and could be a superior post presence for many years.
However if he wants a chance at any of that success, he will need to get in better shape, develop his scoring with his back to the basket and also his overall rebounding skills.
NBA Potential Comparison: Kendrick Perkins