The NFL Mock Draft 2009 Part Deux: Revenge of the Combine Slob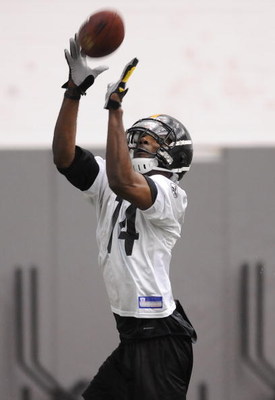 I have returned with my next ten picks from 11-20. Like I said I will return and happily after Mel Kiper too.
Let's see, Mel Kiper who has really been one to overestimate and underestimate people, but always gives a show, says about this when he pops up on ESPN again. I really do want to see his reaction =).
Beyond that, Here are the next picks...pick 11...Buffalo selects...
With the Eleventh pick of the NFL Draft the Bufallo Bills select...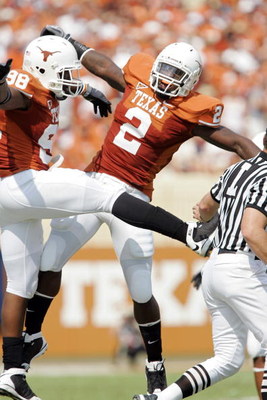 Biran Orakpo DE/Texas
You have to feel bad for the Bills. The greatest player in team history is going to prison and most likely will stay there for a very long time. They held the AFC East lead by a mile then collapsed so nasty they landed here.
Time to start a new year right? So I have them picking a guy who seems in this picture to try to copy the New York classic known as West Side Story. Buffalo is upstate New York but whatever.
One reason for the collapse is NO PASS RUSH. None...nada...zip...zilch
So what the Bills do here is pick up one of the better on the board, a boy named Orakpo. He almost sounds like a Spider honestly but still I like his chances and really this is all the Bills desperately need.
With the Twelth pick of the NFL Draft the Denver Broncos select...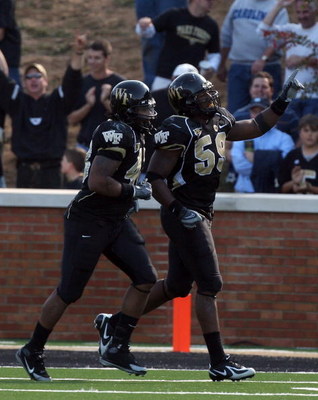 Aaron Curry LB/Wake Forest
First lets feel sorry for the Broncos. They had the AFC West, lost it the last day of the season and thus moved to pick 12. Anyways...
I have Aaron Curry here!?
Well Aaron Curry is one of those fun guys on Draft day that will probably go anytime anywhere. He just has that many questions to that many positives.
What I have is Denver getting him, desperate with no defense left by their greatest coach supposedly. They have an amazing offense and no defense, what do you think they are going to pick? Next!
With the Thirteenth pick of the NFL Draft the Washington Redskins select...
Eugene Monroe OT/Virginia
Alright the Redskins need a Pass Rusher, but a healthy JT should fix that so the next choice really is...a tackle. Another big drop...Zorn seems alright though so no worries.
But with an aging corp it may be time to get Eugene Monroe to make it a bit healthier. Another idea is a second back to Portis that can take some load off.
With the Fourteenth pick of the NFL Draft the New Orleans Saints select...
Clint Sintim LB/Virginia
Another Virginia pick which has started to get a legacy of pass rushers. New Orleans looks to continue to improve their defense while like the Broncos strives on their nearly epic offense.
So, see... the Saints get this pass-rusher and move him around a bit so they can be able to get a stronger footing in a tough NFC South division. Of course, he is a WTH? pick but it may be worth it in the end especially with the uncertainty of Johnathon Vilma.
With the Fifteenth pick of the NFL Draft the Houston Texans select...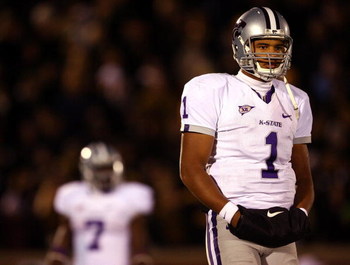 Josh Freeman QB/Kansas St.
Hmm another WTH? prediction huh? Well, see, it like this: the Texans have a defense including stars of Williams, Ryans, and Robinson and play their AFC South rivals tough.
What it comes down to it though, Sage Rosenfels is an amazing BACK-UP and plays a nearly 16 game season since Schaub is so easily injured.
This can be blamed on their line, but beyond that, Schaub is going to have his head rocked off sooner or later and Rosenfels can't handle sixteen.
So the Texans will probably get a QB and Freeman looks to be a Flacco and be picked up like this. This may wind up for the better and at least give Andre Johnson an arm to grab a ball from.
With the Sixteenth pick of the NFL Draft the San Diego Chargers select...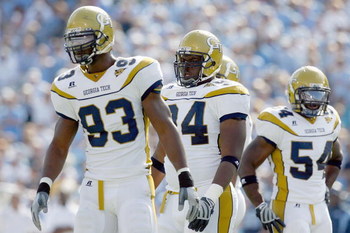 Michael Johnson DE/Georgia Tech
The big reason San Diego has issues this year? Shawne Merriman fell down and the Chargers suffered defensively.
They made the playoffs because Rivers turned into a Grade A QB making the draft with him, Eli, and Ben looking like one of the great QB drafts but still.
What the Chargers need is a guy to be there in case any more problems happens with the big guy's knees since he did say "Career Threatening" in a sentence.
So I can see the Chargers getting him. I know he isn't a big producer, but in Combines make him look like a beast.
With the Seventeenth pick of the NFL Draft the New York Jets select...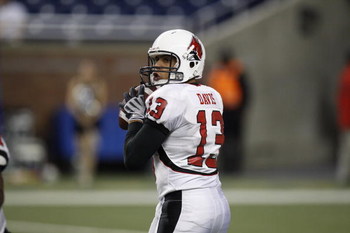 Nate Davis QB/Ball St.
OK another player that no one has heard of other than David Letterman. A MAC QB is normally good so there is no problems here and he is promising.
This pick will rely purely and I mean purely on what Brett the Jet does this year. Honestly sick of a was hero of mine I just want him to retire already and a new system under Rex may call for him to call for a new QB to start young and try to have another Flacco performance.
If Brett does stay look for a young LB here like Cushing. Before I had a QB here and people laughed
what now? I am not changing.
Oh and on Favre, don't blame anyone else since all the picks he threw did cost the Jets all those games down the stretch that lost them the AFC East and all. No one else is too blame, get over it.
With the Eighteenth pick of the NFL Draft the Chicago Bears select...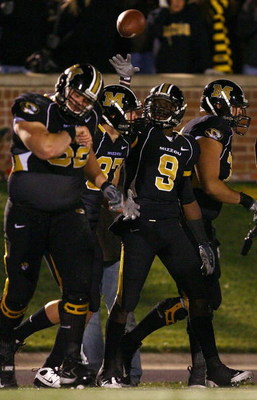 Jeremy Maclin WR/Missouri
The Bears are desperate for a number one receiver. Hester should just go back to being a returner and Booker is beyond his prime so look for Chicago to get Orton a weapon in Maclin who can change the game. Oh what else?
He can make a return game more dangerous by making punters and kickers to literally pick their poison. So Bears fans can you see the Special Teams of the future being this scary
Maclin and Hester running wild? I know you can see it and you dream it, so here goes Maclin.
With the Nineteenth pick of the NFL Draft the Tampa Bay Buccaneers select...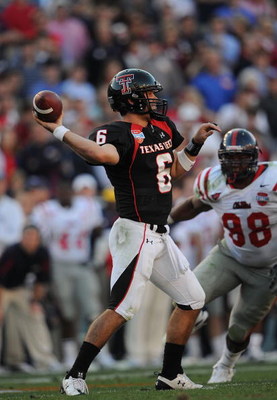 Graham Harrell QB/Texas Tech
Where are the running backs going on this board? I know this is a stretch but he still did amass massive numbers and a little back he was a top prospect and a Heisman front-runner.
So of course the Big 12 QB's are running wild around so the next pick will probably come here for one. Harrell is just one of those guys who probably will get higher consideration as the Draft draws nearer and his talent starts over-shining.
Why the Bucs are getting him? Jeff will either move off or retire and then what? The endless roster spot in Tampa probably has no one who could be a starting QB so look for Tampa to draft one...here
another possibility is Harvin or one of the two backs still around.
With the Twentieth pick of the NFL Draft the Detroit Lions select...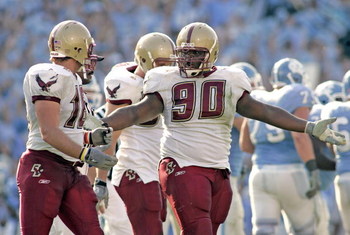 B.J. Raji DT/Boston College
Alright why? The Lions need help anywhere. Not only do they need a face of the offense they need a defensive danger like B.J. Raji.
He is considered the best Defensive tackle available and the new Detroit system will see this and like him and most likely draft him for a pass rush.
Another choice would be a tackle but this draft is full of them. So let it be the next guy will be in the trench for Detroit.
Which thus concludes my picks until twenty...a few surprises and wait for it until after next Sunday so I can finish up my first round.
Alright and now I'm off to watch more and more Mel Kiper talking...and talking...and talking...and...
oh well this may take a while
Stay Posted =D
Keep Reading