Arsenal vs. Wigan: 6 Things We Learned About the Gunners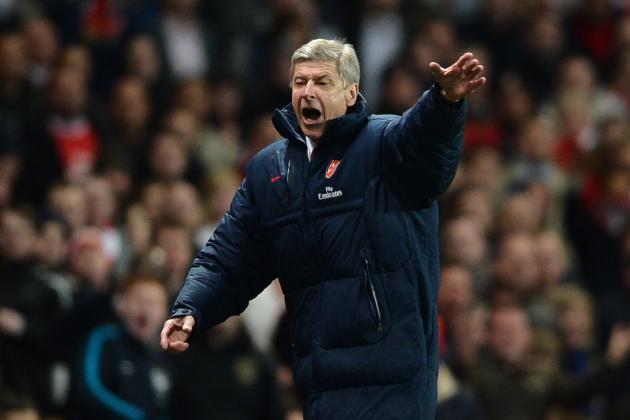 Laurence Griffiths/Getty Images

Just when Gooners were starting to feel comfortable about this season, the Arsenal of old reared its ugly head once more.
Arsenal needed a win against relegation-battling Wigan to continue their march toward third place. Although Wigan's form has been better of late—beating Manchester United and being robbed against Chelsea—Arsenal were the in-form Premier League team.
So, with a nice easy Monday night fixture on their plate, Gooners seemed set for a comfortable win. However, fans always seem to forget that Arsenal are Arsenal, and they will always find a way to lose when it's least expected.
Knowing this, here are six things we learned from the Wigan game.
Begin Slideshow

»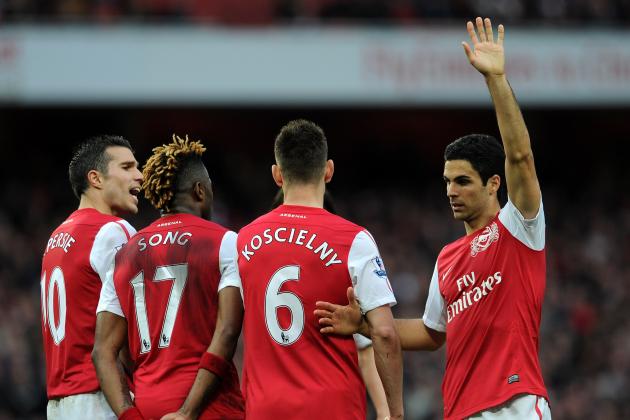 Michael Regan/Getty Images
Arteta: He will be missed
Although there remains an ongoing debate about whether Mikel Arteta has adequately replaced Fabregas (secret: They don't play the same position, so stop comparing), recent weeks have brought Arteta's importance into focus.
The Spaniard hit a stunning free kick against Aston Villa and a winning long-range strike against Manchester City. His ability to make play tick over in the center of the park—while also providing defensive stability—is vital for an Arsenal squad that have suffered from inexperience.
Arteta isn't flashy, but he is critical to Arsenal's possession game. That's what makes his injury so worrying. The midfielder hurt his ankle in the early stages of the game, limping back as Wigan countered for their first goal. He was off the field before Ramsey had even subbed on.
Without Arteta on the pitch, Arsenal lacked stability and decisiveness in the midfield. It's fair to say that without his injury, the Wigan result may have been different.
The main concern, though, is the rest of the season. At this point, Arteta is a doubt for the match against Chelsea, and it's uncertain if he will be out for the rest of the year.
Now that the race for third and fourth is back on again, Arsenal are going to have to adapt quickly if their midfield general is out.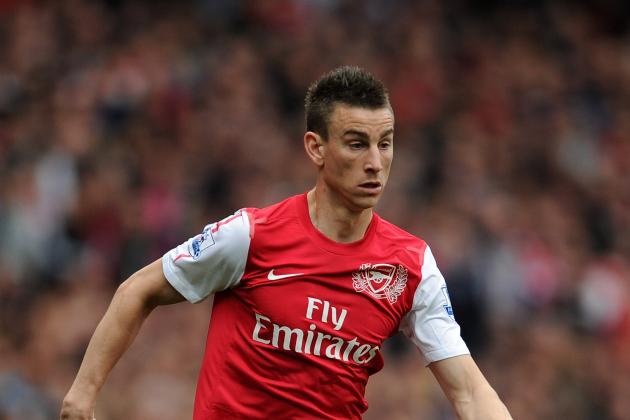 Michael Regan/Getty Images

Some Arsenal fans argue that outside of Robin van Persie, Laurent Koscielny has been the club's most valuable player this season. I happen to agree with this, as the centre-back has been absolutely tremendous.
Koscielny was suspended for two games following the Manchester City game. Arsenal played well against Wolves—who were at 10 men for most of the match—so Johan Djourou wasn't tested much.
Against Wigan, though, Arsenal missed Koscielny's solidity and defensive awareness. Djourou was effective for much of last season, yet this year he looks short on confidence. While he wasn't directly responsible for either of Wigan's goals, it's clear that the defense is completely different when Djourou is in the lineup.
Without Koscielny, Arsenal struggle to bring the ball out of the back as effectively. Koscielny is calm in possession and strong in the tackle; these are not Djourou's strengths.
Arsenal missed their defensive rock on Monday night and paid for it. At least he's back for the weekend.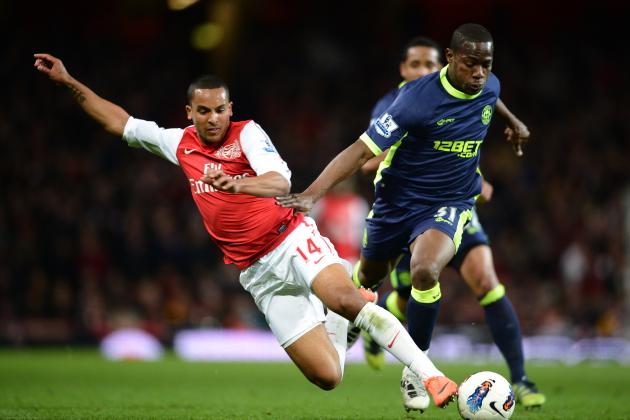 Laurence Griffiths/Getty Images
Frustrating night for Walcott
Theo Walcott has his share of critics. At times, it seems everyone in the Emirates is against Walcott—most recently in the first half against Tottenham.
In the second half of the Tottenham game, though, Walcott turned it around. Following that performance, he has been in good form—chipping in with key goals over the past few games. Walcott has been playing to his strengths, and he moves into space behind the back line.
The Wigan game, however, was a demonstration that Walcott still needs a lot of work—especially in games when he doesn't have space to run into. Walcott struggles with his back to goal, and that was exposed again Monday.
Monday's game seemed a good opportunity—given Wigan's tactics and the goal deficit—to either move Walcott up front in a 4-4-2 or sub him out given his ineffectiveness.
A 2-1 loss later, and Arsene Wenger tried neither. Theo has grown as a footballer this year despite his weaknesses. He is becoming a better finisher and provider out wide.
Still, to take his game to the next level, Walcott needs to learn how to beat defenders one-on-one when he lacks space to move. Alex Oxlade-Chamberlain has shown that speed matched with trickiness can be deadly in the right combination.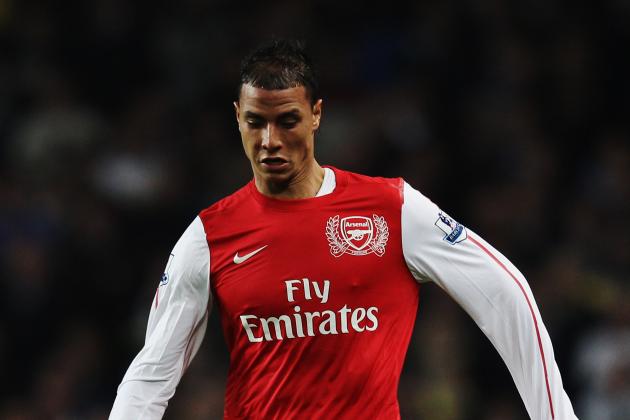 Clive Mason/Getty Images
No room for Chamakh?
Wenger is nothing if not stubborn, and the Wigan game was another demonstration of that. Sometimes this works, but Monday was not one of those nights.
Although Arsenal went down too early into the first half and lost Arteta to injury, Wenger did not change his tactics. Instead, he subbed Aaron Ramsey in for Arteta (a like-for-like move). Then, when Arsenal's offensive moves were going nowhere in the second half, Wenger subbed the effective Yossi Benayoun out for Gervinho.
Wigan's 3-4-3 system created problems for Arsenal throughout the game, as the three centre-backs smothered all space for the isolated Robin van Persie. The game was calling out for a change of tactics to adjust to Wigan's inventive system. Wenger's 4-3-3 had stalled by the 70th minute, and Arsenal needed tactical flexibility.
Marouane Chamakh has had a poor season at best, but if he can't get in a game like this, then when can he? Chamakh offers a physical and aerial presence different from any other Arsenal forward. By the end of the game, Arsenal were sending in hopeful balls into the box and the only options were a tired Van Persie and tiny Walcott.
Wigan were creative in their tactics; Wenger was stubborn. On Monday night, it didn't pay off.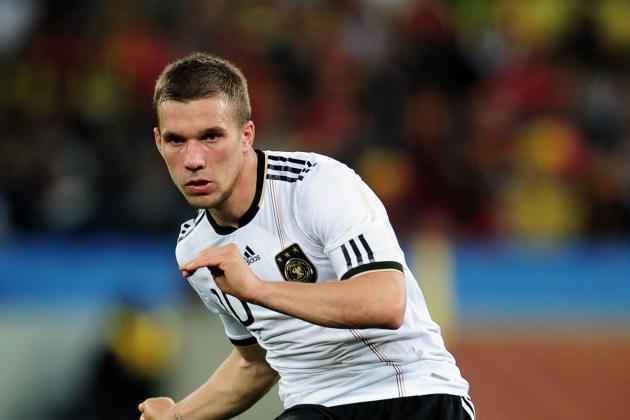 Clive Mason/Getty Images
Podolski needed now
The Wigan game was another clear demonstration of how badly Arsenal need a second striker to help Robin van Persie. Though the Dutchman has carried the club on his shoulders many times this season, he cannot do everything.
Van Persie has worryingly been looking tired recently—not a surprise given his exploits throughout the campaign. When Arsenal went down two within 10 minutes to Wigan, Arsenal needed someone else up front who could help the striker.
Unfortunately, Wenger looked down the bench and obviously wasn't happy with his options. While I think Chamakh could have been effective in the second half, at least to offer something different, Arsenal still need to reinforce up front. It is not good enough to bring on wingers in hopes of goals; a top-flight team needs multiple striking options.
If Lukas Podolski does come to Arsenal, it will be a good start. Something needs to happen; the Wigan game was another clear example of this.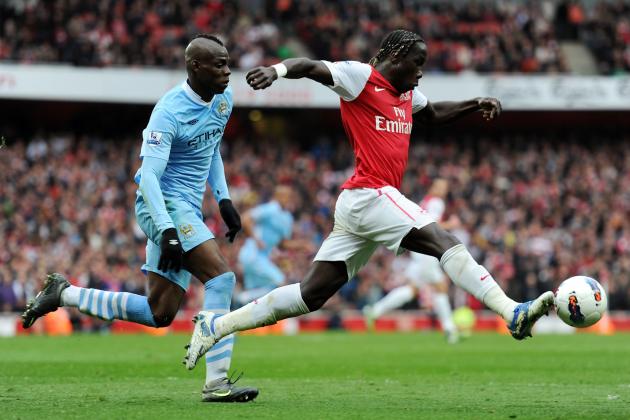 Michael Regan/Getty Images
Not a good game for Sagna
Since Bacary Sagna's return to the Arsenal defense following his injury, the French right-back has been in top form. His presence along the flanks adds defensive solidity, while also providing the offense with dynamism going forward.
The Wigan game, however, was a demonstration that Sagna can have poor games, as rare as they may be. He played a role in both Wigan goals. For the first, Sagna's weak header after the corner was cut off before it reached Van Persie and this started the counter.
For the second, Victor Moses—the exciting Wigan winger—skinned Sagna for the second goal as he glided past him easily at the byline.
In the second half, Moses gave Sagna more problems, as he broke past him down the right side and fired a hard shot in on Wojciech Szczesny.
Without Kieran Gibbs and Koscielny, it was even more important that Sagna perform at his usually high level. The Arsenal defense is improving, but the weak counterattack goals were examples that there's still work to be done.
On days when Sagna doesn't show up, the Arsenal back line can prove mighty leaky.