The 5 Hardest Hitters in the 2012 NFL Draft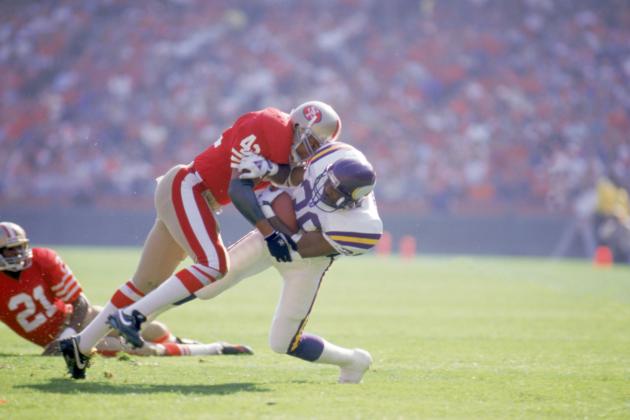 Otto Greule Jr/Getty Images

In a post-Bountygate world, it feels wrong somehow to write an article praising the hardest hitters in college football.
Such is our hypocrisy, that while the NFL tries very hard to change the psychology of football players that makes them mentally capable of laying huge, unnecessary, painful, even damaging hits on one another, we continue to silently (and at times, very loudly) thirst for that which we decry.
There are those who claim that hard hits, de-cleaters and the disorientation (a.k.a. brain trauma) that comes with such hits and injuries are all part of the game. For myself, I cannot decide one way or another.
However, what I can do is tell you who some of the hardest hitting players in the 2012 NFL Draft are.
Begin Slideshow

»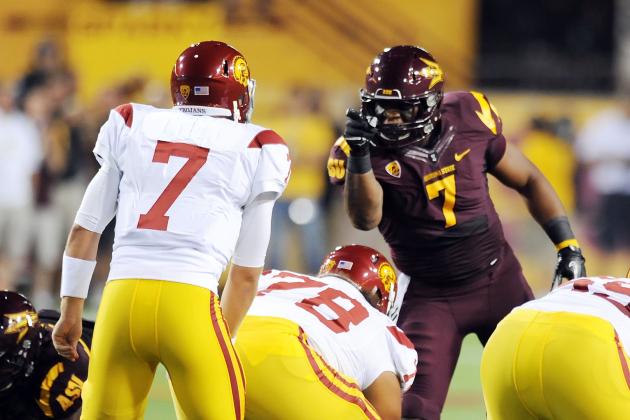 Norm Hall/Getty Images

Say what you want about Vontaze Burfict's attitude, adherence to the rules of the game, his ability to properly and calmly diagnose plays or even his athleticism. He can lay the lumber.
The reason he had such a well-known reputation in the first place was because of his ability to hit players hard. Despite speed that timed poorly at recent pro days, Vontaze can accelerate very quickly within a short space.
He possesses an ideal linebacker build with good muscle mass. He gets his pads down into a hit, which connects his power base very efficiently with his unfortunate target.
The problem, of course, is that going all the way back to high school, Burfict has earned the reputation of being difficult to handle both on and off the field. I personally believe whatever demons he battles in his own head have affected his ability to test well in pro day settings.
Nonetheless, if your goal is a player for whom you can put together a highlight reel filled with some of the most impressive hits you'll see, Vontaze Burfict may still be your guy.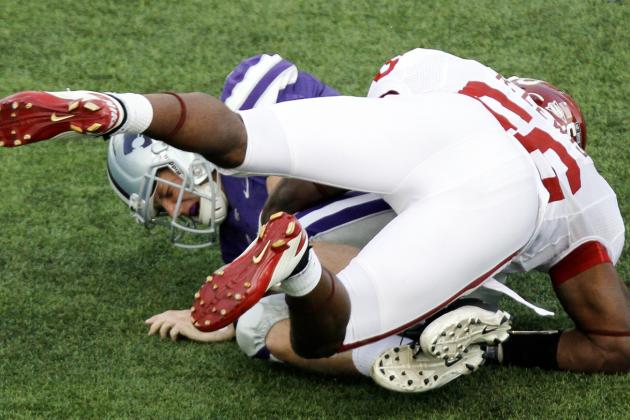 Ed Zurga/Getty Images

There is a reason his teammates have nicknamed him "The Hammer."
One aspect of Oklahoma linebacker/defensive end Ronnell Lewis' game that has always stuck out to me is his explosiveness and ability to really hit his opponents.
Lewis has the privilege of having shown this ability extensively on kick coverage units as a special teams player. This will avail him at the pro level, as he will surely be asked to play special teams.
Similar to Vontaze Burfict, Lewis has a checkered past. He has been academically suspended, and his maturity has been in question. His coaches essentially told him he is better off leaving their program and going pro via the draft.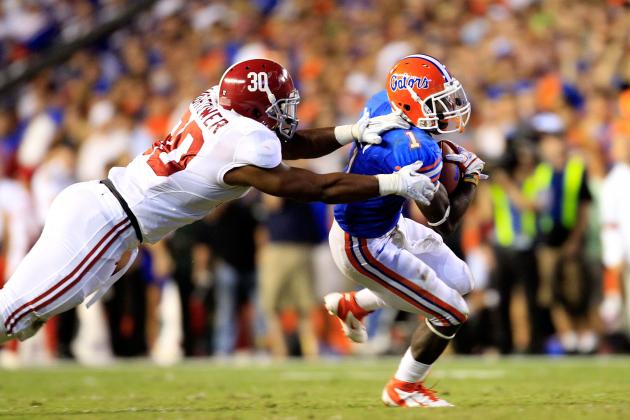 Sam Greenwood/Getty Images

I have never been a particularly big fan of Alabama linebacker Dont'a Hightower.
Some of the reasons I do not particularly like him as a linebacker include the fact he possesses very little agility. He does not turn well, and his acceleration over short spaces as a 265 lb. player is not truly impressive. I do not believe he can be relied upon to handle significant coverage duties, nor do I believe he is as instinctive as a Luke Kuechly.
However, if there is one thing the 6'2" and 265 lb. man can do, it is hit with force and authority.
The key to his hitting ability is his size and build-up speed, both of which he possesses in spades. He may not accelerate particularly impressively within very short distances, but if Hightower is given some more runway, his target had better brace himself.
Hightower's pro day results tell the story. Though he ran the 40-yard dash impressively in the 4.6-second range at the NFL Scouting Combine, when it came time to run his agility drills, he flunked. His 4.64-second short shuttle is among the worst in memory for a supposedly premium linebacker, and his 7.55-second cone drill was similarly tragic.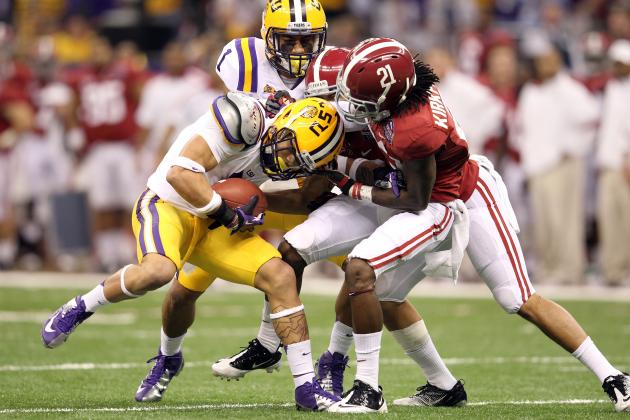 Andy Lyons/Getty Images

It is a credit to Nick Saban's recruiting, coaching and overall leadership that two of the top-five hitters in this year's NFL draft are members of his defense.
However, many people would go even beyond that, handing out the titles to Courtney Upshaw and Mark Barron as well.
The defense was fearsome indeed.
I believe Dre Kirkpatrick, as a corner, distinguishes himself in this category more so than Courtney Upshaw or even the strong safety, Mark Barron. With all due respect to Barron, he is a solid, weighty tackler, but Kirkpatrick is an explosive tackler, and there is most certainly a difference.
Kirkpatrick uses his long frame optimally by lowering his pads and exploding into his hits, producing the kind of force efficiency you see in a battering ram. He can consistently de-cleat unsuspecting offensive players.
Though many question whether Kirkpatrick can play corner at the next level, I believe he is fast enough. I re-timed his combine 40-yard dash using my methods and found him almost exactly the same speed as Morris Claiborne of LSU. The speed itself is part of Kirkpatrick's explosive hitting ability.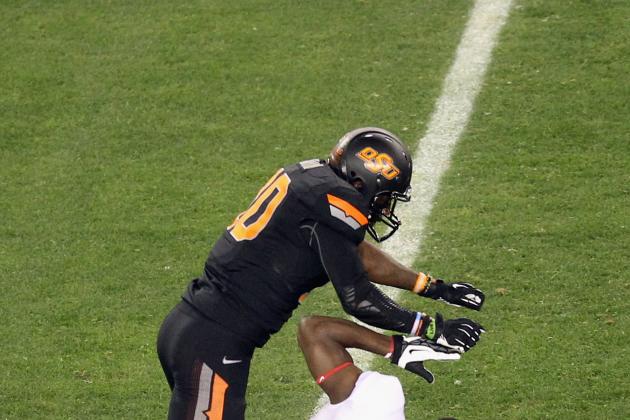 Christian Petersen/Getty Images

The first thing any observer should notice about the Oklahoma State defense in 2011 is the way they closed on the football. That closing ability showed up all over the place and resulted in a defense that produced an incredible number of turnovers en route to a BCS Bowl bid.
Markelle Martin was front and center among those players who best exemplified what it means to close on the football with speed and force.
Unfortunately for Martin, his stock may be falling, as he's been too injured to work out for the scouts at the combine or his pro day. Scouts will have to keep referring to his tape in order to understand his value.
While I am wary of his tendency to be slow at times in relation to his receiver assignment, I generally believe Martin showed himself to be a smart player with tremendous closing speed, the ability to hit with vicious force and fluid hips.