College Football: Choosing Every BCS Team's 2012 Theme Song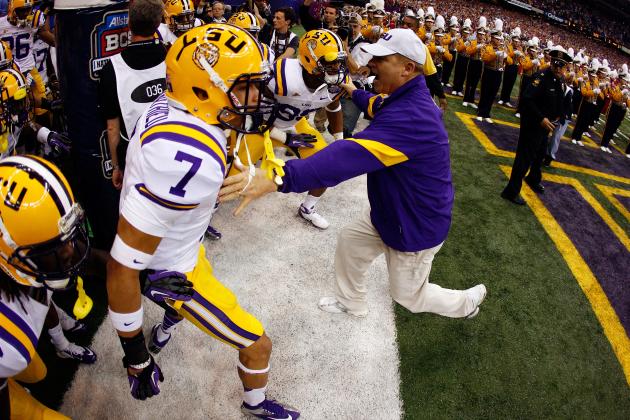 Chris Graythen/Getty Images

Regardless of the sport, music plays a vital role for all of the fans around each of their favorite teams. The players, coaches and everybody related to the program have their favorite music to listen to before kick-off.
Some are rituals whereas others are just based on how they feel at that very moment. Music means everything to not just sports fans but America.
Looking at all of your teams from the BCS conferences, here are you 2012 theme songs for each and every one.
Note: This is an enjoyable article with a few random yet popular songs (albeit MOST are songs that are suppose to pump you up), so feel free to jot down your preferable 2012 theme song
Begin Slideshow

»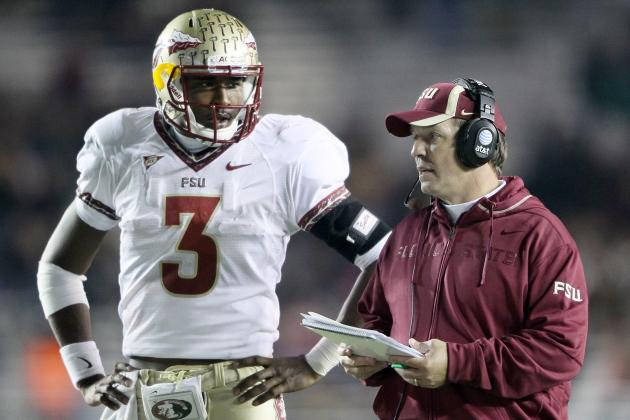 Elsa/Getty Images

Florida State might be doing a lot of shaking and dancing (though Mark Stoops will go off on you—great coaching style) with a loaded defense that could be the best in the nation.
The defensive line is nasty, and the secondary is filled with stars. The year really comes down to E.J. Manuel staying healthy, along with the development of the young stars around him such as the offensive line.
Many believe they have arguably the most underrated receiving corps in the nation, which means it could finally be "Hammertime" in Tallahassee next season.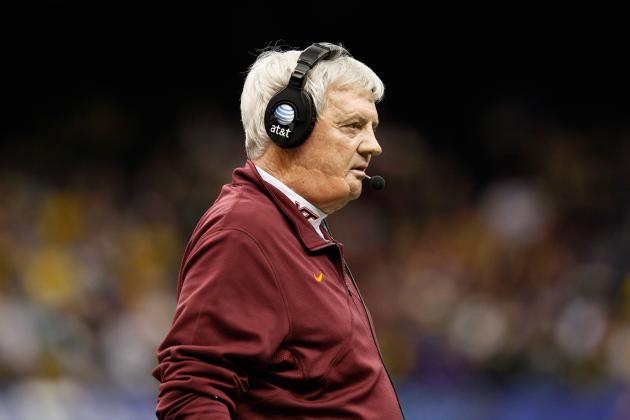 Kevin C. Cox/Getty Images

"Enter Sandman" from Metallica is the easy choice since they do not come out to the song at every home game.
Blacksburg and Lane Stadium can get rokcing during night games and it is all thanks to their head coach Frank Beamer.
Virginia Tech has won ten or more games for eight straight seasons (five BCS bowls), and they have carried the ACC. Will they do it again without stars such as running back David Wilson and defensive back Jayron Hosley?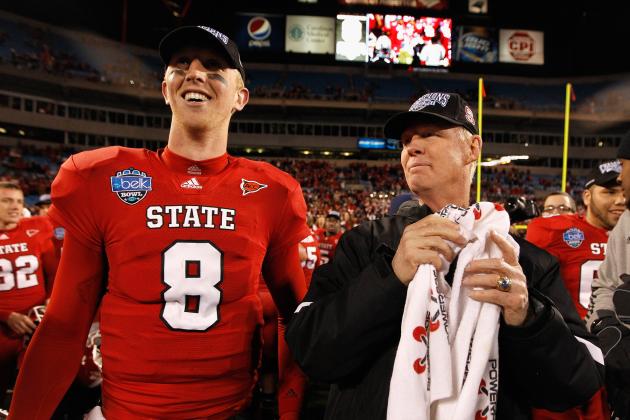 Streeter Lecka/Getty Images

The Wolfpack's opponents will be feeling "Thunderstruck" this season because most are unaware of the athletes NC State is starting to develop once again.
Mike Glennon at quarterback has several options at his disposal and arguably the best defensive back in the country from a production standpoint last season returns in David Amerson.
Many are just looking at a seven or eight win season, but if they can knock off the Vols in the opener and gain any momentum heading into the ACC then they could be looking at perhaps a double digit-win season (counting bowl game).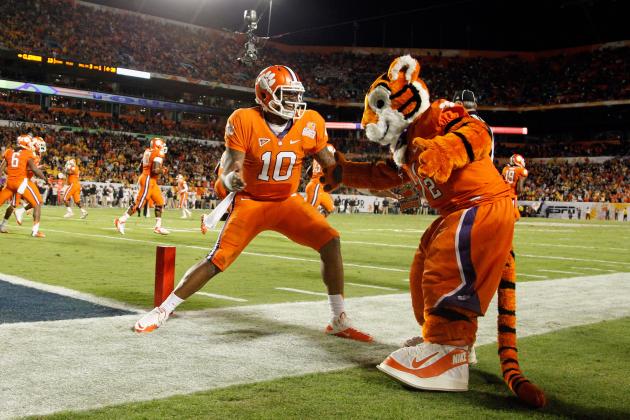 Mike Ehrmann/Getty Images

These Clemson Tigers really are "Wild Ones" because they look as good as it gets, and at other times you wonder if they really will be anything more than silly ole Clemson.
However, the future is bright. They should once again provide us a ton of excitement (Sammy Watkins is simply electric), though I am not expecting a roller coaster of a season.
Everybody wants to know whether or not it will be the silly Tigers that cannot perform consistently in the spotlight, or if they finally rise up. I am liking the latter in 2012.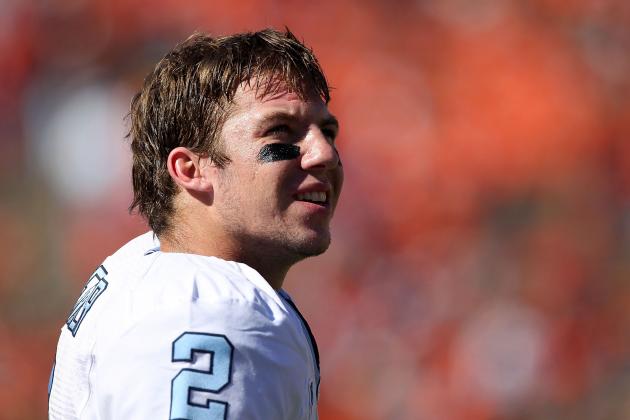 Scott Halleran/Getty Images

Larry Fedora will hopefully "Raise Up" and be more than just a leader for the Tar Heels.
For a school that has a prestigious basketball program, the football squad is hoping to at least remain relevant in the ACC, but the cupboard is not completely bare.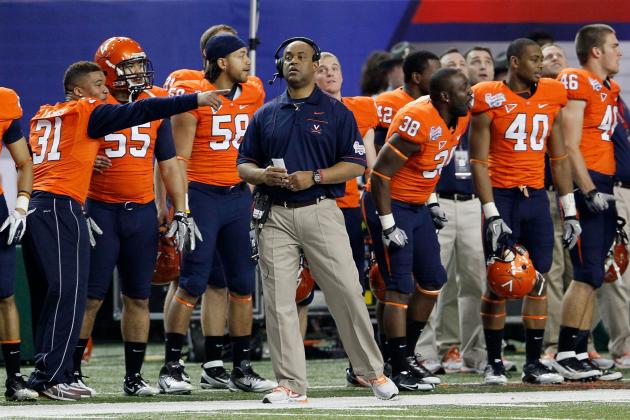 Kevin C. Cox/Getty Images

Mike London had a successful second season (8-5) and he is your typical coach that loves to own the line of scrimmage.
Virginia was able to run the ball at will on many of their opponents and on defense they laid the lumber.
Despite returning only five starters on defense, "Let the Bodies Hit the Floor" should be seen a lot from the opposition in 2012.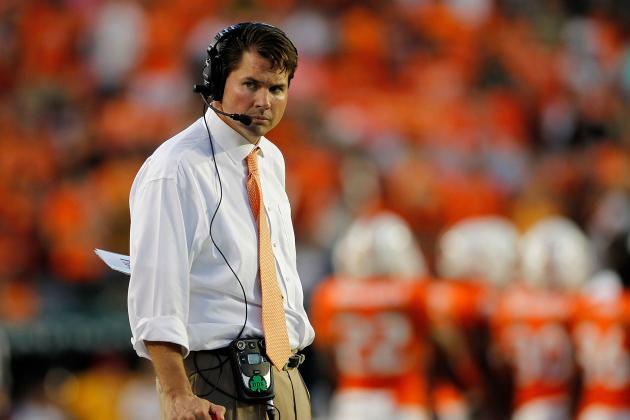 Mike Ehrmann/Getty Images

This could have been best for one season ago, but we can use it for the 2012 season as well. The Hurricanes have been on the ground and everybody is giving out their licks right now with the albatross of an offseason they went through last season.
This upcoming season may be even worse since the schedule is not easy. Some experts have picked them from 4-8 to 8-4 and it may be a few more season before they get back into the BCS picture.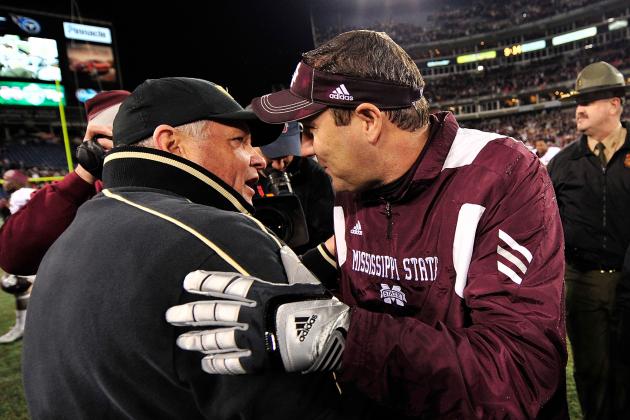 Grant Halverson/Getty Images

"Were running in circles again" may actually describe Jim Grobe's squad better than you imagine.
However, they may be in some deep trouble after losing Chris Givens, Sure, the offense and the team may actually improve but probably not record wise.
The bottom of the ACC was brutal one season ago and survey says that Wake will be among them in 2012.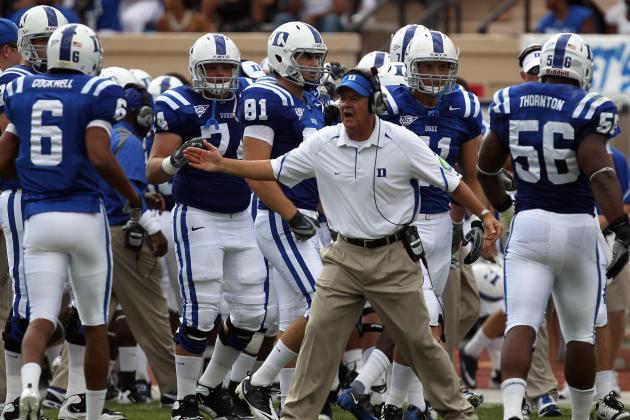 Streeter Lecka/Getty Images

In case you're a die-hard Dukie for football and not just basketball, I ask you to remain patient and to "Hang On" because the pain will someday end.
It might be sooner than you imagine in an ACC that is watered down quite a bit in terms of the lesser talented teams. Duke has not appeared in a bowl since 1995 Hall of Fame Bowl, but another bowl trip could be on the way.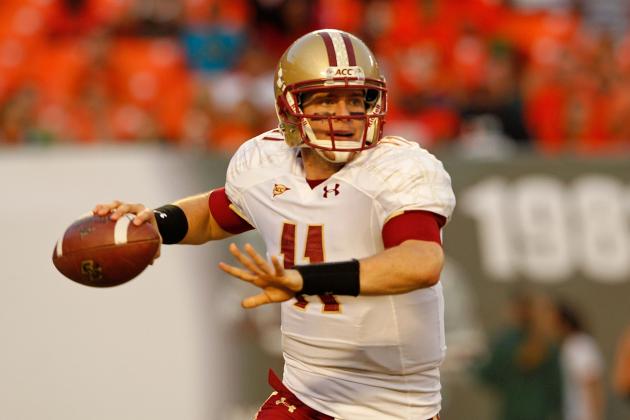 Mike Ehrmann/Getty Images

Due to this article being a fun and because Montel Harris means everything for Boston College, this song was a must.
Montel Harris is due to break the all-time record for rushing yards in the history of the ACC as he needs just 868 yards to break NC State's All-American Ted Brown.
He ran for a ridiculous 4,602 yards during the 1975 through 1978 seasons.
Harris really does carry the offense since Boston College failed to appear in a bowl game last season, which marked the first time since the 1998 season.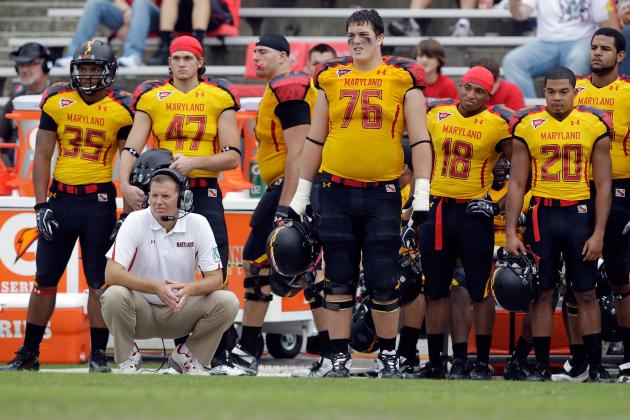 Rob Carr/Getty Images

That may have been the motto from the Terps one season ago, on account they played as if they were asleep in every game.
Coming off a 2-10 season leaves Maryland with a chance at redemption, but they are just trying much harder to hover around the .500 benchmark this time around.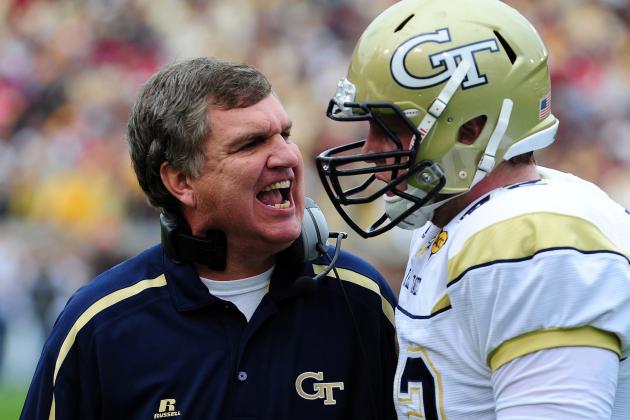 Scott Cunningham/Getty Images

"Hold on, this one's about to get bumpy" would not be a bad comparison for Paul Johnson and his Yellow Jackets.
They have come close to becoming the best of the ACC on a regular basis but they have not been able to keep that consistency.
Tevin Washington is back at quarterback, so Georgia Tech will not struggle to reach a bowl game but they have a great chance at winning their division despite opening up on the road against the Hokies.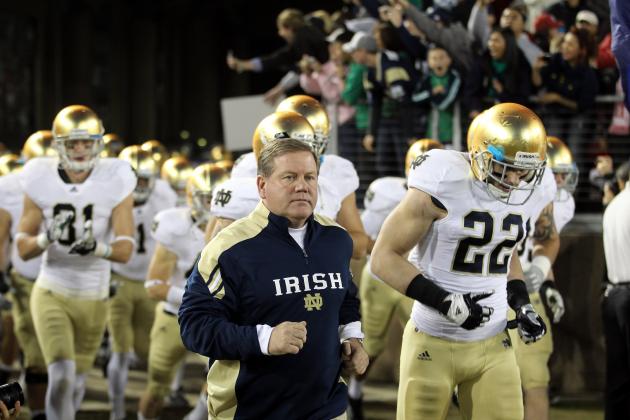 Ezra Shaw/Getty Images

Lyrics such as "I feel the heat" might just be what Brian Kelly will be saying all summer and fall in 2012.
The Irish need a solid season and perhaps even a BCS bowl to get back to national relevancy. They have a legitimate front seven on defense, but what about their quarterback quandary?
If the questions get answered right away, the Irish could easily earn a 10-plus-win season.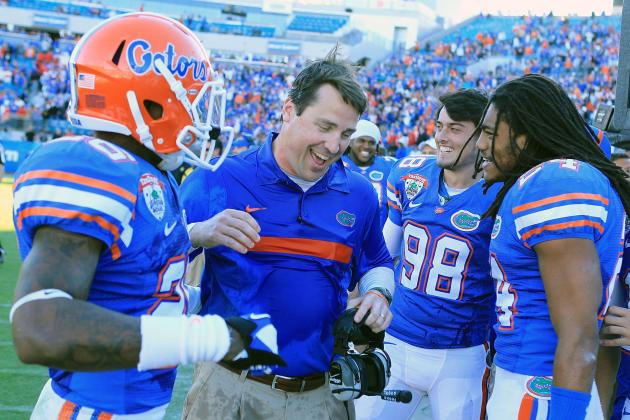 Scott Halleran/Getty Images

"Let's do this one more time" is something the Gators would dig, since they have been out of the BCS picture for the last two seasons.
They have a long way to go before they become a legitimate ten-win team, but they look like they have the talent and maxi to do so.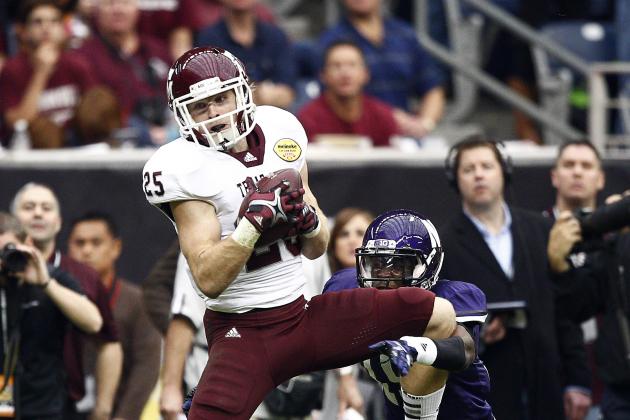 Bob Levey/Getty Images

The Aggies should be loving life now that they are in the SEC because all the fame that they felt they were not getting in the Big 12 should allow them to get some more hype per se in the SEC.
However, it will be interesting if they are still loving life if (more than likely) they were to lose five, six or perhaps seven games next season?
Grant Halverson/Getty Images

James Franklin would love if he could continue his winning ways at Vanderbilt. There is no other way despite of how tough the SEC is.
If the Commodores and Franklin "are two world apart" they might just become one together if the victories and bowl bids keep piling up.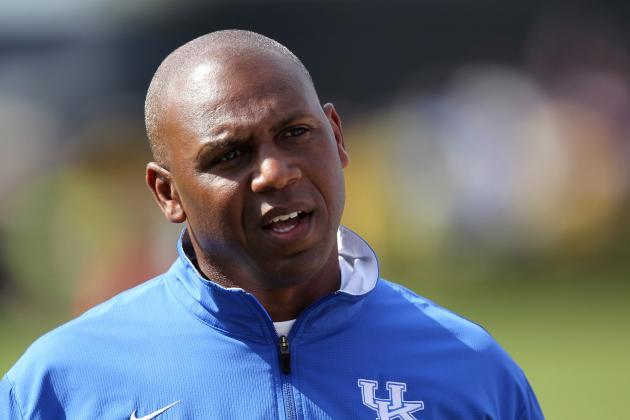 Streeter Lecka/Getty Images

The Wildcats basketball program would be anything but this, however the football squad has not been struggling to say the least.
UK has not had a non-losing season since 2006 and that was just at 4-4. Joker Phillips is hoping he can put together that type of a year or else he may be a goner.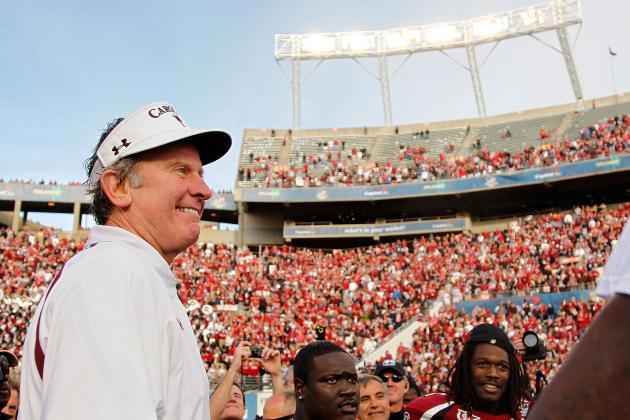 Mike Ehrmann/Getty Images

Steve Spurrier has put together the greatest consecutive seasons in the history of South Carolina football, leading them to the most combined wins.
The best news could be if Marcus Lattimore turns out to an even better back after his tough knee injury. If so, then that BCS switch might be turned on in Columbia next year.
Sam Greenwood/Getty Images

The Volunteers have "been gone a long time" and it they really need to become relevant in the SEC and on the national scene sometime soon.
College football is at its best when the premier programs are playing in bowl games and respectable ones at that. Derek Dooley has been thrown on the hot seat despite still being at the early stages of his tenure in Knoxville, but luckily things look fairly bright in 2012.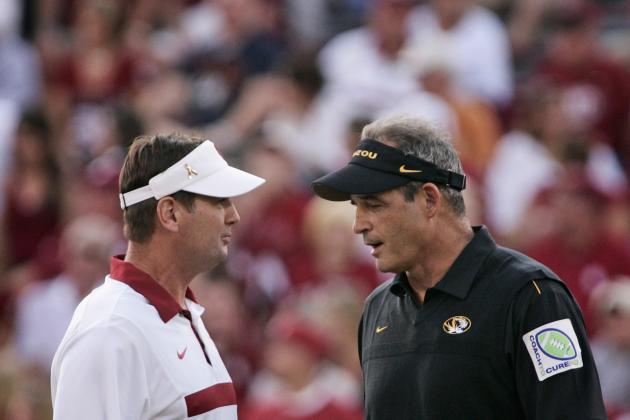 Brett Deering/Getty Images

The Missouri football program is officially paid in terms of earning the spotlight.
Now entering their first season in the SEC, they will need to rise to the occasion and let everybody know they are for real by knocking off the likes of Georgia, South Carolina and Florida.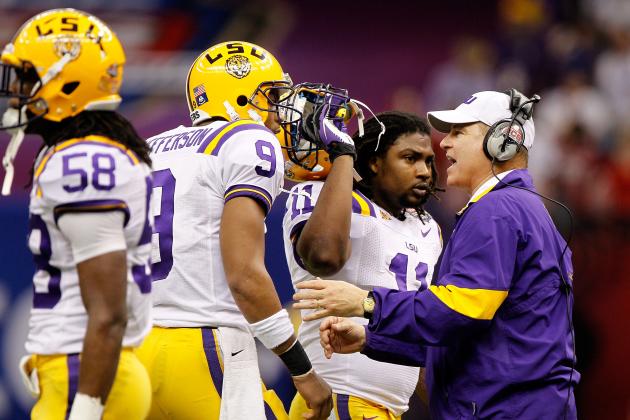 Chris Graythen/Getty Images

Despite losing in the BCS title to Alabama, LSU has been winning at will.
The "mad hatter" is still among the top five coaches in the game (easily), and his Bayou Bengals are primed to be the preseason darlings in 2012.
Book them for first or second with USC in the preseason, and it wouldn't be a shock if they land back in the title game.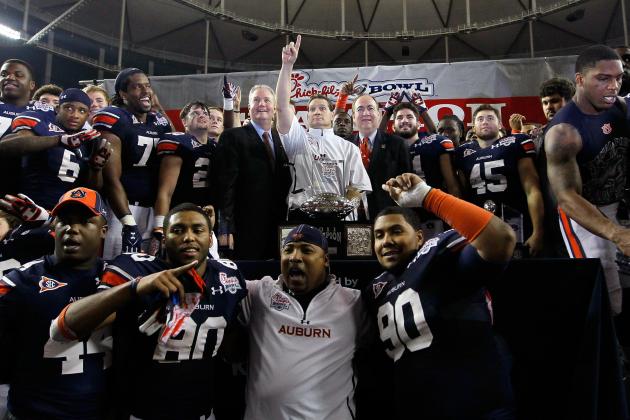 Kevin C. Cox/Getty Images

Gene Chizik is coming off a solid eight-win season where many doubted whether they would go even go bowling.
The Auburn Tigers may not be the most hyped team in their own division let alone the SEC. Still, despite their schedule they have the swagger to be rocking and rolling all season long.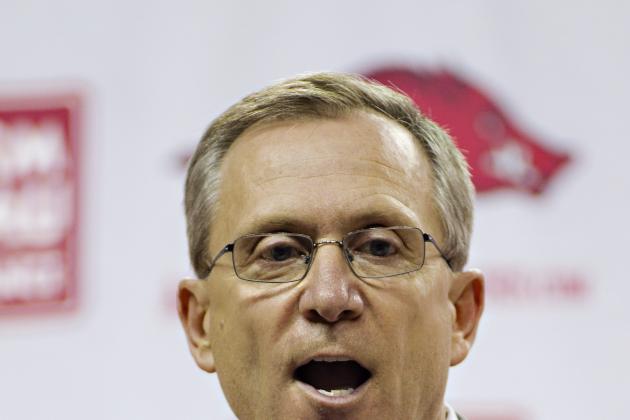 Wesley Hitt/Getty Images

The Razorbacks have been so close to becoming legit SEC contenders, but now this happens. Bobby Petrino gets canned for having an inappropriate relationship with an Arkansas employee.
"Head out on the highway, Lookin' for adventure, And whatever comes our way."
Well, Petrino was wild to begin with but he has put this program into a flux as they now must decide who is their new coach that will or can lead them to the promise land.
Tyler Wilson is returning, and a healthy Knile Davis may give them more than enough punch to upset the likes of Alabama and LSU next season (both home games).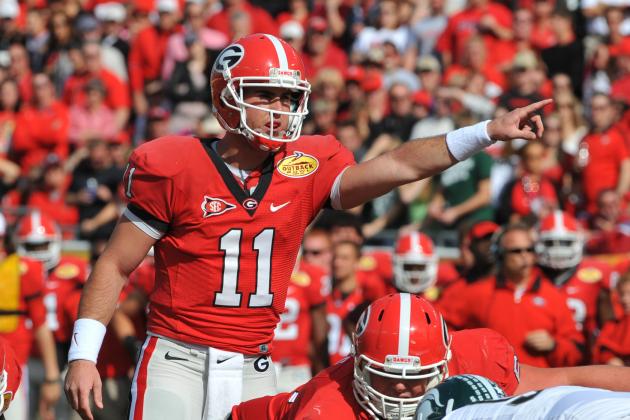 Al Messerschmidt/Getty Images

The 'Dawgs may be cranking up the music with a big season ahead of them, led by quarterback Aaron Murray and a fine defense.
UGA's defense will not be hyped as the best in the SEC, but they might end up being the finest not only in the SEC, but possibly in the country.
As long as they can keep things in moderation and stay out of trouble, Georgia may be licking their chops and having a blast.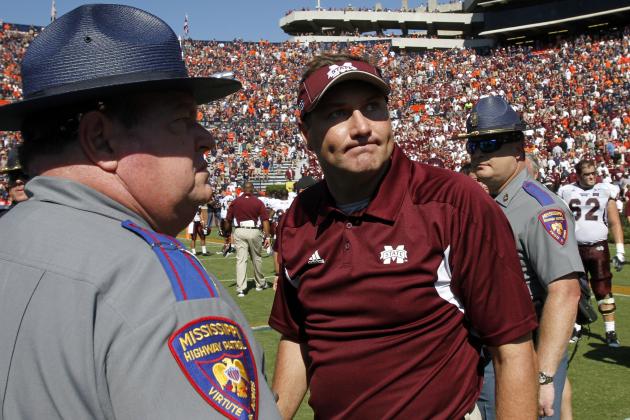 Butch Dill/Getty Images

Dan Mullen should be looked at as one of the better offensive minds in the game, but his Bulldogs went from 10-3 to a measly 7-6 record.
They had a ton of talent returning last season and yet they looked a bit worse as a squad. Was the 2010 team one that we will be seeing more often, or is the 2011 version something that will appear more often.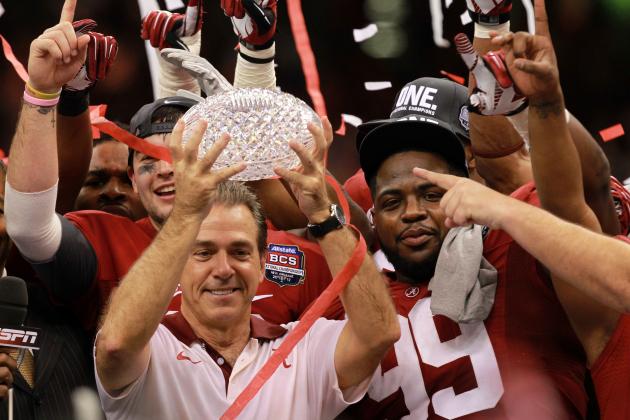 Ronald Martinez/Getty Images

You could use Adele's other hit song (Set Rain To The Fire) as well, but this song has a decent fit with the best coach and program in college football.
Nick Saban was hated and mocked by many for leaving the Miami Dolphins, and some just flat out despise the guy and his program to begin with.
Saban has since won two titles with Alabama and has essentially made the naysayers eat crow for breakfast, lunch and dinner.
That will not stop them from cheering against Saban and Alabama, but the guy and his program own the landscape of college football right now.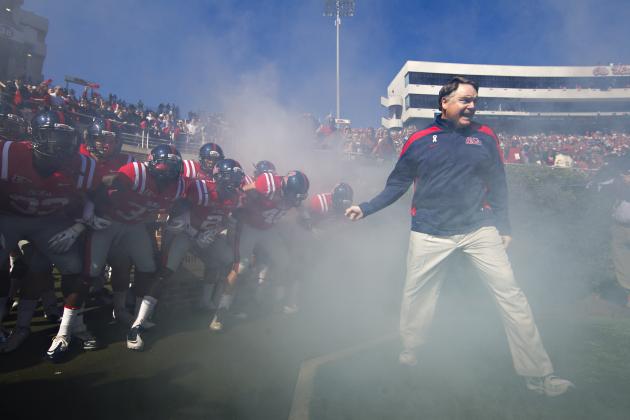 Wesley Hitt/Getty Images

The Rebels lost Houston Nutt as their head ball coach but the Rebels should not lose all hope.
The football program plays in the toughest conference in America and in time they will be on their way back up in the standings.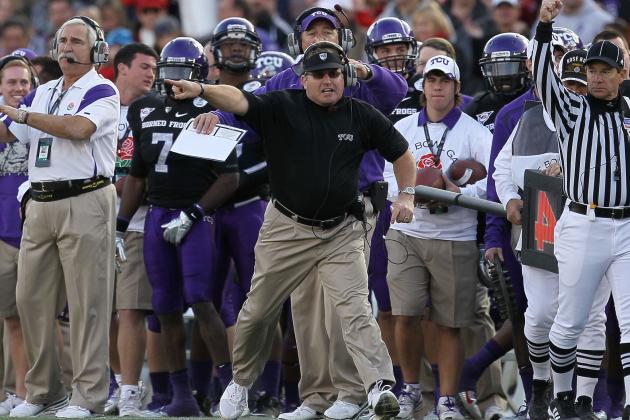 Stephen Dunn/Getty Images

Gary Patterson and his Horned Frogs should feel like they are in "Paradise" since they are heading into the Big 12.
Many feel they will struggle right away, but this team has proven they can play with the big boys any day of the week.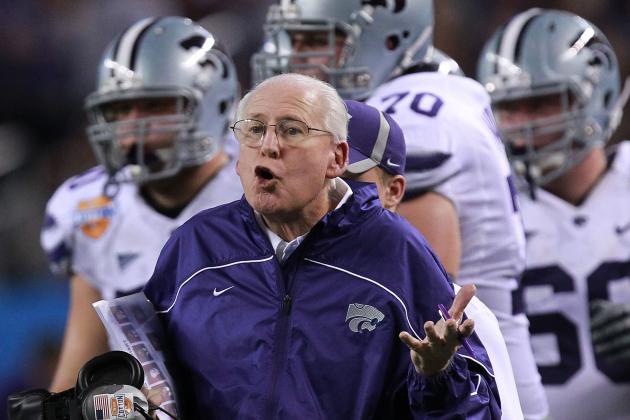 Ronald Martinez/Getty Images

Where would the Wildcats be without Bill Snyder?
Kansas State got back on the national map several times with Snyder at the helm, and last season was as close of a dream season as we may see in Manhattan.
The Cats were glad that Snyder came back in 2009 for his second successful tenure. The future still looks bright for K-State with Collin Klein back on offense as well as a defense that surprised many last year.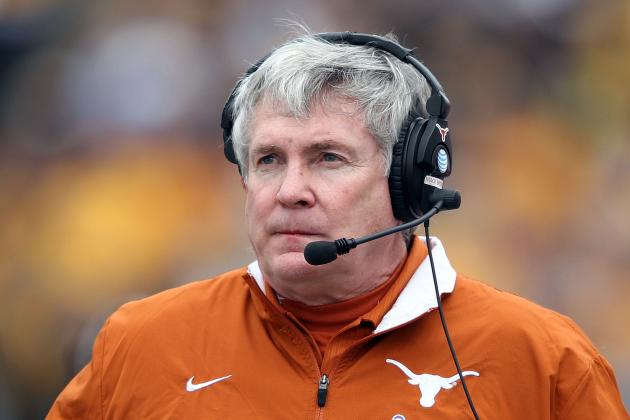 Jamie Squire/Getty Images

The Longhorns were an extremely young team this past season, and the youth will still be serving next season in Austin.
However, this young squad will be a solid dark horse to win the conference, and the defense has that silly talented swagger that you cannot teach.
The Burnt Orange are primed for a banner season in 2012. You can book it if the offense sees any improved consistency.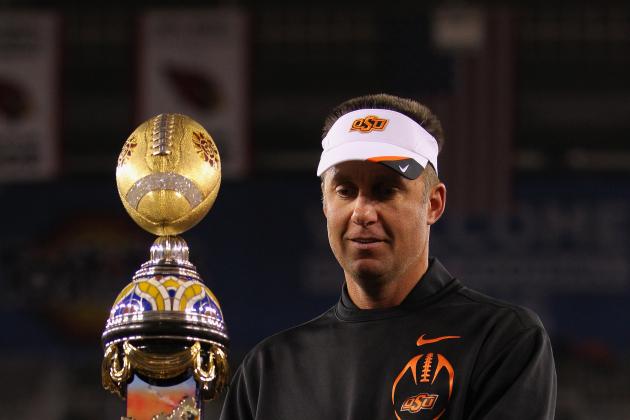 Doug Pensinger/Getty Images

Mike Gundy is the "king of the castle" for the Cowboys right now and he is arguably the top offensive mind in the game these days.
Sure, it will be a challenge to have half as good of a season as they did last season, but in Gundy the Pokes trust regardless of who is out on the gridiron.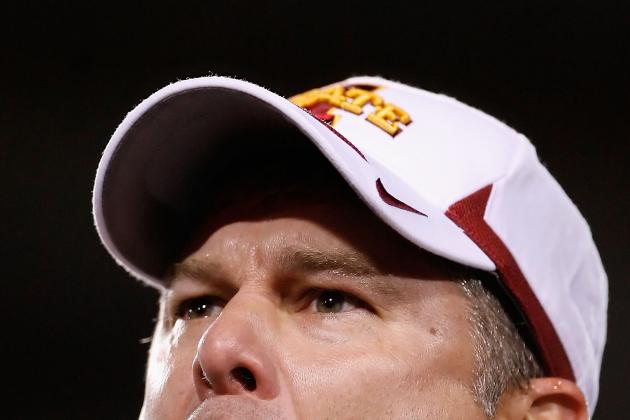 Christian Petersen/Getty Images

"I'm So Proud" is a saying that Iowa State football took the nation by storm after upsetting the Nebraska Cornhuskers a few seasons ago and they made a statement after ruining the BCS title hopes of Oklahoma State Cowboys.
Paul Rhoads will get your attention and then some in his intense and motivational speeches before, during and after the Cyclones games.
Now, Iowa State will look to maintain that passion on the field and hope it translates into even more success.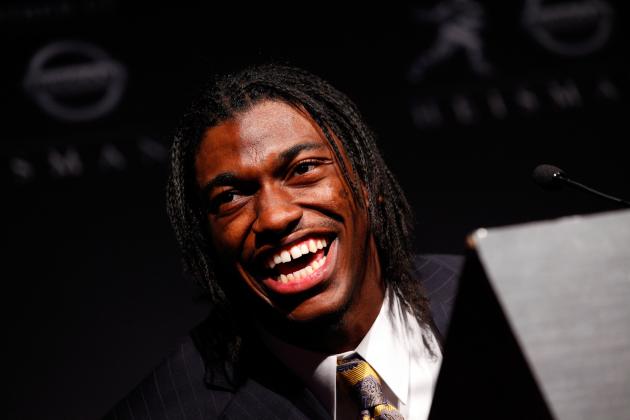 Jeff Zelevansky/Getty Images

Not only did the entire city of Waco, Texas have Robert Griffin III on their minds, but so did the entire landscape of college football.
The Heisman winner and future first rounder was everything and more for a fan to hope for. If us avid college football fans had a chance we would have never allowed Griffin to bolt off to the NFL Draft.
The shows he put on us against TCU, Oklahoma and Texas were some of the most entertaining games we saw all year and it was clear RGII 'took places' that Baylor has never seen before.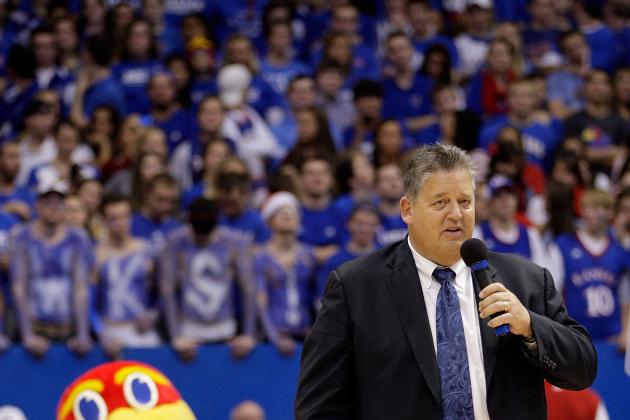 Jamie Squire/Getty Images

The Jayhawks have Charlie Weis coming into Lawrence for his first season, but KU could use a "shot of adrenaline" to help boost their confidence and play.
Starting out fresh with a new coaching staff is always a work in progress, so it will be interesting on how quick this program can get back into a bowl game.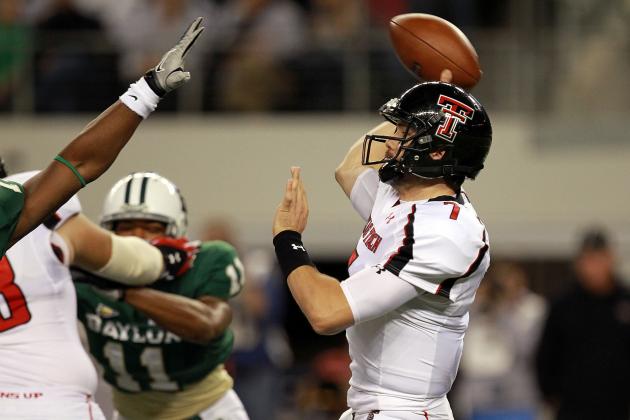 Ronald Martinez/Getty Images

The Red Raiders offense would never "wanna stop" from the production they had under Mike Leach.
Seth Doege is now at the helm in what should be a far more productive offense than the 2011 version that failed to reach a bowl game under Tommy Tubberville.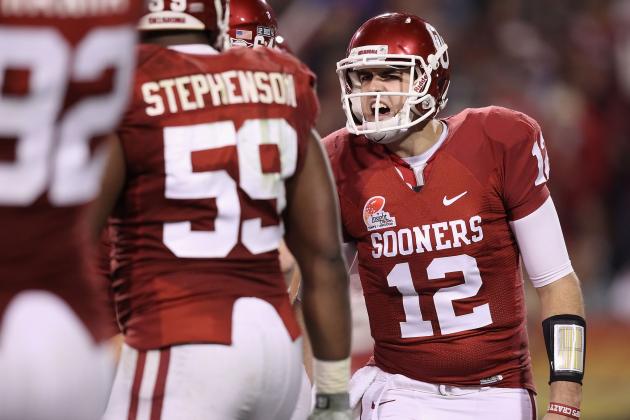 Christian Petersen/Getty Images

Even after a rather disappointing season in which they failed to reach a BCS bowl (preseason No. 1), the Sooners have been one of the mottos in college football (at least during the regular season).
Since Bob Stoops' second season in Norman, OU has won 10 ten or more games all but twice. Nine times the Sooners have won eleven or more games. With Landry Jones back, OU could be due for another sensational season.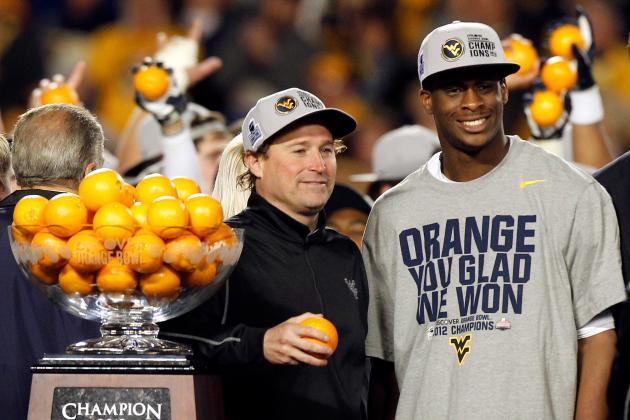 J. Meric/Getty Images

It should be more than just a "Good Feeling" for the Mountaineers heading to the Big 12.
They have all the momentum in the world right now with Geno Smith and his talented crop of receivers.
The defense is good enough to contend for the Big 12 title, but the ability to put up 30 points every weekend gives them a great chance.
Don't be shocked if they come in right away and compete for the Big 12 title and ultimately the big prize.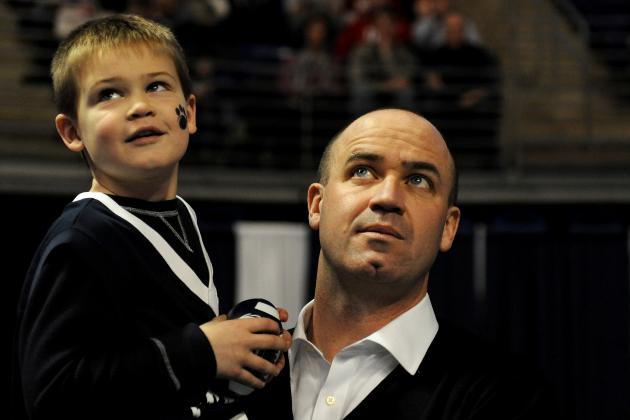 Patrick Smith/Getty Images

The memories from the last 46 seasons at Penn State could be summed up through this classic song.
Some argue that Joe Paterno was college football and his passing may never allow some of us to get over it, but football in the fall will soon be around the corner.
The feeling will be a bit odd when PSU opens their season without Paterno pacing the sidelines but he will be watching up from above.
Starting a new era, the Nittany Lions will write a new chapter in Happy Valley with Bill O'Brien as their next head coach.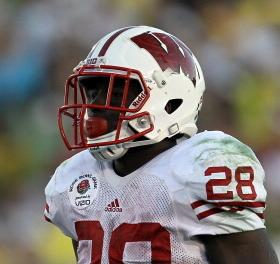 Stephen Dunn/Getty Images

The Badgers have been as sexy as it gets for Big Ten terms, appearing in consecutive Rose Bowls.
Despite losing to both TCU and Oregon (speed kills), the Badgers proved last year that overcoming adversity is achievable.
After a heartbreaking loss to Michigan State, they bounced back and knocked them off in a thrilling Big Ten championship to land a spot in Pasadena.
Can they make it three in a row?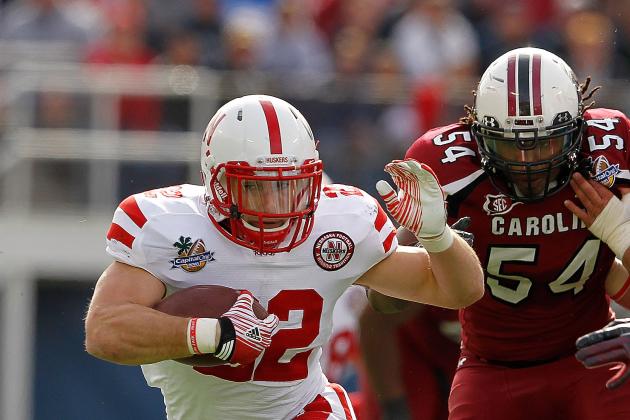 Mike Ehrmann/Getty Images

I have been able to draw a comparison to every single team, but this one is not exactly easy to relate.
Perhaps taking care is something Bo Pelini and the Huskers need to do in their second season coming in the Big Ten, since there are still skeptics out there.
Is Taylor Martinez the real deal at quarterback, or will he be benched?
How much will the passing game improve, and can the defense get back to rising to the occasion?
If those questions are answered, Pasadena could be home of the Huskers for just the third time in program history.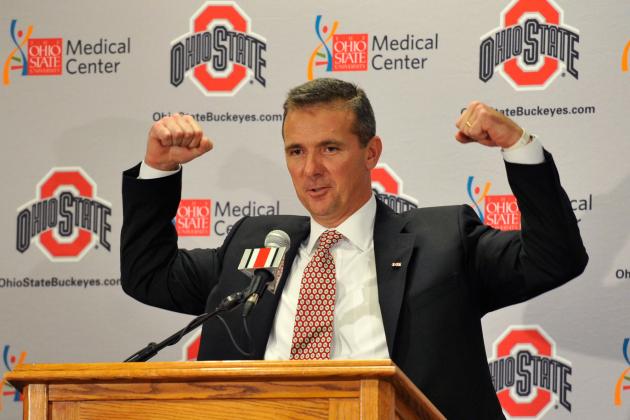 Jamie Sabau/Getty Images

Like many prestigious programs, haters will never go away. After last season's tough stretch, the Buckeyes are ready for a new beginning with Urban Meyer.
Losing Jim Tressel really hurt Columbus, but they have brought in legendary coach Urban Meyer. The guy is a gamer and determined to allow the Buckeyes to "Drop the World" on the landscape of college football.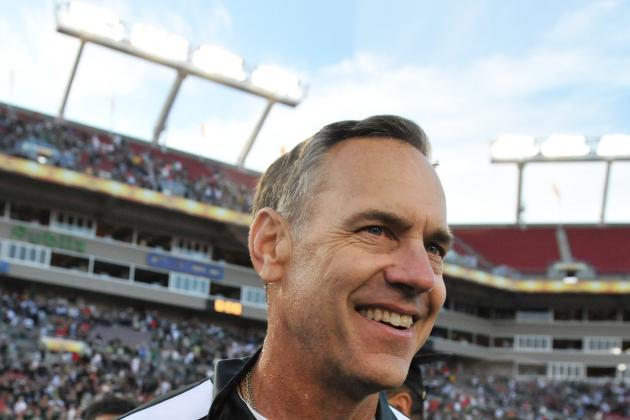 Al Messerschmidt/Getty Images

"When it rains, it pours" is that old saying, and the Spartans saw several close games go their way in 2011.
Plus, Sparty nation hasn't been this excited over football in seemingly forever. Mark Dantonio has resurrected this program into a legitimate Top 20 program, and he is attempting to get them competing for a national title.
Though they have yet to appear in a BCS game, MSU will break through sooner or later. However, they need their leader, Mark Dantonio, since this program would arguably be back in the dumps without him.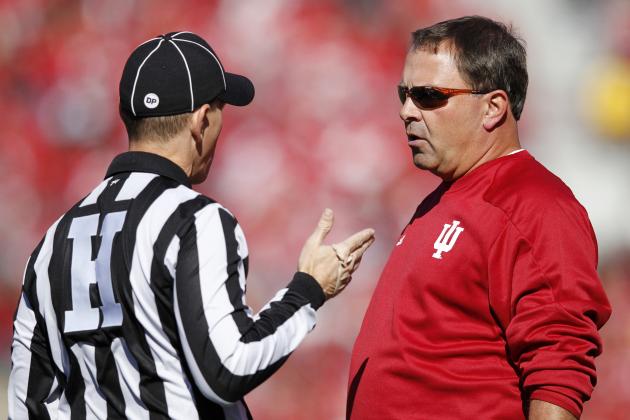 Joe Robbins/Getty Images

The Hoosiers are expected to become the number one team in the country…..for basketball. So, they will be having a blast win or lose come this fall. The football program is struggling a bit and Kevin Wilson is looking for some sort of improvement in season two.
While major improvement may not come for a while, the football program is hoping they can steadily get better while other teams in the basement of the conference do not make any sort of improvement.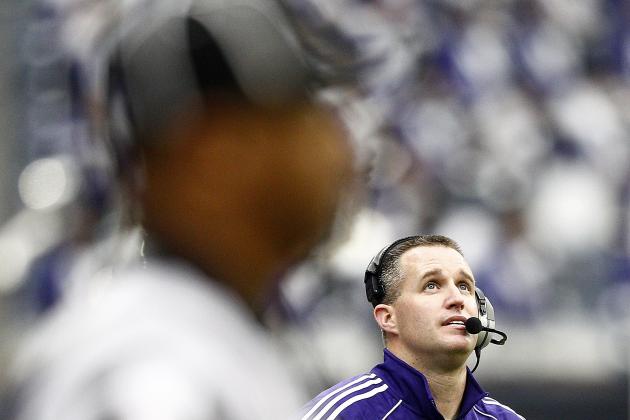 Bob Levey/Getty Images

"It's been a long time coming" would be the perfect and ultimate understatement for the Northwestern Wildcats.
They may not get best players in America but Pat Fitzgerald has been getting this team into bowl games. It has been four straight if you have not noticed, but they have lost all four of them.
The last bowl victory for Northwestern is even more amazing than never appearing in the NCAA Tournament perhaps. The year was 1949 and it was in the Rose Bowl against California in which the Cats won their last and only bowl game.
Northwestern can only hope that horrifying stat is "going down" before the years begin to pile up.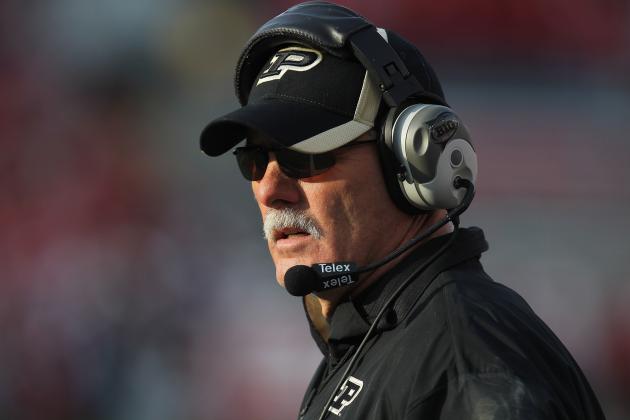 Jonathan Daniel/Getty Images

"You wanna prove something" is surely a statement that the Boilermakers are attempting to hit on the head for many of the naysayers.
Danny Hope has Purdue headed in the right direction, but they will have to put all of the pieces together if they want to become dark horse contenders in the Leaders Division.
Outside of Wisconsin, it looks like only Penn State stands in the way of Purdue from climbing to the top of the division. Also, with Ohio State ineligible for a Big Ten title appearance, Purdue's golden opportunity lies right ahead of them.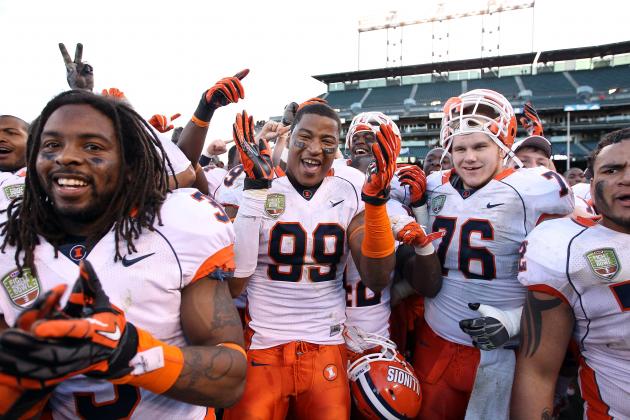 Ezra Shaw/Getty Images

Tim Beckman will attempt to turn this program up a few notches after the tough past couple of seasons that Ron Zook has given them.
Despite winning their bowl game last season, the Illini would like nothing more than finishing ahead of the middle of the pack.
Since 2001, Illinois has only had two winning seasons in the Big Ten and before the Illini start thinking of roses they just need to go out and play winning football.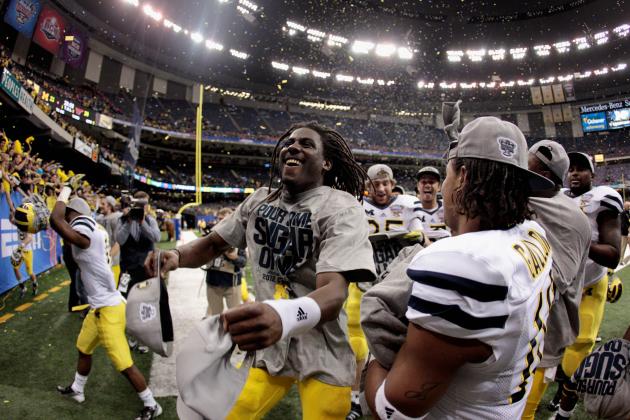 Chris Graythen/Getty Images

They are as popular as it gets for the average college football fans, though time will tell if they can improve upon their special 2011 year that ended with a BCS Sugar Bowl victory over Virginia Tech.
Perhaps, I should have chosen a recent song but this classic summer time song brightens up the moods and that is the feeling I get when people ask me where Michigan football currently is at.
The Wolverines are destined for their first Big Ten title since 2004, but more importantly they are competing with the best of them and they may live up to the hype in 2012.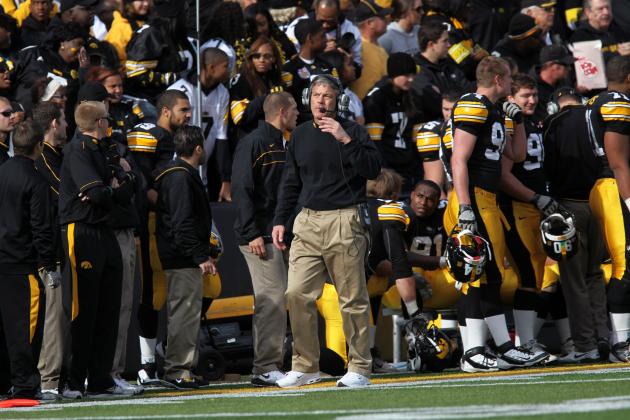 Reese Strickland/Getty Images

The Hawkeyes have used this song to come out to the gridiron and with their team colors, it is not a bad choice.
The Hawkeyes have not had great seasons per se under Kirk Ferentz in the past few seasons, and most of America will be counting them out with the losses of Riley Reiff, Marvin McNutt and Marcus Coker.
However, the schedule sets up nicely and their quarterback James Vanderberg could carry them to new and improved heights.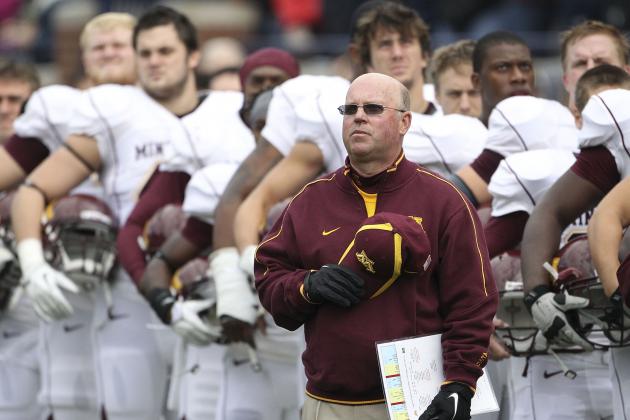 Leon Halip/Getty Images

The Gophers lost one fine player and more importantly a person in Gary Tinsley, but the Gophers remain "Still Unbroken" because they are one together as a team.
Jerry Kill has his supporters behind him that Minnesota will soon be bowling once again.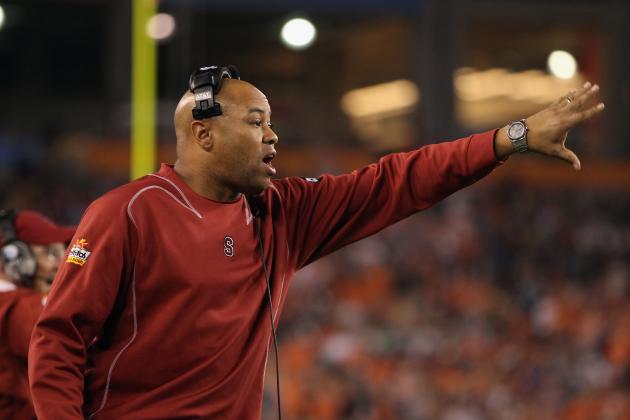 Christian Petersen/Getty Images

"I will never win this game without you" is something Cardinal fans do not want to be saying next season now that Andrew Luck has gone off to the NFL Draft.
Still, Stanford shouldn't be awful by any means, and though they may not be the same without Mr. Luck, David Shaw has brought in a tremendous recruiting class to make them future contenders.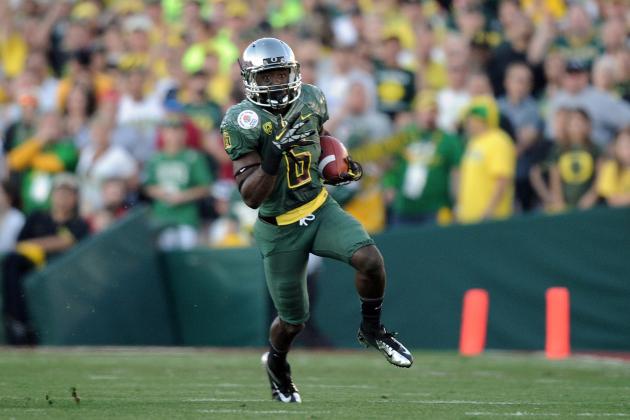 Harry How/Getty Images

This high octane offense will not be too different because they can fly with the best of them.
The Ducks will be an interesting team without LaMichael James and Darron Thomas at quarterback, but the same can be said when they lost guys like Masoli and Blount.
The defense should be improved, and Bryan Bennett could impress as the new signal-caller.
Last time I checked, though, De'Anthony Thomas and Kenjon Barner are still arguably the best one-two punch in America (for offensive burners), and all should be well in Eugene once again.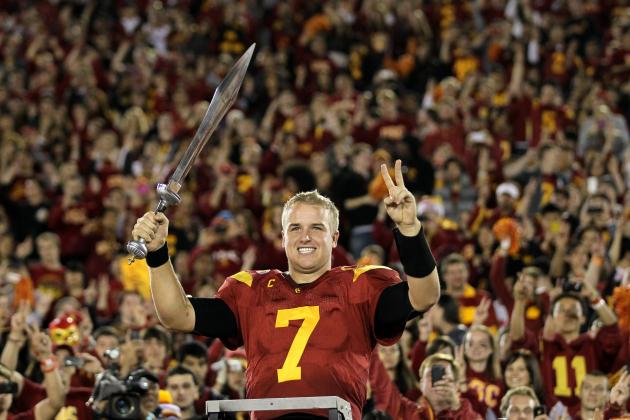 Stephen Dunn/Getty Images

Despite losing a boatload of NFL players on defense, they will reload better than anybody and have a shot to reclaim glory.
Every Trojan fan in the nation felt like they found some love when they heard about Matt Barkley returning for his senior season. A likely top-10 pick, Barkley now returns with a USC receiving unit that should be the best in the nation.
The defense has one of the best back sevens out there, and the schedule is not daunting enough to lose sleep. Point blank, these Trojans should be the team to finally dethrone the SEC, assuming they get there.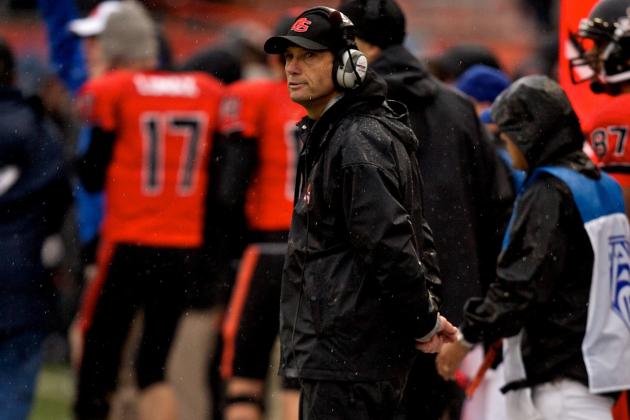 Craig Mitchelldyer/Getty Images

Mike Riley has been Oregon State football since 1997 and the saying could go as, "Don't give up you got a reason to live" because the Beavers are not dead quite yet.
One could joke that the program has significantly dropped in talent for the past few seasons, but the Pac-12 isn't impossible to climb back up from the bottom.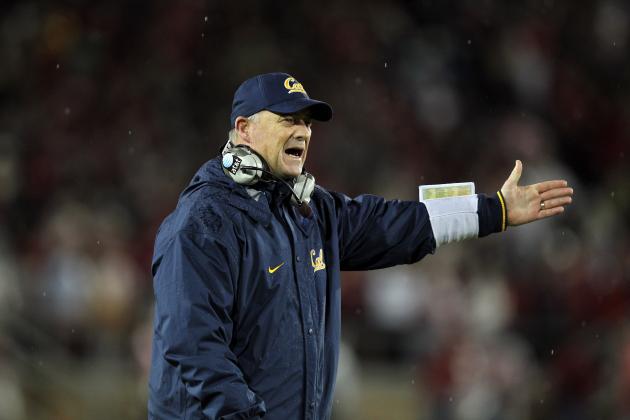 Ezra Shaw/Getty Images

Jeff Tedford could be counting down his days as the bears head coach, but his success and ability to recruit NFL players is nearly unmatched out west.
They could have made a huge statement against Texas in the Holiday Bowl and will instead need to go back to square one with several key defensive pieces gone.
Some may be saying bye to Tedford but he is clearly not listening on account he continues to put together solid seven and eight win seasons. Is that good enough for Bear nation?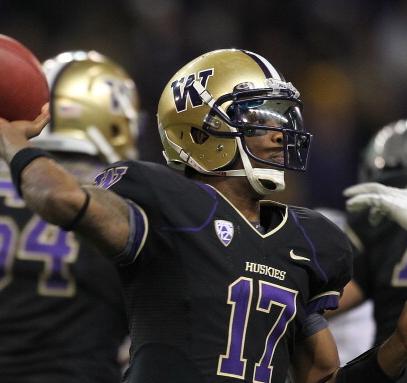 Otto Greule Jr/Getty Images

The Huskies are your 2012 dark horses in the Pac-12 and perhaps beyond with the LSU Tigers on their schedule.
If they can dethrone the Bayou Bengals on the road, they will be celebrating and then some because it could open things up for a wild and exciting ride in the Pac-12.
USC and Oregon may receive all of the preseason accolades but the Huskies offense is not too far behind.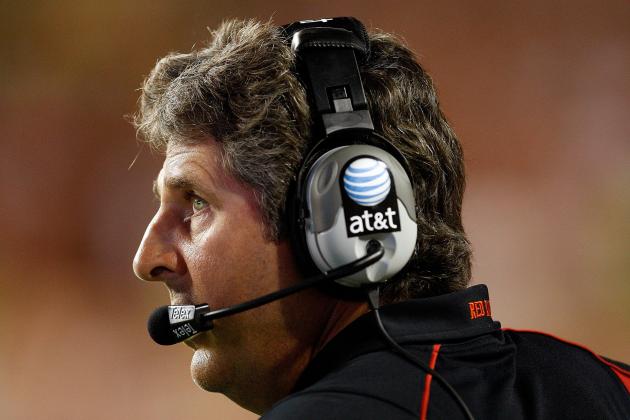 Ronald Martinez/Getty Images

Why not?
The Cougars will be improved and we all know that Mike Leach absolutely is in love with pirates. Nothing is wrong with that and this theme song from the Pirates of the Caribbean is played during many sporting events.
Christian Petersen/Getty Images

The Utes and Kyle Willingham should be rocking once the season gets underway as they are a dangerous team that will not be getting much love.
However, John White IV also known as the "Wolfman" will rank among the better tailbacks in the Pac-12 and beyond.
If The Utes can get him more involved in the passing game, their offense should be much better than last season which may give them a chance to upset a few of the elite teams (USC).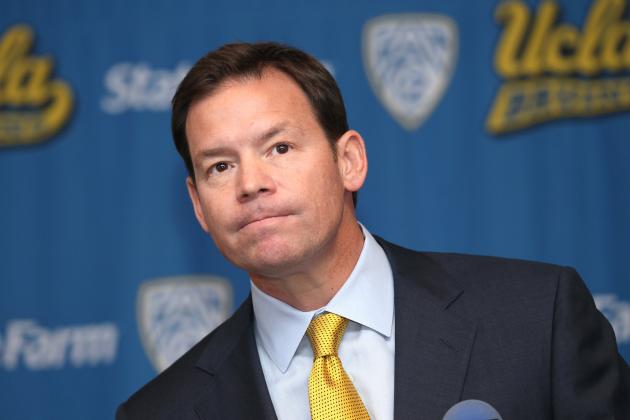 Stephen Dunn/Getty Images

The Bruins are hoping some "California Love" will be brought to the gridiron by Jim Mora Jr because the struggles have not been easy to witness.
UCLA is still considered by many as a program that has the capability of becoming a legit Pac-12 powerhouse and we will find out in year one just how fast they might rise to the cream of the crop.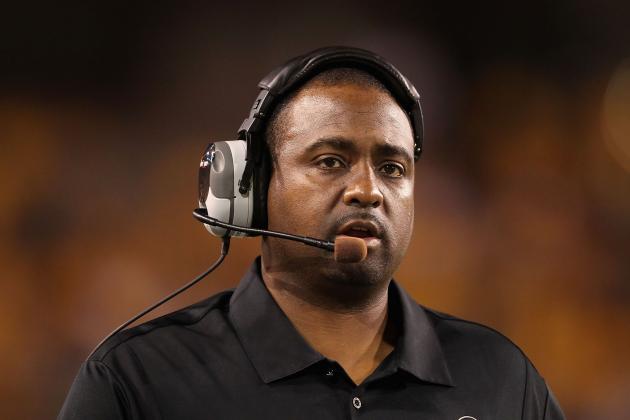 Christian Petersen/Getty Images

Jon Embree was able to finish the season on a strong note after upsetting Utah, but the year could have gone much worse than 3-10.
Their schedule was among the toughest in the nation and it opens up bit quite a bit in 2012. However, they would love to have a "Remedy" after losing their top target in wide receiver Paul Richardson.
Going down with a knee injury will cost him the season and we will soon find out if it costs the Buffs a bowl bid as well.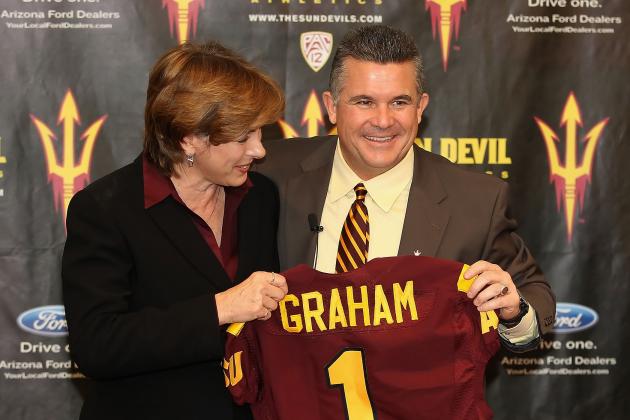 Christian Petersen/Getty Images

This song may represent Todd Graham perfectly since he left the Pittsburgh Panthers for some of the glitz and glamour that Arizona State brings.
In Tempe the weather gets scorching but the craving for winning is heating is wanted even more.
Arizona State football "fell apart at seams" one season ago with Dennis Erickson at the helm and Graham hopes he can become "Famous" by making ASU a winning program.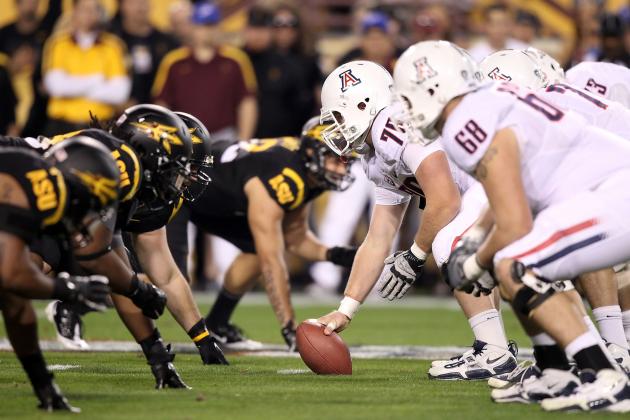 Christian Petersen/Getty Images

Rich Rodriguez had a ton of success at West Virginia, but he flopped miserably with Michigan.
He will also have a "Price to Play" at Arizona in a Pac-12 conference that is loaded with playmakers on both sides of the ball. Matt Scott is a legit duel-threat quarterback, but the offense should not be the biggest concern.
A defense that allowed 460 yards per game (110th) struggled to get off the field for the offense and just five starters return.
Rodriguez should have success in time, but it may take some time in Tuscon before they become realistic contenders.
Andy Lyons/Getty Images

Not only is this a classic song, but it fits perfectly with Charlie Strong as the Cardinals coach.
Some are calling this the dumbest move ever, but I am sort of on the fence. Banning the media from your football team may sound absurd, but Strong thinks it is a smart move at the moment.
Maybe Strong is a genius and realzies his team is the one to represent the Big East in the BCS, so he is setting the media up.
Or maybe it will backfire and they will either struggle and or get zero love even if they win.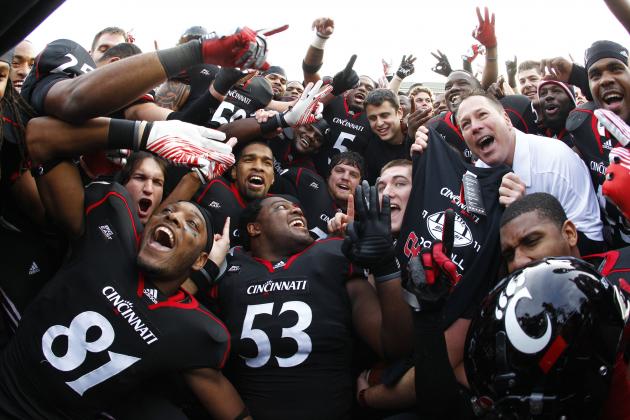 Tyler Barrick/Getty Images

The Bearcats deserve a ton of more love, but they should worry about nothing other than to just "keep rolling" because at the end of the day victories are the only thing that matters.
Butch Jones has built one fine program for Big East standards as he will be attempting to put the program back into a BCS bowl.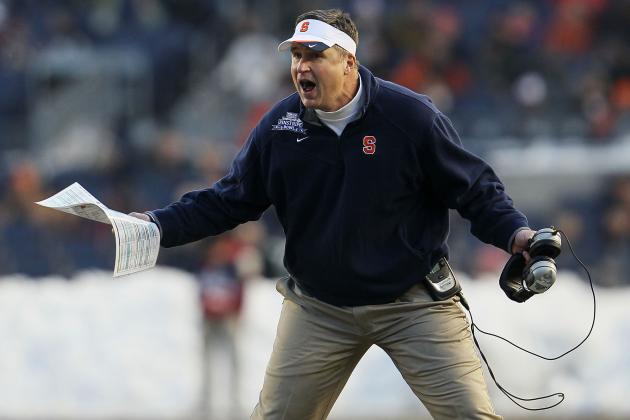 Chris McGrath/Getty Images

The Orange have a bit of changing to do now that they are entering their final season in the Big East.
Plus, "The changing of the seasons is here now, is here now" explains that Temple better be ready or else they may receive a rude awakening.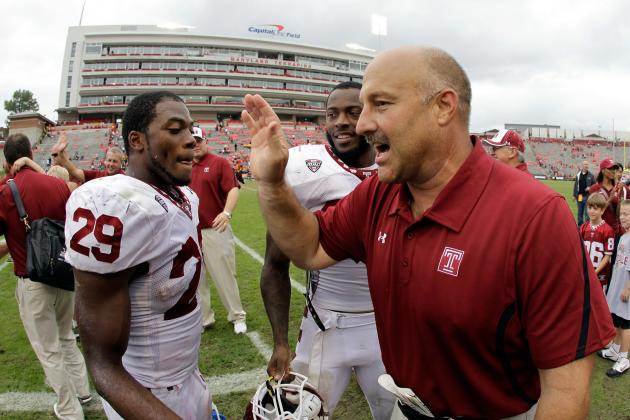 Rob Carr/Getty Images

The Owls have bounced around quite a bit, but they finally made it in the primetime now that they are in the Big East.
Temple is looking to take full advantage of the opportunity they have and Steve Addazio has been impressive after his first season (9-4).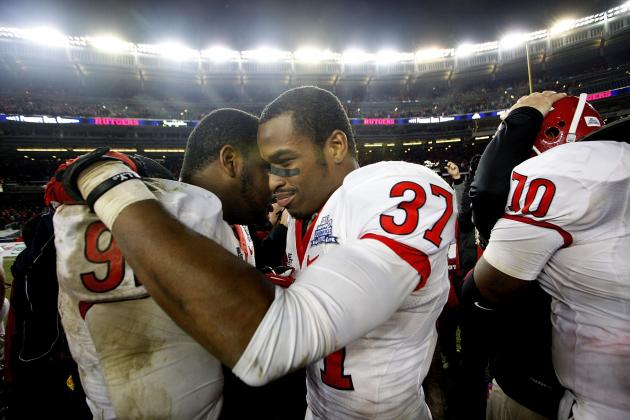 Jeff Zelevansky/Getty Images

"I'm on my way" should be what Rutgers is all about in 2012 on account they are coming off one fine recruiting class. They have had their share of NFL stars, but the consistency has not always been there on the field.
Despite losing Greg Schiano, Kyle Flood and the program will not be changing too much. Of course unless you think moving up to a potential BCS bowl in the near future is a significant change.
Even with Boise State coming next season to the Big East, the Scarlet Knights are gaining the momentum to compete with anybody.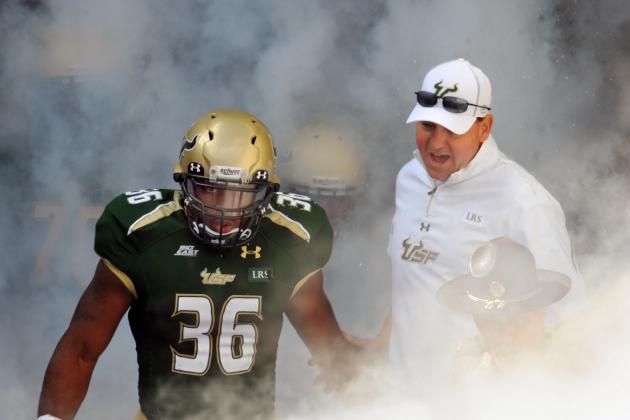 Al Messerschmidt/Getty Images

The Bulls would love to "Rise Today" since they have fooled us for many years in terms of breaking into the BCS.
Once ranked number two back in 2007, USF has high hopes of at least winning the Big East with B.J. Daniels as their quarterback.
Florida State and Miami are two teams they have beaten before, and they are both on the slate in 2012. If they can catch fire and stay consistent (no kidding) past October, they may finally rise to the cream of the crop in the Big East.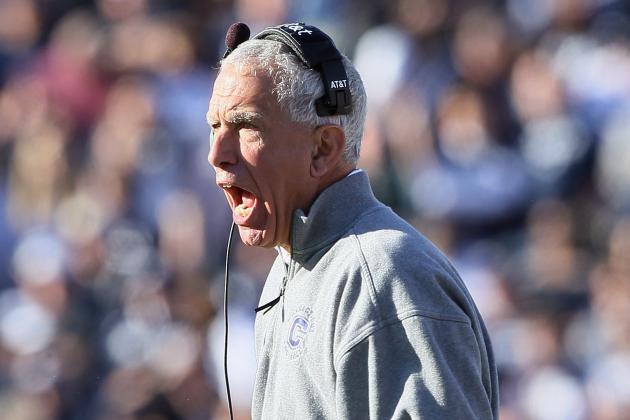 Elsa/Getty Images

"Into the abyss will I run" is not exactly what the Huskies want to see from their football program, especially after playing in a BCS bowl just two seasons ago.
Paul Pasqualoni is coming off a modest 5-7 season in which not many expected too much, but the 2012 season should bring them from the "abyss" of college football to more of a relevancy with 16 expected starters returning.
Jared Wickerham/Getty Images

The Panthers have had way too many coaching changes in the past few seasons (three) and they are praying that Paul Chryst is the guy to take on a successful and long tenure.
Pittsburgh has never appeared in a BCS bowl despite all of the hype and talent they have put on the field. With Chryst being an offensive expert, Pittsburgh is hoping they will "Stand Alone" in the Big East sooner than later.