Nationals: Autograph Hunter Shares His Secrets to Success (Part 1: Igarashi)
April 17, 2012

Greg Fiume/Getty Images
I attended the April 16th game between the Washington Nationals and the Houston Astros, along with a group of friends, including my roommate, a transfer from the UAE, who before today had never seen a baseball game in his life. 
I had plenty of time to kill so I hopped a Metro from Brookland-CUA to the Ballpark with one thing in mind: autographs. 
That's right, I'm an 18 year old college student who is still obsessed with autographs. I was a late starter, getting my first autograph at the age of eleven at a 2004 Philadelphia Phillies game. The signer was the great Jim Thome. I followed that up with another from ex-Met Endy Chavez back in 2008 Spring Training. 
Moving along through my life story, which will figure into this informal article later, today I was lucky enough to get signatures from Nationals starter Jordan Zimmermann and shortstop Ian Desmond, both of whom were very classy and professional. I could have added a third to my collection, reliever Craig Stammen, but I saw a little kid who obviously was desperate to get his first signature and graciously let him go, not at all succumbing to the temptation to follow. 
I realize that I am reaching the age where asking for autographs at a game is bound to raise suspicion as to whether I'm planning on selling my recently acquired souvenir on eBay or some dumb sports auction site. (To be honest, I find the very idea preposterous.)
I also realize that in the near future, I may have to go to trade shows, write to athletes by mail (again, something I wish I wouldn't have to resort to) or just give up autograph hunting altogether. Therefore, this article will be dedicated to helping people learn how to get autographs at ballgames, the tactics, the right things to say, etc. For each autograph, there was a different way I got the signature.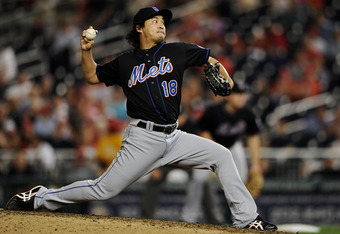 Patrick Smith/Getty Images
Let's start with my first round of autographs. These autographs were all collected at the same game: Mets vs. Nationals, September 4th, 2011. The players in question: ex-Mets relievers Ryota Igarashi and Jason Isringhausen, and current Athletics pitcher Tom Milone and Nationals first baseman Chris Marrero.  
We'll start off with Ryota. The beauty of this autograph was the fact that it was I myself who engineered this scheme to acquire it.
Ryota was grouped with the other Mets relievers, just milling around, doing nothing, their workout practically finished. I was hanging by the left field corner, using my scorecard to determine my target pitcher. The first thing that came to my mind was to call for Ryota. Not only was he the only one on the Mets, he was easy to spot, and even easier to communicate with, thanks in part to my limited, but conversational Japanese vocabulary, (thanks to Vocaloid music software)
I knew what I had to say, so I shouted "Ryota!" three times. I must have caught his attention, because the next thing I knew, he and his translator (I assume) walked up to where I was. By this time, I had gotten a small group of young Nationals and Mets fans, eager for their chance to get a signature from a pitcher they probably didn't know. Ryota signed my Nationals program, and proceeded to sign the other kids' balls, programs, etc. Afterwards, I thanked him in broken Japanese and he went back to work. (in an interesting side note, he ended up winning the game against the Nationals.) 
A couple of the mothers thanked me for what I did as well. So much for a guy who had little experience in getting autographs.
The significance of this story is the fact that sometimes you have to look for people who don't stick out as much as others in order to get autographs. I exploited the fact that the Mets had one player who was totally different, and got a signature out of it. I had planned to use the same strategy for the April 16th game, but my seats were on the other side of the stadium, and I wasn't exactly sure if the pitcher in question was still on the roster, as he was a Rule V pick, which could have meant that he would have been pitching for his old team again. All in all, it was a strategic way to get an autograph without resorting to a simple "I want your autograph".
If I get enough readers, I will move on to the next story of autograph conquest: that of Isringhausen and the Nationals rookies.