2012 NFL Draft: Ranking This Year's Best Options at Tight End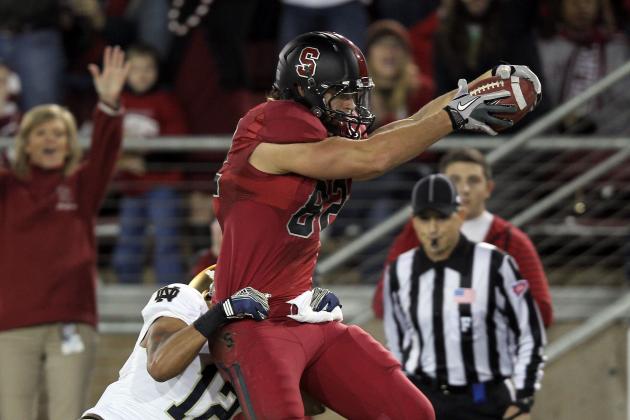 Ezra Shaw/Getty Images

The NFL faces a tough situation this year. Many teams need a tight end, but the draft is very shallow in the position this year. The lack of break-out talent has pushed players that wouldn't normally get drafted until day two or three, up to first- or second-round status, as NFL teams are suspected to swipe and grab at the best this class has to offer.
In today's NFL, the tight end position is a staple in the vast majority of the offenses. They are multifaceted offensive tools that are often asked to perform several tasks every play.
To succeed at the position in the NFL, one must possess strength, speed, hands, blocking ability, agility and a plethora of additional skill sets.
Even though this draft class possesses no Vernon Davises or Kyle Rudolphs, there are still a few players who have the potential to make an impact in this up coming season.
Begin Slideshow

»
Ladarius Green is a big, quick player that has shown he can be something at the tight end position, bringing in 51 receptions for 606 yards and eight touchdowns.
He posted the second fastest 40-yard dash time for tight ends with a time of 4.53 seconds. His speed is translated into quick feet that allow him to shed blocks and get open when in a short passing situation.
Green's big frame also gives him the ability to shake off would-be blockers, as well as allowing him to go out, up, down or sideways to catch whatever pass may be thrown at him.
Green's game shows many holes, however. He lacks the physicality to get off the line of scrimmage and is quick to give away his routes. His blocking game could use a lot of work and some would say that he needs to put on some weight before he can be a major threat in the NFL.
Green is, as of right now, a project, but with coaching and hard work, he could become a productive NFL tight end.
Michael Egnew is a big wide receiver turned All-American tight end. He provides a big target for quarterbacks and his 6'5", 258-pound frame allows him to separate from opposing linebackers and overpower many safeties.
Egnew finished near the top in five of the seven measurable combine workouts, including the 40-yard dash and the vertical leap.
He is a good route runner, mostly due to his previous career as a wide receiver, and knows how to get into position to catch whatever ball may come his way. These skills enabled him to be very effective in third down and short yardage situations.
Egnew struggles on blocking the bigger, more physical defensive linemen and linebackers and also has trouble being caught up at the line of scrimmage.
With a little coaching and experience, Egnew could translate his college success into similar to success in the NFL.
Orson Charles proved that he is the strongest of the tight ends during his combine workout, leading the position with 35 reps of 225 pounds.
Charles uses this strength to power off the line of scrimmage and overpower opposing blockers.
Charles also possesses great hands, solid footwork and can easily break from the line and seamlessly return to his route. This, coupled with his strength, allows him to easily become open and be the dominant third-down threat for which he was famous for in college.
At the college level, Charles was able to get by on blocking due to his above par athleticism and strength, but he will need to develop technically and build up his agility in order to be an effective blocker in the NFL.
Charles earned a reputation as a very dedicated and hard-working player while at Georgia, so it will come as no surprise to anyone when he comes out of training camp as an NFL ready blocker.
Dwayne Allen is a big, strong and athletic player who brings many positive skills to the table.
Allen is strong enough to shed and overpower would-be blockers. He possesses great hands, the natural ability to pull in basically any pass thrown at him and runs very fluidly despite his 6'3" frame.
Rarely getting stopped at the line of scrimmage, he effortlessly comes in and out of his breaks and has superb route running. All of these traits make him the go-to guy in shot yardage situations or when a team needs to pick up a first down.
The only downside to Allen's game is that he is plagued by an awkward two-point stance that makes him a step slow in run-blocking schemes, which often makes him late off the ball.
However, this is nothing that a season of professional coaching won't fix though.
Coby Fleener is easily the best tight end in this year's draft. He has nearly everything necessary to be an effective tight end at the professional level.
Fleener possesses the most technical routes and surest hands of any of the tight ends this year. He can go every which way to bring in a pass and very rarely lets a ball hit the turf. He was one of Andrew Luck's favorite all-around targets last year, especially in the red zone, where he did the majority of his scoring.
Fleener has taken full advantage of the opportunities presented to him while he was at Stanford and progressed tremendously each year he was there. This hard work has payed off not only in catches and touchdowns, but in an obvious turn around for his blocking game, even though it is not yet perfect.
If Fleener were to bulk up a little bit and polish his blocking game, he could become a premier tight end in a few years.