2012 NFL Mock Draft: Predictions and Analysis for Every First-Round Pick
Everyone knows that Andrew Luck will be the No. 1 pick in the 2012 NFL Draft, but who else will join him in Round 1?
Mike Ehrmann/Getty Images
Get ready football fans, because with less than two weeks to go before the 2012 NFL draft, the rumor mill is about to kick into full on overdrive.
It happens every year. In the days leading up to the draft, the media tries to stir up every possible different scenario to drum up buzz for draft weekend.
"This team loves this player."
"This team wants to trade up."
"This team wants to trade down."
"So and so's stock is soaring."
"So and so's stock is plummeting."
Most of it's simply inflated hearsay, but every now and then, there is an ounce of truth thrown in to what's being said.
It can often be difficult to decipher what's really legitimate and what's simply gibberish, but the good news is that we won't have to wait much longer to find out how it will all play out.
Draft weekend will officially kick off next Thursday, April 26th. However, even though we're so close to the annual selection extravaganza, the Top 10 still remains largely a mystery.
We all know that quarterbacks Andrew Luck and Robert Griffin III will be the first two picks, but after that, it's anyone's guess at this point.
Soon enough, all of the questions will be answered, but until then, here's how I think the first round of the 2012 NFL draft will ultimately play out.
1. Indianapolis Colts: QB Andrew Luck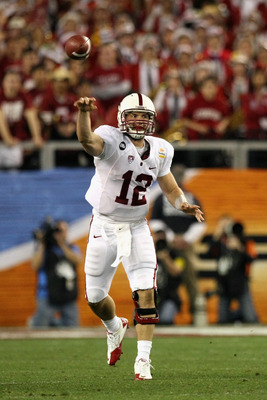 Andrew Luck
Donald Miralle/Getty Images
The Colts cleaned house this offseason, firing GM Bill Polian and head coach Jim Caldwell and cutting the face of the franchise, QB Peyton Manning, which means that the organization will likely be in rebuilding mode for at least the foreseeable future.
Indianapolis fans shouldn't fret too much, though, as their team "lucked out" so to speak, by landing the No. 1 pick in this year's draft, which gives them the opportunity to draft star Stanford signal-caller Andrew Luck.
Luck is one of the most polished and pro-ready quarterbacks to emerge from the college ranks in decades, and he has all the tools and skills to develop into a perennial Pro Bowl player.
Arm strength, intelligence, athleticism, accuracy, intangibles, leadership ability, poise—you name the trait, Luck's got it.
While taking over for a future Hall of Fame player and a living legend like Manning will certainly be a difficult challenge, Luck definitely has what it takes to handle the pressure.
2. Washington Redskins: QB Robert Griffin III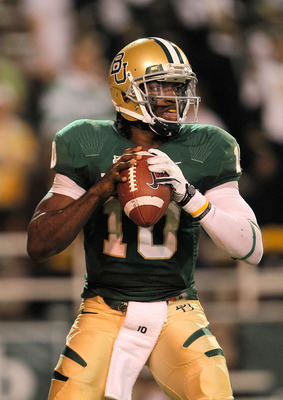 Robert Griffin III
Sarah Glenn/Getty Images
The Redskins have seemingly lacked stability at the quarterback position since Dan Snyder bought the team back in 1999. However, they've now made the move to put themselves in position to finally land the franchise quarterback that they've been lacking for years.
Robert Griffin III turned out to be the savior that the Baylor football program so desperately needed, and it now looks like he'll have the chance to be a savior for Washington.
Griffin was the most exciting and electric player in college football this past season, as he helped guide the Bears to a double-digit win record while earning individual recognition as the 2011 Heisman Trophy winner.
RG3 turned out to be the biggest breakout star in the country in 2011, as he took his game to an elite level, throwing for 4,293 yards, rushing for 699 yards and accounting for 47 total touchdowns.
The 6'2'', 223-pound junior showed that he wasn't just an average dual-threat quarterback, as he displayed the type of accuracy (72 percent completion percentage), pocket presence, passing prowess, leadership ability and overall explosiveness that NFL teams are searching for in a starting quarterback.
Griffin may not be as polished of a product as Andrew Luck at this point in his development, but he appears to have a higher ceiling and the potential to turn into one of the NFL's biggest stars early on in his career.
Last season, Cam Newton defied all of his critics and showed us that there is certainly room for supremely athletic dual-threat quarterbacks to shine in the pro game, and Griffin is capable of putting together the same type of dominant performance as a rookie in 2012.
3. Minnesota Vikings: OT Matt Kalil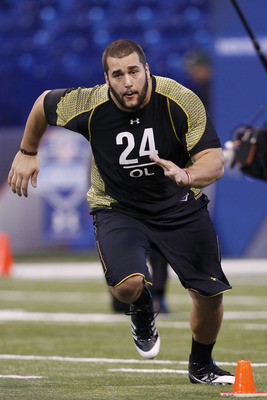 Matt Kalil
Joe Robbins/Getty Images
Now it starts to get interesting. Minnesota holds this year's key catalyst pick with the No. 3 selection, and it's still unclear what the Vikings' intentions truly are at this point.
The wisest move would be to trade down a few slots and pick up a couple extra picks. However, there's no guarantee that another team will be looking to swap for the third pick.
If Minnesota stays put, the team will likely be deciding between three prospects—USC OT Matt Kalil, LSU CB Morris Claiborne and Oklahoma State WR Justin Blackmon.
For the past few months, Kalil has basically been unanimously linked to the Vikings. But he may not be the lock to go to Minnesota that many are making him out to be, as Blackmon and Claiborne have to be on the team's radar as well.
Minnesota really couldn't go wrong picking any of the three players, given the fact that all of them would fit a key need.
If the Vikings do decide to go with Kalil, he would definitely be an instant upgrade over left tackle Charlie Johnson, and he would give the Vikings the type of invaluable franchise tackle that they could build their line around for the next decade.
Still, at this point, don't rule out Claiborne and Blackmon just yet.
4. Cleveland Browns: RB Trent Richardson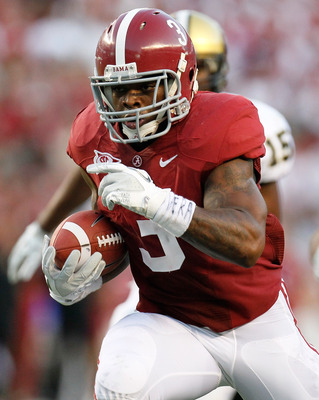 Trent Richardson
Kevin C. Cox/Getty Images
Given the Browns' dismal offensive output last season, it's evident that Colt McCoy is not the quarterback that Cleveland needs to lead the team into the future.
The question is, though, will the front office go against the wishes of the fanbase and select Texas A&M signal-caller Ryan Tannehill with the No. 4 pick, or will the team decide to wait and select a quarterback like Kirk Cousins or Brandon Weeden with either the 22nd or 37th picks?
It's certainly possible that the Browns could draft Tannehill, but obviously, the better and safer option would be to take Alabama RB Trent Richardson.
Richardson is the best running back prospect since Adrian Peterson came out of Oklahoma in 2007, and he's the type of elite back who is worthy of a Top-Five draft pick.
The 5'9'', 228-pound junior possesses a rare blend of size, power, speed, vision, balance and toughness, and he showed all of those traits off in 2011 when he helped carry the Alabama offense, rushing for 1,679 yards and scoring 24 total touchdowns.
Richardson is the type of offensive difference-maker that Cleveland has been lacking for so long, and he's the kind of explosive playmaker that would help immediately energize the stagnant Browns offense as a rookie in 2012.
5. Tampa Bay Bucs: CB Morris Claiborne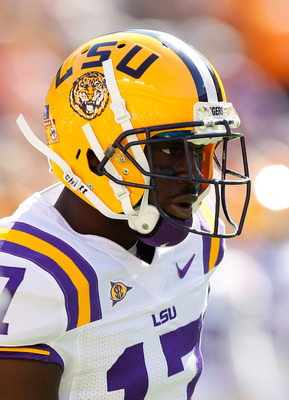 Morris Claiborne
Kevin C. Cox/Getty Images
Tampa Bay would probably love to see Trent Richardson available at No. 5, as he would give new coach Greg Schiano the type of Ray Rice bell-cow back to mold his offense around. However, Richardson likely won't make it past the No. 4 pick, which means the Bucs will probably have to settle for LSU CB Morris Claiborne.
Although the team went out and threw a pretty hefty contract at Eric Wright in free agency, more help at cornerback is still needed, and Claiborne is the type of impact cover corner who can come in and immediately solidify the secondary.
The 5'11'', 188-pound All-American is a long, athletic and instinctive corner who displayed lock-down capabilities throughout the 2011 season.
It's disgusting and shameful that his low Wonderlic score was leaked to the press, but the fact that Claiborne has a documented learning disability shouldn't hinder his draft stock in the least, as it certainly didn't stop him from dominating on the field last year.
Claiborne has the type of cover skills to shadow any receiver he goes up against, and he's a better overall cornerback prospect than former teammate Patrick Peterson, the No. 5 pick in last year's draft.
With Ronde Barber's career soon about to come to an end after next season, it's only fitting that Barber will likely have the chance to hand the torch off to the Bucs' next great cornerback of the future.
6. St. Louis Rams: WR Michael Floyd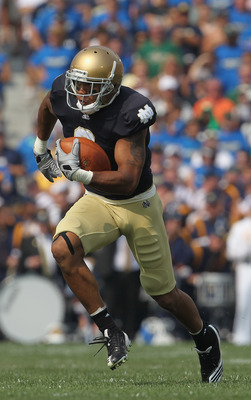 Michael Floyd
Jonathan Daniel/Getty Images
I wouldn't be surprised at all if St. Louis traded up a few spots for Alabama RB Trent Richardson, especially since the Rams have so many picks to work with after swapping selections with the Washington Redskins to move down from No. 2 to No. 6.
Steven Jackson has been one of the most reliable running backs in the NFL since he first entered the league back in 2005, but Jackson's going to turn 29 this summer and he has a ton of wear and tear on his tires (over 2,100 career carries).
If the Rams decide to stay where they are, though, they probably won't have a shot at Richardson, which means that they'll likely be deciding between this year's two top wide receiver prospects, Notre Dame's Michael Floyd and Oklahoma State's Justin Blackmon.
Both Floyd and Blackmon have what it takes to be a No. 1 wide receiver for an NFL offense, and both are worthy of being Top-10 selections.
Blackmon has long been considered to be the No. 1 receiver prospect in this year's class, but Floyd has made a late push and really boosted his stock during offseason workouts.
The 6'2'', 220-pound senior is bigger, stronger, more explosive and has a better pair of hands than Blackmon, and he high-points and tracks passes better than any collegiate receiver I've seen since Calvin Johnson was at Georgia Tech.
If Floyd and Blackmon are both available when the Rams are on the clock at No. 6, don't be shocked if you hear Roger Goodell utter Floyd's name when he announces the pick.
7. Jacksonville Jaguars: WR Justin Blackmon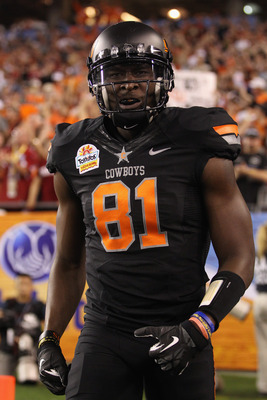 Justin Blackmon
Christian Petersen/Getty Images
There's no getting around the fact that QB Blaine Gabbert was just flat out awful for most of his rookie year in Jacksonville last season. Most of the time, he simply looked overmatched by the level of competition and the complexity of the defenses he was going up against, which certainly isn't an encouraging sign for Jaguars fans.
While Gabbert's got a long way to go, he obviously can still salvage his career and turn things around.
For that to happen, though, the Jaguars are going to have to find him a legitimate No. 1 go-to receiver to help him out.
The team's top three receivers—Laurent Robinson, Mike Thomas and Lee Evans—are all better suited to be secondary options and none of them seem capable of stepping up and being a true top target in the passing game.
That means that the Jaguars will likely be hoping that either one of the top two receiver prospects in this year's draft, Notre Dame's Michael Floyd or Oklahoma State's Justin Blackmon, will drop to them at No. 7.
There's a definite possibility that at least one of them could be available, and if it ends up being Blackmon, he would be almost impossible to pass up.
The 6'1'', 207-pound junior looked like a man amongst boys during his final two seasons in Stillwater, racking up 232 total catches for 3,304 yards and hauling in 38 total touchdown passes.
While there are questions about whether or not Blackmon has the true long speed to separate from NFL defensive backs on a consistent basis at the next level, he proved during his college career that he's the type of rare playmaker who has the chance to be a star receiver in the pros.
8. Miami Dolphins: QB Ryan Tannehill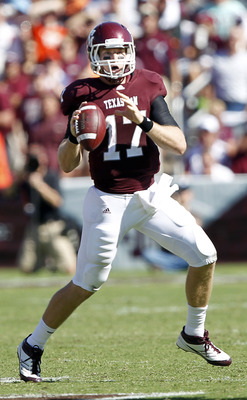 Ryan Tannehill
Bob Levey/Getty Images
It's been nearly 12 years since legendary quarterback Dan Marino decided to retire. However, in all that time, the Dolphins have still yet to find the proper replacement for the Hall of Famer.
This offseason, it appeared that Miami would be in the running for this year's two top available quarterbacks, Peyton Manning and Matt Flynn. But after Manning ended up in Denver and Flynn ended up in Seattle, the Dolphins are now left with a quarterback stable led by Matt Moore and David Garrard.
The inability to find a quarterback that is capable of being a true face of the franchise has left the Miami fanbase disenchanted and frustrated with the front office, but all hope may not be lost.
On draft night, the Dolphins will likely have a major decision to make if the No. 3-rated quarterback in this year's class, Texas A&M's Ryan Tannehill, is available when they're on the clock at No. 8.
It's a similar choice to the one they had to make when Brady Quinn was available when the team was picking at No. 9 in the 2007 draft. While the Dolphins ultimately passed on Quinn in favor of WR Ted Ginn Jr., they may not be able to afford to skip over a signal-caller like Tannehill if he's there for the taking this time around.
Tannehill has become one of the draft's most debated about prospects in recent weeks, as many have questioned whether he's truly worthy of being a Top-15 pick or not.
The fact is, the 6'4'', 221-pound senior displayed clear starting caliber traits during his time at A&M, and if he can take a season to sit and learn behind a veteran quarterback as a rookie, he could turn into a legitimate NFL quarterback in the years to come.
The question that remains is will he be learning under Joe Philbin and former college coach Mike Sherman in Miami, or will Tannehill end up somewhere else such as Cleveland or Kansas City?
We'll find out on April 26th, but until then, Tannehill should be one of the most interesting prospects to follow in the days leading up to the draft.
9. Carolina Panthers: CB Stephon Gilmore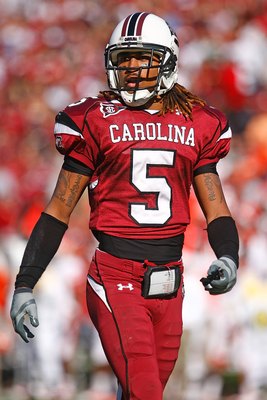 Stephon Gilmore
Scott Halleran/Getty Images
Carolina could go in a few different directions with the No. 9 pick, but given that the Panthers ranked 28th in total defense last season, it would be wise for the front office to address that side of the ball, especially if both of the top receiver prospects, Justin Blackmon and Michael Floyd, are off the board.
The Panthers could look at a defensive tackle like Mississippi State's Fletcher Cox or a defensive end like North Carolina's Quinton Coples, or they could look to bolster a secondary that gave up 246 passing yards per game last season.
One top cornerback prospect who could help out in the defensive backfield is South Carolina's Stephon Gilmore.
After a solid three-year career in Columbia, Gilmore has solidified himself as the No. 2 cornerback prospect in this year's class after an eye-opening performance during offseason workouts.
The 6'0'', 190-pound junior combines superior athleticism with sound fundamentals, and he's the type of experienced and savvy corner who could come into the NFL and start immediately as a rookie.
Gilmore could give another former Gamecock, Captain Munnerlyn, a real push for the starting spot opposite Chris Gamble if the Panthers decide to take him with the No. 9 pick.
10. Buffalo Bills: OT Cordy Glenn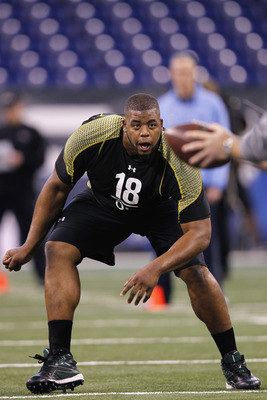 Cordy Glenn
Joe Robbins/Getty Images
The Bills addressed two major needs by re-signing No. 1 WR Steve Johnson and bringing in DE Mario Williams in free agency, which now means that Buffalo can look to bolster its offensive line with the No. 10 pick in the draft.
One lineman prospect that the team could hone in on is Georgia's Cordy Glenn.
GM Buddy Nix has shown an affinity for SEC players during his time as a personnel evaluator, and Glenn is the type of big, athletic tackle that would give Buffalo the dominant figure that it needs on the outside of its offensive line.
Glenn was a reliable four-year starter during his time in Athens, and the 6'5'', 345-pound senior had a terrific showing during offseason workouts.
While most analysts are still projecting Iowa's Riley Reiff to be the second tackle chosen on draft night, don't be surprised if you hear Glenn's name called ahead of his, as he's been steadily rising up draft boards ever since his stellar combine performance.
11. Kansas City Chiefs: OG David DeCastro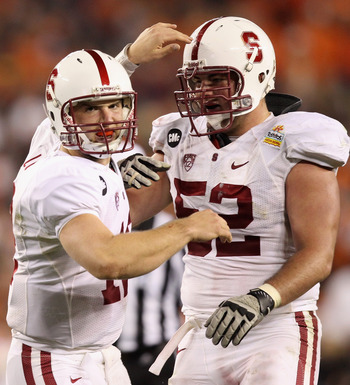 David DeCastro
Christian Petersen/Getty Images
There's a real possibility that Kansas City could be one of the teams that enters the Ryan Tannehill sweepstakes on draft night.
If the Chiefs ultimately decide that they have enough faith in current starter Matt Cassel, they could instead be looking at a prospect such as Stanford OG David DeCastro to help shore up the interior of their offensive line.
DeCastro is one of the best guard prospects to come out of the college ranks in the last 20 years, and he's got the type of talent and skills to develop into a Steve Hutchinson-type of perennial Pro Bowler in the NFL.
The 6'5'', 316-pound junior has the power, athleticism and tenacity to flourish in the NFL trenches, and DeCastro is the type of centerpiece player that a team like the Chiefs could build its entire offensive line around.
Years from now, when we look back on the 2012 draft, DeCastro will likely be considered one of the five best players to come out of this class.
12. Seattle Seahawks: LB Luke Kuechly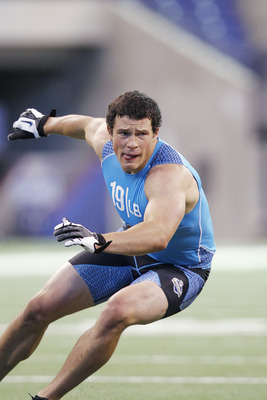 Luke Kuechly
Joe Robbins/Getty Images
Seattle's defense isn't exactly loaded with proven leaders, but that didn't stop the Seahawks from finishing with the 9th-ranked defense in the league last season. After that type of surprising success, one can only imagine how good the defense could be if it could find a leader to be the true anchor of the unit.
One player that has all of the intangibles and traits to develop into that defensive leader is Boston College LB Luke Kuechly.
Kuechly was the leader of the Eagles' defense since he first stepped foot on campus as a freshman, and he ended up having a superb three-year career in Chestnut Hill, as he racked up over 530 career tackles.
The 6'3'', 242-pound junior is the type of consistent, reliable, intelligent and instinctive middle linebacker that has what it takes to develop into a defensive captain for a team like the Seahawks.
Seattle lost middle linebacker and leading tackler David Hawthorne this offseason, and it brought in Barrett Ruud from Tennessee to try to replace him. However, more help is still needed to stabilize the linebacker corps, and Kuechly could be just the type of steadying force that the Seahawks need.
13. Arizona Cardinals: DE/LB Melvin Ingram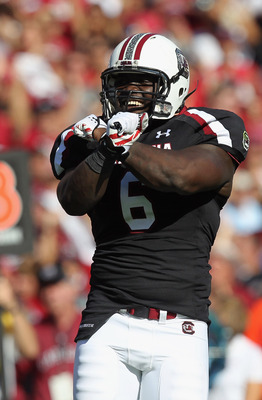 Melvin Ingram
Streeter Lecka/Getty Images
The Cardinals have two intriguing young outside linebackers in Sam Acho and O'Brien Schofield, who combined for 11.5 sacks last season. However, they could use another top edge-rusher on the outside of their 3-4 defense.
One top prospect who seemingly fits what Arizona could be looking for is South Carolina's Melvin Ingram.
Ingram is one of the most versatile and talented defensive prospects in this year's draft, and he solidified his status as a Top-15 pick with a monster senior season in 2011. The 6'1'', 264-pound former Gamecock notched 10 sacks and 15 tackles for loss last year, and he displayed the type of rare skill set that has to have plenty of NFL teams intrigued and interested in his services.
Ingram lined up all over South Carolina's defensive line, but his best fit in the NFL could be as a 3-4 outside linebacker.
If Ingram's available when Arizona is on the clock at No. 13, the Cardinals would have to give him some serious consideration.
14. Dallas Cowboys: DT/DE Fletcher Cox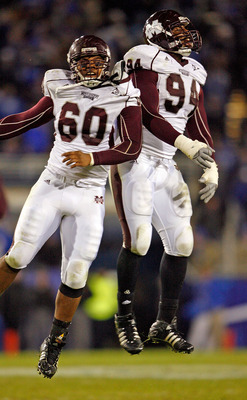 Fletcher Cox
Andy Lyons/Getty Images
This offfseason, the Cowboys went out and added some key defensive pieces by bringing in potential starters such as linebacker Dan Connor, cornerback Brandon Carr and safety Brodney Pool through free agency. But they chose to leave the defensive line relatively untouched.
That probably means that Jerry Jones has his eye on a few of this year's top defensive line prospects such as Mississippi State's Fletcher Cox and Memphis' Dontari Poe.
Both Cox and Poe would be great fits for Rob Ryan's 3-4 defense, but Cox is the type of disruptive and dominant force who could immediately boost the team's defensive front as a rookie.
The 6'4'', 298-pound junior has the size, strength and quickness to fit in as either a 3-technique tackle in a 4-3 scheme or a 5-technique end in a 3-4 front like the one that the Cowboys employ.
Cox has shown that he can shed blocks, penetrate and make plays as both a run-stuffer and a pass-rusher, and he would give Dallas a special young lineman to help shape its defensive front around for the future.
15. Philadelphia Eagles: S Mark Barron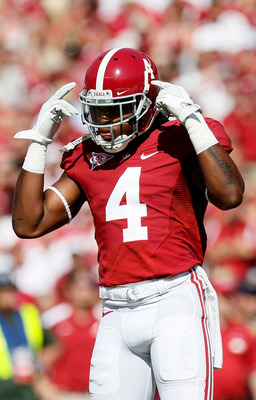 Mark Barron
Kevin C. Cox/Getty Images
Philadelphia may have one of the deepest groups of cornerbacks in the NFL with Nnamdi Asomugha, Asante Samuel and Dominique Rodgers-Cromartie. However, the Eagles lack a true playmaker at the safety position.
Nate Allen, Kurt Coleman and Jaiquawn Jarrett are all solid, but none of them are standouts.
The Eagles could take an interest in this year's top safety prospect, Alabama's Mark Barron, who is the type of leader and playmaker that would really bolster an already strong secondary.
The 6'1'', 213-pound Barron excelled during his time in a Crimson Tide uniform, and he had no problem making plenty of plays on a consistent basis against the best competition that college football had to offer.
Down the line, Barron could very well end up becoming a Brian Dawkins-type of impact defender for the Eagles if Philadelphia decides to take him at No. 15.
16. New York Jets: LB Courtney Upshaw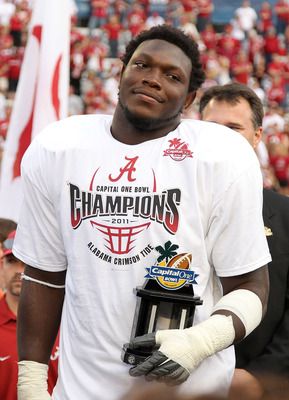 Courtney Upshaw
Mike Ehrmann/Getty Images
Rex Ryan has been searching for a Terrell Suggs-like playmaking pass-rusher to stick on the edge of his 3-4 defense since he first took over as the Jets' head coach after a stint as Baltimore's defensive coordinator.
New York still doesn't have an outside linebacker that is worthy of acclaim, as players like Bryan Thomas, Calvin Pace and Aaron Maybin are nothing more than simply adequate and average.
Luckily for Ryan and the Jets, they should have a crack at pass-rushers like Alabama's Courtney Upshaw, Illinois' Whitney Mercilus, Boise State's Shea McClellin, Syracuse's Chandler Jones and Clemson's Andre Branch when they're on the clock at No. 16.
The best of that group is Courtney Upshaw, who was an absolute terror coming off the edge of Alabama's 3-4 defense during his final two seasons in Tuscaloosa. During that time, Upshaw racked up a combined 15.5 sacks and 31.5 tackles for loss as he made his living in opponents' backfields.
The 6'1'', 272-pound senior may not be the most athletic pass-rusher in this year's class, but he's a proven difference-maker who would give the Jets the type of edge-rusher that could finally help stabilize their defensive front seven.
It also wouldn't be shocking to see the Jets look at a wide receiver like Baylor's Kendall Wright, or even an inside linebacker like Upshaw's former Alabama teammate Dont'a Hightower, as Bart Scott is now entering the Golden Girls territory of his career.
17. Cincinnati Bengals: WR Kendall Wright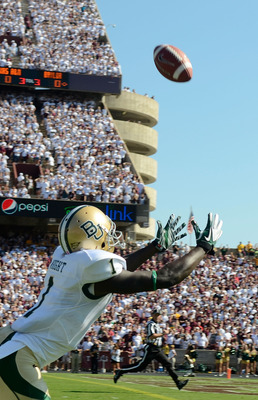 Kendall Wright
Sarah Glenn/Getty Images
Cincinnati has an outstanding passing combo to build around for the future with QB Andy Dalton and WR A.J. Green, who both enjoyed terrific rookie campaigns, but the Bengals would still benefit from adding a legitimate No. 2 receiver to the mix.
Adding an explosive and dynamic weapon like Baylor's Kendall Wright could be exactly what the team needs to take its passing game to a truly dangerous level.
Wright played a pivotal role in Robert Griffin's rise to stardom this past season, as he was Griffin's go-to target, hauling in 108 passes for 1,663 yards and 14 touchdowns.
The 5'10'', 196-pound senior routinely got behind secondaries throughout his career with the Bears, and the former high school track star proved that he possesses the type of raw speed and playmaking ability to be a reliable deep threat in the passing game.
Pairing Green and Wright together would give the Bengals one of the best young receiver duos in the NFL, and it would give Dalton the firepower he needs to develop into an upper echelon quarterback.
18. San Diego Chargers: OT Riley Reiff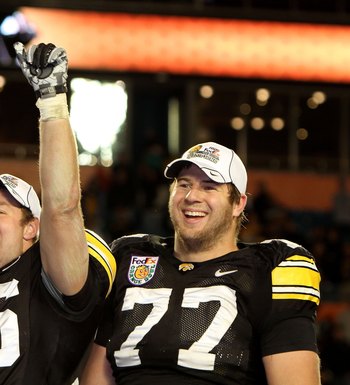 Riley Reiff
Doug Benc/Getty Images
The Chargers let left tackle Marcus McNeill go this offseason, and they'll be hoping that Jared Gaither can step up and become a consistent presence on the edge in McNeill's absence next season.
The problem is, Gaither hasn't exactly been the model of consistency during his up-and-down five-year pro career, and his counterpart on the opposite side of the line, right tackle Jeromey Clary, isn't exactly irreplaceable.
That means that San Diego could be shopping for an offensive tackle when the team is on the clock at No. 18, and one prospect whom the Chargers would probably be ecstatic to see available is Iowa's Riley Reiff.
Reiff is the type of versatile tackle who could fit on either the right or the left side of an NFL offensive line, and he has the chance to develop into a standout lineman in the pros if he keeps working on his technique and keeps getting stronger.
The 6'5'', 315-pound junior would be an instant upgrade over Clary on the right side, and Reiff would give the Chargers a valuable fall-back option if Gaither doesn't work out at left tackle.
19. Chicago Bears: DE Whitney Mercilus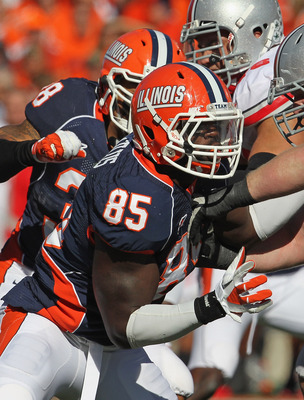 Whitney Mercilus
Jonathan Daniel/Getty Images
This offseason, the Bears finally decided to bring in a No. 1 receiver to help out QB Jay Cutler by trading for Cutler's former Broncos teammate Brandon Marshall.
Marshall alleviates the need to draft a receiver in the first round of this year's draft, although, if a player like Baylor's Kendall Wright is still on the board at No. 19, there's a chance that Chicago could pounce on him.
The Bears may also look at a tight end like Stanford's Coby Fleener to help out in the passing game, but it would be hard to justify taking Fleener in the Top 20, considering he's more of a late first-round, early second-round value.
Instead, the Bears could look to find some help in the trenches, as they could use some more stability on both the offensive and defensive lines.
Given the fact that Chicago has 32-year-old Julius Peppers and 31-year-old Israel Idonije leading the way at defensive end, the team might be in search of a young pass-rusher to groom along with Corey Wootton, who has yet to make the type of impact that the team was hoping for.
The Bears may not have to look far to find their end of the future, as Illinois' Whitney Mercilus is certainly a player that would fit in well in Chicago's Cover 2 defensive scheme.
Mercilus was a relative unknown before the start of the 2011 season, but the 6'3'', 261-pound junior exploded onto the scene with an All-American campaign, as he racked up an eye-catching 16 sacks and 22.5 tackles for loss.
While some are still wondering if he was simply a one-year wonder or not, Mercilus showed enough flashes last year to warrant legitimate first-round interest, and you can bet that a team like the Bears definitely took notice.
20. Tennessee Titans: C Peter Konz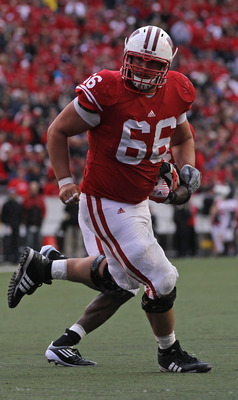 Peter Konz
Jonathan Daniel/Getty Images
Tennessee could go in a few different directions with the No. 20 pick, but don't be surprised if head coach Mike Munchak, the team's former offensive line coach, convinces the front office to take intriguing center prospect Peter Konz to shore up the interior of the offensive line.
The Titans have a lot invested in RB Chris Johnson, and finding him the proper blockers to open up holes is imperative.
Konz is the type of lineman who could come in and have an immediate impact as a rookie similar to what we saw from Pittsburgh's Maurkice Pouncey during the 2010 season.
The 6'5'', 314-pound former Badger is an intelligent and dependable lineman who was the centerpiece of college football's most dominant offensive line in 2011.
Konz is capable of playing either guard or center in the NFL, and he's the type of rare interior lineman prospect who is worthy of a first-round pick.
I also wouldn't be surprised if Tennessee took Georgia Tech WR Stephen Hill, as the Titans may be looking to bring in a young receiver to push and motivate the oft-troubled Kenny Britt.
21. Cincinnati Bengals: RB David Wilson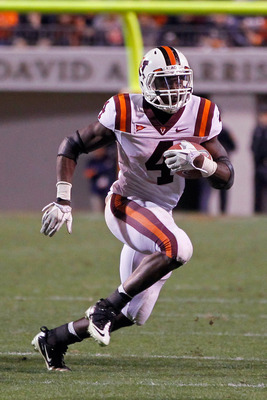 David Wilson
Geoff Burke/Getty Images
Cincinnati decided to cut ties with RB Cedric Benson after four productive seasons, and the team brought in BenJarvus Green-Ellis from New England to carry the rushing load next season. However, that doesn't mean that the Bengals won't be looking to take a running back with one of their two first-round picks.
There are two potential backs that the team could have its eye on—Virginia Tech's David Wilson and Boise State's Doug Martin.
While both Wilson and Martin have what it takes to develop into No. 1 running backs for an NFL offense, it seems like Wilson will likely be the second running back off the board on draft night.
The 5'9'', 206-pound junior only spent one season as the starter in Blacksburg, but he certainly made the most of the opportunity, leading the ACC with 1,709 rushing yards and averaging 5.9 yards per carry in 2011.
Wilson has game-breaking speed and he's the type of explosive weapon that would add a valuable element to Cincinnati's offensive attack.
22. Cleveland Browns: DE Nick Perry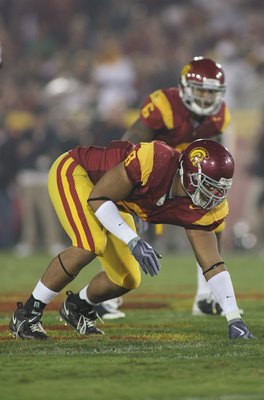 Nick Perry
Jeff Golden/Getty Images
Depending on what the Browns decide to do with the No. 4 pick, they could choose to go in a lot of different directions with their second first-round selection. While offensive skill-position needs like quarterback, running back, wide receiver or even tight end could all potentially be addressed here, don't be surprised if Cleveland instead opts to take a young pass-rusher to pair with last year's second-round pick Jabaal Sheard.
While the Browns did bring in ends Frostee Rucker and Juqua Parker in free agency, the fact that Rucker and Parker combined for just 5.5 sacks last season isn't exactly all that inspiring.
One top pass-rushing prospect that could pique the team's interest at No. 22 is USC's Nick Perry.
Perry is one of the most physically gifted and athletic defensive end prospects in this year's class, and he showed terrific speed off the edge this past season when he racked up 9.5 sacks and 13.5 tackles for loss.
The 6'2'', 271-pound junior is still raw, and he has to get stronger against the run to truly be a successful 4-3 end in the NFL. However, Perry's got the potential to be a pass-rushing stud in the pros, and he and Sheard would make quite a tandem in Cleveland for years to come.
23. Detroit Lions: DE Quinton Coples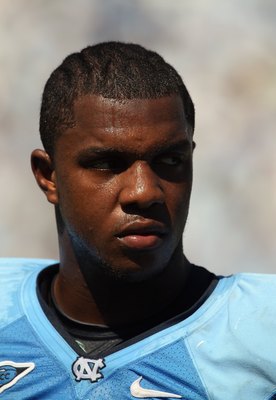 Quinton Coples
Streeter Lecka/Getty Images
North Carolina DE Quinton Coples is without a doubt this year's biggest boom-or-bust prospect.
Before the start of the 2011 college football season, I was one of the many people who projected Coples to be a surefire Top-Five pick in this year's draft. However, after seeing Coples' struggles as a senior, I'm now one of the many who questions just how reliable he will be as a pro player.
The 6'5'', 284-pound beast has all of the natural talent and physical ability to be a star pass-rusher in the NFL, but questions about his motor and his mindset may have some teams worried about spending a high pick on him.
It wouldn't be shocking to see Coples take a bit of a tumble down the board on draft night, but one team that could come to his rescue is the Detroit Lions.
In last year's first round, the Lions scooped up DT Nick Fairley, a projected Top-10 pick who slid down to the 13th slot due to maturity concerns.
This time around, Detroit could implement a similar strategy if Coples starts to slide.
The Lions could use a young pass-rusher to pair with Cliff Avril, and if Coples falls to them at No. 23, they may deem him worthy of the risk.
24. Pittsburgh Steelers: LB Dont'a Hightower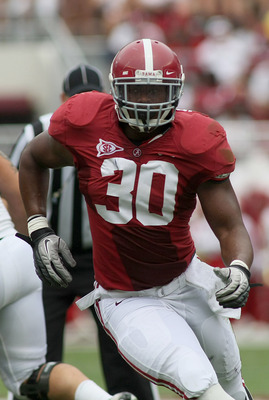 Dont'a Hightower
Greg McWilliams/Getty Images
The Steelers have had one of the NFL's most stout defenses over the last few years. However, the unit has recently begun to show its age, and the front office could use the No. 24 pick to add a young playmaker to any of the three levels.
One area that the team will probably have to address in this year's draft is inside linebacker where long time stalwart Larry Foote will turn 32 this summer.
Given the lack of starting-caliber inside linebackers in this year's class, the Steelers would have to strongly consider taking a 'backer like Alabama's Dont'a Hightower if he were available.
Hightower may not be the fastest 'backer in the 2012 class, but he showed tremendous instincts and leadership traits during his time in Tuscaloosa.
The 6'2'', 265-pound junior enjoyed a terrific campaign in 2011, leading Alabama's historically dominant defense with 85 total tackles during the team's national championship run. He also proved that he was fully recovered from a knee injury which cut his 2009 season short.
The big, strong, physical run-stuffer would make a great future replacement for Foote in the middle of the Steelers' defense, and Hightower has all of the physical and personality traits that a team like Pittsburgh covets in a college prospect.
25. Denver Broncos: CB Dre Kirkpatrick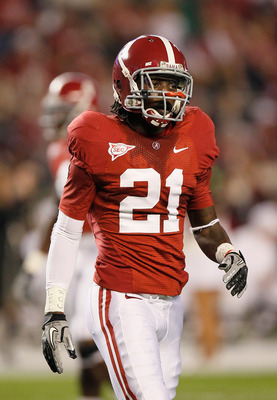 Dre Kirkpatrick
Kevin C. Cox/Getty Images
The Broncos will likely be looking to draft some more offensive playmakers to put around new quarterback Peyton Manning, and it wouldn't be shocking if the team looked at a running back like Virginia Tech's David Wilson or Boise State's Doug Martin, or a tight end like Stanford's Coby Fleener in Round 1 of this year's draft.
Still, the team also has to consider fixiing some holes on defense, and one of the biggest areas of need is at cornerback.
Soon-to-be 34-year-old Champ Bailey is in the twilight of his career, and while adding Tracy Porter should help, there aren't many other proven options at the position to speak of.
Finding a future replacement for the aging Bailey is something that the Broncos will have to consider, and a highly touted prospect who could be capable of handling the takeover is Alabama's Dre Kirkpatrick.
The 6'1'', 186-pound Kirkpatrick is a big, long corner who is cut from the same mold as guys such as Charles Tillman and Sean Smith.
Kirkpatrick wasn't tested often during his time in Tuscaloosa, but he's the type of athletic and physical zone corner who has the ability to develop into a No. 1 corner for an NFL defense.
While he does have some evident "bust" type of traits, if Kirkpatrick keeps his head on straight and plays up to his potential, he should develop into an impact defender in the pros early in his career.
26. Houston Texans: DT Dontari Poe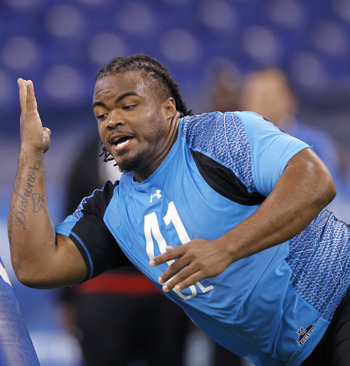 Dontari Poe
Joe Robbins/Getty Images
Memphis DT Dontari Poe is one of the real enigmas of this year's draft class.
Poe was one of the stars of the NFL combine when he put up absolutely freakish numbers for an athlete that's 6'3'', 346 pounds. However, when scouts went back and watched him on tape, they realized that he didn't always utilize his tremendous physical gifts to the best of his ability, as he failed to dominate against average competition.
Conference-USA isn't exactly a league known for its stellar offensive line play, but Poe still had trouble making flash plays during his junior season and he only finished with just one sack and eight tackles for loss in 2011.
Still, given his physical package, Poe is the type of rare tackle prospect that could develop into the linchpin nose tackle of a three-man defensive line in the NFL.
The Texans, who have many of the key pieces for a dominant defensive front seven besides a nose tackle, would probably love to get their hands on a player like Poe.
Houston may have to trade up a few spots to have a chance to land Poe on draft night, but if the Texans end up getting him, he could end up being well worth the investment for Wade Phillips' budding defense.
27. New England Patriots: WR Stephen Hill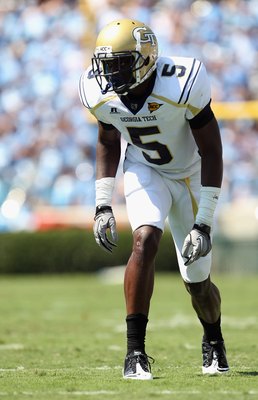 Stephen Hill
Streeter Lecka/Getty Images
Apparently, the Patriots love wide receivers who are over the age of 30, since New England brought back soon-to-be 31-year-old Wes Welker and 32-year-old Deion Branch, and added 30-year-old Brandon Lloyd and 31-year-old Donte Stallworth this offseason.
Age may just be a number, but the Pats won't be able to get by with aging legs at the position for much longer, especially given how much the team relies on the passing game for offensive success.
Finding a young stud receiver to develop for the future is something that the New England brain trust has to consider in this year's draft, and a prospect like Georgia Tech's Stephen Hill could be just what the Pats are looking for.
Hill didn't get the chance to prove himself very often playing in Paul Johnson's run-heavy triple-option offense in Atlanta, but he made the most of the few times he did get the ball thrown his way, as he averaged a whopping 29.3 yards per catch as a junior in 2011.
The 6'4'', 215-pound Hill is still raw and unrefined at this point, but with the proper coaching and development, he has the size, speed and hands to develop into a valuable weapon in the passing game in a few years.
The Pats are the type of team that won't need to force Hill to contribute early as a rookie, and they could afford to let him grow and mature while working behind older, more experienced receivers such as Welker, Lloyd and Branch.
28. Green Bay Packers: DE/LB Shea McClellin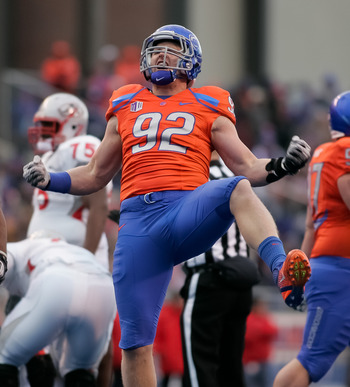 Shea McClellin
Otto Kitsinger III/Getty Images
LB Clay Matthews is considered to be one of the top pure pass-rushers in the NFL today. However, the Packers lack a proper complement to help balance things out on the other side of their 3-4 front.
Finding another edge-rusher to help take some of the pressure off of Matthews would be a wise idea, and Green Bay could be interested in spending a first-round pick on a potential 3-4 outside 'backer like Boise State's Shea McClellin.
McClellin has been one of the hottest prospects in recent weeks, and his name has continued to climb up draft boards. There's now a good chance he could find himself in the first round of the draft when all is said and done.
The 6'3'', 260-pound senior is a similar type of non-stop hustle pass-rusher as Brooks Reed, who enjoyed a tremendous rookie campaign with the Texans this past season.
Over the last two years of his collegiate career, McClellin racked up a combined 26 tackles for loss and 16.5 sacks, and he showed that he has the type of skill set to make a seamless transition to a 3-4 outside edge-rusher in the NFL.
29. Baltimore Ravens: OT Mike Adams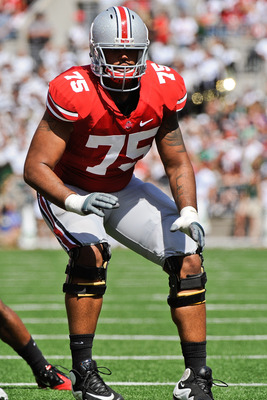 Mike Adams
Jamie Sabau/Getty Images
The Ravens need help all along their offensive line, as there are holes to fill at tackle, center and guard.
Baltimore would probably love for Wisconsin center Peter Konz to fall to No. 29, but if that doesn't happen, the team could take a look at a tackle such as Ohio State's Mike Adams if he's still available.
Adams is a former 5-star high school recruit who took a few years to reach his potential in Columbus, as he was sidetracked by injuries during his first two seasons. But once he was finally healthy, he flourished and showed that he has what it takes to be a reliable starting tackle in the NFL.
The 6'7'', 323-pound senior has a rare combination of size, agility and power. He's the type of tackle that could come in and compete with 32-year-old Bryant McKinnie for the left tackle spot as soon as he gets into camp as a rookie.
30. San Francisco 49ers: DT/DE Michael Brockers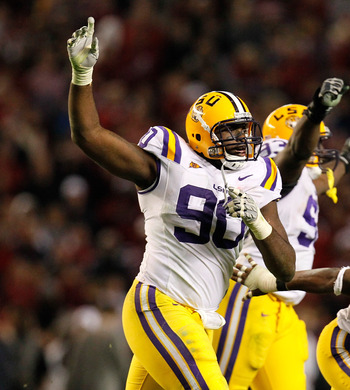 Michael Brockers
Kevin C. Cox/Getty Images
The strong play that San Francisco got out of its three-man defensive line last season was one of the main reasons that the 49ers had one of the stiffest defenses in the league. Veteran linemen like Justin Smith and Isaac Sopoaga both turned in great campaigns last year. However, the reality is, Smith and Sopoaga are both over 30, and an infusion of youth is needed up front.
With no true glaring weaknesses going into the draft, the 49ers could afford to spend a first-round pick on a raw, yet potentially dominant defensive line prospect like LSU's Michael Brockers.
Brockers only started for one year down in Baton Rouge this past season, but he was one of the key cogs for college football's most impenetrable defensive line in 2011.
The 6'5'', 322-pound redshirt sophomore has the skill set to fit into a variety of different defensive schemes in the NFL, and he certainly has the size, strength and quickness to fit in as a 5-technique end in a 3-4 front.
Brockers is the type of prospect that will take time and patience, but he has the type of potential that could pay off in a big way down the road.
31. New England Patriots: S Harrison Smith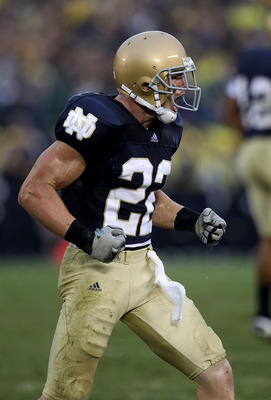 Harrison Smith
Jonathan Daniel/Getty Images
It's no secret that New England's secondary was one of the weak spots of the team last season, as the Pats ranked 31st in the league in pass defense.
They could use some more help at both corner and safety, and they could look to address their defensive backfield needs with one of their two first-round picks.
One prospect who would fit in well in New England's defense is Notre Dame's Harrison Smith.
The 6'2'', 213-pound Smith was a four-year starter during his time in South Bend, and he has the type of athleticism, range, instincts and intelligence to come in and become an instant factor for the Patriots' shaky secondary.
32. New York Giants: OT Jonathan Martin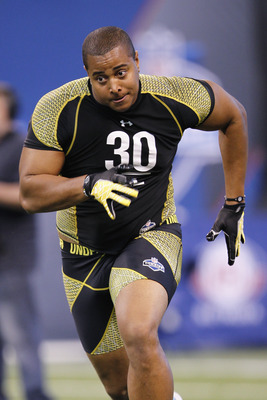 Jonathan Martin
Joe Robbins/Getty Images
Jerry Reese has done a solid job since taking over as general manager of the Giants back before the 2007 draft. However, one area that Reese has neglected during his time at the helm has been the offensive line, which now needs addressing.
The Giants lack stability at the tackle position, as neither Will Beatty nor James Brewer has proven that they can be trusted as starters as of yet.
Reese could have drafted Anthony Castonzo or Gabe Carimi with the No. 19 pick in last year's draft, but he opted instead to go with CB Prince Amukamara.
Now, Big Blue could be looking to draft a tackle early on in this year's draft, and if a top-tier prospect like Stanford's Jonathan Martin falls to them, as Amukamara did last year, he may be too tough to pass up.
The 6'5'', 312-pound Martin is one of the most athletic lineman in this year's class, and while he may not possess the toughness or grittiness that the Giants look for in blockers, he has the potential to develop into the linchpin leader that they need up front.
10 Other Prospects Who Could Crack the First Round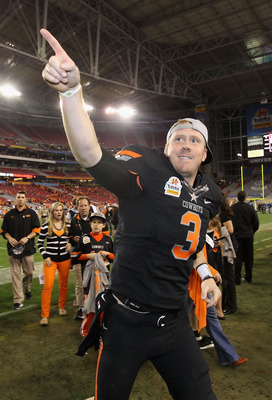 Brandon Weeden
Christian Petersen/Getty Images
QB Brandon Weeden, Oklahoma State
RB Doug Martin, Boise State
WR Rueben Randle, LSU
TE Coby Fleener, Stanford
OG Kevin Zeitler, Wisconsin
DT Jerel Worthy, Michigan State
DT Kendall Reyes, Connecticut
DE Chandler Jones, Syracuse
DE Andre Branch, Clemson
CB Janoris Jenkins, North Alabama
Keep Reading