Denver Broncos: Justin Bannan Returns as a Winner, Looks to Win in Denver
April 17, 2012
Christian Petersen/Getty Images
When defensive tackle Justin Bannan first joined the Denver Broncos in 2010, after signing a five-year deal, he was thought to become an anchor on the team's defensive line. Instead, Bannan became an afterthought as he was released the following season. 
As an interior lineman, Bannan was productive in his single season stint at Mile High, as he registered 35 tackles, a sack, a forced fumble and four passes defensed. However, the Broncos needed to cut cap space, and with Bannan's high salary number, he was an easy target. Bannan faced the same music this offseason when he was released by the St. Louis Rams in March.
Naturally, the California native understands the business of football, but the circumstances does not eliminate the chip that's on his shoulder, and he wants to prove his worth once more in Denver—by winning again.     
"At the end of the day, it is just business," said Bannan during his press conference April 11, according to the team's press release. "I think it's easier for the other side to say it's just business. Sometimes you will take it personal, or it just hurts. It's never fun to get fired; it's never fun to lose your job. I will say that they didn't dislike me as a person nor as a player. They did need to make a lot of cost-cutting moves. They had good management come in; they had a new coaching staff.
"I basically just went through the same thing again in St. Louis," he continued. "They got rid of a lot of the so-called older players that had higher cap numbers and a lot of guys like to start from scratch. That's just the way it went. As far as how I feel, I feel great. I feel just like I did when I came in the first time. I think for me, I definitely feel like I'm on a mission. I'm definitely hungry. I want to win. I want to be on a great team and I want to do my part. I'm more than motivated this year to prove to the new guys that are there what I'm all about."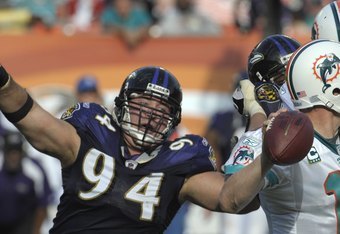 Al Messerschmidt/Getty Images
Clearly, the 6'3", 310-pound graduate from Colorado is longing for that winning taste again, and he feels that due to the nature of the business of football, his opportunities of displaying his abilities were cut short, due to situations beyond his control.
"This business is tough enough," said Bannan. "It's definitely no fun losing, especially coming from Baltimore and I was in the playoffs three out of the four years I was there. I was used to winning, used to being on a great defense and then came over to Denver in 2010 and we had a real tough year.
"I thought I was going to St. Louis to have a better year," he continued. "It is what it is. It went downhill and there are a lot of things that happened that are out of your control. All you can do is show up, go to work and do the best you can."
When Bannan, 32, was with the Broncos in 2010, defensive end Elvis Dumervil was sidelined for the season after sustaining a torn pectoral muscle during training camp. This time around, Bannan will have a healthy Dumervil, along with the NFL's 2011 Defensive Player of the Year in linebacker Von Miller to head the Broncos' passing attack.
"It's going to be incredible. It sure would have helped me if I had Elvis there in 2010," said Bannan. "Losing him was tough; it was a big blow to the defense. It seemed like we lost a lot of guys that year on defense. Playing with Elvis and what I've seen from Von Miller—the guy is just a phenom. I still have friends on the team and talking to them last season and during the offseason, they had nothing but the best things to say about Von Miller and what kind of a player he is."
Well, if you can't beat him, join him. This was Bannan's feelings when asked about being a teammate of quarterback Peyton Manning.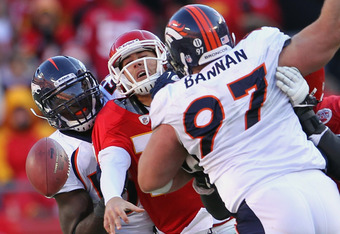 Jamie Squire/Getty Images
"I've played against this guy more than enough—a couple times in the playoffs," said Bannan. "I've played against him many times throughout my career. He's definitely, without a doubt the hardest player I've ever played against, bar none. The guy can play a defense like no other. He knows exactly what he's doing.
"He knows what checks to make, he knows your weaknesses every time," he continued. "It really is a chess match. Even when I was in Baltimore, we just called him 'The Baltimore Killer,' because he was the only guy that could literally take a defense down and pick us apart. He could methodically do it. To me, he's the greatest player I've ever played around or played against in my career."
Having a future Hall of Fame quarterback leading you with other talented players on a team is just half the battle to win. Bannan is old fashion, and it's all about putting in the work to get the greater result, which is winning.   
"When I signed (with Denver) in 2010, the culture had high expectations too," said Bannan. "We thought we were going to have a great team, and it just didn't happen that way. But I think everyone is excited over there, and they have a right to be. At the end of the day, none of that matters unless we put in the work."
Barry Barnes is a featured columnist for Bleacher Report. Unless otherwise noted, all quotes were obtained first-hand.