Evaluating the 2008 Minnesota Vikings Starters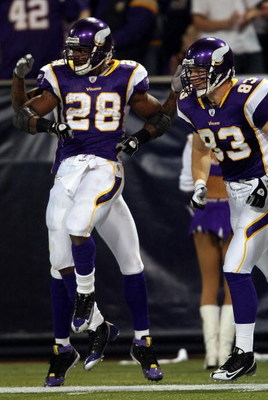 After the Minnesota Vikings season ended in the Wild Card round of the playoffs, it is time to look back at the season that was and how well each starter did their job this past season.
The Vikings went 10-6 in 2008, and had there best record since 2000. The Vikings also won their first NFC North title ever and reached the playoffs for the first time since the 2004 season.
Without further ado here is the performance grades for the 22 offensive and defensive starters, plus kicker Ryan Longwell and punter Chris Kluwe.
The five skill positions used will be two wide receivers, two running backs, and a tight end.
#24 Ryan Cook, RT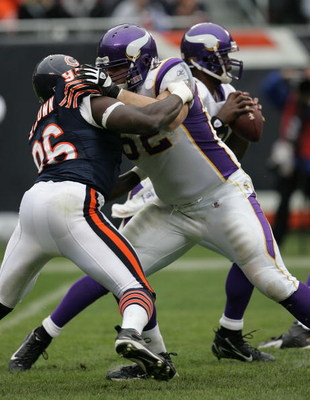 Ryan Cook started the season as the right tackle for the Minnesota Vikings.
Cook started all 16 games in 2007, and was looking to do the same in 2008. However way too many false start penalties, complemented with poor blocking, led to Ryan Cook being benched roughly half way through the season.
Cook was able to regain his position, by default, as teammate Artis Hicks was injured. In his first game back Cook was not to shabby, but ultimately, Cook was the weakest point on the offensive line.
Grade: D-
#23 Darren Sharper, SS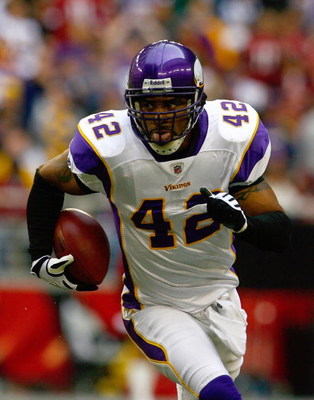 What Darren Sharper here? Yes, the 2007 Pro Bowl Safety fell from greatness in 2008.
Sharper was only a sliver of his old self in 2008. Sharper who is now a free agent will most likely not be resigned due to his play this season, combined with his scary age.
Sharper is the current active career interception leader, but he had just one interception in 2008. Sharper also failed to force a fumble for the first time since 2002.
Grade: D
#22 Sidney Rice, WR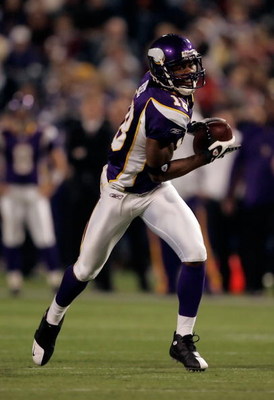 Many people thought wide receiver Sidney Rice could have a breakout season in 2008, after the Vikings picked up Bernard Berrian,
However, Rice was far from it. For the second year in a row Rice appeared in only 13 games due to injuries. Rice even failed to reach last seasons numbers as he caught only 15 passes, and netted only 141 yards.
Rice did add four touchdown catches, but was pretty much a non-factor outside the red zone.
Grade: D
#21 Chris Kluwe, P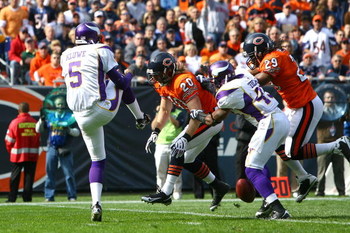 Chris Kluwe could be placed much higher, but some of the punts he made, he out kicked his coverage. Kluwe's punt average did go up this season, but unfortunately his punts were low, and easily returnable.
While some blame should definitely be put on his punt coverage teammates he certainly deserves some too.
In a week seven game against Chicago Kluwe had a punt blocked, and instead of picking the ball up, decided to kick it, which resulted in a Bears touchdown.
Kluwe had four punts returned for touchdowns, and two in one game. After Kluwe was told to kick the ball out of bounds he instead kicked it right back to Reggie Bush, who easily could have had three return touchdowns in one game.
Kluwe's punts inside the 20 also went down from 34 to 23.
Grade: D+
#20 Matt Birk, C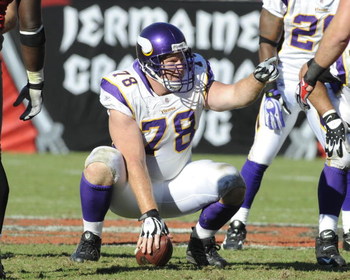 Center Matt Birk has been a consistent starter as he just finished his third straight season in which he started every game.
Birk has been to multiple Pro Bowls, but this was not one of his better years. Birk is also a free agent now that the season has ended, but the Vikings will likely look elsewhere to replace Birk as his poor play in a contract year, combined with his age of 32, do not look good for him.
Birk made the big mistake of fumbling a snap in the playoffs towards the end of the game. Overall Birk has been a great Viking, just not this year.
Grade: C
#19 Ray Edwards, DE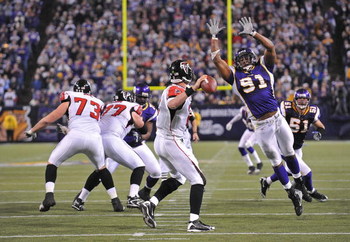 Defensive end Ray Edwards could not have asked for a better situation this season as he lined up with three Pro Bowl lineman.
Needless to say Edwards was not the one defenses worried about. Edwards started off the season by saying that he would break the single season sack record. That did not happen, and while Edwards was not awful he was not spectacular either.
Edwards' stats did not increase much despite seeing little attention. Edwards tied last year's sack total at five, and increased his total tackles to a career high 54, and even forced a fumble, but he was injured at the end of the season and was not playing in his first ever playoff game.
Grade: C (almost C+)
#18 Cedric Griffin, CB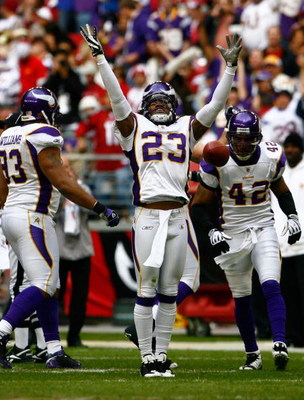 Cornerback Cedric Griffin started the season on a very slow pace. Griffin was constantly thrown at by opposing quarterbacks. Griffin would likely slide farther down this list if it were not for his resurgent finish to the regular season.
Griffin entered week 12 with only two passes defended on the season, but closed out the last 6 games with 11 more passes defended, including an interception.
Griffin also forced four fumbles on the year, and finished one tackle shy of his career high. Griffin also added another interception in the playoffs.
Grade: C+
#17 Tarvaris Jackson, QB
Quarterback Tarvaris Jackson entered the season as the starter, but was quickly benched as he started off on the wrong foot.
Jackson began the season with one touchdown and one interception, and a total of 30-59 on pass attempts.
After the benching Jackson seemed revived. He came in around halftime against the Lions in week 14, and led a comeback win throwing 80 percent, tossing one TD and zero interceptions.
The next week was a career best for Jackson as he tossed four touchdowns, and zero interceptions, and was awarded for the first time in the FedEx Air and Ground voting.
Jackson finished the season throwing eight touchdowns to one interception, but struggled in the Vikings' playoff game throwing an interception, and only completing 15 of 35 passes.
Jackson ended with a career high 95.4 QB rating.
Grade: C+
#16 Bryant McKinnie, LT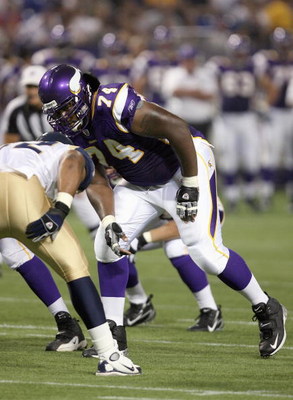 Left tackle Bryant McKinnie was suspended for the first four games of the season, but came back just in time as the Vikings were off to a 1-3 start. WIth McKinnie in the line-up, the Vikings finished off the season going 9-3.
McKinnie did not have his best year, and at times left running back Adrian Peterson with no where to go, but overall Peterson's numbers went up when McKinnie was in the line-up.
Grade: C+
#15 Ben Leber, OLB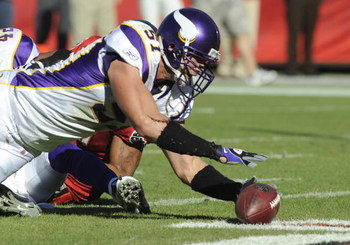 Linebacker Ben Leber entered the season as "the other" Vikings linebacker, but finished it with the defensive headset in his helmet.
Leber had a career high two interceptions, and defended a career high seven passes. Leber was easily the most versatile linebacker the Vikings had in 2008.
Leber complemented his pass defending abilities, by adding a forced fumble and a sack and a half.
Leber was no doubt one of the vocal leaders for the Vikings on defense in 2008.
Grade: B-
#14 Madieu Williams, FS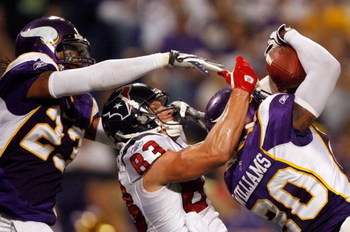 Free Safety Madieu Williams started out the first seven games injured for the Vikings. When Williams returned it was almost as if life was breathed into the secondary as the whole unit started playing better.
Griffin stepped it up, then Shaper got his only turnover, and suddenly the Vikings' secondary was not the joke it had been.
While Williams' numbers were not off the chart he definitely earned his money he was paid in the offseason.
Despite missing 7 games Williams still snagged two interceptions in his first year with the team.
Grade: B
#13 Chester Taylor, RB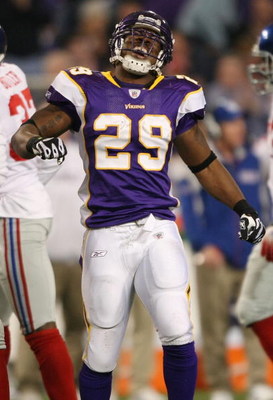 Running back Chester Taylor has become one of the top play makers on the Vikings roster. Taylor posted a career high in yards two years ago as the featured back, but since Peterson joined the team he has seen a diminished role.
Taylor lost carries, but he still got four rushing touchdowns, and gained four yards per carry. While Taylor saw less handoffs he became a great dual threat by catching a career high 45 balls, and scoring two receiving touchdown.
The Vikings would be wise to utilize Taylor and Peterson more at the same time.
Grade: B
#12 Ryan Longwell, K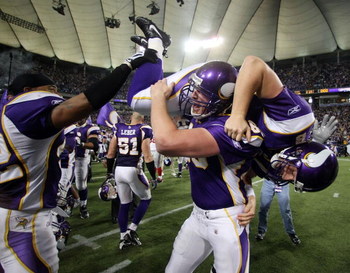 In a year where the Minnesota Vikings' special teams gave up the most touchdowns by a unit in National Football League history Ryan Longwell seemed to be the one bright spot.
Longwell hit all of his extra point attempts in 2008. Longwell also did wonders on kickoffs getting his highest average per kick since 1997.
Even with two blocked kicks, Longwell had his best field goal percentage since he joined Minnesota, and his best since 2004. Longwell also hit from fifty or more yards six times.
It is safe to say Longwell had his best year, since he joined the Vikings.
Grade: B+
#11 E.J. Henderson, MLB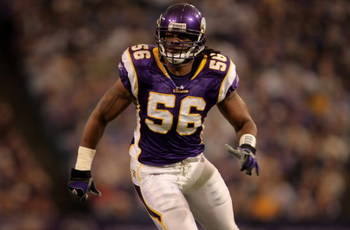 Wait, what? He only played four games. Yes, EJ Henderson may have only played four games, but for as little as he played he played just as big.
Henderson was the player with the defensive headset until he was injured in week four. Henderson was on a a great pace as he was likely to receive Pro Bowl consideration had he played all 16 games.
When Henderson was injured in week four he even came back into the game, and forced a fumble before the pain became too much too handle.
Grade: B+
#10 Anthony Herrera, RG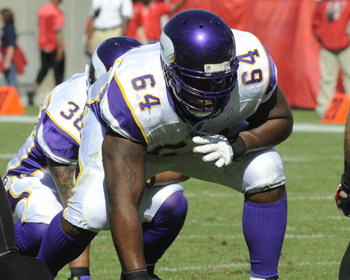 What, Herrera this high? Yes, obviously something on the right side of the offensive line was working right, and it was not Ryan Cook, leaving none other than Anthony Herrera.
Herrera may not have been the most popular Viking, but Peterson did see some big gains running behind the right side of the line, and most of the time it was Herrera opening those holes, and not Ryan Cook.
Grade: B+
#9 Visanthe Shiancoe, TE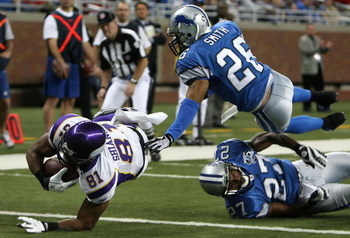 What a difference a year makes as last year Shiancoe could be credited for dropping at least four touchdown passes, and people were wondering whether or not Shiancoe should even start in Minnesota.
This year, Shiancoe did more than make up for it. Shiancoe nearly doubled his career high's in both receptions and yards, also not to mention he tripled his amounf TD catches.
The bottom line is Shiancoe out performed everyone's expectations by cathing 42 balls for 596 yards, and 7 touchdowns.
Grade: A-
#8 Bernard Berrian, WR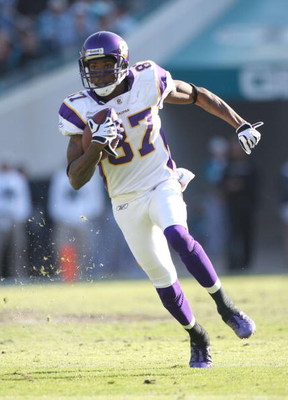 Wide receiver Bernard Berrian made his first season with the Vikings a very memorable one. Berrian got off to a slow start, but once the Vikings changed quarterbacks in week three Berrian took off.
Berrian went through a stretch of five games where he caught at least five passes in each one. Berrian was the first Vikings reciver to get 100 yards in a game since 2006, and he did it four different times.
Berrian posted career high's in total yards, yards per game, yards per catch, and touchdowns. Berrian produced the best season by a Vikings wide reciver, since Randy Moss left the team in 2004.
Berrian finished just 36 yards shy of his first 1000 yard season.
Grade: A-
#7 Chad Greenway, OLB
If there was a Pro Bowl snub on the team this year it was Chad Greenway. Greenway erupted this season to have his best year in what looks like a promising career.
Greenway posted carrer high's in every category except interceptions. He topped his tackle total from last year by 10, and led the team with 115 tackles, which is good enough for third in the league among outside linebackers.
Greenway not only got his first sack this season, but he totaled five and a half to lead all Vikings not on the defensive line. Greenway also forced three fumbles this season, and earned his place as a top linebacker in the NFL.
Grade: A
#6 Antoine Winfield, CB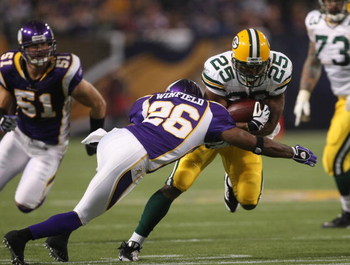 Cornerback Antoine Winfield finally reached his first Pro Bowl in 2008. A little overdue, but Winfield was able to get more attention as the Vikings were a better team than they had been in eight years.
Winfield recorded a career high two sacks, and reached an astonishing 95 tackles. Winfield also forced four fumbles, defended 11 passes, and returned a blocked FG for a touchdown.
Winfiled was the most sure tackler the Vikings had this year, and the least thrown at conerback.
Grade: A
#5 Pat Williams, DT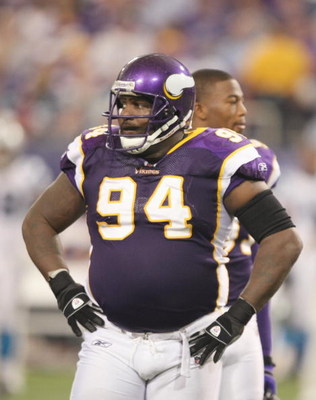 Defensive tackle Pat Williams earned another trip to the Pro Bowl this season, and is considered one of the top five defensive tackles in the entire NFL.
He is arguably the best run stopper in the league, and he proved it again this year.
Williams was injured towards the end of the season, and the defense lost a step against the Atlanta Falcons without him.
While this year was not Williams' best year he did defend a career high three passes, and proved the league a 36 year old can still be one of the most dominant players in the NFL.
Grade: A
#4 Steve Hutchinson, LG
Guard Steve Hutchinson has been the Vikings' best blocker, since he joined the team a few years ago. It is still considered astonishing that Seattle let Steve go.
Hutchinson has made a countless number of Pro Bowls, and this year was no different. Hutchinson is likely to go down in the Hall of Fame when it is all done, and this year he led the Vikings line once again.
Along with the rest of the line, Hutchinson paved the way for Adrian Peterson, so he could claim his first NFL rushing title.
Grade: A
#3 Kevin Williams, DT
Defensive tackle Kevin Williams will be making his fourth trip to the Pro Bowl this season. Williams had a monster year in between Pro Bowl teammates Jared Allen and Pat Williams.
Williams recorded a record high eight and a half sacks and 60 tackles, which His most since 2004. Williams also forced a fumble, and defended four passes.
Williams is arguably the best defensive tackle in the NFL with his main competition being Albert Haynesworth of the Titans.
Grade: A+
#2 Jared Allen, DE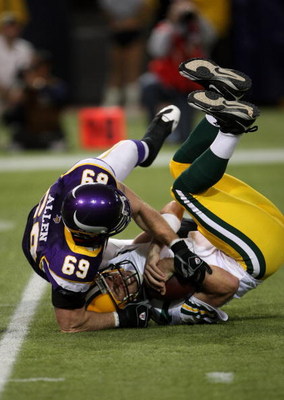 Where to start with this guy? Jared Allen was brought to this team in the offseason at a very high price that included 70 million dollars, three of the team's first four draft picks.
At that price hardly anyone can be worth the money, but Allen was.
Allen came to the Vikings to bring pressure on opposing QB's, and he did just that. He was the most double teamed member of the most decorated defensive line in football, and he recorded the second most sacks by any DE in the league.
Allen won last years sack title, but got off to a slow start in 2008.where he said he "had the worst game of his career."
Then he immediately turned it around. Allen beat the Vikings sack leaders of last season by 9.5 sacks, and rightfully earned his second straight trip to the Pro Bowl.
Grade: A+
#1 Adrian Peterson, RB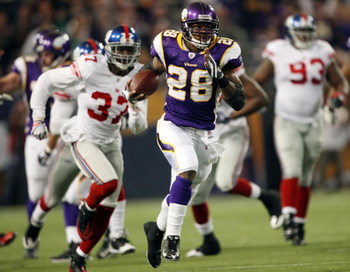 Running back Adrian Peterson could turn out to be one of the best running backs of all time. Peterson captured his first rushing title in his very short career.
He became one of only five running backs to eclipse 3000 yards in two seasons ever joining 2 Hall of Famers, and likely two more once they retire.
Since Peterson entered the league only one other running back is within 500 yards of the superstar. Peterson earned three Most Valuable Player votes, and finished a questionable fourth.
Analyst thought he should have been higher. Peterson has never missed the Pro Bowl in fact if he wins the Pro Bowl MVP in February he will have never missed that either.
Grade: A++ (MVP)
Keep Reading

Minnesota Vikings: Like this team?