2012 NFL Draft: What Each NFL Team Should Do This April
April 18, 2012

Kevin C. Cox/Getty Images
Most of my mock drafts are based on what I think NFL teams will do come this April. I'm going to look at things a little differently today and make the picks based on what I think they should do.
1. Indianapolis Colts: Andrew Luck, QB, Stanford
The Colts should have thought about the QB position before now, but thanks to some dumb luck, they are in position to draft the second coming of Peyton Manning.
2. Washington Redskins (via St. Louis): Robert Griffin III, QB, Baylor 
With the Redskins trading up, they should certainly take the quarterback they paid so much draft capital to acquire.
3. Minnesota Vikings: Matt Kalil, OL, USC
This is the first pick where actual thought is needed. The Vikings have a huge need for Morris Claiborne at cornerback, especially in the NFC North, but taking a blue-chip left tackle to protect their quarterback is a no-brainer.
4. Cleveland Browns: Ryan Tannehill, QB, Texas A&M
Now for the hate-mail-generating portion of the mock draft. Ryan Tannehill is a very good quarterback right now. After the bye week, I think he'll be ready to start in the NFL. If you can get a franchise quarterback, you draft him. However, if you're banking on Colt McCoy, you'll have plenty more top-10 picks to use on quarterbacks in the future.
5. Tampa Bay Buccaneers: Trent Richardson, RB, Alabama
The Bucs might end up taking Morris Claiborne, but they should take the best player on the board in Trent Richardson. Adding Richardson to the Tampa Bay offense could make for an explosive running game.
6.  St. Louis Rams (via Washington):  Morris Claiborne, CB, LSU
If Claiborne is available here, this should be a no-brainer. He is easily the best player on the board and fills a huge need at cornerback, where the Rams' lack of depth was exposed last year.
7. Jacksonville Jaguars: Justin Blackmon, WR, Oklahoma State
The Jaguars have enough holes on their team that nearly any pick would make sense here, but there was one glaring need last year that needs to be addressed multiple times in this draft: the wide receiver position. Blackmon is the best receiver in the draft and would be a natural fit in Jacksonville.
8. Miami Dolphins: Michael Floyd, WR, Notre Dame
Similar to Jacksonville's predicament, the Dolphins need to add both youth and depth to the receiver position. Luckily for them, Michael Floyd is available as a replacement for the Chicago-bound Brandon Marshall.
9. Carolina Panthers:  Dontari Poe, DL, Memphis
Dontari Poe is a true project. The Panthers don't have the pieces in place to be a Super Bowl contender yet, so they can afford a pick like this that can pay off big time down the road. They should try and maximize their team's value for the 2013 and 2014 seasons, where they should be hitting their stride.
10. Buffalo Bills: Riley Reiff, OL, Iowa
Demetress Bell has moved on. The Bills certainly can't move the ball unless they find a replacement that can produce right away. Very few rookies come in more prepared than Iowa linemen. Reiff will be a 10-year starter in the league.
11. New England Patriots (Via KC): Fletcher Cox, DL Mississippi State
In exchange for the 27th and 62nd picks in the 2012 NFL Draft, as well as backup quarterback Brian Hoyer, the Chiefs send the Patriots the 11th pick in the draft as well as a sixth-round selection.
With few roster spots available for rookies, the Patriots should draft a dominating 3-4 defensive end like Cox.
12. Seattle Seahawks: Luke Kuechly, LB, Boston College
The Seahawks haven't had good luck with safe picks at the linebacker position lately, but that shouldn't preclude them from taking Kuechly. He would be an instant upgrade behind their defensive line.
13. Arizona Cardinals: Cordy Glenn, OL, Georgia
It's no secret that the Cardinals should upgrade their offensive line. Whether they pick a guard like David DeCastro or a tackle/guard prospect like Glenn remains the only question to me. DeCastro is the best guard in the country, but a tackle is so much more valuable.
14. Dallas Cowboys: Mark Barron, S, Alabama
If Fletcher Cox and Dontari Poe are off the board, the Cowboys should look at addressing their defensive backfield. Mark Barron is a natural fit and should provide an immediate upgrade at the safety position.
15. Philadelphia Eagles: Melvin Ingram, DE/OLB, South Carolina
The Eagles need a linebacker that can play in the "wide-nine" system and fill a lot of roles. Ingram is tailor-made for the Eagles. Philadelphia is the only team where Ingram is a top-20 value in my opinion.
16. New York Jets: Quinton Coples, DE, North Carolina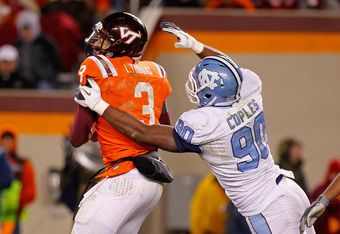 Geoff Burke/Getty Images
If Quinton Coples is still on the board here, Rex Ryan should slowly jog up to the podium and announce the pick. Coples will be as good as he wants to be in the league. A coach like Rex Ryan should get the best out of him.
17. Cincinnati Bengals (via Oakland): Dre Kirkpatrick, CB, Alabama
The Bengals should continue to stockpile young talent on the defensive side of the football. Adding a player like Kirkpatrick would certainly help. Whether he plays at CB or FS, Kirkpatrick will have an immediate impact.
18. San Diego Chargers: Whitney Mercilus, DE/OLB, Illinois
It has been a few years since the once-dominant Shawne Merriman terrorized quarterbacks. I have some reservations about drafting Mercilus this high, but rushing the passer is one thing he does very well. He is still raw and isn't as athletic as he is made out to be, but I think he will develop into a good pass-rusher within a year or two.
19. Chicago Bears: Kendall Wright, WR, Baylor
The Bears will probably look to add to their defensive line here, but I think they should address the receiver position—specifically the slot. After Wright, there is a big drop off in terms of talent at the slot/outside combo receiver position. I think the Bears might be able to pull out a quality defensive lineman in round two, although they might have to move up a few picks to get their guy.
20. Tennessee Titans: David DeCastro, OL, Stanford
The Titans should stop the insanity and draft the best player left on the board at any position—DeCastro. It is not a glamor position, but DeCastro will make an immediate impact for the Titans.
21. Cincinnati Bengals: Peter Konz, C, Wisconsin
Adding the best center in a draft nearly devoid of any elite talent at the position is a no-brainer here for Cincinnati. Konz has some injury issues, but the talent makes the risk acceptable.
22. Cleveland Browns: Doug Martin, RB, Boise State
Browns fans might hate me after this draft, but I think the Browns should take the best running back on the board and wait on a receiver until the second round. Martin is such a complete back, you won't miss Trent Richardson that much.
23. Detroit Lions: Jonathan Martin, OL, Stanford
The Lions could go a lot of different ways with this pick, including picking a cornerback. However, the best corner on the board has a history with marijuana and given recent team issues, he shouldn't be the pick for Detroit, although I think almost any other team should take a shot. Making a safe pick like Martin that will help solidify their line is the right choice here.
24. Pittsburgh Steelers: Courtney Upshaw, LB, Alabama
Pittsburgh's front office should continue doing what they've done for years, which is drafting talented defenders that fit their system. The Steelers are going to be tempted—and rightly so—to draft an offensive lineman, but I just don't see the value there at this point in the draft.
25. Denver Broncos: Janoris Jenkins, CB, North Alabama
Even though Janoris Jenkins is rumored to be falling into the second round, the Broncos should solidify the future of their defensive backfield by drafting perhaps the most talented corner coming out this year. If he didn't have off-the -ield issues, I'd be comfortable spending a top-five pick on Jenkins.
26. Houston Texans: Stephen Hill, WR, Georgia Tech
One of the the Texans' first priorities should be to find the "Robin" to Andre Johnson's "Batman." Stephen Hill certainly is raw, but his speed and size will stretch the field regardless.
27. Kansas City Chiefs (via NO thru NWE): Shea McClellin, LB, Boise State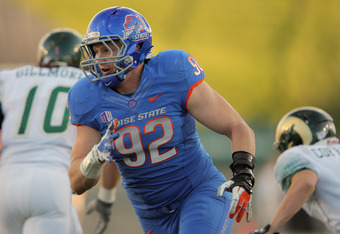 Doug Pensinger/Getty Images
The Chiefs need to continue to add talented and versatile players to their defense. McClellin certainly fits the bill and can play ILB with Derrick Johnson on run downs, while rushing from the edge on passing downs.
28. Green Bay Packers: Michael Brockers, DT/DE, LSU
The Packers are going to be tempted to pick an OLB or CB here, but they shouldn't pass on a potential monster 3-4 DE like Brockers. It might take a year, but the Packers have the team to make a luxury pick here.
29. Baltimore Ravens: Dont'a Hightower, LB, Alabama
The Ravens should draft an eventual replacement for the heart of their defense. Hightower can't replace Ray Lewis, but he is a versatile linebacker that has good instincts and can get after the passer.
30. San Francisco 49ers: Reuben Randle, WR, LSU
The 49ers should add a weapon to their offense. If that is a wide receiver, Randle will be a field-stretcher. If they are looking for another tight end, Coby Fleener could be their guy as well.
31. New England Patriots: Stephon Gilmore, CB, South Carolina
The Patriots should address the defense early and often. After adding a piece to their front seven in Fletcher Cox, Stephon Gilmore is a talented zone corner that can contribute on special teams as well.
32. New York Giants: Bobby Wagner, LB, Utah State
The Giants should add a versatile linebacker to complement their dominant front four. Wagner has coverage and blitzing ability.