2012 NFL Draft Predictions: 7 Quarterbacks Who Will Be Overdrafted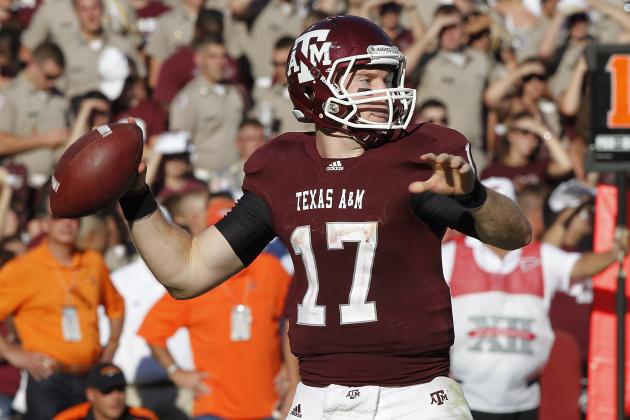 Bob Levey/Getty Images

In the 2011 NFL draft, draftniks weren't sure there was a single top tier quarterback to be had. Cam Newton was considered risky, Blaine Gabbert was too unexciting and unpolished and everyone else had serious flaws that kept them from being an elite prospect.
Despite such a marginal group, four quarterbacks went in the top 12 picks last year, with Newton, Jake Locker, Gabbert and Christian Ponder going off the board early.
Could 2012 feature a repeat performance of 2011?
Certainly, more teams than ever need a major upgrade at quarterback. The Redskins and Colts will surely be drafting a quarterback, but neither Andrew Luck nor Robert Griffin III can be considered reaches.
Beyond the top of the draft, the Browns, Cardinals and Chiefs could all be in the market for a prospect, and a surprise team like the Eagles, Broncos or Seahawks could also emerge as players in the quarterback market.
All in all, quarterbacks will be in high demand this year, yet there are really only two sure-fire first-round talents.
That means that more than a few quarterbacks will be overdrafted. Here are the seven most likely candidates.
Begin Slideshow

»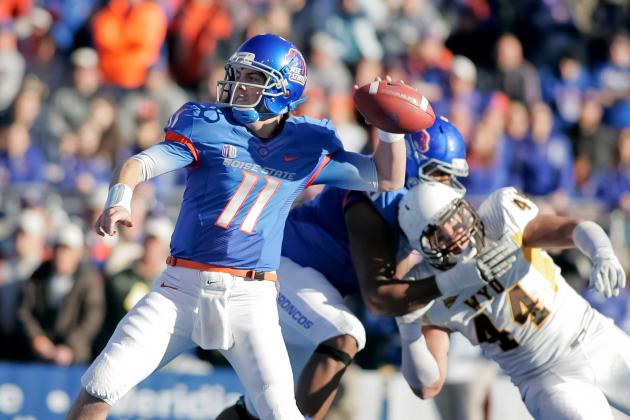 Otto Kitsinger III/Getty Images

Boise State quarterback Kellen Moore was a legitimate superstar at the college level.
His stats were fantastic, and he guided one of the most successful programs in college football for four years. He won at the highest level, and his dominance in college was truly legendary.
Unfortunately, on tape, he appears to be another quarterback whose best days will be in college.
In fact, the best way to describe him would be as a shorter version of former University of Miami quarterback Ken Dorsey, who failed to make any significant splash in the NFL.
Moore simply lacks the size, arm strength and athleticism to be an NFL prospect, even as a backup. His impressive field awareness and accuracy are just not enough to overcome his physical limitations.
While Moore knows the game of football better than perhaps any prospect in this draft, he will not be worthy of being selected at all.
Some team will likely fall in love with his winning attitude and college success, but that team will ultimately find that Moore doesn't have the skill set to make it in the NFL.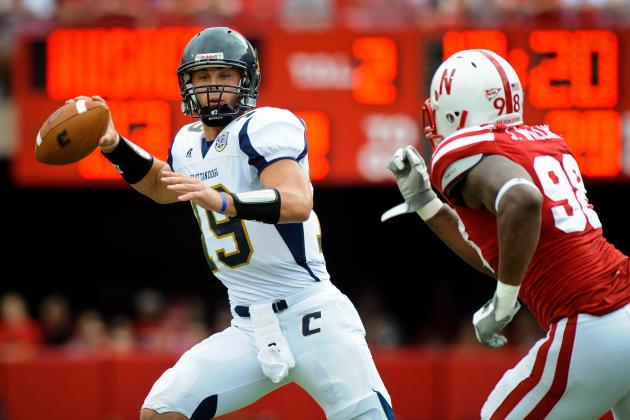 Eric Francis/Getty Images

Not many casual fans have heard of B.J. Coleman, but he is firmly on the radar of NFL scouts after a solid performance at the East-West Shrine game.
The UT-Chattanooga quarterback has all the physical tools to be a solid developmental quarterback, but he wasn't particularly impressive even against lesser competition.
In fact, Coleman's touchdown to interception ratio was an abysmal 1:1. If Coleman can't play at a high level against marginal competition, it remains to be seen how he will be able to compete at the professional level.
While Coleman won't be a high round pick, he could be picked in the middle rounds. This would be a major reach, as spending any draft pick on an average Division I FCS quarterback is almost certainly a waste.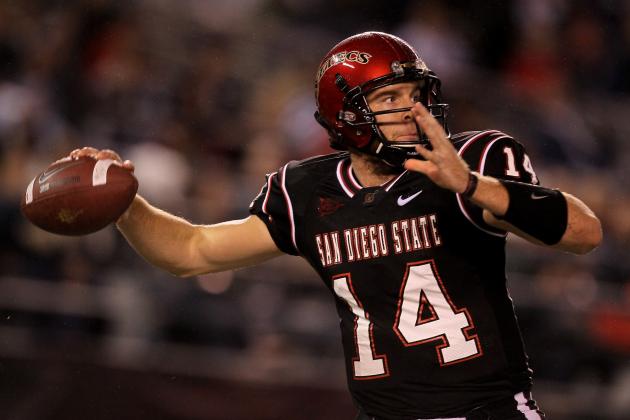 Stephen Dunn/Getty Images

Despite his lack of hype, San Diego State quarterback Ryan Lindley has quietly created a buzz among scouts with his physical tools.
His physical tools are truly impressive, with nice size and solid arm strength. In fact, his physical tools are on the same level as the top prospects in this draft.
Unfortunately, his accuracy is bottom tier. In 2011, Lindley completed only 53 percent of his passes, and he has never had a completion percentage above 60 percent.
All in all, Lindley's accuracy issues should make him undraftable, but some team will be enamored enough with his physical ability to take a shot on him.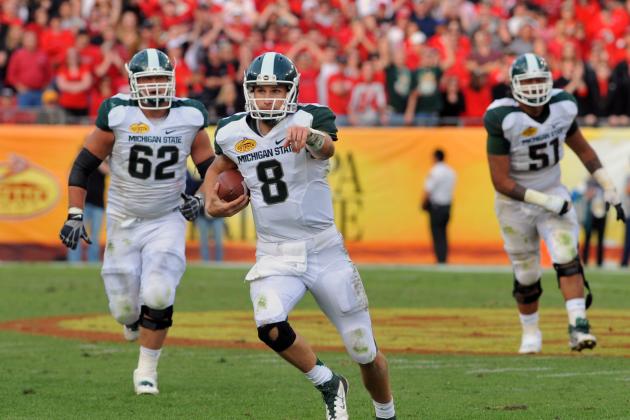 Al Messerschmidt/Getty Images

Michigan State quarterback Kirk Cousins isn't a bad prospect by any means, but he does not have any attributes that stick out as being worthy of a high draft pick.
Still, Cousins seems to be heading towards being a second-day selection, as his stock is currently around the second or third round.
When drafting a quarterback that high in the draft, a team expects a future starter. With Cousins, that appears to be too lofty of an expectation.
Cousins lack of upside and inconsistency will likely relegate him to backup duties in the NFL, and while he should be a solid backup, his likely draft position necessitates starting potential, which Cousins simply doesn't have.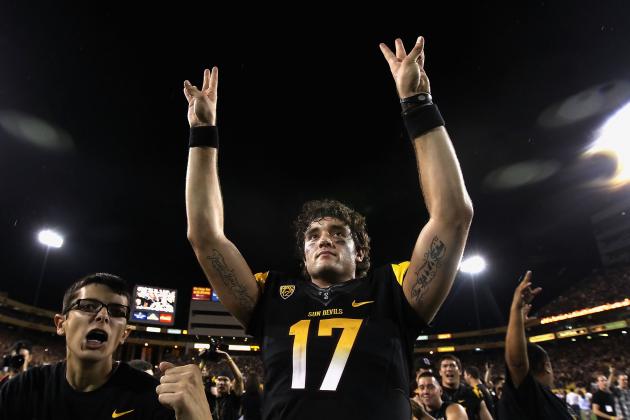 Christian Petersen/Getty Images

Standing at 6'7" and having among the strongest arms in the draft, Arizona State quarterback Brock Osweiler is certainly an intriguing prospect.
Unfortunately, on film, Osweiler is simply a marginal prospect. In no way does he appear to be a true difference-maker, as his marginal accuracy and inconsistency are major red flags.
Further, Osweiler is extremely raw, with only one year as a starter.
With all these issues, it's baffling that Osweiler is considered a high-round pick.
While the upside is there, he is simply too raw to warrant his draft position, and right now he looks like one of the most overrated players in the draft.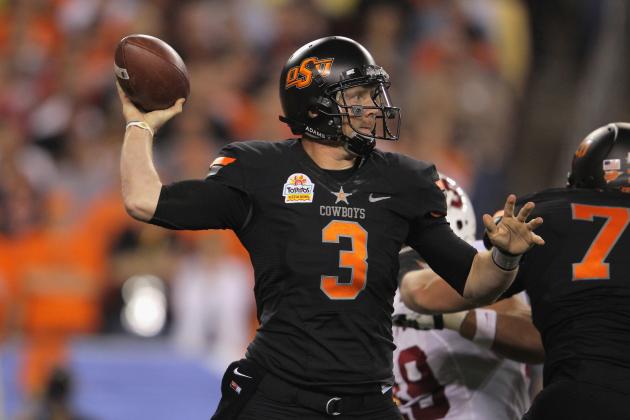 Doug Pensinger/Getty Images

With great arm strength, solid accuracy and a good head on his shoulders, Oklahoma State quarterback Brandon Weeden just about has it all as a prospect.
He has one glaring flaw, though, that keeps him from being an elite prospect—his age. Weeden will turn 29 during the season, and for a comparison, Weeden is older than Aaron Rodgers.
In this case, age isn't just a number. Even in the best case scenario, Weeden will only play 10 years in the league.
Due to his experience in a spread offense, a good deal of that time will have to be committed to learning the fundamentals of the pro game.
Weeden doesn't have much experience dropping from center, and his ability to read defenses will need to be developed.
With this in mind, by the time Weeden is ready to be a solid starter in the NFL, he would be over 30 years old.
Despite this issue, Weeden's stock is on the rise, and he may even be drafted in the first round.
While Weeden has a lot of solid attributes, his age will keep him from being worthy of a first-round pick.
He might have a few solid years in the league, but it will not be worth the high pick that will likely be spent on him.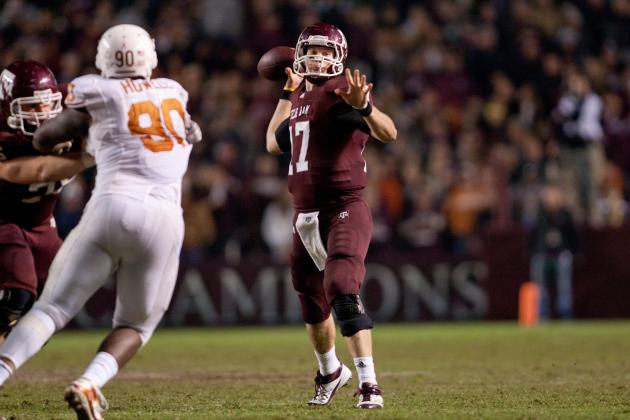 Darren Carroll/Getty Images

At this point, it's inevitable that Ryan Tannehill will be a first round pick, and he will likely be a top-10 pick.
Tannehill has generated this hype despite the fact that he was only a starter for a year and a half at Texas A&M.
Further, Tannehill has simply not shown the consistency that is required to be a first round pick in the NFL. With Tannehill at the helm, the Aggies struggled to close out games, losing several games in the second half.
To be fair, Tannehill is an immense talent, with a strong arm and great athleticism.
Unfortunately, his draft position will dictate that he start early in his career. This would cripple his development, as he will need time to learn the subtleties of the pro game.
Simply put, if Tannehill is forced along too quickly, he will be a massive bust and a severe reach in this year's NFL draft.