2012 NFL Draft Preview: Carolina Panthers' 3 Biggest Needs
April 17, 2012

Butch Dill/Getty Images
In 2010, the Carolina Panthers finished with a record of 2-14. Shortly after the season ended, the team fired longtime head coach John Fox. 
Fox was by far the most successful coach in the franchise's brief history, but a change was in order for both sides.
The Panthers hired Chargers' defensive coordinator Ron Rivera and had possession of the No. 1 overall pick in the draft.
Finishing the 2010 season with Jimmy Clausen and Matt Moore at quarterback, it was easy to see why the Panthers were so bad. But, the quarterback wasn't the only issue. The Panthers lacked talent across the board.
With as much salary cap space as anyone, the Panthers used their money to keep several of their own players. Charles Johnson, DeAngelo Williams and Ryan Kalil were all signed to long-term deals.
And of course, with the No. 1 overall pick, the Panthers selected Cam Newton of Auburn.
Newton went on to have one of the greatest rookie seasons ever for a quarterback. He shattered the record for rushing touchdowns with 14. But it was his advanced development as a passer that surprised many.
Arm strength, intelligence and athletic ability weren't questions for Newton. Leadership and maturity were. He surpassed every expectation with flying colors.
Just like any rookie passer, Newton had issues with turnovers. But, his ability to bounce back from those turnovers and keep pushing the ball down the field was impressive.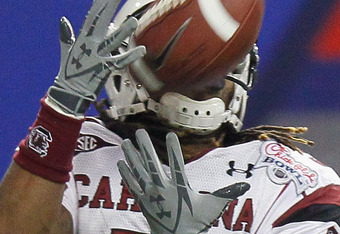 Kevin C. Cox/Getty Images
The Panthers are set for years at the quarterback position. Newton is the first difference maker the team has ever had at the position. And veteran wide receiver Steve Smith had one of his best seasons playing with Newton.
What are the three biggest needs facing the Panthers as they prepare for the draft?
Defensive Tackle: The team drafted Terrell McClain and Sione Fua in 2011. Both performed well but hit the proverbial rookie wall, and Fua ended the year on injured reserve.
The two second-year players complement each other well. McClain showed the ability to rush the passer from the inside, while Fua looks like a capable run stopper.
Both players appear to have a promising future, but the Panthers need help here.
Picking No. 9 overall, the Panthers are in a great position to have their choice of defensive tackles. There is debate among many about who the best prospect is, but Fletcher Cox of Mississippi State appears to be the best bet to be selected in the top 10.
Cox was a tremendous player in college. He was a three-year starter in the SEC, and his game has continued to improve. He is solid against the run and still developing as a pass rusher.
Athletically, Dontari Poe of Memphis is a freak. At 6'4" and 346 pounds, Poe ran the 40 in under 4.9 seconds. But, there are questions about Poe's motor and why he didn't dominate in college against weaker competition.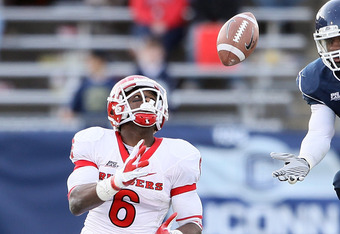 Elsa/Getty Images
Defensive tackle is one of the deeper positions in this draft, so the Panthers could elect to look for depth in the second round. A player like Devon Still of Penn State and Jerel Worthy of Michigan State are possibilities, if they slip past the first round.
Cornerback: Chris Gamble seemed to have revived his career in 2011. Out of Fox's doghouse, Gamble prospered under Rivera. The coaching change allowed Gamble a fresh start, and he seemed like the player of old.
There is little outside of Gamble, though. Captain Munnerlyn had his chance but wasn't suited to be a starting cornerback in the NFL. He is solid in the nickel but was exposed often. Darius Butler is similar to Munnerlyn.
Picking Stephon Gilmore from nearby South Carolina at No. 9 is not beyond the realm of possibility. Gilmore's stock has been rising and could immediately be plugged into the starting lineup. He is solid in all areas.
If the Panthers choose to address this position later, there are several possibilities.
Josh Norman of Coastal Carolina is a player who has seen his stock improve since the Senior Bowl. Norman did well against the better competition he faced in college, and he possesses outstanding size and speed and has shown the ability to be play press coverage effectively.
Ryan Steed of Furman is another intriguing possibility. If the Panthers wait until round three, Jayron Hosley of Virginia Tech and Chase Minnifield of Virginia should be around.
Wide Receiver: Smith was tremendous in 2011. Newton's presence seemed to light a fire under Smith and energize his career. Recently signed to a three-year extension, Smith is entrenched as a starter for the foreseeable future.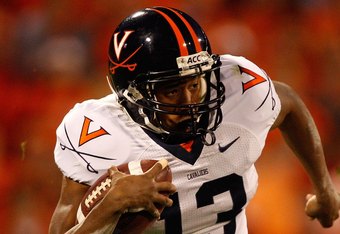 Streeter Lecka/Getty Images
But, who will start opposite Smith?
David Gettis showed promise as a rookie in 2010 before missing 2011 with a torn ACL. He is far from proven, however.
Brandon LaFell has gradually improved in his two years. Can the team rely on him as a starter?
There has been talk the Panthers could look at Michael Floyd of Notre Dame at No. 9. Smith will be 33 years old, and Panthers may want to add a big receiver to help out in the red zone.
While Floyd has been discussed at No. 9, it is doubtful the Panthers pick a receiver that high due to the depth of the position. If the team waits until the second round the options are plentiful.
Stephen Hill of Georgia Tech would be ideal, but it is starting to look like he won't reach the second round. If he does, the Panthers would look hard at him. He and Newton could develop a special combination for years.
Rueben Randle of LSU would be a good pick in round two. Randle was a good college player who, at times, was held back by LSU's issues at the quarterback position. The chances are good that we haven't seen the best of Randle yet.
He has good size, speed and ball skills. He figures to be around when the Panthers pick in the second round.
Mohamed Sanu is another possible selection. Sanu isn't the fastest player, but he is a good route runner and a capable blocker. Sanu has natural receiver skills and has no problem creating separation at the line of scrimmage.