2012 WNBA Draft Results: Power Ranking Day's Biggest Winners
April 17, 2012

The 2012 WNBA draft has come and gone, and it left some teams far better off than they were before it arrived 
That is the point of the draft, after all. However, some teams did a far better job of this than others. Here are the three that did it the best.
1. Tulsa Shock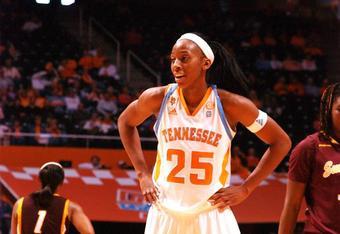 Recap
No. 4: Glory Johnson, F, Tennessee
No: 17: Riquna Williams, G, Miami
No. 25: Vicki Baugh, F, Tennessee 
No. 29: Lynetta Kizer, C, Maryland
Analysis
The Shock only won three games last season. This gave them the best opportunity to land the No. 1 pick of any team, but fate was not kind and they wound up with the fourth pick. 
This team entered this draft needing a little of everything, and they got a little of everything. 
Johnson should be a fixture in their frontcourt. She can score and is an outstanding defender. Williams can shoot the lights out and pass. She was a great value at No. 17. 
Baugh was another good value and will give them another big defender. The best value may have been Kizer. It was surprising she was still available. 
She is a good rebounder and a decent shooter. All four of these women will very likely make the team. 
2. Los Angeles Sparks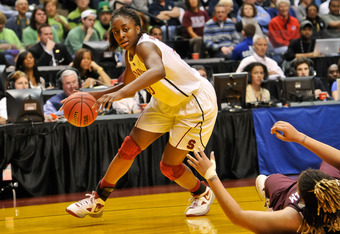 Jamie Sabau/Getty Images
Recap
No. 1: Nnemkadi Ogwumike, F, Stanford
No. 13: Farhiya Abdi , F, Sweden
No. 15: Khadijah Rushdan, G, Rutgers 
No. 16: Tyra White, G, Texas A&M
No. 28: April Sykes, G/F, Rutgers
Analysis
The Sparks are supposed to be on this list. They had the No. 1 overall pick. It is tough not to be a winner in that case. And they did not blow that pick. 
Ogwumike is a phenomenal talent. There is nothing she can't do on the court. She has MVP potential. 
The Sparks didn't settle for just Ogwumike, though. They entered this draft needing rebounding, defense and point guard depth. 
They got the rebounding and much more with their first pick, and they nailed the point guard and defensive problems with their last three picks. 
All three of their last picks are hard-nosed defenders. At least one of them will make the team and contribute. 
3. Seattle Storm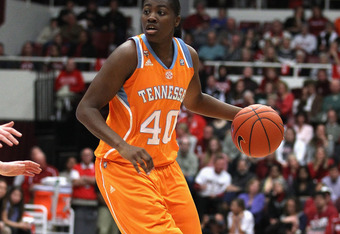 Ezra Shaw/Getty Images
Recap
No. 2: Shekinna Stricklen, G/F, Tennessee
No. 22: Keisha Hampton, F, DePaul 
Analysis
The Storm had just two picks in this draft, and they made the most of them. 
Seattle was second in the Western Conference last year with a 21-13 record. This is a talented team that clearly needed to focus on quality and not quantity. 
They acknowledged as much when they traded 10-year vet Swin Cash to Chicago for the No. 2 overall pick. 
With that pick they claimed the dynamic and versatile Stricklen. She is a player that knows how to score, and is athletic enough to play multiple positions and help this team as much on defense and on the boards as on offense. 
They got great potential with their other pick. Hampton is coming off of a knee injury, but she is an elite rebounder when healthy, and that was definitely one of the Storm's needs.