Jason Pierre-Paul and the Most Explosive Pass Rushers in the NFL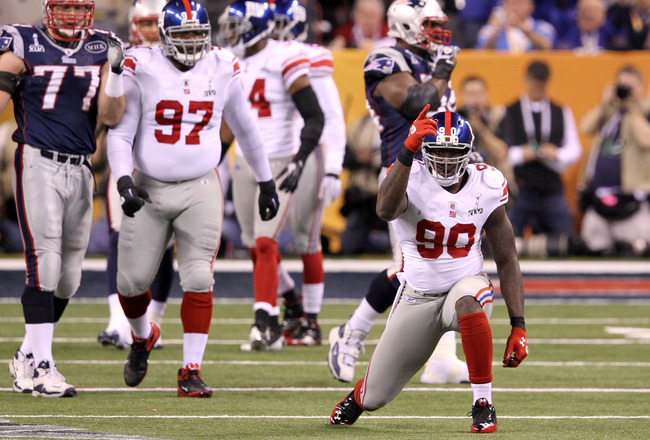 Andy Lyons/Getty Images
The NFL is stacked with athletes, particularly on the defensive line. These players possess an unbelievable combination of size, speed and strength that allows them to be sack machines.
Here are the five most athletic defensive lineman in the league.
They are not necessarily the best all-around players, but they are by far most explosive athletes.
5. Mario Williams, Buffalo Bills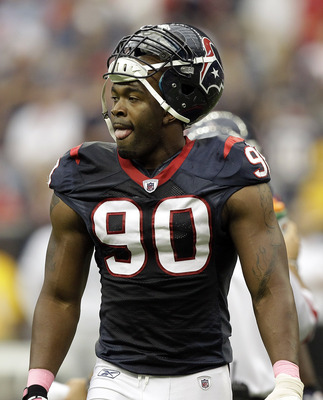 Bob Levey/Getty Images
The owner of a new $100 million contract is undeniably one of the greatest athletes in all of football and one of the main reasons he was the No. 1 overall pick in the 2006 NFL Draft.
"Super Mario" is an imposing figure at 6'6", 283 lbs—yet on the field, he moves like a cat. His lightning fast first step makes him one of the best pass rushers in the league. He can blow by lineman and get to the quarterback with ease.
Whether at outside linebacker or defensive end, Mario Williams' speed and quickness is phenomenal. If he finds a niche in the new-look Bills defense, he has the potential to rediscover his All-Pro level of play.
4. DeMarcus Ware, Dallas Cowboys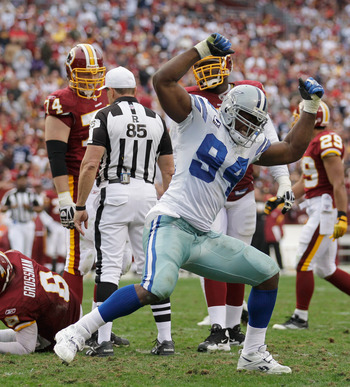 Rob Carr/Getty Images
The oldest player on the list is showing no signs of slowing down.
At 29 years of age, DeMarcus Ware is still the NFL's leading sack master (sorry Jared Allen). He was on pace for Michael Strahan's single season sack record of 22.5 but fell short, managing to drop the quarterback 19.5 times.
This success can be largely attributed to his explosive athleticism. His burst off the edge is unmatched. He can beat any tackle no matter how far back they line up. While he lacks the elite chase down speed of other linebackers, no one is quicker off the ball.
DeMarcus Ware is simply a beast. Period.
3. Aldon Smith, San Francisco 49ers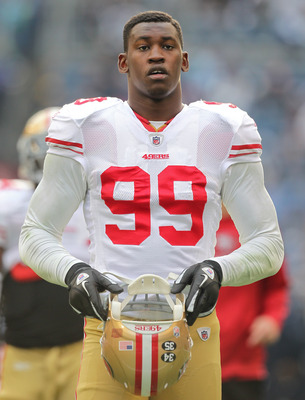 Otto Greule Jr/Getty Images
The explosive youngster fell half a sack short the NFL rookie record of 14.5. His 14 sacks showcased his potential to become the best pass rusher in the league.
Aldon Smith may be a one-dimensional pass rusher, but boy he does it well. He possesses the agility and quickness required to shed blocks and get to the quarterback. Once Smith improves on other areas of his game, he will be unstoppable. He must be able to stop the run without sacrificing his speed off the edge.
Smith is one of the most gifted athletes in the league and has the talent to become a superstar.
2. Von Miller, Denver Broncos
Doug Pensinger/Getty Images
The No. 2 overall pick in the 2011 NFL Draft did not disappoint in his rookie season. He recorded 10 sacks and two forced fumbles en-route to claiming Defensive Rookie of the Year Honours.
Miller's initial burst off the edge is almost unfair for opposing lineman. He is all over tackles in a flash, collapsing the pocket from the edge. Despite being slightly undersized, he has a phenomenal combination of speed and power.
Like fellow rookie Aldon Smith, Miller's awareness was exposed at times, and he was even benched due to this early in the season. If he can improve his football intelligence, he could become one of the best outside linebackers of all time.
1. Jason Pierre-Paul, New York Giants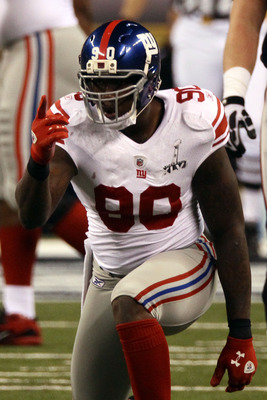 Win McNamee/Getty Images
Whichever way you look at, JPP is far and away the best athlete in the NFL. Period.
For a man of his size (6'5", 278 lbs), his speed is quite simply, dazzling. He is the owner of the most explosive first step in football and can collapse the pocket before the offense knows what hit them. As the Madden 12 commentators love to say, JPP moves "like a cyclone" when getting to the quarterback.
In just his second season in the league, he showcased his explosive athleticism, recording 16.5 sacks and a crucial blocked field goal. If he can build upon his current level of production, JPP's ridiculous athleticism means he could become a legend.
Keep Reading

New York Giants: Like this team?