NBA Playoffs 2012 Predictions: 3 Teams Destined to Upset Title Favorites
April 17, 2012

Harry How/Getty Images
There's near-universal consensus that the NBA Finals will include some combination of the Oklahoma City Thunder, San Antonio Spurs, Los Angeles Lakers, Chicago Bulls, Miami Heat and Boston Celtics.
That sounds like bad news for any team occupying the No. 6, No 7. or No. 8 seeds.
But not so fast. 
Three teams have the makeup and wherewithal to pull an upset when it matters most. We saw the Memphis Grizzlies do exactly that against the Spurs last season, and it wouldn't be the playoffs without a classic first-round scare. Here are three we shouldn't be surprised to see.
The Knicks' fate hinges more than anything upon Amar'e Stoudemire's ability to co-exist with Carmelo Anthony. With Stoudemire, Anthony flourished and put on the kind of shows not seen since his days in Denver.
If Stoudemire can fit in as a complement rather than impediment to Carmelo's new-found resurgence, New York could be a legitimate threat to either the Chicago Bulls or Miami Heat. The Bulls may be an easier target if Derrick Rose struggles to return to form, but even Miami isn't immune to one of the most prolific scorers in basketball.
Nor is it immune to a defense that has improved markedly under interim coach Mike Woodson. We know Tyson Chandler can make a defensive impact in the postseason, and rookie Iman Shumpert has proven he can do the same on the perimeter. Even with Jeremy Lin sidelined, this could be a team we've yet to see the best of.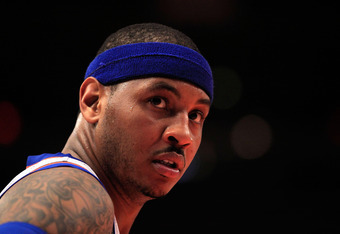 Chris Trotman/Getty Images
Thanks to a steady stream of key injuries throughout the season, Denver's record hasn't lived up to the promise this team showed in the wake of Carmelo Anthony's departure last season. Nevertheless, with a healthy lineup and some additional time to integrate newcomer JaVale McGee into the program, anything is possible with this club.
Few teams are capable of scoring as explosively as Denver. Winning a shootout with either San Antonio or Oklahoma City might be an uphill battle, but it sure would be fun to watch.
The Rockets were quite simply built to upset teams. This is a team that's beaten the Thunder and Grizzlies twice each, a team that's recorded wins against the Spurs, Bulls and Lakers.
It's easy to underestimate an oft-injured squad without a discernible superstar. But that's exactly what makes the Rockets so dangerous—their depth and variety of scoring options make them an unpredictable foe. That also makes them a team that's a little harder to prepare for over the course of a seven-game series.
With Kyle Lowry healthy along with the emergence of Goran Dragic and Courtney Lee, Houston has a solid and defensively skilled backcourt. Up-and-coming forwards like Chase Budinger and Chandler Parsons have become quality complements to the ever-consistent Luis Scola.
The stars may have to align for these Rockets to stand a chance, but if there's any team we can't count out just yet, this is it.