Chicago Blackhawks: Hawks Call Up 5 from Rockford, One from OHL
April 18, 2012

Jonathan Daniel/Getty Images
In the wake of a trio of harsh blows to the Blackhawks on Tuesday (Andrew Shaw's suspension, Marian Hossa's injury, and the OT loss), perhaps us Hawks fans need a bit of a lighter story to help balance everything out today.
With the Rockford IceHogs season having come to an end with no playoff berth to show for it, the Blackhawks recalled five players from their AHL affiliate: center Brandon Pirri, winger Jeremy Morin, defensemen Joe Lavin and Ryan Stanton, and goalie Carter Hutton. The team also recalled winger Brandon Saad from the OHL's Saginaw Spirit.
At the time of the call-ups, they seemed insignificant, however, in the wake of Shaw's suspension and the very real possibility of Hossa being out for the rest of the postseason, the Black Aces may have to step up if the Hawks want to go anywhere this spring.
Of the six, Pirri, Morin, and Saad all saw time with the Hawks this season. Hutton was called up a few times for emergency purposes, but never got into game action.
The surprises of the group easily come with the defensemen, for very different reasons. For Ryan Stanton, it's a surprise that it took this long for him to be recalled. When the team brought up Dylan Olsen for defensive reinforcements, I can personally say I was shocked it was Olsen over Stanton. From what I'd seen of the two up to that point, Stanton was the more NHL-ready defenseman.
Lavin, however, is a surprise for a whole separate reason. While 73 total professional games may seem like a lot at first, that's only one minor league season. Outside of maybe the top handful of picks in a draft, most players require at least a full season or two in the minors before they're fully NHL-ready.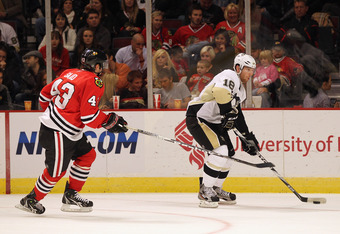 Jonathan Daniel/Getty Images
Lavin had one season in the AHL, and it was anything but mind blowing. Still, he was deserving of the call, as his contract is an NHL one, which is major in the recalls.
Carter Hutton, who was Rockford's MVP, will be the team's emergency goaltender. For Hutton, going from being an ECHL player to traveling with a team only two seasons removed from a Stanley Cup, the world has to be in the palm of his hand. Never mind his complete lack of NHL experience, he's confident and eager.
Should Hutton see playing time, don't be surprised if he's actually pretty good. His numbers improved from the ECHL to AHL this season, so that may bode well.
As for the forwards, it's anyone's guess as to who will dress. If Hossa is out, then there's a series of possibilities. The Hawks could move Patrick Kane back to wing and put Brandon Pirri as the No. 2 center. Or Kruger moves back to the No. 2 center job with Morin filling in on the fourth line. Or Morin or Saad fills in on the top six. I could go on, but it'd be pointless.
Personally, I've always been a huge Brandon Pirri fan, and feel he's ready for the task of being the second-line center. However, Patrick Kane is arguably playing his best hockey of the season at center, and Pirri's future as a Hawk could be in jeopardy.
The two wingers are similar in size, but have different approaches. Both are talented scorers and have NHL size, but that's about where the comparisons end. While Saad is a talented scorer who slipped to the Hawks at No. 43 in the 2011 draft after being considered a top prospect, Morin has always had trouble staying out of the penalty box to maximize his potential.
With all the troubles the Hawks ran into Tuesday, what would normally be an insignificant story about minor leaguers getting the call as insurance, could wind up being a major story line for these 2012 NHL playoffs.