Rasheed Sulaimon: An in-Depth Look at Duke's Next Superstar
April 19, 2012

If you haven't heard about Rasheed Sulaimon, you will. The lone Duke recruit is certain to be a key part of their success next season.
This week I dug for the finer details of Sulaimon's game and just how he can help Duke next season.
In my analysis of the 2012 college basketball season, I started that with Marshall Plumlee. I figured it was only fitting that I kept it in the family and started with someone that Duke fans already knew a little bit about. Second up on this journey is Sulaimon. If you have been living under a rock for the past month, this is the athlete that will be asked to fill the void left by Austin Rivers.
While that task is no short order, Sulaimon may be the perfect person to pull it off. As their only true freshman, Sulaimon is a beast! Recently upgraded to an elite 5-star recruit, he is certainly going to make a splash from Day 1.
Rasheed Sulaimon is currently ranked as the 18th best recruit by Rivals and 12th by ESPNU.  
It is said that he is the perfect person to fill Austin Rivers' shoes. He may not be the type of talent that Rivers was when he first stepped onto campus, but he will be just as important. While it would be unfair to compare the two, there is no question that Sulaimon does a few things much better.
First off, he is a much better defender than Rivers. This could play huge for a reeling Duke squad that needs help defensively. An athletic guard that can help Duke on both ends is not only desired, but it is a dire need the they had to fill in the offseason.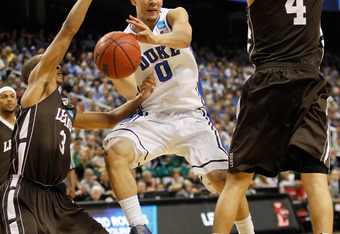 Streeter Lecka/Getty Images
The other distinguishing trademark between the two will be the passing game. Austin was often a black hole with the ball. He was never one to create for others, but instead called on himself 90 percent of the time. Although he was Duke's best offensive player, it ended up hurting them in the end, as they had no one to replace Ryan Kelly's points.
Ultimately, this is not about Rivers vs. Sulaimon; it's about what role Rasheed can fill for the Devils.
What Does Next Year Bring?
The expectations are huge for Sulaimon. As the lone recruit and 5-star talent, anything worse than an All-ACC performance will be a let down. Duke not only is hoping for him to play well on both ends, they need him to. He will likely be a starter from Day 1 and possibly at the point-guard position. It may be unpopular with some Duke fans, but he will take time from Duke's two point guards.
He will certainly share the court with Tyler Thornton and Quinn Cook, but he will also take the ball out of their hands on a multitude of possessions throughout the season. Additionally, if Sulaimon can improve his ball-handling, then he very well could end up starting at the point by conference play.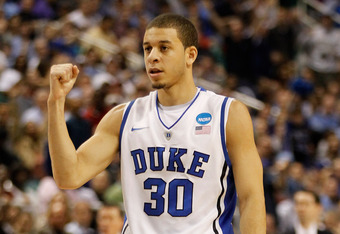 Streeter Lecka/Getty Images
That could be a shocking move to some, but he isn't stealing time from Curry, and his talent will make sure he is on the court. If Duke decides they are better with both Plumlees and Kelly on the floor, then things will get very interesting in the back court.
Ceiling?
As I have said time and time again, the sky is the limit for Rasheed. He is one of the best guards in this class. His scoring ability and intelligence on the court rival with the best of this class. In the Jordan Brand Classic, he was asked to play point guard and did so surprisingly well.
He was able to get two assists with four turnovers, but this was a new team and a new position. Additionally, he was able to pull down seven rebounds and score 13 points on 4-of-8 shooting from the floor and 3-of-6 from beyond the arc.
In his senior year of high school, Sulaimon had a 5-to-1 assist to turnover ratio.
As the season progresses, he will be called on to do more and more.  Duke certainly will need to employ a team-first attitude as they rely on a core of players. Ryan Kelly, Seth Curry, Mason Plumlee and Rasheed Sulaimon will all be asked to play high-quality basketball.  
It is not too far fetched to say that Rasheed Sulaimon walks in the door as the best guard on Duke's roster. He has the talent to be a first team All-ACC selection next season and could push North Carolina State's Rodney Purvis as the conference's best freshman.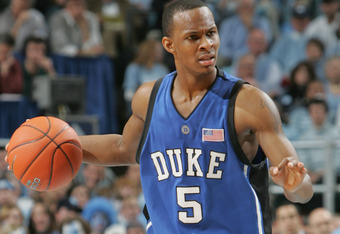 Streeter Lecka/Getty Images
Best case scenario: Daniel Ewing
Worst Case?
This is the side most Duke fans do not want to look at. Rasheed Sulaimon is a freshman and needs to improve throughout the year.  If he hits any snag, has problems with the system or can't improve his ball-handling then he may turn into a sixth man. If that is the case, then Duke is more than likely in trouble the entire season. This will cause Duke to see Sulaimon as a project player and someone to step up and replace Seth Curry when he leaves.
Freshmen sometimes have issues, and Coach K is not always lenient with them. Sometimes they never equal their hype and can't break out like their ratings suggest they should.
Worst case: Sean Dockery with no defense.
Conclusion
Next season, Rasheed Sulaimon will be a part of Duke. He is an exceptional player that Duke can use to prove everyone wrong. In most offseason polls, Duke is not a top-10 team. They certainly have a ton of questions, but they have the talent to prove the haters wrong.
It is more than likely that Rasheed will be in the starting lineup. I expect it to be Tyler Thornton, Rasheed Sulaimon, Seth Curry, Ryan Kelly and Mason Plumlee starting from the jump. Several others could play their way into the lineup and it will be interesting to see how they use players such as Quinn Cook, Andre Dawkins, Alex Murphy and Josh Hairston.
Rasheed Sulaimon is an impressive player and very well may be Duke's next true superstar!