English Premier League Power Rankings: Week 33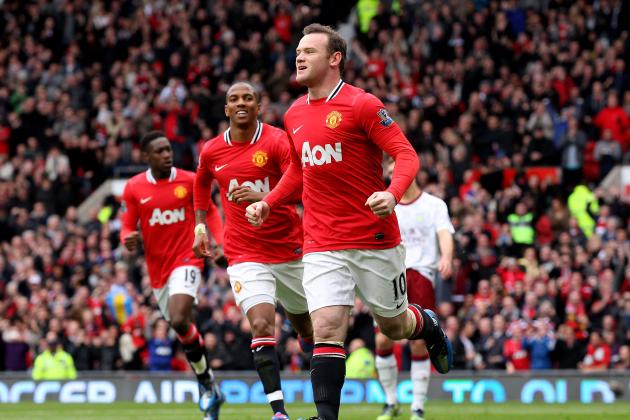 Alex Livesey/Getty Images

What a crazy week it was in the Premier League as the most unlikely of teams grabbed the headlines twice.
While the spectacle of the FA Cup entered Wembley on Saturday and Sunday and provided a good amount of headlines, no one expected Wigan to upset both Manchester United and Arsenal in their two games this week.
The Latics altered the title race, which is now down to five points between United and Manchester City; the race for Champions League spots, as Arsenal is still not guaranteed third place; and the relegation race, as it looks like Wigan have pulled off a second great escape in a row.
The rest of the relegation race looks to be down to four teams now—Wolves, QPR, Bolton and Blackburn—with the majority of the teams having only four games left in the season.
As always, last week's ranking is in parenthesis.
Begin Slideshow

»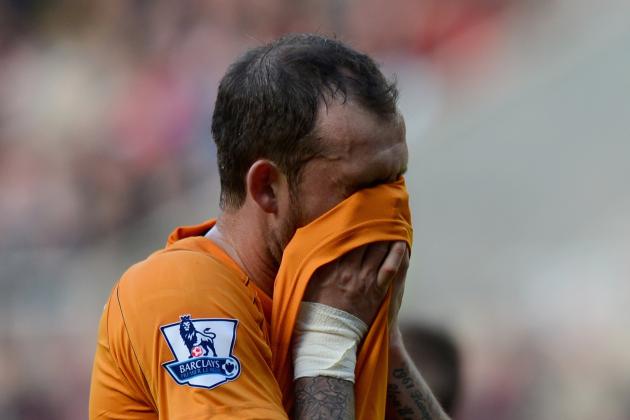 Gareth Copley/Getty Images

After losing to Arsenal on Wednesday at home, Wolves got a bit of good luck as they held Sunderland to a 0-0 draw on the road on Saturday.
The draw gave Wolves their 23rd point of the season, but they are still five points behind any of their competition as they sit dead last in the relegation race.
Unless the unthinkable happens and the club wins three of their last four games, it is already game over for Wolves' season, and their three-year run in the Premier League looks to be over.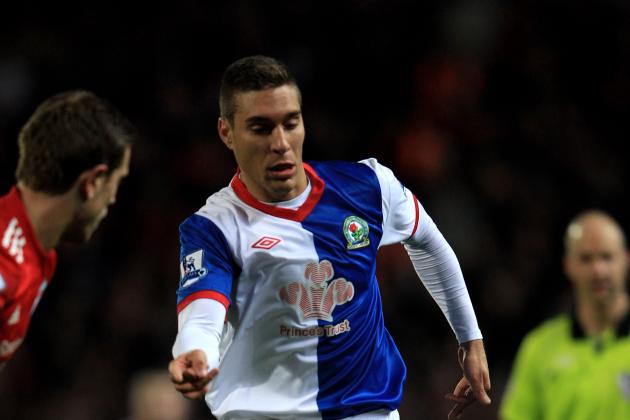 Michael Steele/Getty Images

Blackburn's losing streak was extended to five games this week as they fell to Liverpool and Swansea.
The 3-2 defeat to Liverpool was a close one as Rovers gave up a goal in the 90th minute to Andy Carroll.
The loss to Swansea was even more deflating as the club were shut out, 3-0.
Steve Kean and company still have a chance of making it out of 19th place to reach survival, but it will be a difficult road starting with Saturday's home match with Norwich at Ewood Park.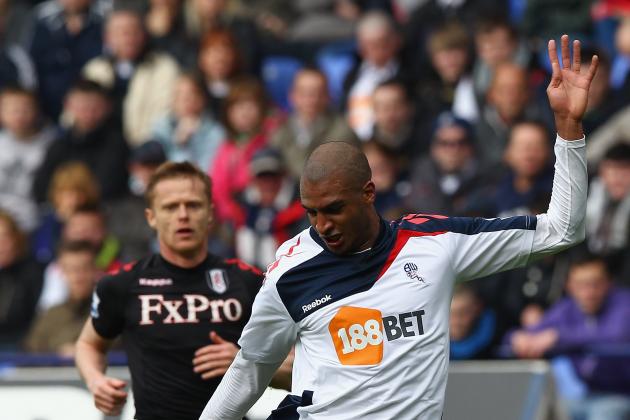 Clive Brunskill/Getty Images

Bolton had the week off as their match with Tottenham was rescheduled for May 2 due to their opponent's FA Cup match.
A busy fixture list is now ahead for the Trotters as they have two games in hand over their relegation rivals.
Starting with Saturday's home match with Swansea, Bolton will have three games in the next seven days.
A bit of good news came along this week for the club as Fabrice Muamba was released from the hospital following his recovery from cardiac arrest suffered on the pitch on March 17 against Tottenham.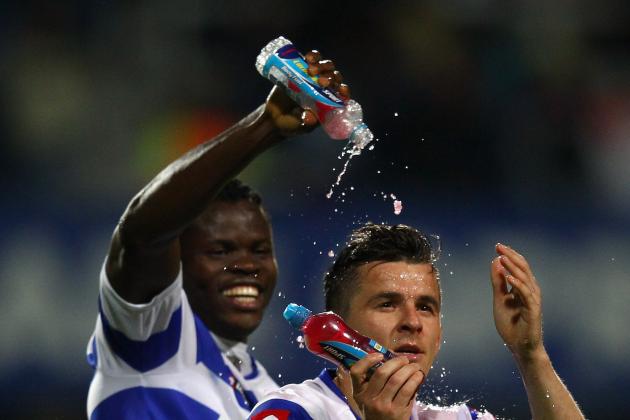 Julian Finney/Getty Images

QPR helped their case to survive for another season in the Premier League on Wednesday as they defeated Swansea at home by a 3-0 score.
Joey Barton, Jamie Mackie and Amos Buzsaky powered the R's out of the relegation zone into 17th place in the table with 31 points.
The momentum from Wednesday's win did not carry into Saturday's trip to The Hawthorns as the R's lost to West Brom, 1-0.
The final four games of the season will be a tough road for QPR as Spurs, Chelsea, Stoke and Manchester City all remain on the schedule.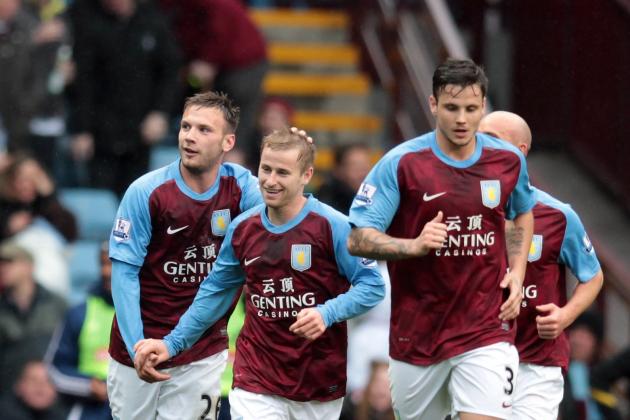 Ross Kinnaird/Getty Images

Aston Villa's horrendous run of form continued as they fell 4-0 to Manchester United on Saturday.
Villa are still six points clear of the relegation zone with 35 points, but the Villains still face the possibility, however slim, of dropping down to the Championship.
One thing that is for sure going into Villa's final five games of the season is that Alex McLeish is on the hot seat and should be fired for his setting the club a year back in their progression in the Premier League.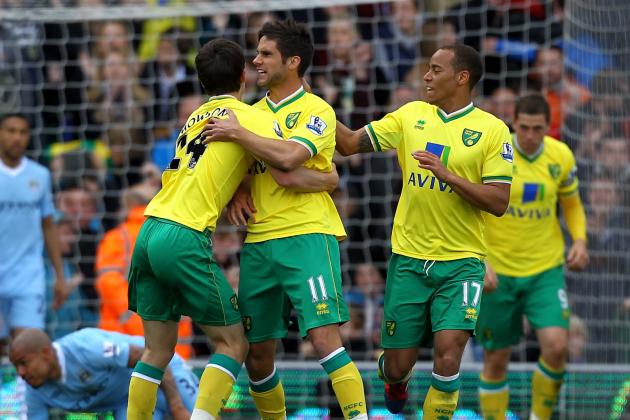 Matthew Lewis/Getty Images

After reaching an emotional high by beating Tottenham last week, Norwich reached an emotional low as they lost 6-1 to Manchester City on Saturday.
The Canaries are stuck in the middle of a group of six clubs separated within one point of each other in the middle of the table.
Heading into their road trip to Ewood Park to face Blackburn on Saturday, the Canaries sit in 11th place with 43 points.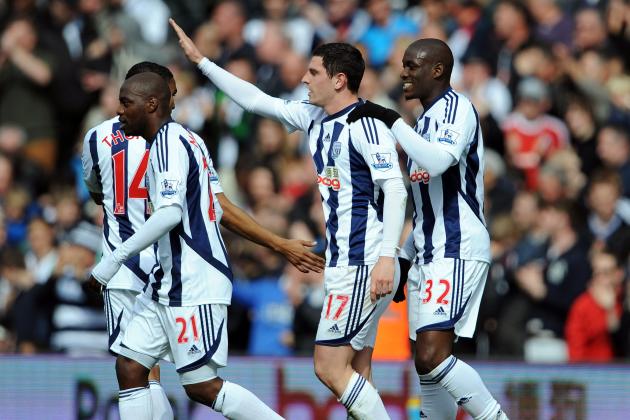 Clint Hughes/Getty Images

West Brom won one and lost one this week as they fell 4-0 to Manchester City on Wednesday and then defeated QPR 1-0 on Saturday.
Graham Dorrans scored a 22nd minute goal to give the Baggies their only goal of the week.
The past four games that the Baggies have played have resulted in shutouts in either the winning or losing direction for the Roy Hodgson's club.
The 13th-placed club will now face a trip to Anfield on Sunday to face Liverpool.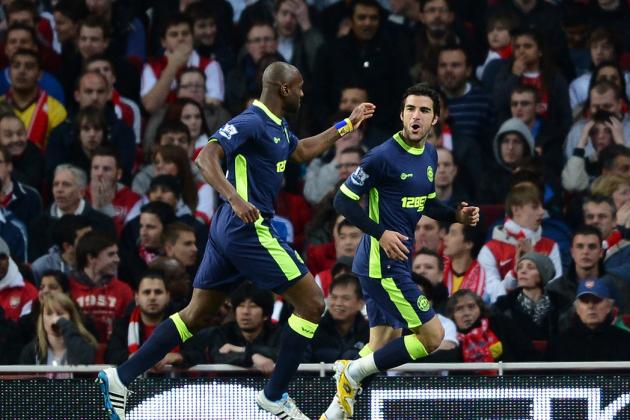 Laurence Griffiths/Getty Images

Wigan's great escape of 2012 continued this week with wins over Manchester United and Arsenal .
Shaun Maloney was the hero on Wednesday at the DW Stadium as he scored in the 50th minute to beat United.
On Monday, the Latics marched into the Emirates Stadium and took two early goals from Jordi Gomez and Franco di Santo in the 2-1 win over the third-place club.
The wins boosted the Latics into 16th place with 34 points and are in a much better spot to survive another season in the Premier League than they were a week ago.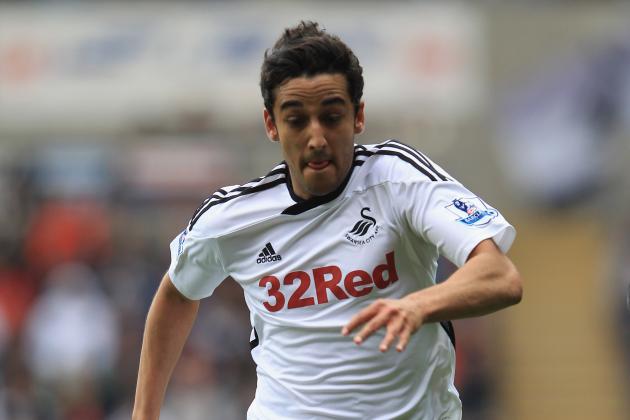 Michael Steele/Getty Images

Swansea were on the losing and winning side of 3-0 matches this week.
The Swans fell to QPR on Wednesday before beating Blackburn on Saturday, thanks to goals from Gylfi Sigurdsson and Nathan Dyer as well as an own goal from Scott Dann.
The goal for Sigurdsson was his seventh since joining the club on loan from Hoffenheim in January. He has to be one of the top five signings of the season in the Premier League.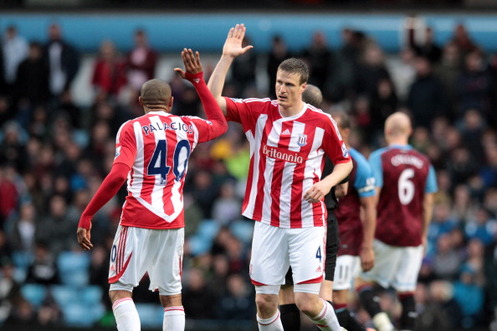 Ross Kinnaird/Getty Images

Stoke had off this weekend due to Everton's participation in the FA Cup.
The Potters have earned points in four of their past five matches and will look to jump up from their current 14th-place position in the table before the end of the season,
The effort to do that will begin on Saturday as they visit Newcastle at the Sports Direct Arena.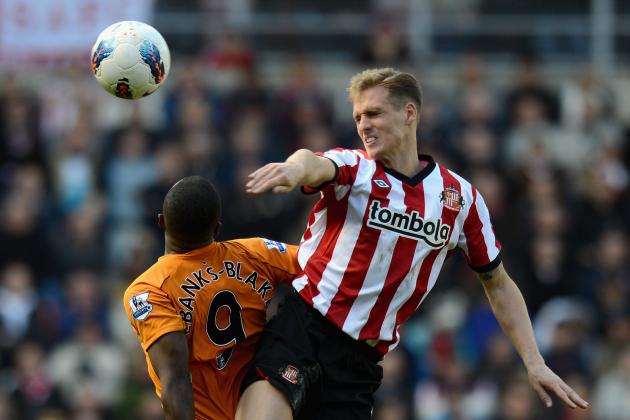 Gareth Copley/Getty Images

Sunderland played to their second 0-0 draw in three games as they drew with Wolves on Saturday.
The Black Cats are at the front of the group of six teams within a point of each other as they sit in ninth place with 43 points.
Manager Martin O'Neill leads the club to Villa Park on Saturday in a return to the club he managed for four years before leaving in 2010.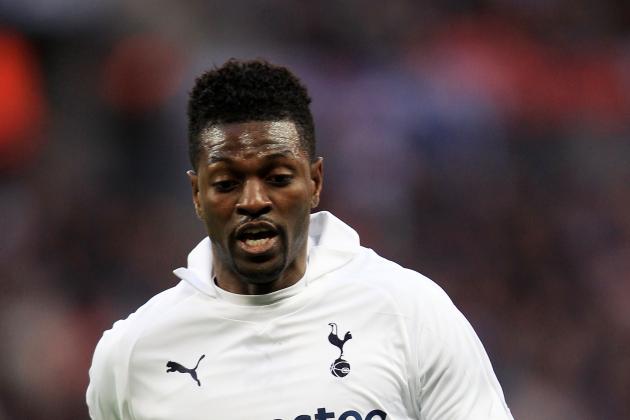 Michael Steele/Getty Images

Tottenham's disastrous run of form continued in the FA Cup semifinals as they fell to Chelsea, 5-1.
Spurs have fallen from being a title contender to fighting for their lives in the competition for European places.
The London club are down to fourth place in the table and are tied on points with Newcastle.
Spurs will try once more to right the ship on Saturday as they face QPR on the road at Loftus Road.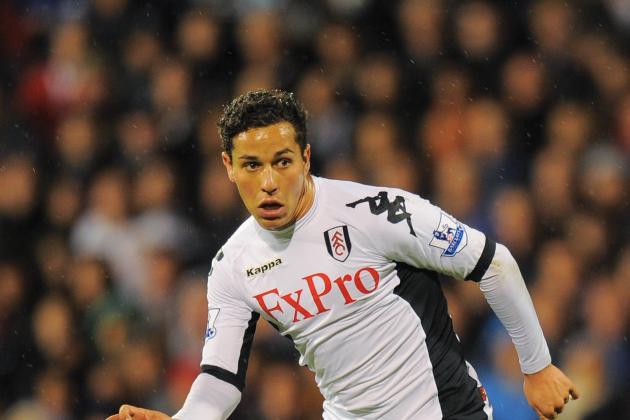 Mike Hewitt/Getty Images

Fulham were another one of the clubs that had off this weekend due to the FA Cup.
Going into their next game with Wigan on Saturday, the Cottagers are on a three-game unbeaten streak.
Sitting in tenth place currently, Martin Jol's club will look to finish in the top half after their final five games in Jol's first season as manager.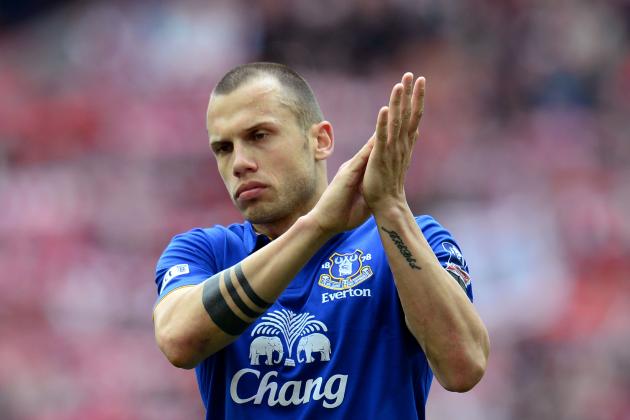 Shaun Botterill/Getty Images

Everton were knocked out of the FA Cup on Saturday by Merseyside rivals Liverpool.
The 2-1 loss saw the Toffees score an early 22nd-minute goal thanks to Nikica Jelavic, but the second half would not be as successful.
After a Sylvain Distin defensive lapse led to Liverpool's first goal, the Toffees conceded again in the 87th minute to end their cup dream.
Everton's entrance back into Premier League play will not be a pleasant one as they have to visit Manchester United on Sunday at Old Trafford.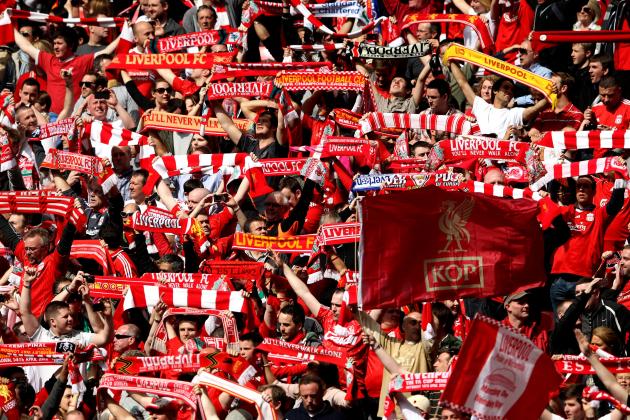 Scott Heavey/Getty Images

Liverpool's two big money forwards came through on Saturday to advance the Reds into their second cup final of the season.
Luis Suarez and Andy Carroll scored in the club's 2-1 FA Cup semifinal win over Everton.
The Reds will now face Chelsea in the final of the competition, but before a chance at a second trophy comes around, they will have to resurrect their league form.
The eighth-placed club will host West Brom at Anfield on Sunday.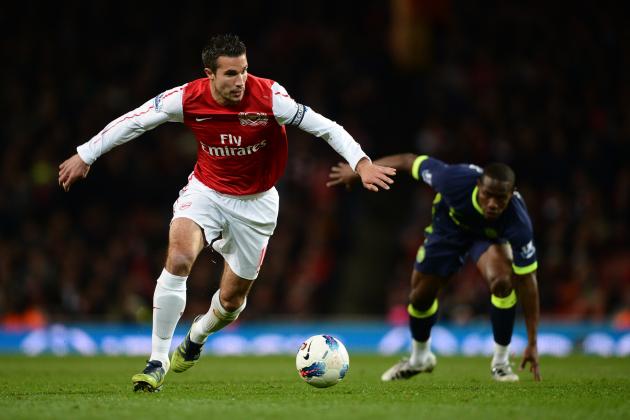 Laurence Griffiths/Getty Images

Just a week after catching all the headlines for the right reasons, Arsenal fell flat on their face on Monday and made the headlines for all the wrong reasons.
Coming off of a 3-0 midweek win over Wolves, the Gunners dropped their Monday match with Wigan, 2-1, at home.
The loss kept the Gunners' lead for third place at five points over struggling Tottenham, with four games remaining for the club and Spurs with a game in hand.
Next up for Arsene Wenger and company is a home match with Chelsea at the Emirates Stadium on Saturday.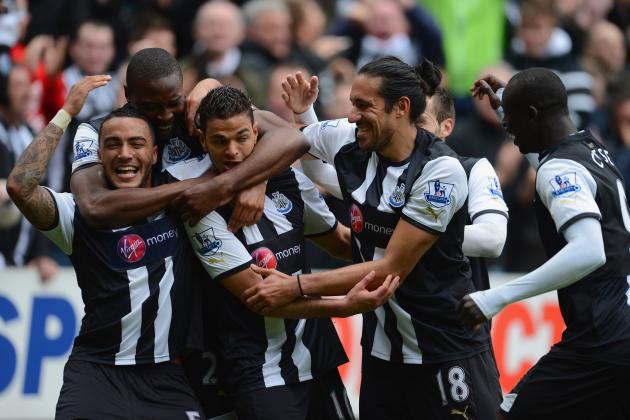 Michael Regan/Getty Images

After extending their win streak to five last week, Newcastle had off from play this weekend.
The final five games that the Magpies play will determine whether or not they end up in Europe next season.
Right now, the Magpies sit in fifth place with 59 points, two points ahead of Chelsea in the race for the Europa League spot.
However, a continuation of their current good run of form and Tottenham's lack of form could see Alan Pardew bringing his club into the Champions League next season with a fourth-place league finish.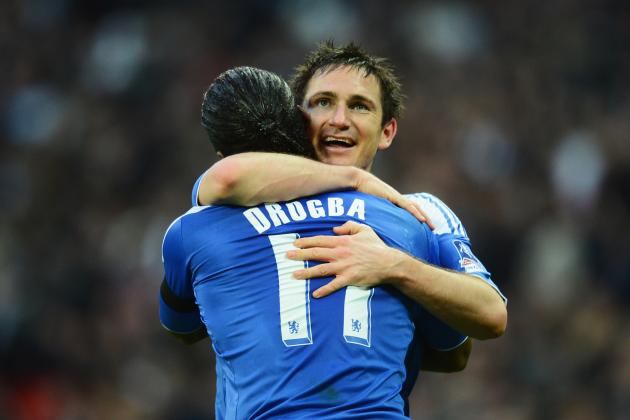 Mike Hewitt/Getty Images

Chelsea got a little bit of help from the referees on Sunday in their FA Cup semifinal win on Sunday over Tottenham.
The 5-1 win over Spurs was mired in controversy around the second goal scored by the Blues, as Juan Mata never put the ball in the back of the net but it was still ruled a goal.
Four other players scored in the victory as Didier Drogba, Ramires, Frank Lampard and Florent Malouda all netted goals as well.
A busy and difficult next week is ahead for the Blues as they face Barcelona in the Champions League semifinals starting on Wednesday at Stamford Bridge before visiting Arsenal on Saturday in Premier League play.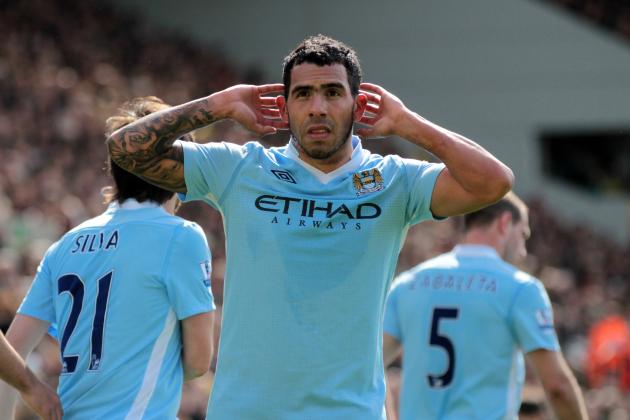 Matthew Lewis/Getty Images

After falling to Arsenal last week. Manchester City responded with ten goals in two games this week.
First, City took down West Brom by a 4-0 scoreline on Wednesday in front of a home crowd at the Etihad Stadium.
On Saturday, City took their show on the road and dominated Norwich City, 6-1, in a game that saw Carlos Tevez score a hat-trick.
In the process of winning both games, City gained ground on Manchester United in the title race as they only sit five points behind the league leaders with four matches to play.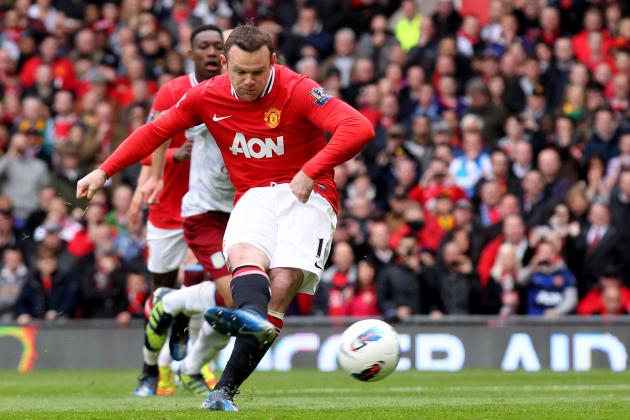 Alex Livesey/Getty Images

After suffering a slip-up on Wednesday in a 1-0 loss to Wigan, Manchester United bounced back and took care of Aston Villa on Sunday in a 4-0 win.
Wayne Rooney scored twice for the Red Devils and Nani and Danny Welbeck each scored once in the win at Old Trafford.
United's lead in the title race over Manchester City is now only five points going into their final match before the Manchester derby on Sunday against Everton at Old Trafford.