Ben Askren and the Peril of Twitter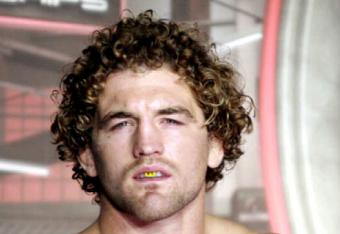 It seems that nowadays, not a week goes by that some fighter isn't sticking their foot in their mouth in 140 characters or less.
If it isn't King Mo calling a member of the Nevada State Athletic Commission a "racist b*tch" via Twitter (comments have since been deleted), then it's Ben Askren calling Dana White a liar.
Askren, who apparently lacks career ambition beyond Bellator, had this to tweet: "The USOC random tests Olympic athletes in all sports. Dana saying testing his fighters would be impossible is a bold faced lie."
Add that to the fact that Askren's fighting style isn't exactly the most electrifying, and the sum equals a career of marginalization.
What would make Askren knowingly insult the boss of the largest MMA promotion in the world, a boss who is well known to take things personally and carry a grudge?
He is either very happy at Bellator and wishes to stay…forever. Or, more likely, he just doesn't seem to understand that things said in cyber-world have consequences in the real world.
Of course, it wasn't long before Dana White replied, "when ambien can't sleep it takes Ben Askren."
Ouch.
Having Dana White say he's beyond boring has got to sting Ben, especially after being booed in his last fight for putting on a less-than-spirited performance.
But Ben had to know something like that was coming, right? Maybe not.
There's a general negligence when it comes to social media, as if there's some protective force field shielding us from our words. Many people literally feel as if they can say whatever they wish on Twitter and Facebook and there will be no repercussions.
Look at all the instances of teachers getting fired for making stupid comments about their students. Whether or not some of them are true is beside the point; it's simply unwise.
I've personally cringed for friends of mine who advertised on Facebook that they were in need of a wedding date. It's actually painful to read. But to them, it felt safe and not at all pathetic.
A guy wouldn't get on the loud speaker at work and announce that he can't find a date, and then resort to making a shameless spectacle out of himself, would he? Of course not. But on Facebook, behind that computer screen, there's a falsely presumed safety.
Fighters are encouraged to use Twitter. In fact, the UFC offers $5,000 bonuses to whoever can attain the most followers. It's a flawed policy that breeds stupidity.
A few months ago, rape jokes were all the rage. Forrest Griffin was forced to apologize and make a donation to a rape crisis center for his remark (per MMAWeekly.com). Miguel Torres was fired for his, and then rehired after convincing his boss he was sincerely remorseful (per ESPN).
Rashad Evans—well, he got off scot-free for his rape joke, as reported by USA TODAY. Rashad pulls in good pay-per-view numbers. That's always the exception.
Ben Askren isn't even a UFC fighter yet. Heck, he's not even a Zuffa fighter, and he's already gotten on Dana White's bad side. He not only called White a liar, but tweeted about drug testing. Right now, that probably ranks in White's top-three most unpleasant thoughts—right up there with life in prison and his wife having an affair with Don Frye.
Ben is a young, super-gifted fighter. He's got a lot of great fighting years ahead of him, and he's capable of having a brilliant career. He just needs to learn—as do many others—that speech has consequences, and Twitter isn't an email thread among buddies.
This article is
What is the duplicate article?
Why is this article offensive?
Where is this article plagiarized from?
Why is this article poorly edited?