PFA Player of the Year: Why Each Candidate Deserves a Nomination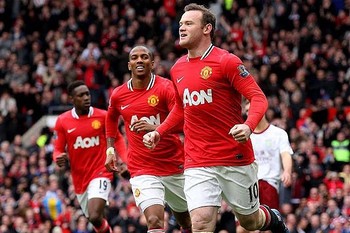 http://www.telegraph.co.uk/sport/football/teams/manchester-united/9206833/Wayne-Rooney-was-careless-and-casual-against-Aston-Villa-according-to-Sir-Alex-Ferguson-despite-two-goals.html
The Manchester City trio of David Silva, Sergio Agüero and Joe Hart, along with Arsenal's Robin van Persie, Tottenham Hotspur's Scott Parker and Manchester United's Wayne Rooney are the six nominees for the prestigious PFA Players' Player of the Year Award, according to BBC Sport,
Certain notable players have been left out: Juan Mata of Chelsea, Demba Ba of Newcastle United and Antonio Valencia of Manchester United are glaring omissions.
What's even more surprising is that players from "lesser clubs" have been ditched in favor of those from high-profile teams.
Nevertheless, each nominated player does have a strong case for himself, which shall be accordingly highlighted here.
Joe Hart, Manchester City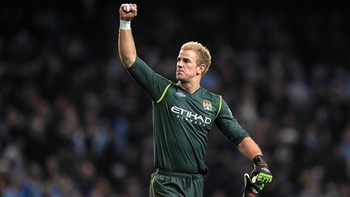 http://www.mcfc.co.uk/news/team-news/2012/april/vote-now-for-etihad-player-of-the-year-at-manchester-city
Joe Hart has had another great season under his name.
His shot-stopping skills and overall command of the back line has been exceptional, with 14 clean sheets so far to his name. Certainly an impressive showing from the Englishman.
However, Hart has had strong defenders in the shape of Vincent Kompany, Joleon Lescott, Micah Richards and a host of others to help him out at the back.
I would have preferred to see Swansea's Michel Vorm or even Newcastle's Tim Krul ahead of Joe Hart.
Vorm has 13 clean sheets to date and has established himself as one of the best goalkeepers in the league. Like Hart, his shot-stopping reflexes is above par and he is also particularly strong in saving penalties.
Krul, likewise, has 13 clean sheet to date under his name and has worked tirelessly for the Magpies, who find themselves in a favorable position to clinch the last Champions League spot.
Verdict: Given the choice of other nominees for the award coupled with the fact that other keepers also had a standout season, Hart remains the underdog for the award.
David Silva, Manchester City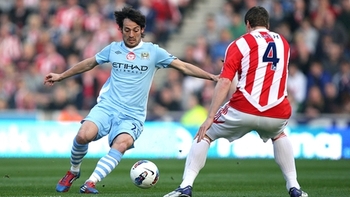 http://www.mcfc.co.uk/news/team-news/2012/april/vote-now-for-etihad-player-of-the-year-at-manchester-city
A charismatic Spanish midfielder, David Silva has lit up the Premier League with his intricate skills and world-class passing abilities.
He did wane a bit in form in the latter half of the season, but his brilliant displays for City was one of the reasons that they posed such a strong title threat.
He has amassed six goals and 13 assists from 29 appearances in the Premier League this season.
Verdict: He would have been a huge favorite for the award had his form not dipped a bit in the crucial stages. I do not see him winning it.
Sergio Agüero, Manchester City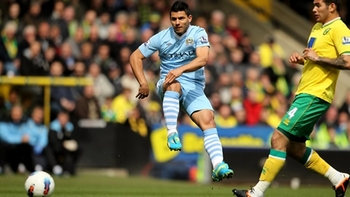 http://www.mcfc.co.uk/news/team-news/2012/april/vote-now-for-etihad-player-of-the-year-at-manchester-city
Like David Silva, Sergio Agüero had a spectacular start to the campaign, and like Silva, his form waned during the latter half of the season.
However, he has regained his form and has been wreaking havoc on the opposition lately. In the last two games, he has picked up four goals and notched two assists. Impressive.
Overall, he has racked up 21 goals and seven assists in the season.
Verdict: Sergio Agüero does indeed have a strong case, but his slight dip in form coupled with the impressive form of other nominees like Robin van Persie and Wayne Rooney probably means he will have to settle for the PFA Young Player of the Year Award.
Scott Parker, Tottenham Hotspur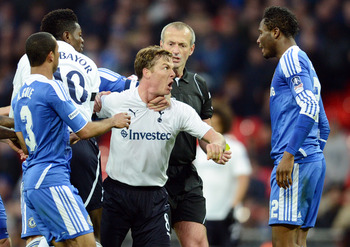 http://sports.yahoo.com/soccer/photo?slug=bf78614a369c7cc96e35470790ef79e4-getty-510294409
Ah, the ever industrious Scott Parker.
It's no surprise to see Parker being mentioned alongside the best in the business. Ever since he joined Tottenham, he has been instrumental in Tottenham's meteoric rise to glory.
Last year's FWA Player of the Year, Parker has been one of the best players this season as well. He shields the back four well, makes crucial interceptions and frees up Luka Modric to focus on creative duties.
He reminds me a lot of Claude Makalele: never flashy but the pivot of the entire team.
Verdict: Tottenham Hotspur's dissipation in form is one of the major reasons that Parker will not win the award.
Wayne Rooney, Manchester United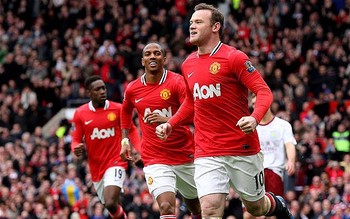 http://www.telegraph.co.uk/sport/football/teams/manchester-united/9206833/Wayne-Rooney-was-careless-and-casual-against-Aston-Villa-according-to-Sir-Alex-Ferguson-despite-two-goals.html
Another splendid year for the United player.
With 24 goals and four assists in 28 matches, Wayne Rooney certainly deserves the nomination. He has been crucial yet again for Manchester United and his form has been key for United's dash for the title.
Verdict: Although Wayne Rooney has been spectacular form, I think Antonio Valencia has been United's best player for the season. And there's Robin van Persie.
Robin van Persie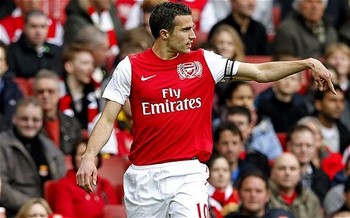 http://www.telegraph.co.uk/sport/football/competitions/premier-league/9200076/Arsenal-v-Wigan-Athletic-live.html
It would be the shock of the season if Robin van Persie does not win the PFA Player of the Year Award.
He has been the key reason that Arsenal have managed to turn their season around. Once struggling in the bottom half of the table, Arsenal now sit in third, and it is mostly due to Robin van Persie's tireless effort for the team.
With 27 goals and 10 assists in 33 matches, he has been head and shoulders beyond all other players in the Premier League.
Verdict: He will most assuredly win the award.
Follow me on Twitter: @BrenGoetze
Keep Reading