UFC 145 Only Days Away, but Rashad Evans' Mind Is on Greg Jackson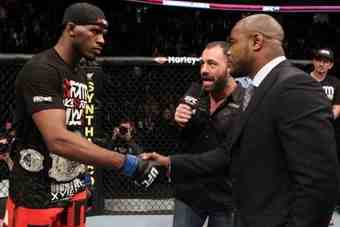 Photo courtesy of GettyImages

The bitter personal feud between Rashad Evans and Jon Jones leading up to their UFC 145 showdown on Saturday is all but played out now. But in the days leading up to the light heavyweight championship fight, Evans' vitriol seems now locked in on one-time coach Greg Jackson.
In media interviews this week, Evans has called Jackson self-serving and blames him for creating the situation where he has to fight a fellow teammate.
For his part, Jackson has also blamed himself, saying that he should have had the proper protocols in place to prevent a situation where two of his fighters are fighting for the same belt. But it's testament to Evans' sense of betrayal that as his light heavyweight championship fight looms closer, Jackson looms larger in his mind.
"That's the thing about him. Greg talks about 'for the team, for the team'. The team consists of 'I' which is Greg Jackson," Evans told MMA Weekly yesterday. "That's what the team consists of, it's about Greg Jackson getting the 'Coach of the Year' awards. That's what it consists of."
This is a marked shift in tone from the fury Evans had reserved for Jones. The fighter had initially pointed the finger at Jones for showing his willingness to fight a teammate and forcing Evans to take the challenge.
"For the most part me and Jon have talked things out… but with Greg Jackson I still haven't talked to him since I talked to him telling him I am going to fight Jon Jones and that was over a year ago," Evans said during in an interview with Ariel Helwani on his MMA Hour podcast today.
Part of this increasingly vocal resentment at Jackson has to do with Jackson's decision to corner Jones against Evans last week. Jackson says he arrived at that decision after much introspection, but felt that it was his duty to his team to corner Jones. And, although Evans says he's not surprised by that decision, the sight of his former coach, the man that led him to the light heavyweight championship in 2008, must be the source of some discomfort.
"Greg is Greg, and I can't deny what Greg was to me, he was a big influence on my career but I guess the relationship is over and I can't dwell on it," Evans told Helwani.
There is hope, however, that once the fight is over the three will put their differences aside and—if not become friends—at least enter into a cordial professional relationship. Evans has already talked of his respect for Jones and says he still supports Jones in his fights. Jackson for his part has also said he hopes all will be forgiven after the dust settles on Saturday in Atlanta, Georgia.
This article is
What is the duplicate article?
Why is this article offensive?
Where is this article plagiarized from?
Why is this article poorly edited?