Boston Marathon 2012: Most Notable Celebrity Performances
April 16, 2012

Jim Rogash/Getty Images
Kenyans Wesley Korir and Sharon Cherop might have won this year's Boston Marathon, but several celebrities garnered attention by taking part of the 116th annual race.
Tedy Bruschi, Kristine Lilly and Ryan Sutter's were this year's notables, all running for charitable causes.
Even with scorching heat in the mid-80s all afternoon, over 22,000 runners still participated on one of Patriot Day's yearly traditions. Around 4,000 put in deferrals for next year due to the high temperatures.
The elements did not stop these three names from making the news and crossing the finish line. 
Tedy Bruschi
Bruschi, the former New England Patriot and current ESPN personality, may have been running for his charity Tedy's Team, but achieved a personal goal by running in his first Boston Marathon.
The race was considered a stepping stone on the comeback trail for Bruschi, who suffered a stroke while still playing in the NFL in 2005. He was joined by 40 other members of the Tedy's team organization today.
The three-time Super Bowl champion with the hometown Patriots started "Tedy's Team" following his heart injury. He has begun to rack up many physical achievements since he retired from the NFL, climbing Mount Kilimanjaro last year and running in the marathon today.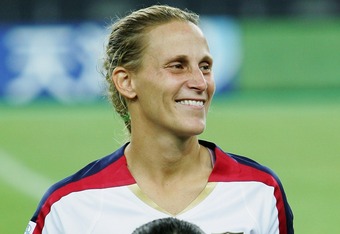 Guang Niu/Getty Images
Bruschi was considered one of the leaders on those Super Bowl winning teams in New England. He's continued to be an inspiration even after his football days ended.
Kristine Lilly
Kristine Lilly took part in her first marathon today, running to raise money for Boston Children's Hospital.
One of the most renowned U.S. Women's soccer stars in history, Lilly would not be expected to have much trouble with her endurance in the Boston Marathon.
With her fifth World Cup Finals appearance in 2007, Lilly became the first woman to participate in five World Cup Finals. She's also the oldest woman to score a goal in World Cup play. 
Add running in a Boston Marathon to Lilly's list of accomplishments after turning 35. 
Ryan Sutter
He might not be a notable name for sports fans, but Sutter is well-known if you're a fan of cable television. He is the first winner of ABC's The Bachelorette. 
Sutter took on the marathon's 26.2 miles for his charity Grassroot Soccer, which he started along with fellow reality-TV star Ethan Zorof of Survivor fame.
Zorof had run in the New York marathon this year, but was unable to qualify due to a stem-cell transplant he had a few months earlier. Therefore, Sutter became the face of their cause for today's race.