Remembering My First Baseball Game: Baltimore, 1986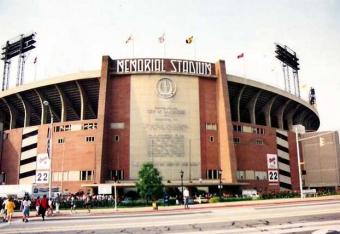 For any true baseball fan, attending your first Major League Baseball game is a memory you never, ever forget. For me, it was Friday, August 22, 1986: California Angels at Baltimore Orioles.
I was seven years old and had already decided that my calling was to become a big-league player, preferably on the O's. Unfortunately, I'd yet to attend a game in person.
For me, baseball was usually enjoyed through my own imagination while listening to the AM radio broadcast. As a lower middle-class family, affording the sports cable channel—let alone tickets for all four of us—was a luxury we had never considered.
On that magical Friday night, my dad surprised us with four tickets to the Orioles game that his boss had generously given him. There's a picture of me in my parents' house looking cross-eyed down at them. It was more than just a game; I also looked at this experience as a preview of my future workplace.
We immediately hopped in the car and raced down I-95 to Memorial Stadium. With my dad at the wheel, battling through the terrible traffic was like a holy war. The advantage for me was that I was able to learn some choice words at an early age. Memorial Stadium was in an area that couldn't handle the congestion, and even in the parking lot, the gridlock was intense. While he focused on poorly-trained parking attendants, I worried about missing the first pitch and possibly catching a foul ball in my freshly oiled-up mitt.
Once we finally made it through the turnstile and into our bleacher seats, I quickly realized no foul balls were going to make it that far up into the night sky. We were on the third-base side, in the upper deck near the last row. That didn't bother me at all; for the first time, I had a bird's eye view of a real major league park. The stadium was mostly filled, with a spotty upper deck.
My dad, being the financially responsible man he was, made sure we ate before the game. He did cave in to my excitement and bought me a delicious three dollar hot dog. This was probably to make me shut up for a few minutes, as I was constantly asking questions.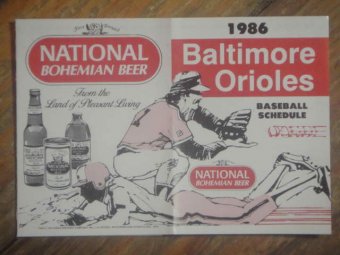 My favorite pitcher was on the mound for the O's, Mike Boddicker. He was gritty and dependable, usually keeping the team in the game. The Angels sent their ace to the mound, Don Sutton.
The O's lineup featured the nationally-known stars—Cal Ripken Jr. hitting third and Eddie Murray, the clean-up man. It also included local favorites Larry Sheets, the chubby Floyd Rayford and the lovable Rick Dempsey. The Angels countered with their own stars—Wally Joyner, Doug DeCinces, Reggie Jackson, and Brian Downing.
The first inning already had us on our feet, as the O's took an early 1-0 lead. I can't remember exactly how they did it, but I do remember thinking, "This is our night, probably because they know I'm here!"
The next few innings went by quickly, but like any kid, my mind began to wander. I asked my parents if we could move into the stadium so we could attend every game for free. I wanted to know if they could ask team management if I could partake in batting practice sometime.
I asked if it was raining, and my dad pointed out that the precipitation was actually airborne slobber from the loud drunk guy sitting behind us.
The O's cruised along, protecting a small lead until the sixth inning. Boddicker lost his focus, and the Angels suddenly took a commanding 7-3 lead. Luckily, it was a Friday night, which meant that my parents wouldn't make us leave early.
I held on to the belief that the O's would definitely come through for me, their biggest fan, and the men in black and orange didn't let me down. In the bottom of the 8th, the O's offense exploded for a five-run rally. While I can't remember exactly how it all went down, I do remember manager Earl Weaver sending in pinch-hitter Jim Dwyer in a crucial situation. I was angry about the decision, as I thought Dwyer—hitting near .200—was a bum. He quickly proved me wrong, delivering a clutch double and solidifying the Orioles' 8-7 victory––the save going to the magnificently-mustached Don Aase.
The walk back to the car was littered with homeless guys— no doubt hoping the good vibes amongst the fans would help them score some change. The car ride home was just as stressful for my dad as the ride in, but the post-game interviews on the radio made the time go by quickly. To this day, I still remember Ripken making the final out of the game on a foul-out.
Memories like this are why the game of baseball never gets old.
This article is
What is the duplicate article?
Why is this article offensive?
Where is this article plagiarized from?
Why is this article poorly edited?

Baltimore Orioles: Like this team?