Pittsburgh Steelers 7-Round Mock Draft: Dont'a Hightower in Black and Gold?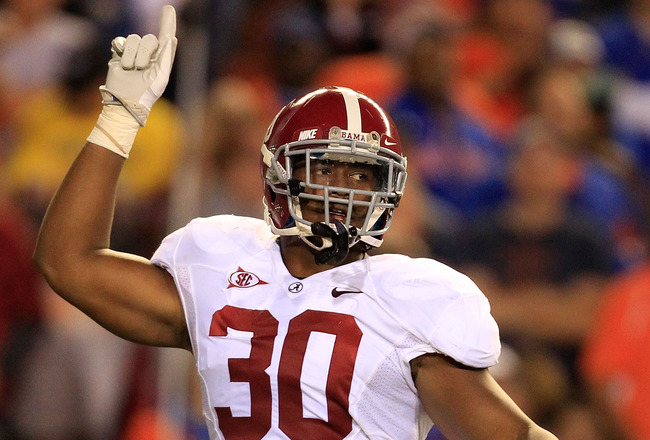 Who might the Steelers draft?
Sam Greenwood/Getty Images
With the NFL draft 10 days away, teams have started to meet with players that they may or may not wind up drafting. The Steelers have already met with a handful of them, and it's now time to predict who the team will wind up selecting.
With needs at inside linebacker, nose tackle, the offensive line, and running back, the Steelers will surely address at least two of these positions in the early rounds, and there is enough talent in this draft to fill those needs.
Here is a full seven-round mock draft, taking into account the way the Steelers usually work, drafting players they bring in for visits and not overvaluing need over talent.
1. LB Dont'a Hightower, Alabama

Alabama ILB Dont'a Hightower

ILB Dont'a Hightower, Alabama
6'2 1/2 - 265 lbs.
With the release of James Farrior earlier in the offseason, it became clear that the Steelers would start to look for his long-term replacement. While Larry Foote can hold down the fort for a year or two, the team needs to find a player who can play beside Lawrence Timmons for multiple years. The team has Stevenson Sylvester already, but he hasn't shown much as an inside linebacker. He's played well in special teams, but making the transition from tackling returners to replacing the play-caller in the defense is no easy feat.
Furthermore, when evaluating the type of player needed to complement Timmons, Sylvester doesn't exactly fit the mold. That's not to say he wouldn't be good in such a role, rather it would take time and dedication to complete the adjustment.
In the Steelers defense, there are two inside linebackers, and both have different roles. One is supposed to take on blockers, be it a fullback or an offensive lineman. This opens up the lane for the second inside linebacker, who in turn is the one who makes the tackle, and consequently makes a play. In the past, Larry Foote was the "buck" while James Farrior was the "mack;" Foote took on blockers while Farrior made the tackle. When Timmons replaced Foote, he became the "buck" and Farrior remained the "mack."
With Dont'a Hightower, the Steelers would have the perfect replacement for Larry Foote, allowing Timmons to slide over to the "mack" position, which is better suited to his skill set. With his speed, Timmons is better suited to track runners down, instead of taking up blockers, as he's currently doing.
Hightower is a tough linebacker that has no problem taking on blockers. He's physical, and his skills translate well to stuffing the run. He's a liability in coverage at this point, meaning he would have to step out during passing downs, but that could hopefully be improved upon.
Hightower and Timmons are very well suited to complement each other, and they could man the center of the defense for the next decade.
2. OT Bobby Massie, Ole Miss

Ole Miss OT Bobby Massie

OT Bobby Massie, Ole Miss
6'6 1/8 - 316 lbs.
The weakest unit of the Pittsburgh Steelers is their offensive line. After neglecting it for many years, the team finally selected center Maurkice Pouncey in the first round in 2010, and then offensive tackle Marcus Gilbert in the second round in 2011. After two years, Pouncey has become their best offensive lineman and is quickly becoming one of the best interior lineman in the league. Gilbert has proved to be a quality player too. While not at Pouncey's level, Gilbert's play at right tackle as Willie Colon's replacement was admirable, and he was arguably the best pass protector the team had. As such, he will make the transition to left tackle in 2012.
That leaves an empty spot at right tackle, which one would assume would go to Willie Colon, who is fully recovered from injury. While Colon played relatively well prior to injury, one has to wonder if the team has Colon in their long-term plans, and if he'll recover his level of play. It never hurts to have a little competition, and that competition would be provided by Bobby Massie.
A large and strong guy, Massie played right tackle for Ole Miss and did a respectable job. While not an excellent pass protector, he can certainly hold his own. His strength, however, lies in run-blocking. Taking full advantage of his large size, he is capable of overpowering defenders and opening up running lanes for runners. At right tackle, he wouldn't face as many premier pass rushers as Gilbert would, and it would also allow for the possibility of kicking Willie Colon inside to right guard, effectively killing two birds with one stone.
3. OG Brandon Brooks, Miami (OH)

Miami (OH) OG Brandon Brooks

OG Brandon Brooks, Miami (OH)
6'5 - 346 lbs.
A mountain of a man, and a scouting combine snub, Brandon Brooks is a very powerful guard. Similarly to Bobby Massie, he excels in run-blocking and would improve the team's running game, where he manages to get a fantastic push. At worst, he's a newer, younger, bigger version of Chris Kemoeatu. But in all honesty, that's selling Brooks short.
He is more agile than given credit for, and he is extremely stout. He is one of the strongest players in the entire draft, and consequently he is very tough to move. He will struggle against some of the small/fast pass rushers, but it could be improved upon.
One key skill required of our guards during the Arians era was pulling both left and right, and due to the success of those plays, I'm willing to bet they'll remain intact in Todd Haley's new playbook. Therefore, Brooks will have to pull, most likely to the right if he lines up at LG. While he is agile for a big guy, he isn't overly athletic, and it will be interesting to see how successful he is at pulling. Nevertheless, he is a fantastic short-distance blocker, and would definitely be an upgrade to our offensive line.
With this pick, the Steelers would have four different offensive linemen to work with, and allow them to develop chemistry.
4. RB Isaiah Pead, Cincinnati

Cincinnati RB Isaiah Pead

RB Isaiah Pead, Cincinnati
5'10 1/8 - 197 lbs.
With the recent ACL injury to Rashard Mendenhall and the departure of Mewelde Moore, the Steelers suddenly find themselves with question marks at the running back position. While the team does have some players at the position, most notably Isaac Redman, there are more questions than there are answers. Behind Isaac Redman, the Steelers have Jonathan Dwyer and John Clay, who combined have 35 career carries. Then there is Baron Batch, who tore his ACL during the 2011 preseason and consequently didn't participate in any game, including all four preseason encounters.
In Isaiah Pead, the Steelers would have a running back that would be a good complement to Isaac Redman, and would be able to take on third down duties. Pead is a back with good size and speed, and his style of play is comparable to Jamaal Charles. This is not to say he will be as good as he is, just that they have similar skill sets.
Pead would be the fastest running back the Steelers have, as neither Redman, Clay, or Dwyer have a lot of speed. Redman and Clay are bulldozers, very hard to bring down. Dwyer is a big running back, but he isn't as powerful. Instead, he's a more polished runner, but lacks in other departments, such as pass protection, as well as offering very little as a receiver. Pead would allow for a back that is more balanced and possesses the speed the others don't.
Furthermore, this is Rashard Mendenhall's last year on his rookie deal, and there are rumors that the team might not extend him. In such a case, Pead would be the candidate to take over for the majority of carries in the future.
5. TE Ladarius Green, Louisiana-Lafayette

Louisiana-Lafayette TE Ladarius Green

TE Ladarius Green, Lousiana-Lafayette
6'5 3/4 - 238 lbs.
Ladarius Green is probably the most athletic tight end in this year's draft. He possesses fantastic size and speed, running a 40-yard dash between 4.5 and 4.6 seconds. While he does not offer a lot as a blocker, he could be a matchup nightmare for defenses and is a good receiver. If one were to compare him to an NFL player, he is a poor man's Jermichael Finley.
In the Steelers offense, he would add a new dimension, one that has not been previously seen. As talented as Heath Miller is, he is not nearly as athletic as Green. He could work the seams and be a dangerous red-zone target, which we desperately need. His 6'6" frame would make him the tallest target on the team, and his athleticism allows him to play like a wide receiver.
He is too big for cornerbacks to cover and too fast and athletic for linebackers to keep up with him. While expecting him to have an impact along the lines of Rob Gronkowski and Jimmy Graham is unreasonable, his physical abilities will allow him to make some plays and take advantage of the fact that defenses would first focus on stopping Mike Wallace, Antonio Brown, and Heath Miller.
Finally, with the suspension of Weslye Saunders, the team needs another pass-catching tight end. David Johnson is more of a blocker, and he doesn't have great size or hands.
6. NT Hebron Fangupo, BYU

BYU NT Hebron Fangupo

NT Hebron Fangupo, BYU
6'0 3/4 - 323 lbs.
With Chris Hoke's retirement and Casey Hampton's recurring injuries, the Steelers need to get younger at nose tackle. While the team already has Steve McClendon (who. by the way. no longer weighs 280 lbs., he's rumored to be somewhere between 310 and 320 lbs.), another young nose tackle to develop would never hurt.
Fangupo is big and powerful. As a football player, he is relatively raw, but he can still clog the lanes. The Steelers have a history of not only developing late-round defensive linemen, but also BYU defensive linemen. Chris Hoke was a former BYU Cougar, as was current Steelers DE Brett Keisel.
As a pass-rusher, Fangupo offers virtually nothing. His specialty is in holding up offensive linemen and stuffing the run. He would have to come out on passing downs, but that's what all nose tackles in our system do. Spending a year behind both Hampton and McClendon would do him well, and he'd gradually crack the rotation.
7th Round Picks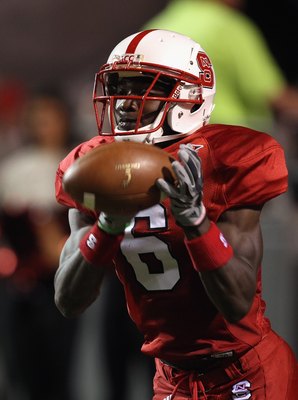 North Carolina State WR T.J. Graham
Streeter Lecka/Getty Images
WR T.J. Graham, North Carolina State
http://www.youtube.com/watch?v=AXlHsbx-yKI
5'11 3/8 - 188 lbs.
The Steelers have had success with receivers lately, and Graham is another small, fast receiver that could potentially replace Jerricho Cotchery down the line.
K Carson Wiggs, Purdue
http://www.youtube.com/watch?v=liVdlj1FxsI
6'0 - 221 lbs.
Shaun Suisham is not the answer long term, and Wiggs has a strong leg and is fairly accurate.
FB Chad Diehl, Clemson
http://www.youtube.com/watch?v=esLBElzLCY4
6'2 - 256 lbs.
Arguably the best blocking fullback this draft, he doesn't offer much as a runner or receiver. He could be the second coming of Dan Kreider, which would mean that the running game would improve.
S Jeremy Jones, Wayne State
http://www.youtube.com/watch?v=09moxMmQ_C4
5'11 - 197 lbs.
The team needs safety depth, and Jones is a physical safety who gets a lot of interceptions. He didn't play against good competition, so there could possibly be a lengthy adjustment period.
Keep Reading

Pittsburgh Steelers: Like this team?