2012 NHL Playoffs: Penguins and Flyers Series Victor Will Win the Stanley Cup
April 17, 2012

Bruce Bennett/Getty Images
One week ago, the NHL world was awaiting the start of the 2012 Stanley Cup postseason and arguably the most highly-anticipated first round series in decades—the Pittsburgh Penguins versus the Philadelphia Flyers.
The two bitter in-state rivals, seeded fourth and fifth in the Eastern Conference with just three points separating them in the regular season, were expected to duel fiercely and climatically for, in all likelihood, seven games.
Seven games that would, if most experts' predictions came true, perhaps decide this year's winner of the Stanley Cup.
Now, seven days later, almost nothing in the Battle of Pennsylvania has gone according to plan.
The Pittsburgh Penguins' home-ice advantage, unstoppable first line and well-rounded defense have all failed to seize the headlines for the plummeting Pens. Neither goaltender, despite their reputations, have performed anywhere close to par, either.
Instead, it's been Philadelphia's record-breaking postseason offense that's taken over the series, pushing the Flyers to consecutive 4-3, 8-6 and 8-4 victories and into a commanding 3-0 series lead. In all reality, this series might be just 60 minutes from its conclusion.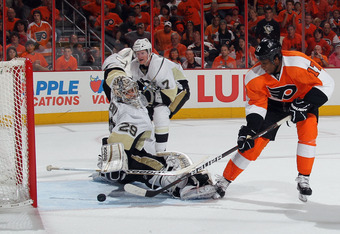 Bruce Bennett/Getty Images
But through all of this unanticipated chaos, at least one expectation continues to hold true.
The eventual winner of the Penguins and Flyers series, no matter which team it is, will still be on the fast track to a Stanley Cup title.
If Pittsburgh were to rally back to victory by winning each of the next four games against the Flyers, there is absolutely no doubt that they would immediately become Cup favorites again.
After all, given their current position, winning this series would take a masterful return to form by Marc-Andre Fleury, as well as a phenomenal defensive turnaround and an elephant-sized increase in discipline, too.
However, it would take an utter miracle for the Penguins to advance out of the first round now. Barring the comeback of the millennium, the Philadelphia Flyers are set to win this series and probably in fairly conclusive fashion.
Once they can get this foregone conclusion wrapped up, the Broadstreet Bullies can afford to look forward in the big picture.
And when they do, they'll see themselves sitting just as pretty as ever.
Little more than a few bruises and hot tempers will hamper the Flyers moving forward from this series, and Philadelphia has proved that it has more than enough firepower—and, for that matter, testosterone—to overcome the distractions that will confront them as the postseason rolls along.
Claude Giroux, still only 24 years old, has played fantastically in the postseason, opening up a three-point lead on the NHL's top playoff scorer position with four goals, eight points and a plus-five rating.
Veterans Danny Briere (four goals, five points) and Jaromir Jagr (five points), rookies Brayden Shenn (five points) and Sean Couturier (three goals, four points), penalty kill-specialist Max Talbot (three goals, four points, plus-five) and underrated youngster Jakub Voracek (four points) have all averaged more than a point per game too, and have made Philly's offense into perhaps the most well-rounded in the playoffs.
Moreover, while Philadelphia's defense has certainly not been top-class, strong play on the parts of players like defenseman Braydon Coburn and unheralded defensive forward Wayne Simmonds, each with 12 hits in three games, has helped to keep some order in the Flyers' back end.
Although it's hard to expect that their 6.67 goals-per-game ratio or 60 percent power-play conversion rate won't soon come down, the stunningly effortless goal-scoring explosion that has taken the City of Brotherly Love by storm has already made the fifth-seeded Philadelphia Flyers into front-runners for the NHL's crown.
And once they manage to shake the desperate Penguins off of their tails, the Flyers will be fully prepared to accomplish that goal.
Mark Jones is currently a Bleacher Report featured columnist for the Carolina Hurricanes and the NHL as a whole. In his three-and-a-half years so far with the site, he has written more than 365 articles and received over 460,000 total reads.