Ranking the 2011 NFL Rookie Quarterbacks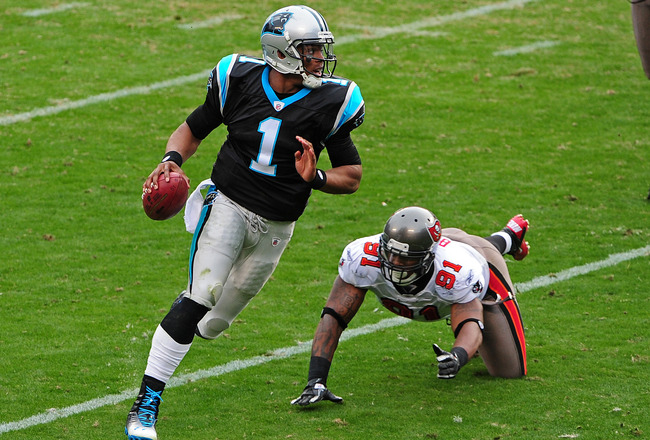 Scott Cunningham/Getty Images
The 2011 NFL draft had no shortage of surprises: Jake Locker was taken as the second quarterback off the board at No. 8, the Jaguars traded up to take Blaine Gabbert at No. 10, the Vikings reached for Christian Ponder at No. 12 and Andy Dalton was taken at No. 35.

After a full season, how do these rookie quarterbacks stand up to one another?
5. Blaine Gabbert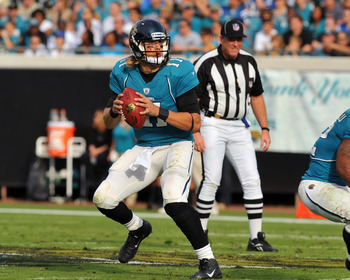 Al Messerschmidt/Getty Images
There is no doubt that Blaine Gabbert stepped into a difficult situation. He was pushed into the fire during week two, his receivers were abysmal and his line was mediocre. There are plenty of excuses for how his rookie season went, but his play was simply not good.

Gabbert looked skittish in the pocket. In the face of pressure, he got scared, and it showed in his play. Gabbert finished the season with an abysmal 5.4 yards per completion average and added 12 touchdowns to 11 interceptions.
There is hope for Jaguars fans though.
The organization has made a concerted effort to surround him with a better cast. They acquired Laurent Robinson from Dallas, Lee Evans from Baltimore and will likely address wide receivers early in the draft.
If they are able to sign someone like Michael Floyd to be a legitimate No. 1, Robinson, Evans and Mike Thomas could round out a receiving corp better than they will get credit for.
4. Christian Ponder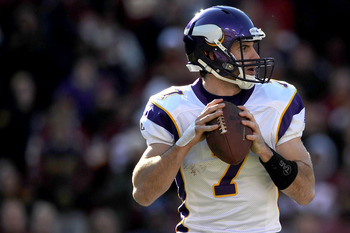 Patrick Smith/Getty Images
Christian Ponder breathed life and energy into a Minnesota Vikings squad that seemed dead at times during the 2011 season.
However, Ponder certainly had his share of rookie mistakes. He held onto the ball far too long, resulting in 30 sacks on the season. He threw as many interceptions as touchdowns (13) and completed only 54.3 percent of his passes.

Like Gabbert, there is certainly hope for Ponder. The Vikings will likely add Matt Kalil to their offensive line this season, which will at least mask Ponder's tendency to hold onto the ball too long.
Although Vikings GM Rick Spielman inexplicably stayed out of the wide receiver market during free agency, they should address the position as early as round two in the draft.

A better supporting cast will benefit Ponder tremendously.
3. Jake Locker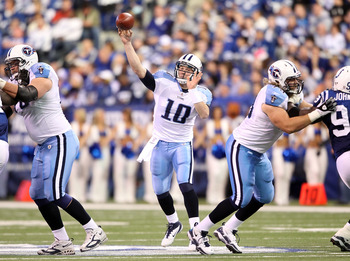 Andy Lyons/Getty Images
The Titans stunned most draft analysts by taking Jake Locker at No. 8 overall. He was viewed as a project who needed to sit and learn behind a veteran. He was not "NFL ready."

Well the Titans did just that. They went out and got a veteran quarterback in Matthew Hasselbeck, who has embraced his role as a mentor to Locker. The results early look good.

In limited playing time, Locker has 34 of 66 passes for 542 yards and four touchdowns. While his completion percentage is worrying, it is remarkable that the rookie did not throw an interception. He added one touchdown on the ground.

Still, Locker is not yet a finished product. Much of his playing time came against prevent defenses. His accuracy could still stand to improve. A 50 percent completion percentage is not acceptable for an NFL quarterback.
However, he finished the season with a nearly 100 quarterback rating and looked very good against the Saints (read: a normal, non-prevent defense). The future is bright in Nashville.
2. Andy Dalton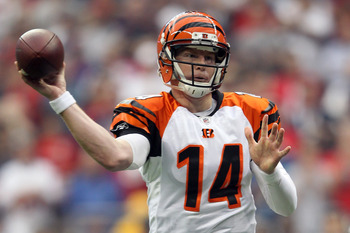 Jamie Squire/Getty Images
The Cincinnati Bengals put Andy Dalton in the perfect position to succeed. They surrounded him with an elite wide receiver and a stellar defense. He probably looked better than he was as a result of that.

However, it makes no sense to punish him for having a good cast around him. Dalton made all of the throws that he needed to make and developed into the leader that the Bengals definitely needed.
Dalton completed 300 of 516 passes, for 3,398 yards and 20 touchdowns. He could stand to cut down on his interceptions (13), but his overall ratio was still quite good for a rookie.
If the Bengals continue to develop Dalton and Green, there could be a new power emerging in the AFC North.
1. Cam Newton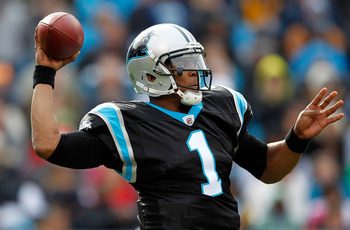 Streeter Lecka/Getty Images
This was a no-brainer. Cam Newton had quite possibly the greatest rookie season of all time. Full disclosure: I expected Newton to bust. I did not think his skill set would translate to the next level.

I was wrong.

Newton threw for over 4,000 yards. That is remarkable for any quarterback, much less a rookie. He completed a solid 60 percent of his passes. Yet, what is most remarkable about Newton is that while putting up those eye-popping passing numbers, he added over 700 yards on the ground.

Forget Michael Vick, Cam Newton is writing the book on how to run as an athletic quarterback in the NFL.

This isn't to say that Newton is perfect. He threw 17 interceptions, which is far too many. If he can cut down on the interceptions, Newton has the potential to become one of the best quarterbacks in the NFL.

If he isn't already.
Keep Reading