NBA Playoffs 2012 Bracket: 5 1st-Round Matchups We're Dying to See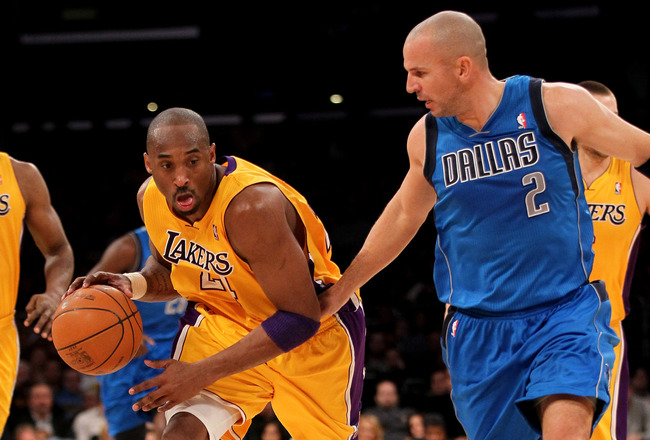 Stephen Dunn/Getty Images
The first round of the NBA Playoffs could either be a formality for some teams or a grind-it-out series for the ages, depending on the matchup.
This year's postseason may be containing more of the latter. Whether its a series for revenge or a team trying to make a statement, the first round may not be just a stepping stone for even the top teams this season.
Let's take a look at some of the most enticing first-round matchups as the current playoff picture stands in the NBA.
5. LA Clippers vs. Memphis Grizzlies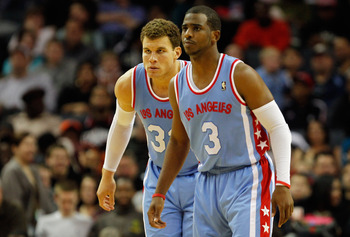 Streeter Lecka/Getty Images
Matchups between the fourth and fifth seeds have a tendency of producing some of the more entertaining and exciting series in the playoffs.
This one will be no different. Two young exciting teams that are attempting to propel themselves into the elite-teams conversation have to go through each other first.
The Grizzlies are touted as a sleeper team in the playoffs this year, being lead by Rudy Gay and blue-collar big man Zach Randolph. They took the current Western Conference-leading Oklahoma City Thunder to the brink of elimination in last year's playoffs without the help of Rudy Gay. This time around, they are looking like an even scarier team.
In the other corner is the LA Clippers, who have become the new talk of Tinseltown with the addition of Chris Paul to work with All-Star forward Blake Griffin. This may be the most exciting team in the NBA and their future is as bright as the city they live in.
When these two teams collide, it will be a seven-game series full of exciting basketball between two hungry, young teams that want some recognition.
4. Miami Heat vs. Philadelphia 76ers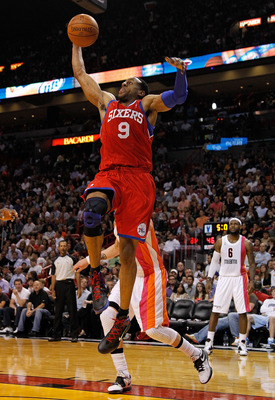 Mike Ehrmann/Getty Images
A rematch of the first round of last season's playoffs, the 76ers are looking to pull of a monumental upset against the heavily favored Heat.
Philly took the Heat to five games last year, and were competitive in four out of those five games, even coming up with a win.
Now wiser and more seasoned, the Sixers, lead by Andre Iguodala and Jrue Holiday, are looking to improve on that performance against Miami.
This may not be so impossible, since the pressure is high on LeBron James and the Heat. All eyes are on them to finish what they started in the offseason in 2010, and win not four, not three, not two, but just one championship in the LeBron era.
Look for this series to be closer than many thought it should be and the Heat could be on upset alert if they underestimate the Sixers.
3. San Antonio Spurs vs Denver Nuggets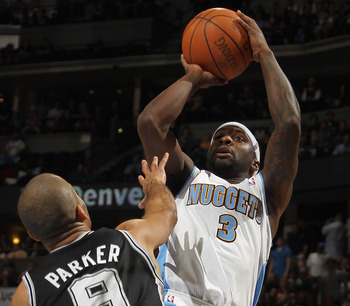 Doug Pensinger/Getty Images
This match up features the wily, veteran Spurs going against the much younger Nuggets.
Year after year, the Spurs defy the limitations of aging and continue to produce winning teams and high seeds going into the playoffs. At the helm is straight-laced head coach Gregg Popovich, who is seemingly having some fun this season.
The Nuggets are also defying the odds by continuing to win even after trading away superstar Carmelo Anthony. Denver has banded together and formed a cohesive unit that has amazing depth and several weapons to make them a dangerous team in the playoffs.
This match up will truly be a test of both teams who have contrasting play styles. The Nuggets are a team that enjoys getting out on the run and scoring fastbreak points while the Spurs play a more contemporary, half-court offense. Both styles have gotten the job done for these teams and we'll be in for a treat when these worlds collide in the first round.
2. Oklahoma City Thunder vs Houston Rockets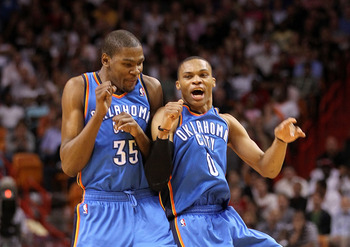 Mike Ehrmann/Getty Images
Oklahoma City could be in for a doozy of a first-round opponent against a team that they have struggled with this season.
In the three games between these teams, all have been decided by three points or less, including two one-point victories for the Rockets.
Houston simply has the Thunder's number this year, which is a rare feat for any team in the NBA this season. With Kyle Lowry back for the Rockets, they pose an even larger threat for the current leader of the Western Conference.
Oklahoma City has to rely on their offense out-dueling the Rockets who are also a top-10 scoring team. Kevin Durant and Russell Westbrook will have to play true to their All-Star forms if the Thunder don't want to get pushed to seven games in the first round of what is projected to be a long postseason for OKC.
1. LA Lakers vs Dallas Mavericks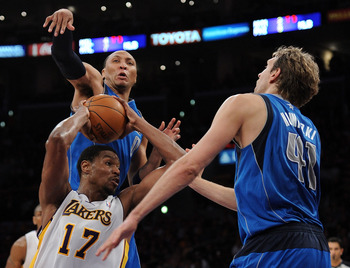 Harry How/Getty Images
Perhaps the most tension in a first round series could be found in this potential matchup.
These two teams simply don't get along and the Lakers most certainly want revenge for the shellacking they received at the hands of Dallas in a 4-0 sweep last postseason.
Andrew Bynum is a different beast for the Lakers this season and Dallas seems to have lost a step with Dirk Nowitzki struggling as of late. Kobe Bryant is still leading the league in scoring, even after sitting out the last few games with a shin injury.
If last night's game between these teams was any sign, the Mavericks are in for a challenge to defend their championship if they can't even beat the Lakers without Kobe on the floor.
Chippy play and trash talk may be at an all-time high for this series and look for it to be quite a treat to watch in this year's playoffs.
Keep Reading