2012 NFL Mock Draft: College Stars That Won't Be Successful Rookies
April 16, 2012

Jonathan Daniel/Getty Images
Every NFL team would love for their picks in the first round to instantly become impact performers, but it's simply not possible. Certain players require an extended transition period before reaching their potential, and others bust out altogether.
With that in mind, here's a complete mock draft of the opening round featuring three prospects whose presence won't be felt in their rookie season. That doesn't mean they won't ever become useful, but their new teams shouldn't expect major productivity right away.
1. Indianapolis Colts (2-14): Andrew Luck, QB, Stanford
It would be a gigantic shock if the Colts select anybody other than Luck even though the team continues to pretend like a final decision hasn't been made. He's got all the tools to turn the franchise around.
2. Washington Redskins (via STL 2-14): Robert Griffin III, QB, Baylor
Griffin should thank Cam Newton for proving a quarterback with amazing raw potential can step into the starting lineup right away and succeed. The Heisman winner will finally fill the Redskins' QB void.
3. Minnesota Vikings (3-13): Matt Kalil, OT, USC
A lot of chatter continues to surround this pick, but it appears like more hype than action at this point. The Vikings need a franchise left tackle, and Kalil should have no problem filling that role.
4. Cleveland Browns (4-12): Trent Richardson, RB, Alabama
It takes a special running back to even warrant being considered inside the top five considering the direction of the sport. Richardson fits the bill, and the Browns desperately need offensive playmakers.
5. Tampa Bay Buccaneers (4-12): Morris Claiborne, CB, LSU
Don't let Tampa Bay's record fool you. The Buccaneers still have plenty of talent on the roster. Claiborne would lead a defensive resurgence to put them back in playoff contention.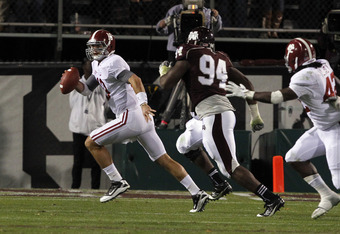 Butch Dill/Getty Images
6. St. Louis Rams (via WAS 5-11): Fletcher Cox, DT, Mississippi State
No player's stock has improved more over the past month than Cox. Momentum carries a lot of weight in the draft process, and he has a ton of it. The Rams need somebody to wreak havoc on defense.
7. Jacksonville Jaguars (5-11): Justin Blackmon, WR, Oklahoma State
The Jaguars signed veteran Lee Evans, but the Baltimore Ravens would be the first to tell them he isn't as reliable as anymore. They shouldn't let the opportunity to draft Blackmon slip away.
8. Miami Dolphins (6-10): Ryan Tannehill, QB, Texas A&M
Anybody who's surprised at Tannehill's rise doesn't understand how important quarterbacks are in today's NFL. Without one, winning becomes a serious uphill battle, so teams are willing to take chances.
9. Carolina Panthers (6-10): Quinton Coples, DE, North Carolina
Carolina only had one player record more than four sacks last season, which illustrates the team's need for pass-rushing depth. Coples has some question marks, but his upside can't be denied.
10. Buffalo Bills (6-10): Riley Reiff, OT, Iowa
The Bills have done a nice job of filling holes throughout the offseason, most notably with the signing of Mario Williams. Now they must address the vacant left tackle position.
11. Kansas City Chiefs (7-9): Michael Brockers, DT, LSU
You'd have a difficult time finding a prospect outside the top 10 with more potential than Brockers. The Chiefs can afford to throw him into the starting lineup right away and wait for him to flourish.
12. Seattle Seahawks (7-9): Courtney Upshaw, OLB, Alabama
Upshaw played a vital role in Alabama's championship-winning defense, and that big-game experience can't be overstated as he prepares for the next level. The Seahawks will be lucky to land him.
13. Arizona Cardinals (8-8): Michael Floyd, WR, Notre Dame
After Larry Fitzgerald, the Cardinals don't have a reliable second receiving option. Adding Floyd would fill that void and give Kevin Kolb a great chance to bounce back from a rough first season in Arizona.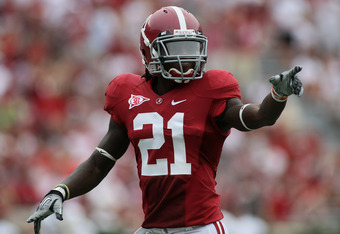 Greg McWilliams/Getty Images
14. Dallas Cowboys (8-8): Dre Kirkpatrick, CB, Alabama
The Cowboys and Kirkpatrick are like a match made in heaven. He's a physical corner who will be able to hold his own right away, which Dallas has been looking for to fill out its improving defense.
15. Philadelphia Eagles (8-8): Luke Kuechly, ILB, Boston College
Since the NFC East is shaping up to become a titanic battle between at least three teams, the Eagles must avoid the same basic mistakes that killed them last season, such as tackling.
16. New York Jets (8-8): Melvin Ingram, OLB, South Carolina
It would seem like offense would be New York's biggest area of need. Rex Ryan also needs to address weaknesses on a defense that was led in sacks by free-agent signing Aaron Maybin.
17. Cincinnati Bengals (via OAK 8-8): David DeCastro, OG, Stanford
The Bengals have several small weaknesses, but no glaring issues that must be addressed right away. That means they'll likely take the best available player that fits a need, which would be DeCastro.
18. San Diego Chargers (8-8): Whitney Mercilus, OLB, Illinois
San Diego has had trouble getting production from its outside linebackers in recent seasons, which has been one of the main causes for the team's underwhelming results. That means the Chargers are likely to take a chance on Mercilus if he's available.
That said, he's only got one season of elite performance under his belt and doesn't possess NFL strength quite yet. That means he'll likely go through his fair share of growing pains as teams exploit that weakness, and the pressure to produce will only add to his problems.
Mercilus should develop into a solid player after a season or two, but the Chargers could really use somebody who will make key plays starting immediately, which will likely cause disappointment for everybody involved.
19. Chicago Bears (8-8): Peter Konz, C, Wisconsin
Injuries derailed a promising season for the Bears. Assuming the Matt Forte situation works itself out, they should be right back in the mix by adding some strength in the trenches during draft weekend.
20. Tennessee Titans (9-7): Dontari Poe, DT, Memphis
Poe became a household name among football fans thanks to a terrific combine performance. But, as many players have proven over the years, being a workout warrior doesn't always translate into quick success at the NFL level.
After playing against mostly inferior opponents at Memphis, his transition will take longer than most elite prospects. That means he probably won't be ready to help a run defense that allowed nearly 130 yards per game for another few years.
His upside is the reason he's still worth taking at this point. He has all the tools to become a dominant interior force, but the Titans are going to need to exercise patience with him, though, because it won't happen as quickly as they likely hope.
21. Cincinnati Bengals (9-7): Devon Still, DT, Penn State
Cincinnati needs to have a top-notch defense to survive in the hard-hitting AFC North. Still should have no problem developing into a rotational contributor right away after a solid career at Penn State.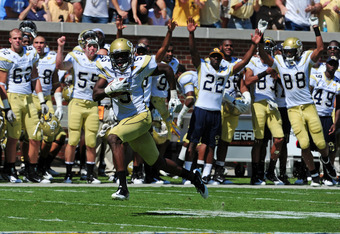 Scott Cunningham/Getty Images
22. Cleveland Browns (via ATL 10-6): Stephen Hill, WR, Georgia Tech
The Browns can't keep throwing the same lackluster group of wide receivers out there and suddenly expect better results. Hill has room to improve, but will be a good deep threat right away.
23. Detroit Lions (10-6): Jonathan Martin, OT, Stanford
If Martin falls this far, the Lions won't hesitate to take him off the board. They need an offensive tackle and he's been projected inside the top 15 for most of the draft process.
24. Pittsburgh Steelers (12-4): Cordy Glenn, OT, Georgia
Another team that must find some depth of the offensive line, the Steelers get a nice consolation prize in the likes of Glenn. He can play guard or tackle and fits Pittsburgh's blue-collar attitude.
25. Denver Broncos (8-8): Jerel Worthy, DT, Michigan State
The Broncos hit the lottery by landing Peyton Manning to revamp the offense, so they will likely spend most of the draft filling holes on defense. Worthy will become a star as long as he gives full effort.
26. Houston Texans (10-6): Kendall Wright, WR, Baylor
Houston's wideout situation almost mirrors that of the Cardinals. The Texans have Andre Johnson leading the way, but need another option, such as Wright, to complete the offense.
27. New England Patriots (via NO 13-3): Janoris Jenkins, CB, North Alabama
Jenkins really shouldn't fall this deep into the round, but his off-field issues are scaring teams away. The Patriots will be more than willing to take a chance on him knowing he can become an elite corner.
28. Green Bay Packers (15-1): Alfonzo Dennard, CB, Nebraska
After allowing 300 yards per game through the air last season, the Packers will be looking to shore up their secondary so teams aren't able to move the ball so easily. Dennard has plenty of experience.
29. Baltimore Ravens (12-4): Dont'a Hightower, ILB, Alabama
Hightower was another key piece of Alabama's stout defense that will yield a handful of picks in the first round. The reason his rookie season won't be successful isn't talent level, but rather being blocked by veteran starters.
The Ravens understand Ray Lewis' best seasons are behind him, but he's still a fiery competitor who will be out there on most downs alongside Jameel McClain. While Hightower will be a capable backup, his playing time will be limited.
He should use the opportunity to soak up as much knowledge from the legendary Lewis as possible. Once he steps aside, Hightower will be expected to fill the role without missing a beat. Even though his contributions will be limited at the beginning, he'll eventually step up in a big way.
30. San Francisco 49ers (13-3): Stephon Gilmore, CB, South Carolina
The 49ers could still opt to draft a wide receiver with this pick depending on how much confidence they have in Randy Moss, but Gilmore provides a lot more value and fills a position of need.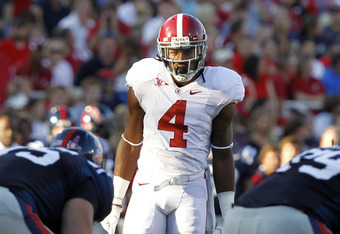 Butch Dill/Getty Images
31. New England Patriots (13-3): Mark Barron, SS, Alabama
Another defensive back for the Patriots. Barron asserted himself as the best safety available with his play with the Crimson Tide, and that prepared him to immediately make some plays for a contender.
32. New York Giants (9-7): Coby Fleener, TE, Stanford
The Giants have become one of the league's premier franchises by constantly targeting the best player available with their picks. Fleener fits that mold this time around and gives Eli Manning another target.